Montana Ski Resorts
Looking for some fabulous Montana ski resorts? Montana, dubbed as the 'Treasure State', is a veritable treasure indeed, especially for winter sports enthusiasts. From the towering peaks of Big Sky to the charming village atmosphere of Whitefish, Montana offers an unrivaled variety of ski experiences. Our journey through Montana's finest ski resorts uncovers the unique characteristics that make each of them a treasure in their own right.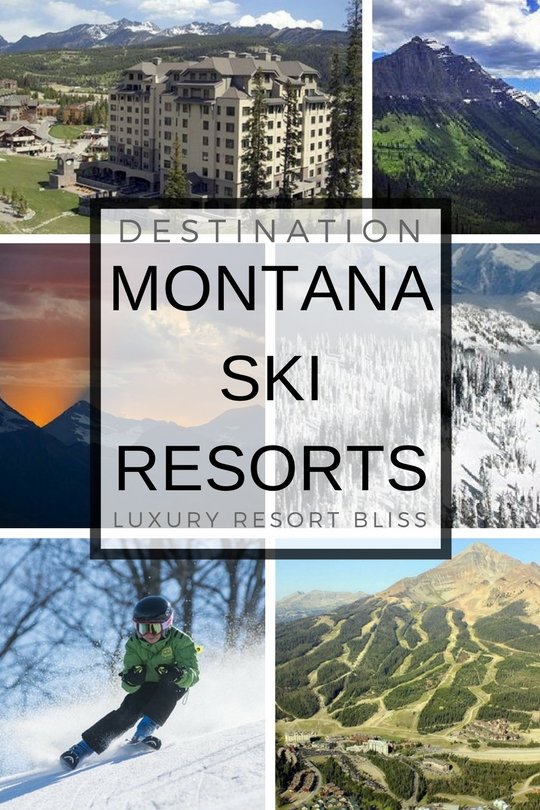 Best Ski Resorts in Montana
Here is a list of popular ski resorts in Montana:
Big Sky Resort - As the largest ski resort in Montana, Big Sky offers over 250 kilometers of slopes served by 38 ski lifts. It's known for its black and double black terrain, making it a experienced skiers. The resort's altitude reaches up to 3,398 meters.
Whitefish Mountain Resort - Formerly known as The Big Mountain, this resort located near the town of Whitefish offers diverse slopes that cater to different skill levels. It has 91 kilometers of slopes served by 14 ski lifts.
Red Lodge Mountain - This resort offers 65 kilometers of slopes and is served by 6 ski lifts. It's known for its inviting, small-town atmosphere and challenging terrain.
Bridger Bowl – Bozeman - Closer to Bozeman is Bridger Bowl, a not-for-profit community-run ski hill with 71 kilometers of slopes served by 11 ski lifts. The lift infrastructure is not particularly impressive, but the affordable lift tickets and challenging terrain make it a popular choice.
Lost Trail Powder Mountain - This resort is known for its excellent powder and features 50 kilometers of slopes served by 8 ski lifts.
Discovery Ski Area - A smaller resort with 45 kilometers of slopes served by 7 ski lifts. It's known for its affordable pricing and friendly atmosphere.
Montana Snowbowl - Located near the city of Missoula, this resort has 31 kilometers of slopes served by 6 ski lifts. It's a good old-fashioned, no-frills ski area with a big vertical and steep trees.
Maverick Mountain - This tiny resort is known for its great value for money. It offers 20 kilometers of slopes served by a single ski lift.
Big Sky Ski Resort
Within the majestic wilderness of Montana lies the remarkable Big Sky Resort, the largest ski area in the United States. With its highest point reaching an astounding 3,398 meters, the resort sprawls across a breathtaking landscape, providing a generous 250 kilometers of ski runs to explore. This grand resort strikes an impeccable balance of terrains, offering 55 km of beginner-friendly runs, 69 km of intermediate slopes, and an adrenaline-pumping 126 km of terrain for advanced skiers. Big Sky's impressively varied topography caters to every skill level, making it a skier's paradise. It's not just the skiing that draws crowds; the resort is also renowned for its grand infrastructure, complete with an abundance of comfortable accommodations, delightful restaurants, and a myriad of off-slope activities. Just an hour's drive southwest of Bozeman, Big Sky Resort presents a remarkable haven for winter sports enthusiasts and mountain lovers alike.
The accommodation options at Big Sky
 The accommodation options at Big Sky are equally impressive, with a variety of hotels catering to different tastes and budgets. Notably, Huntley Lodge, an iconic Big Sky establishment, boasts a warm, rustic charm that draws visitors back year after year. With its comfortable rooms, friendly service, and convenient ski-in/ski-out access, it's not hard to see why. Huntley Lodge is a perfect place to unwind, offering delicious dining options and a heated outdoor pool to soothe those tired muscles after a day on the slopes.
Lots of snow and named runs, fly-fishing and a pristine environment make Big Sky not only a great Montana Ski Resort but also one of the Top Ski resorts anywhere.

Big Sky Resort is on Highway 191 between Bozeman and West Yellowstone. This to Montana ski resort offers a range of accommodation choices.
Top 25 Big Sky Resort Deals with Reviews
Close to Bozeman, this resort is one of the least crowded and surrounded by wilderness. Its scenery is especially notable, and it's only a few minutes from Yellowstone National Park. 
---
Learn more about Montana including accommodation reviews on TripAdvisor.
---
Summit at Big Sky
The Summit at Big Sky stands as a beacon of luxury amidst the mountainous splendor of Montana's largest ski resort. The hotel exudes an air of sophistication and comfort, offering well-appointed rooms and suites with stunning views of the surrounding peaks. The Summit provides ski-in, ski-out access to some of the finest slopes in Big Sky, ensuring the mountain's thrilling activities are always within easy reach. With upscale dining options, a high-end spa, and warm, inviting public spaces, The Summit at Big Sky offers an unparalleled experience, effortlessly marrying opulence with the raw beauty of the natural surroundings.
This is a trendy place to stay and has been the vacation home of many a United States president. Enjoy the ski lifts which are literally at your doorstep. The stylish luxury ski destination resort is located at the Mountain Village Center.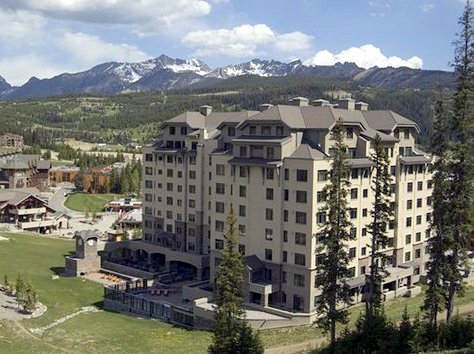 Summit at Big Sky
This really is one of the most convenient, luxury ski-in/ski-out resort with opportunities for skiing, snowboarding, and tubing. Enjoy an outdoor pool, spa, a free kid's club and the free ski shuttle.
Recommended place to stay: Summit at Big Sky

---
Stillwater Condominium by Big Sky Resort
Stillwater Condominium at Big Sky Montana Ski Resort is another convenient choice on the mountain. Free self parking is available and they hot the slopes by jumping on a mountain bike, or skis. The rooms provide a home away from home and come complete with refrigerators, and and kitchen appliances.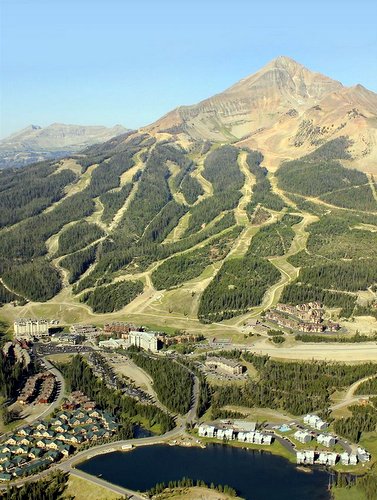 Other facilities at this resort include ski storage and childcare.
Stillwater Condominium by Big Sky Resort
---
Moonlight Basin Ski Resort
Moonlight Basin Became part of Big Ski when both resorts merged. The result was that Big Sky in the Madison Range became the largest ski resort in the United States. Today this Montana Ski resort has over 5,750 acres and 30 ski lifts With a 3403 m summit which is reached by Lone Peak Tram.
The Moonlight Basin part of Big Sky is known for its extreme terrain open bowls, tree skiing, moguls, beginner runs, and freestyle opportunities. THis resort is really quite affordable as well.
This resort has a various types of accommodation and all generally receive great reviews. Families and couples have rated it highly as a great place to stay and ski. It's clean and has fabulous views. The skiing is rated very highly. 
More information and accommodation offers on Moonlight Basin
---
---
Whitefish Mountain Resort
Whitefish Mountain Resort, located atop Big Mountain, juxtaposes world-class skiing with the intimate feel of a local's hill. Skiers can drink in spectacular views of Glacier National Park and Whitefish Lake on clear days. However, be prepared for occasional low light conditions due to frequent storms. This resort offers a great variety of terrain, and excellent snow.
My first brush with Montana's magic was at Whitefish, a cozy hamlet nestled on the fringes of the Rocky Mountains. The journey had been long but as I caught sight of the morning sun painting the snow-capped peaks in hues of soft gold, any remnants of travel weariness melted away. Skiing had always been my passion, and Whitefish promised an intimate experience like no other. The resort was charming in a rustic, unspoiled way, its landscape shaped by 3,000 acres of skiable terrain, dotted with wooden cabins. It was the perfect destination for the solo traveler, hungry for new experiences and aching for the thrill of adventure.
The slopes of Whitefish were as diverse as they were enchanting. There were days when I sailed down gentle blue runs, my laughter mingling with the crisp mountain air. Other times, I was hurtling down advanced slopes, the adrenaline fueling my confidence, turning the icy fear into a fierce exhilaration. Every day was different, and every day brought with it a new facet of Whitefish to explore.
When not skiing, I found myself lost in the resort's quaint mountain village. I remember spending a night at Bierstube, the local bar, where I was drawn into lively tales of skiing exploits by seasoned locals over rounds of Huckleberry liqueur. Their hearty laughter and shared camaraderie left me feeling like I was part of a family - the Whitefish family. Sarah's Blog Review
Whitefish is another resort with a change of name and is now recognized as a renowned destination ski resort. The former "Big Mountain" Montana ski resort enjoys views over Glacier National Park and enjoys over 300 inches of snow a year. The 3000 acres are are more geared towards experienced skiers and are serviced by 11 lifts, T-bars. The nearby town of Whitefish Montana is also a great place to hang out and increases the attraction of staying in the area somewhat.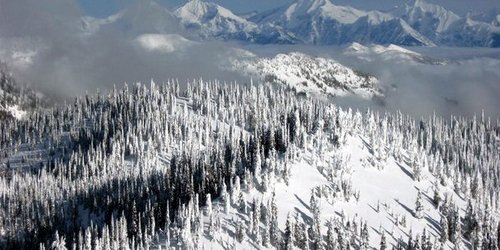 Kandahar Lodge Whitefish
This resort has gotten a mix of reviews on our last look. It is a little more inconsistent than others but it really depends on where you stay at Whitefish Mountain.
The skiing is rated highly so if you find a good spot to stay you'll do well.
We recommended staying at: Kandahar Lodge at Whitefish Mountain Resort It gets very high reviews from past guests.

Kandahar Lodge Whitefish
This cosy 50 room European layout Whitefish Mountain Resort. Enjoy a terrific restaurants and staying right there on the slope.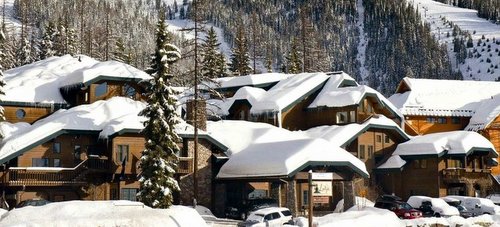 Kandahar Lodge at Whitefish Mountain
More information and special offers on Kandahar Lodge Whitefish
---
More Great Ski Resorts in Montana
Bridger Bowl has the heart of a locals' mountain and a soul filled with extreme inbounds terrain. Renowned for its legendary expert terrain, it also accommodates beginners and offers excellent instructional programs. It's a short drive from Bozeman, making it a popular choice among locals and college students.
Montana Snowbowl may seem small at first glance, but don't let that fool you. It provides a substantial vertical drop and trails as long as three miles, making it an excellent choice for intermediate and advanced skiers. However, it has limited lifts, which might be a downside for some.
Discovery boasts some of Montana's best terrain, consistent snowfall, and an authentic wilderness setting. Its diverse terrain and the backcountry feel without the risk make it a favorite among regulars. Discovery offers the perfect balance between exciting adventure and affordable pricing.
Blacktail is a family-focused ski area offering extensive beginner and intermediate terrain. With a lodge perched at the mountain's top, it promises awe-inspiring views, along with friendly staff and excellent service.
Red Lodge Mountain takes you back to the good old days, offering an authentic Montana setting with a variety of terrain and zero lift lines. The nearby town of Red Lodge, steeped in the history of the Old West, adds charm to the skiing experience.
Great Divide Ski Area is the budget-friendly choice for families. It offers multiple terrain parks and boasts the longest ski season in the state. However, keep in mind that the amenities in the lodge are somewhat limited.
Montana's ski resorts have something for every winter adventurer. From sprawling terrains and thrilling vertical drops to intimate locals' hills and family-friendly slopes, Montana's ski offerings are as vast and varied as the state's magnificent landscapes.
Montana on TripAdvisor.

Comparing Montana Ski Resorts to other Ske Resort Destinations
Creating a scorecard for Montana ski resorts compared to other options can be a complex task due to the large number of factors that can be considered. However, I'll try to provide a high-level comparison based on some common factors considered by skiers and snowboarders. Note that these comparisons are qualitative and might not fully capture the unique offerings of each resort:
1. Terrain Diversity (i.e., Beginner, Intermediate, Advanced, Expert):
Montana Resorts (e.g., Big Sky, Whitefish): Excellent
Colorado Resorts (e.g., Vail, Aspen): Excellent
Utah Resorts (e.g., Park City, Snowbird): Excellent
California Resorts (e.g., Squaw Valley, Mammoth): Excellent
2. Snow Quality and Quantity:
Montana: Excellent, known for 'cold smoke' powder.
Colorado: Very Good, known for light and fluffy 'Champagne Powder'.
Utah: Excellent, famously advertises 'The Greatest Snow on Earth'.
California: Good to Excellent, can vary due to maritime snowpack.
3. Crowds:
Montana: Excellent, less crowded due to the remote location.
Colorado: Good to Fair, can be crowded especially on weekends and holidays.
Utah: Good, less crowded than Colorado but more than Montana.
California: Good to Fair, Tahoe resorts can be quite crowded.
4. Accessibility (ease of getting there):
Montana: Good, most resorts require significant drive from airports.
Colorado: Excellent, many resorts are easily accessible from Denver.
Utah: Excellent, many resorts are less than an hour from Salt Lake City.
California: Good, Tahoe resorts are easily accessible but Southern California resorts can be quite far.
5. Amenities (lodging, dining, nightlife):
Montana: Good, varies by resort, Big Sky offers the most.
Colorado: Excellent, many high-end lodging and dining options.
Utah: Very Good, less high-end options than Colorado but still plentiful.
California: Excellent, many high-end lodging and dining options, especially in Tahoe.
6. Value (cost for what you get):
Montana: Excellent, lower costs and less crowded slopes offer great value.
Colorado: Good, higher prices due to popularity but also high-quality amenities.
Utah: Very Good, slightly less expensive than Colorado with excellent snow.
California: Good, prices can be high, especially in Tahoe, but quality is high as well.
This scorecard is meant to be a rough comparison and your experience can vary greatly depending on many factors including specific resorts, time of year, recent snowfall, etc. Always research and consider what factors are most important to you when choosing a ski resort.
Our journey through Montana's mountain gems leaves us with memories of breathtaking panoramas, exhilarating runs, and the warm, welcoming spirit of Montana's ski culture. Each resort - Whitefish, Big Sky, and Snowbowl - brings a unique flavor to the table, making a ski trip in Montana an exciting prospect full of variety and adventure. Whether you're a seasoned skier or a snow-loving family, the Treasure State's ski resorts are indeed treasures waiting to be discovered.
Stage Coach Inn, West Yellowstone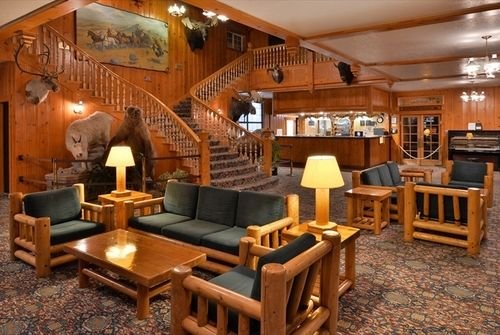 Stage Coach Inn, West Yellowstone
Keep in mind you need not stay on the mountains themselves. Montana is such a wonderful place to enjoy the outdoors. You could try this historic hotel is at the entrance to Yellowstone in a laid back Montana town.
Click here for more on Stage Coach Inn.
Frequently Asked Questions about ski resorts in Montana:
1. What is the best time to ski in Montana?
The ski season in Montana typically runs from late November to early April, depending on snowfall. The best time to ski can depend on your preferences. For the most reliable snow conditions, January and February are typically the best months. If you prefer milder weather, March can be a great choice.
2. How much does it cost to ski in Montana?
The cost can vary greatly depending on the resort. For example, a daily lift ticket at Big Sky Resort may cost over $200, while smaller resorts like Maverick Mountain can be as low as $45. Equipment rental, lessons, accommodation, and food will add to your expenses.
3. Can beginners ski in Montana?
Yes, most ski resorts in Montana offer terrain for all skill levels, from beginner to expert. Many resorts also offer ski lessons for those new to the sport.
4. What should I wear?
Dress in layers so you can adjust to changing weather conditions. You'll need waterproof ski pants and jacket, thermal layers, gloves, ski socks, a hat or headband, and goggles. Don't forget sunscreen and lip balm to protect against sun and wind.
5. Do I need to bring my own equipment?
While you can bring your own equipment, ski resorts in Montana offer rentals for skis, snowboards, boots, helmets, and poles. Renting can be a good option, especially for beginners who may not yet own their own gear.
6. How do I get to the ski resorts?
Most resorts are accessible by road. The nearest major airport is Bozeman Yellowstone International Airport, which offers a range of shuttle services to various ski resorts. Some resorts offer their own shuttle service or can help arrange private transport.
7. Are there non-skiing activities at Montana ski resorts?
Yes, many resorts offer activities such as snowshoeing, tubing, snowmobiling, and even scenic lift rides. Off-slope, you might enjoy spa services, dining, shopping, or local sightseeing.
8. Are the resorts family-friendly?
Yes, many Montana ski resorts cater to families, with amenities like ski schools, childcare services, and family-friendly activities and events.
9. What COVID-19 safety measures are in place?
Each resort may have different measures in place depending on local regulations and conditions. These could include mask requirements, social distancing measures, and limits on the number of lift tickets sold per day. It's a good idea to check the resort's website or contact them for the most current information.
Remember that conditions can change rapidly in the mountains. Always check the latest weather report and avalanche conditions, and know your own limits and abilities. Safety should be your top priority.
All-Inclusive Ski Resorts in Montana
All-Inclusive Ski Resorts In Montana FAQ
The concept of "all-inclusive" in the traditional sense (such as the ones seen in Caribbean resorts) isn't as common in the world of ski resorts in the United States, including Montana. However, many resorts do offer vacation packages which can include aspects like lodging, lift tickets, meals, and rentals. Here are some frequently asked questions that may be helpful:
1. Do any Montana ski resorts offer all-inclusive packages?
Many ski resorts in Montana offer vacation packages that bundle several aspects of your ski holiday, such as lodging, lift tickets, and possibly rentals or lessons. Big Sky Resort, Whitefish Mountain Resort, and others often have these options. However, these might not include all meals or other amenities you might expect from a traditional all-inclusive package.
2. What is usually included in these ski packages? These packages typically include lodging and lift tickets for the duration of your stay. They can also include equipment rentals, ski lessons, and in some cases, some meals or dining options.
3. Can I customize a ski package based on my needs?
Yes, many resorts allow you to customize your package based on your specific needs. For instance, you may choose to add equipment rental or ski lessons, or select a lodging option that fits your group size and preferences.
4. How can I book a ski package in Montana?
You can typically book ski packages directly through a resort's website. Another option is to use a travel agent or online travel site, which might offer additional package options.
5. Are ski packages cost-effective?
Yes, ski packages can often be a cost-effective way to plan a ski vacation, especially if you'll be skiing for multiple days. They allow you to bundle several different aspects of your vacation, which can be less expensive than purchasing everything separately.
Ski Package Deals
World's Top 50 Most Popular Ski Destinations on TripAdvisor
Top 25 Most Popular Canada and United States Ski Destinations

Think Snow! Great Ski Deals. Book now on Expedia!
More Ski Resorts: 

| | |
| --- | --- |
| Popular USA Ski Resorts | International Ski Resorts |
💼 We cherish our independence! ✈️ Our travel recommendations are carefully researched, bias-free, and powered by human expertise by April and Ricky of LRB (we have personally researched and travelled to many of these destinations and researched others thoroughly through first-hand accounts). 🌍✨
We try to keep everything up to date, but please always do your own research and contact us if you know any issues for us to help others as best we can as a small but professionally focused team! 🧐📚⚠️