Michigan Upscale Resort Vacations
Looking for a good Michigan upscale resort? There are a few special ones to choose from. Take a look below to see what we've picked.

The Inn at Bay Harbor
The Inn at Bay Harbor
Bay Harbor, Michigan Hotel Deals 

Whether you are looking for a romantic getaway or enjoying a round of golf, this resort is sure to please and gets outstanding reviews.

Located on Lake Michigan, the romantic Inn at Bay Harbor has been well recognized as a leading hotel and resort in this part of the country. And in fact has made the Travel + Leisure list of the worlds best hotels.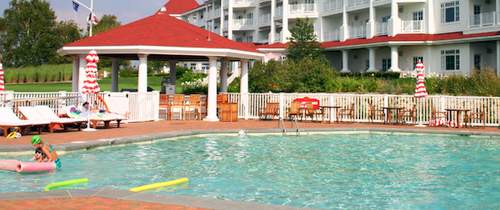 The Inn at Bay Harbor Pool
If you are looking for upscale you really have come to the right place here. Magnificent outlooks to lake Michigan are complimented by top notch service from the quality and luxurious spa down to the gourmet restaurants.  

More information and special offers on The Inn at Bay Harbor
---
Find the best deal, compare prices, and read what other travelers have to say about Michigan.

---
Grand Hotel Michigan
Another upscale Michigan resort hotel to make wolds best hotels lists is the Grand Hotel in the spectacular location enjoying the Straits of Mackinac.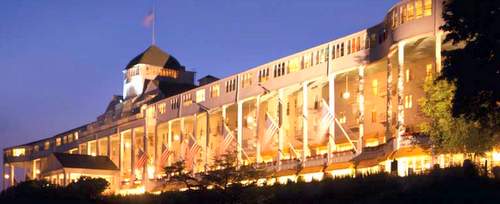 Every room is different in the grand old style here. Good traditions are kept alive here and you will likely find yourself getting around in a horse and cart or sitting back in a rocking chair on the seemingly endless porch. Breakfast and a five course dinner is included in almost every package.  
Despite the obvious grandness the hotel is surprisingly family friendly. There are big discounts for kids of most ages (including some kids stay free offers).
More information and special offers on the Grand Hotel Michigan.
---
Mission Point Michigan Upscale Resort 
Lakefront on Mackinac Island. There's a kids club, 4 restaurants, tennis, a health club, pool and spa.

Mission Point Michigan Upscale Resort
There are 242 guestrooms which are what reviewers have the biggest problems with. They are often noted as being small and out of date.

More on Mission Point Resort

---
A luxury upscale Michigan resort with an emphasis on golf and relaxation. 
---
---
With water-parks, a classic golf course and a full service spa this is about as upscale as it get is Michigan. See the review.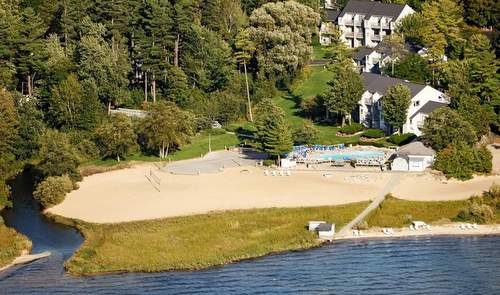 Grand Traverse Golf Resort And Spa
---
Another good all round luxury resort in Michigan suitable for summer and winter.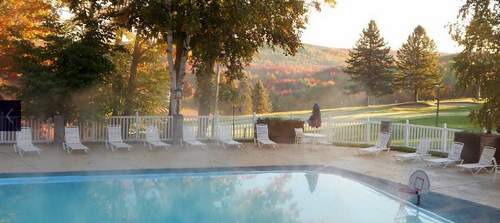 Otsego Club Michigan Resort
---
Bella Vita Spa & Suites
Located in Saugatuck and not a traditional resort, this may be what you're looking for in you want a great spa getaway.


Bella Vita is very intimate and has only 4 suites. They are contemporary style, new and state of the art. They are in the downtown area and so close to restaurants and various specialty shops.

The spa offers a full range of treatments. Some you may look forward to are the Chocolate Mousse Body Wrap, the Champagne Glycolic Facial or the 75-minute Swedish Massage.
Reviewers say: the owners/manager are great, beautiful and cozy suite, highly recommend it and will return, great location.
(Bella Vita receives fantastic reviews - one reason we had to include it here.)
Click here for more information.

---
More about tourism in Michigan.
---
---
Find the Michigan upscale resort you were looking for?  If so, great! If not, here's more in Michigan:

Michigan Resorts  
Michigan Golf Resorts      
Michigan Ski Resorts    
Michigan Beachfront Resorts