Top Cabo San Lucas Resorts
Finding quality great and safe options for Cabo San Lucas resorts made easier with our bliss list below. We have singled out the best.
There are top Resorts scattered all along the capes (Los Cabos). Cabo San Lucas is perhaps is the most developed with, these days, sophisticated tourism infrastructure and becomes more glitzy each year. If you are planning a resort vacation in this part of the world today you have chosen a good destination that you won't find too challenging at all.

---
When to go to Cabo San Lucas?
Most travelers head to Carbo when it's cold elsewhere. For lower price rooms come in the spring if you can. Summer can bring humidity and storms at times.
---
Best Resorts
All Inclusive Los Cabos Vacation
VIDEO: TRAVEL GUIDE | Top 7 Things to do in Cabo San Lucas

The Cabo San Lucas Resort at Pedregal
This is an amazing resort which is set among the cliffs at the southern end of the Baja California Peninsula. Here is a resort where you can expect and receive five-Diamond service. You arrive to the resort via their own private tunnel through the rock walls to a unique oasis of "plunge pools and rain-forest showers".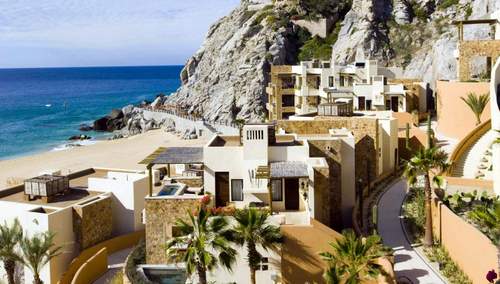 The Resort at Pedregal
Dine on remarkably fresh seafood and Mexican cuisine set on the cliff face fine dining restaurant specializing in fresh seafood and authentic Mexican entrees. 

More information and special offers on the The Resort at Pedregal
---
Mar Adentro Resort
More information and reviews for Mar Adentro, Cabo San Lucas, Mexico
VIDEO: Mar Adentro Hotel - Residences - Los Cabos - Full Tour
---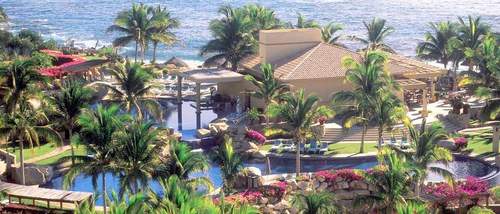 ---
---
Pueblo Bonito Pacifica Holistic Retreat Spa
Location:  Situated right on the clean golden sands of El Médano beach, Pueblo Bonito Los Cabos.

Amenities: fast food, French, Italian, sushi, room service. You can book airport transportation.
Rooms: Rooms have a private balcony or terrace, in an architecture of the Mediterranean style. Suits have a living room area, and are equipped with kitchenette and double beds. Purified water is complimentary.


Pueblo Bonito Pacifica Holistic Retreat Spa Reviews: Guests enjoyed the seclusion and quietness of this place as they gazed out of the pools. The warm winter sun warming their bodies as whales passed by up the Baja coastline. The bumpy journey over the paved road quickly forgotten as they settle into luxury resort bliss.


Click here for more information.
---
---
Click above for this all inclusive Los Cabos vacation option.
---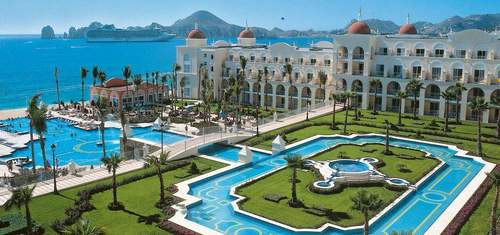 Click above for this all inclusive Los Cabos vacation option.
---
Grand Solmar Land's End Resort & Spa
Grand Solmar have a range of top quality resorts and resorts with all inclusive packages on the Los Cabos area. The Lands edge resort is one of the best of these. 
All Inclusive Los Cabos Vacation Resorts
The location is certainly spectacular between the blue ocean and spectacular cliffs. With added attractions like wonderful pools with swim-up dining and enough cabanas where you can get a back rub and this is starting to look like a pretty nice experience. 
More information and offers on Grand Solmar Land's End Resort & Spa
---
Las Ventanas al Paraiso Cabo San Lucas Resort
Las Ventanas al Paraíso is admittedly a little outside Cabo towards San José del Cabo. We are pretty big fans of the Rosewood resorts here and this one is another one very worthy of consideration. From infinity pools, professional tennis coaching, and golf. We like the holistic approach to wellness taken at The Spa at Las Ventanas.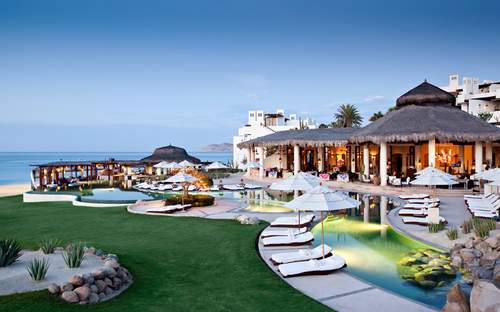 Dining here is more an experience of the senses and less about simply getting the job done. Dishes are well thought out and inspirational and there is always good wine to go with it. 
More information on Las Ventanas al Paraiso Cabo San Lucas Resort
---
For more all inclusive resorts, check out Mexico All Inclusive Resorts or Cancun All Inclusive Resorts. 
Mexico Resorts
All Inclusive Los Cabos Mexico Vacation
Playa Del Carmen Couples and Adult Resorts
Playa Del Carmen All Inclusive Resorts
Los Cabos Family Vacation Resorts