Adults Only All Inclusive Resorts (Best of 2022)
Looking for sophisticated adults only all inclusive resorts? Have you been craving some time away with your partner, WITHOUT CHILDREN? We've found some fantastic resorts free of the kiddies. Take a look, we're sure you'll find a fantastic spot for a great vacation.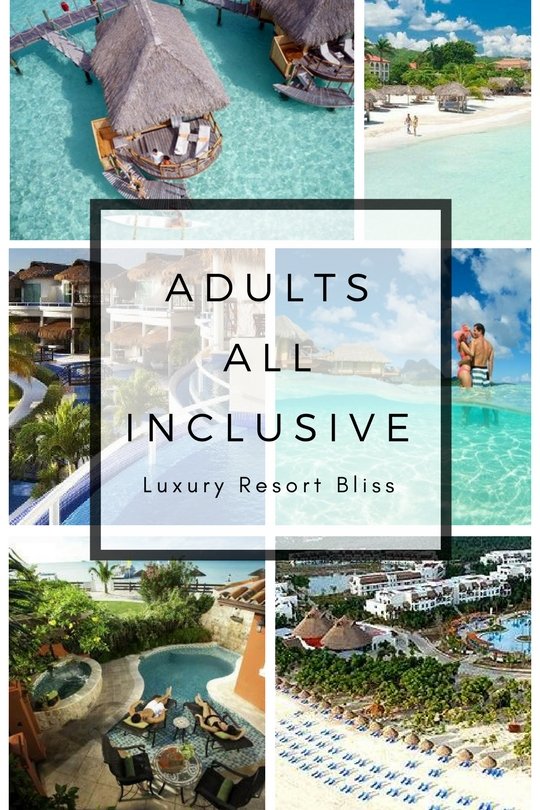 Best All Inclusive Adult Only Resorts

On this page we will provide you with lots of reviews which are specifically for adult only inclusive resorts and links to other pages which review only adult inclusive resorts and couples resorts. Most are great for couples but we have added a few singles only resorts through these links and reviews.

---
---
The Most Romantic Resorts in the World Review:
You may also like to see some of the great romantic vacation ideas around the world. 

---
Mexico Adult only All Inclusive Resorts

Mexico, and especially the the Mexican Riviera is central to the Adult only all inclusive concept. You cant go places like Playa Del Carmen, Cancun, Cabo and Tulum as destinations to consider. 
Playa Del Carmen and it's pristine white sandy shores has long been a happy, relaxed haven for couples on the Mexican Riviera. We have put together a review of the top adult resorts here from small little jungle hideaways to sexy upscale resorts with up to 13 restaurant choices for your all inclusive vacation.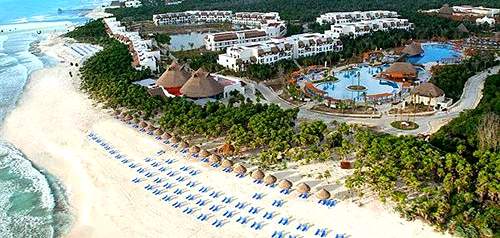 Valentin Imperial Maya All Inclusive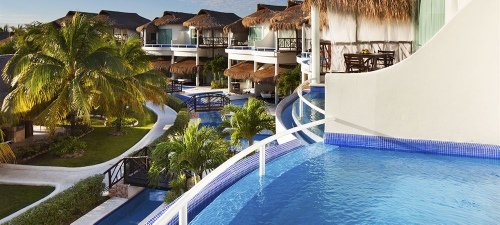 El Dorado Casitas Royale by Karisma All Inclusive
Tulum Adult Only All Inclusive Resorts are easily some of the best you will find, and there is quite a big selction to choose from. This video reviews the 10 best and many have also earned a place on our Tulum All Inclusive review as well.
This video points out some of the best Adult only all inclusive resorts in Cancun and the Mexican Riviera
puerto vallarta all inclusive adults only
When we wrote our review on the Most Romantic Resorts in Mexico we had to include Puerto Vallarta. 
Cancun adults and couples resorts feature some outstanding properties and is now, along with Jamaica, one of our top destination choices. See all the reviews and video of the best Cancun adult resorts here.  
While the majority of the All inclusive Resorts in Mexico are on the Caribbean side, Cabo has a few quality options of its own. This review breaks it down for you. 
Video: Top ADULT ONLY All-Inclusive Resorts in Cabo San Lucas 

Best Mexican All Inclusive Resorts: 

AURA COZUMEL GRAND BAY

Location: Cozumel jungle surrounded by Mayan Ceiba trees and gardens.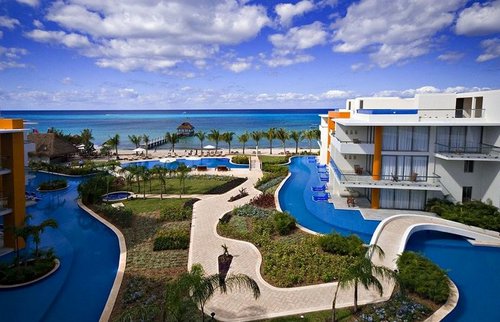 Aura Cozumel Grand Bay
Amenities: All-inclusive means all meals, snacks, alcoholic beverages, soft drinks, Italian fusion cuisine restaurant, Sandy Terrace Lounge, Lobby Bar, and "Niki-Tiki" Beach Lounge.

Rooms: 96 rooms on three floors. They are all exclusive suites with views of the Caribbean Sea.
Reviews: Everyone who has stayed here has loved it as far as we can tell. You can assume from this that the food service are up to or above the standard of other resorts in the area. Having a brand new resort is a clear advantage when it comes to room and facility satisfaction and this shows. Guests are equally impressed with the location and the service. Quick to give upgrades.
Go to Aura Cozumel Grand Bay

Caribbean All Inclusive Adult Only Resorts
There are Adult All Inclusive Resorts scattered all accross the Caribbean. While Jamaica and the Dominican Republic stand out for having some of the bigger all inclusive resorts for adults there are more romantic options on almost every island nation. 
Antigua is home to some real quality adult only all inclusive resorts including the multi award winning Sandals (one of their best).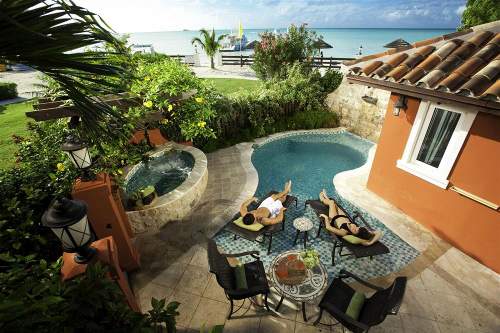 Sandals Antigua
Galley Bay Resort
Located on a white sand beach, this 4 star resort is know as one of the most romantic in the Caribbean. There are 2 open-air restaurants, 3 lounges, live entertainment, Caribbean barbecues, water sports, pools, jogging trails and tennis courts.
There are 98 guestrooms in suites or cottages. Many have a beachfront location. They have lowered living rooms and floor to ceiling doors that open to let in the ocean breeze.
Go to Galley Bay Resort & Spa All Inclusive @ expedia deals
More all inclusive resorts from Antigua
Video of Antigua Island. Galley Bay Resort and Spa:
---
Jamaica is the centre of the adults only all inclusive resorts universe and only the 15 Top Cancun Adult All Inclusive list will you find a similar amount. We have put together some lists of the best with reviews of each resort on these pages below.
If you don't know much about Jamaica, check out the official tourism website here.

---
Negril Adult All Inclusive Resorts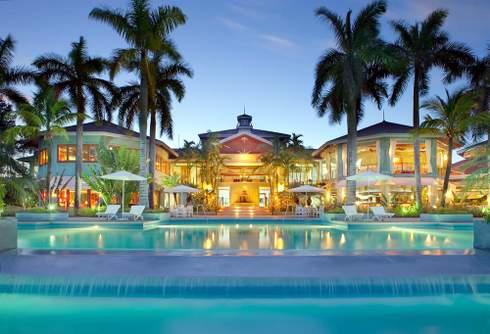 Couples Adults only All Inclusive Resort Jamaica
Beautiful Negril is one of the top locations in the Caribbean or the world for an adult all inclusive. There are a some fantastic resorts here - including Couples Resort. Check out Negril adult and couples inclusive resorts. 
Getting excellent reviews and with a delicious veggie bar. It's in a nice position for a day trip to Dunns River Falls. This resort has also featured on the best all inclusive resorts lists frequently.
See Couples Tower Isles Reviews @ TA including up to $500 air credit while deal lasts.
More on Couples Tower Isle All Inclusive

Couples Negril All Inclusive
See Couples Negril reviews @ TA where you can often find a 7th night free offer. Located in Negril, Jamaica, right on the ocean. This 5 star resort is eco-friendly and adults only. There are water sports, land sports (tennis, basketball, etc), sports and other classes. There's also entertainment and nightlife, golf, weddings, free shuttles to Negril, nude section, infinity pool, spa tubs, spa, fitness centre, games room, 3 restaurants.
Reviewers say consistently great things about the staff, beach and it being worth the money. It's definitely one of the great adults only all inclusive resorts.

More Jamaica Couples Resorts
---
The Caves Jamaica Adult Only Resort
The Caves is a good example of what is available at the small and intimate end of the scale in Jamaica when it comes to adult resorts.
All about Caves Resort, Negril, Jamaica.
---
More great Caribbean All Inclusive adult resorts are located on our our top Caribbean all inclusive resorts reviews:

---
While the Bahamas does offer some Adult Only All Inclusive Resorts they are not as plentiful as in other areas. Yet some of the options by the likes of Sandals could potentially blow you away with the sheer scale of the all inclusive luxury experience they offer in places like Exuma. 
See our all inclusive Exuma review. 
SANDALS LOVE NEST DREAM SUITES

Looking for romance at adults only all inclusive resorts? Below is a video of the exclusive Sandals "love nests". We have also reviewed more Sandals Resorts on our Couples Only All Inclusive Resorts.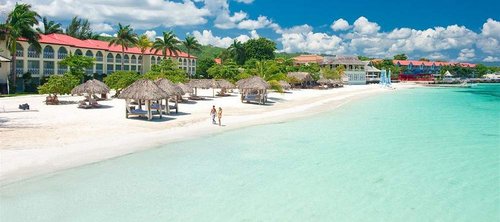 Sandals Negril Adult Only Resort Jamaica
An Adult Love Nest is defined by Sandals as a luxury suite having "exclusive amenities, seclusion, ultimate escape for love birds, luxurious bathrooms, plush terry robes and hand-embroidered Egyptian cotton duvets". Sounds luxurious!
---
Montego Bay Adult Only All Inclusive Vacation Resorts
Negril in not the only place in Jamaica that caters only to adults for their romantic getaway or honeymoon.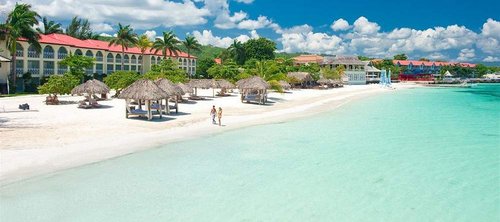 Sandals All Inclusive Vacation Resorts
Sandals have a number of famously luxurious adult all-inclusive vacations. These resorts inevitably seem to appear on all our best of the best lists.
---
---
JAMAICA INN: We rate this Jamaican adult all inclusive resort at the top of vacation destinations in the Caribbean. A+!
Location: Premier private beach, Caribbean Sea, Ocho Rios, Jamaica.
Rooms: 47 suites, overlook the beach or ocean, no TV, no radio, no clock.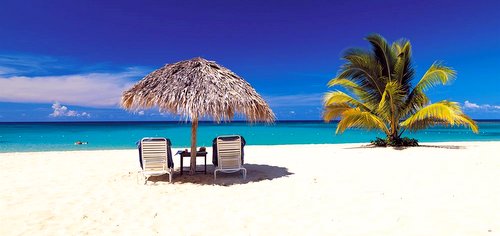 Highlights: winner of a number of travel awards - #1 in Jamaica and top 100 in the world, family owned, very experienced staff, spa - all natural approach, snorkeling, croquet lawn, library, fitness room, arrangements for airport pick-up, pre-electronics era feeling, 2 restaurants, 2 bars, no children under 13, pool, sailing, kayaking.
Almost everyone gives this resort a 5/5 rating. The general description for it is "perfect!" One of the great adults only all inclusive resorts.

Official website for Jamaica Inn
---
You can't have a review of the best Adult only resorts and not include the Dominican Republic. 
We don't necerrilly agree with this list of  the "Top 5 Punta Cana Adults Only All - Inclusive Resorts, Dominican Republic" which features Adults-only enclaves for couples romantic getaways. But most of the resorts mentioned in this video like Excellence Punta Cana, Bahia Principe , Excellence El Carmen, Breathless, and Secrets Cap Cana have earned their place our list of the best Adult resorts in the Domincan Republic as well. 
The Dominican Republic Top Couples Resorts
Along with the Mexican Riviera Punta Cana is the Adults Only all-inclusive capital of the world.  
EXCELLENCE PUNTA CANA ADULT RESORT

All Inclusive Resorts Caribbean

This 4 star, adults-only resort is in Punta Cana, Dominican Republic. It's all inclusive package includes meals, accommodation and activities.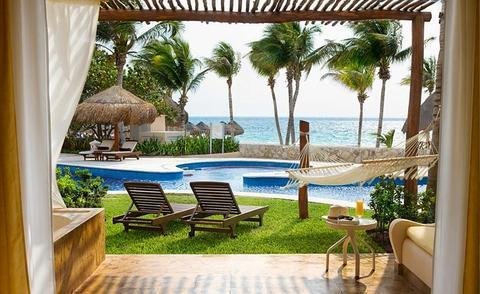 Dominican Republic Adult Only All Inclusive Resorts - Excellence Punta Cana
There's a secluded beach, 8 restaurants, 10 bars, 2 pools, a health club, golfing nearby, spa, land sports, horseback riding, water sports and a casino. Some of these activities do cost extra however.
There are 452 suites with balconies/patios and living space. They have jetted tubs.

Reviewers say: usually a great breeze here, beautiful rooms, beautiful pool, professional and friendly staff.

Go to Excellence Punta Cana Luxury Adults Only All Inclusive
Website for Excellence Punta Cana

---
Belize in Central America, shares a Caribbean coastline and think jungles. You can find a few optiuons here but not in the same density as other areas. 
---
Fiji is many people ide of paradise with more than 300 palm fringed islands fringed with coral reefsant rtrnslucent lagoons. 

The South Pacific is increasing becoming an all inclusive hot spot. You might also like to check out the Bora bora and Tahiti all inclusive resorts. 
Check out this review on the Hottest Adults-Only Resorts in Fiji:

Costa Rica in  Central America is nestlerd between Nicaragua to the north and Panama. For those looking for an eco all inclusive Costa Rica offers adventure and something different. 

Best All inclusive adult only
These are our top all-inclusive adult only resort reviews:
Antigua for Adults and Couples

Cuba for Adults and Couples

Dominican Republic  for Adults and Couples

(Puerto Plata- Adult All Inclusive Bliss List)
Jamaica for Adults and Couples

Montego Bay All Inclusive Couples Resorts

Ocho Rios Adult Resorts

Negril All Inclusive Adult Resorts

Montego Bay for Adults and Couples
Mexico for Adults and Couples

15 Top Cancun Adult All Inclusive
Playa del Carmen Adult Resorts

Cabo San Lucas Top All Inclusive
(Adult and Family)

Cozumel All Inclusive

Tulum All Inclusive Resorts Bliss List: Adults and Famiy: Top 10
Review: Club Med Turks and Caicos Adult Only Resort
Adult only resorts 

Adults only all inclusive resorts 

All Inclusive honeymoon resorts 
Exotic Honeymoon Resorts

Couples resorts 

Couples resort Jamaica
Best Romantic Vacations TripAdvisor Review 
THe US all INclusive adult only resorts are mostly limited to the Poconos and Florida. 
While we do have a lot of request to review adult only all-inclusive resorts in Florida, there are really not too many. There are a few options listed here and this is your best way to find what you are looking for. 
United States Adult Only All Inclusive Resorts
There are few 
Puerto Rico adult only all inclusive resorts are not as plentiful and the concept is not as catered for as Punta Cana and the Mexican Riviera. While we do offer some options on this list if you are really looking for a romanitic couples resort away from the kids you can find what you are looking for here. 

Return to the top of Adults Only All Inclusive Resorts
Images: 
image: 'Jump On In', Jamaica, Negril, Ricks Cafe Sunset WanderingtheWorld