10 Best Bonaire All Inclusive Resorts (For Fun on Land & Underwater)
10 Best Bonaire All Inclusive Resorts 
Discover the beauty beneath the sea and treat yourself to a Bonaire all inclusive resort. Internationally recognized for the beautiful pink solar salt plains that cover 13% of the island land mass, this tiny Caribbean island exports its salt worldwide. Import your travel plans onto this Caribbean island hot-spot getaway. 
The island of Bonaire is a top diving location, offering tours and guided dives through underwater caves and even nighttime experiences. Whether travelers are novice or seasoned divers, the oceanic waters of Bonaire will thrill your senses and delight your eyes. 
While there are only a few all inclusive options, this slice of paradise deserves your full attention. Find out where to book a Bonaire all inclusive resort experience you and your family will never forget. 
Where is Bonaire?
The island of Bonaire is in the Kingdom of the Netherlands. The Kingdom consists of four countries, Aruba, Curaçao, St Maarten, and the Netherlands. The Kingdom also includes three public bodies of land in the Caribbean region: Bonaire, St Eustatius, and Saba.
This geo-map location means Bonaire is in the dutch-Caribbean family of islands and is open to most tourists without a visa. 
Video: BONAIRE Travel Guide! 🇧🇶 (30 BEST things to do, cost, & more - our vlog)
Top All-Inclusive Resorts in Bonaire
Read more about the three Bonaire all-inclusive resorts and book the perfect accommodation for your family. 
When you search the Top All Inclusive Resorts In Bonaire as Listed by TripAdvisor you would find there is only one: Plaza Beach & Dive Resort Bonaire. 
Expedia lists only two all-inclusive resorts in Bonaire. And that's out of a total of over 500 properties. The Divi Flamingo and the Van der Valk Plaza both of which we that we review on this page  below. 
These are all very attractive resorts beyond their all-inclusive credentials. 
Best Family All Inclusive Resort
Van der Valk Plaza Beach & Dive Resort wins our award for the best Family All Inclusive Resort in Bonaire but it offers much more.

Resort Introduction

Van Der Valk Plaza is only mere steps from the Bonaire sea. Guests that book this all inclusive resort also have access to a private diving school and marina. The Van der Valk Resort is truly a one-stop-shop and combines the beauty of Bonaire with luxury and convenience. 
Van Der Valk Plaza Resort has four different styles of rooms and two types of suites. The resort standard is that each room has a Queen bed, and most will face the ocean. Dine at one of the three on-site restaurants before slipping into a peaceful night's sleep. Van Der Valk Plaza will also organize live music several nights a week for their guests to enjoy with dinner. 
This Bonaire all inclusive resort also offers non-resort guests the chance to buy a day pass. A single-day pass guarantees access to the resort's pool, beach, and sunbeds. For less than $100 USD (at time of writing), guests can include a meal and snacks if they plan to stay on-site for the whole day. 
Van der Valk Plaza Beach & Dive Resort on TripAdvisor.
https://www.plazaresortbonaire.com/
Video: Plaza Beach & Dive Resort Bonaire - All-Inclusive Oceanfront Holidays in the Southern Caribbean
Bonaire All Inclusive Dive Resorts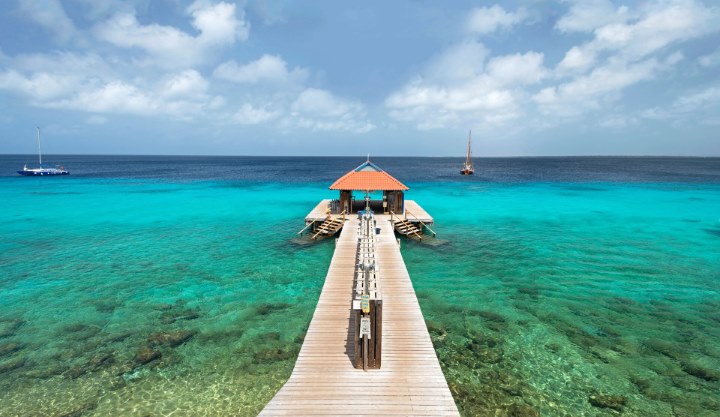 Bonaire All Inclusive Dive Resorts
Divi Flamingo Beach Resort & Casino is home to a PADI five-star dive operation and is one of  a number of all-inclusive dive resorts. This is also the first Blue Destination certified businesses on Bonaire!

Resort Introduction

The Divi Flamingo all inclusive resort's website is perfect for guests who want every detail taken care of before arrival. When you plan your all inclusive vacation experience, the Divi Flamingo team promises to go above and beyond. 
The Divi Flamingo is the only all inclusive resort with a casino on site. Test your luck and see what memories you can create. Every day the Divi Flamingo team offers an assortment of activities, including snorkeling, yoga, and Zumba classes. Take advantage of the ocean or dip in one of their two pools. Book a table at one of the three on-site restaurants offering traditional and continental menu options when your stomach begins to rumble. 
Divi Flamingo Beach Resort & Casino focuses on sustainability for our eco-conscious guests. The Bonaire all inclusive resort is a member of the "Reef Renewal Project Bonaire," a nonprofit organization working to protect and restore Bonaire's coral reefs. Divi Flamingo Beach Resort & Casino also operate the "Divi Cares" initiatives taking every measure possible to reduce their carbon footprint.
Divi Flamingo Beach Resort & Casino
Find the best deal, compare prices, and read what other travelers have to say at Tripadvisor
The Bonairian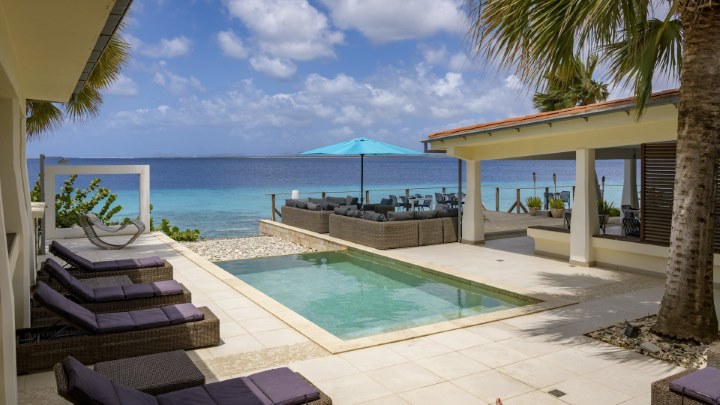 The Bonairian offers the option of renting the entire small hotel resort with private staff available for all-inclusive service from 7am to 11pm. 
Resort Introduction
The Bonairian is unlike any other property on our list. Originally built as a private mansion in 1977, the mansion evolved into a resort featuring eight suites and a penthouse apartment over time. 
An exquisite feature of this Bonaire all inclusive property is that groups can rent out the entire property for their vacation. Choosing this option also guarantees a private chef and menus tailored to your preferences for the duration of your stay. 
If you are booking The Bonairian, be prepared to experience kiteboarding, underwater photoshoots, and freediving. The Bonairian has weekly menus prepared for their guests, which are available for you to peruse on their website. 
Thre is a choice between half- or fullboard with Daily menus, Bbq night, Italian night, Sushi, Mexican and snacks all options to include. 
The Bonairian with reviews and deals on TripAdvisor
Video: Top 7 INCREDIBLE Places In BONAIRE you WONT BELIEVE EXIST
Discover More Amazing Bonaire Resort Accommodation
Due to the island's small size, there are many accommodation styles, but only a select few offer all inclusive packages. We've located other accommodation in Bonaire that will still provide packages but not complete all inclusive deals. 

Marriott Courtyard Bonaire Dive Resort
Resort Introduction

The Marriot team has raised the bar. Guests expect international standards when you book your trip at a Marriott property. The Marriott Courtyard Bonaire location offers several packages for its guests, and while none are all inclusive, each comes with a unique flair and thoughtful bonus. 
Guests can book the Discover Bonaire package and sleep in an island view suite. The package also includes breakfast for two adults per night and a 10% discount off all food & beverage at the Courtyard Restaurant. 
For couples celebrating their love, The Marriott offers the Romance Package and promises to carry the torch while you stay at their hotel. The Romance Package includes breakfast for two guests during the entirety of your stay, chocolates and a fruit basket upon arrival, and one bottle of sparkling wine. 
Marriott Courtyard Bonaire Dive Resort
Find the best deal, compare prices, and read what other travelers have to say at Tripadvisor
Windhoek Resort Bonaire
Resort Award: The Best Kite Sailing Knowledge

Resort Introduction
The Windhoek Resort arrived from Roan Jaspars, and Freek Hoving combined passion for Kite Surfing. The duo owned and operated a successful kite school from 2001-15 when they decided to break ground on the exclusive and luxurious villas featured at the Windhoek. 
Every detail in this Bonaire accommodation is tailored for guests to experience the natural landscape and become immersed in the island's wonders. 

The Windhoek Resort specializes in unique villas offering their guests luxury and thoughtful details, so each moment of your Bonaire vacation is personalized. Experience the best Bonaire offers and even rent a car through this property to explore the island at your leisure. 
Find the best deal, compare prices, and read what other travelers have to say at Tripadvisor
Delfins Beach Resort
Resort Award: The best place for opulence and comfort combined

Resort Introduction
The Delfins motto is "luxury defined by nature." Step onto this beautiful property and prepare to get lost in this unique and alternative accommodation available on Bonaire.
Internationally recognized for its architectural design, the Delfin strives for gold-standard customer service. If you elect, the Delfins team will provide a grocery service. Add this simple detail to your booking and walk in the door to a fully stocked fridge and liquor cabinet. 

If you prefer to eat outside the villa, the resort is centrally located to several restaurants. For your morning caffeine fix, there is a coffee shop on-site.

The Delfins Beach Resort has created a Tours & Exclusions magazine. Guests can read about the daily tours available or wake up and chat with the friendly and helpful staff. If you book your stay at Defins, you won't leave an inch of the island unexplored.
Find the best deal, compare prices, and read what other travelers have to say at Tripadvisor
Video: Delfins Beach Resort Bonaire Promo
Piet Boon Bonaire
Resort Award: Best Barefoot Luxury

Resort Introduction
Dutch designer Piet Boon claims Bonaire stole his heart the minute he stepped foot on the island. As a love letter to the beauty and natural habitat, he created the Piet Boon Villas. When guests book this luxurious accommodation, they are transplanted into the romance and poetry of how Piet Boon interacts with the island. 
Each villa includes a private pool and sleeps 8-10 guests. With four bedrooms, four bathrooms, and only meters away from coral reefs, it's a sensory experience from when your plane lands. 
Choosing to stay in a Piet Boon Bonaire villa is a more private travel experience. Guests that go this route will rest and relax in luxury before exploring the island of Bonaire at their own pace. 
Find the best deal, compare prices, and read what other travelers have to say at Tripadvisor
The Bellafonte Luxury Oceanfront Hotel
Resort Award: Best Private Pier

Resort Introduction
The Bellafonte offers guests a unique scale of accommodation. The hotel has welcomed families, friends, and celebrities and understands each itinerary comes with individual expectations. The Bellafonte will design and help you plan the Caribbean vacation of your dreams, from studio apartments to penthouse suites. 
If you want to immerse yourself in nature, The Bellafonte will plan a tour into The National Marine Park, one of the oldest marine reserves in the world. Established in 1979 and covering 2700 hectares of coral reef, seagrass, and mangrove vegetation, booking a tour will guarantee a unique experience. 

Take advantage of the knowledgeable team at The Bellafonte and learn how you can dive, snorkel, windsurf, kitesurf, book a sailboat and even go fishing. Through the Bellafonte team, you can stand in the Flamingo reserve or have your toes in the Klein Bonaire's unspoiled white sandy beaches.
The Bellafonte Luxury Oceanfront Hotel
Video: Bonaire NOW  A Romantic Stay At The Bellafonte
Find the best deal, compare prices, and read what other travelers have to say at Tripadvisor
Sorobon Beach Resort Wellness & Windsurf
Resort Award: Winner of Mindfulness Matters 

Resort Introduction
Disconnect and focus on a mindfulness retreat at the Sorobon Beach Resort in Bonaire. The Sorobon is designed for guests to book a chalet or boutique apartment. It is located on the island's east side of Ramsar conservation wetlands. From the minute you arrive, Bonaire nature will wrap you and make you forget your city-dwelling problems. 
The Sorobon Beach Resort believes the more their guests connect with nature, the better their mental state. The property's core belief is that "people who are exposed to natural scenes aren't just happier; the very building blocks of their physiological well-being also respond positively." 

The entire Sorobon Bonaire experience is designed to rest and recharge, and the property has a phenomenal spa on-site for deep-tissue, Swedish, and hot stone massages.  
Sorobon Beach Resort Wellness & Windsurf
Find the best deal, compare prices, and read what other travelers have to say at Tripadvisor
Video: Sorobon Beach Resort Bonaire
Ocean Breeze Bonaire Apartments
Resort Award: Premium Packages 

Resort Introduction
While the Ocean Breeze Bonaire Apartments is not an all inclusive property, they offer several packages for guests to worry-less and vacation more. The Ocean Breeze team has a seven-night 'Stay, Dive & Drive,' which includes a standard room, a car rental, breakfast, and unlimited air tank refills for all your diving dreams. 
Brightly painted in aquamarine blue, you'll feel instant joy pulling into the Ocean Breeze property. You'll carry this energy with you as you learn more about the beautiful lagoon, the Ocean Breeze private harbor and marina, and all the natural botanical beauty on your doorstep. 
The Ocean Breeze Bonaire Boutique's mission is to provide its guests with an unforgettable stay. Find out exactly what Bonaire can do to make your vacation dreams come true.
Ocean Breeze Bonaire Apartments package deals
Find the best deal, compare prices, and read what other travelers have to say at Tripadvisor
💼 We cherish our independence! ✈️ Our travel recommendations are carefully researched, bias-free, and powered by human expertise by April and Ricky of LRB (we have personally researched and travelled to many of these destinations and researched others thoroughly through first-hand accounts). 🌍✨
We try to keep everything up to date, but please always do your own research and contact us if you know any issues for us to help others as best we can as a small but professionally focused team! 🧐📚⚠️