Romantic Mexico Resorts - 7 Amazing Spots for Romance
Romantic Mexico Resorts - 7 Amazing Spots for Romance
There are some amazing and romantic mexico resorts perfect for some time away with your loved one. After all, he routine of daily life can exhausting, and we all deserve a vacation. 
There is a phrase that goes :
"If you want To walk fast, walk alone. If you want to walk far, walk together".
Vacations are more pleasant when you enjoy them with your partner.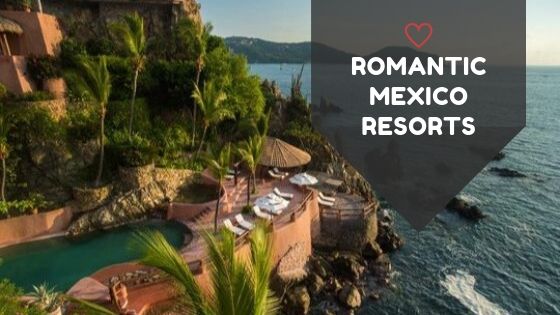 Why Mexico?
Mexico is not as far away as it seems and can seem even closer if your better half accompanies you. Imagine spending a few days alone with your love in one of the best tropical romantic resorts in the land of the Aztecs.

Mexico has an extensive list of exotic, tropical and exciting places that you can visit, as well as multiple tourist complexes where you can have fun to the fullest because they have available various activities and spaces to enjoy — not forgetting that the weather, beaches, food, and Mexican drinks are among the most recommended in the world.
You and your partner can spend an unforgettable romantic vacation in Mexico.
Here is our list of the best Mexican romantic resorts:
Romantic Mexico Resorts - Top 7
Why seven? They are all that good that we couldn't keep it just down to five. So here's what we've got, all independently reviewed by us.
Le Blanc Spa Resort, Cancun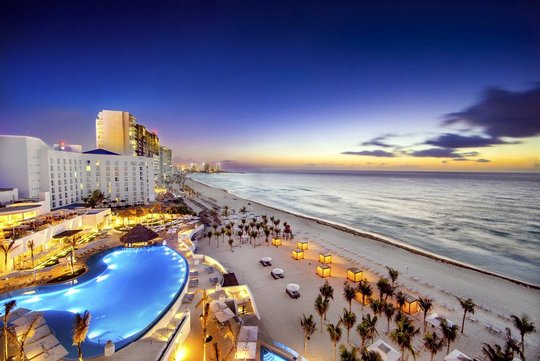 Le Blanc Spa Resort - Romantic Mexico Resort
This is a beautiful luxury resort located in the hotel zone of Cancun (Yucatan Peninsula), is  just 16 kilometers from the International Airport of this city.
Le Blanc Spa Resort is the winner of the 2019 year of the Traveler's Choice Award, and although a single night in one of its rooms regularly exceeds USD 800, it is well worth paying that price.
This resort has spectacular rooms with ocean views. Breakfast will always arrive at your door every morning at no additional cost. It has clean pools to immerse you during the hot afternoons, but if you get bored with them, you can also walk and swim all you want on your private beach. On that same beach, too, you and your partner can go diving, an excellent activity for a couples in love who seek to discover the underwater wonders.
Couples visiting Le Blanc Spa Resort can take some time alone while they are sweating in the sauna, or continue their workouts in the gym that has many exercise machines.
The restaurants of the resort are not other typical places of food, in fact, they are incredible tasting sites of exclusive menus and drinks that will make you excited, and in which you can get the famous and aphrodisiac food of the sea, ideal for those nights of passion.
Click here to read more about this resort, compare prices and see the latest reviews on Tripadvisor.
Video: Le Blanc Spa and Resort Full Resort Review and Tour 
See more great ADULT ONLY resorts in Cancun.
El Dorado Royale, by Karisma, Cancun

This hotel is entirely fascinating and is classified as ECO Gold Level Leader. For just over 350 USD, you can enjoy one of its spacious rooms with ocean views and all the attractions available at this ideal location in Playa del Carmen, (near Cancun).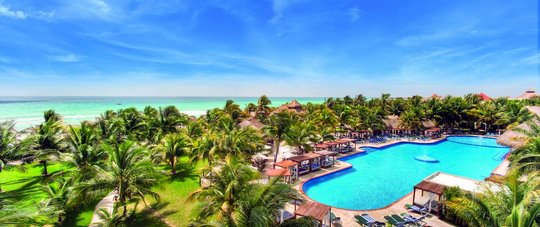 El Dorado Royale - Romantic Mexico Resorts
It has an outdoor pool ideal for tanning as a couple and, also, with a swimming pool in an enclosed place with the elegant decoration. The options to choose from do not end there.

The restaurants are diverse, one has a tropical aspect like everything that involves a Caribbean beach, and there is another with a bar-like atmosphere for adults with interest in great intoxicating drinks. You'll also find a magnificent spa.
Anniversaries and Valentine's days can be enjoyed at El Dorado Royale, where a romantic dinner by moonlight and an aromatic candle on a table on the sand of the sea and with a natural music provided by the waves of the sea. They turn your evening into a true love story.
Click here to compare prices, see the latest reviews and more information on Tripadvisor.
Video: 
Excellence Riviera Cancun 
This is another romantic hotel for adults only, with a colonial aesthetic.  You can often book your room for a little more than 330 USD and enjoy your partner and the love you have. Just entering the lobby and seeing the elaborate pieces woodwork, gives you the feeling that you have reached the right place to vacation as a couple.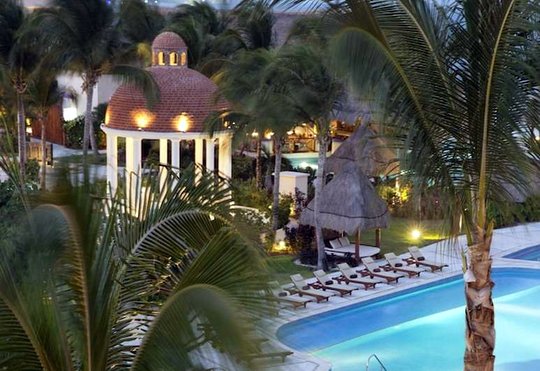 Excellence Riviera Cancun - Romantic Mexico Resorts
The variety of wines, the different musical groups, the animation of the host and the comfortable beach beds are just a few things that you can enjoy in this resort awarded with the Traveller's Choice Award of the year 2019.

When staying at Excellence Riviera Cancun, located in Puerto Molero, during the day you can marvel at the stunning ocean view from the rooms, while at night you can take all your energy to the nightclub and dance as if the night had no end to the DJ's music beat. 
If you want to stay in a particular room, this is the perfect resort because they have a room without a roof and with a pool included, ideal for those moments of love that start at the pool and end in bed, or vice versa.
Compare prices, see the latest reviews and get more information here on Tripadvisor.

Video: Excellence Riviera Cancun, Mexico - Review

La Casa que Canta, Zihuatanejo
This beautiful resort has a magnificent view from the rooms that are available from USD 323, and located on Zihuatanejo, on La Ropa beach. In almost any of its 25 rooms, you can enjoy an excellent 180-degree tropical view that can be enjoyed from one of completely soundproofed rooms. The bridal suites is a great choice here.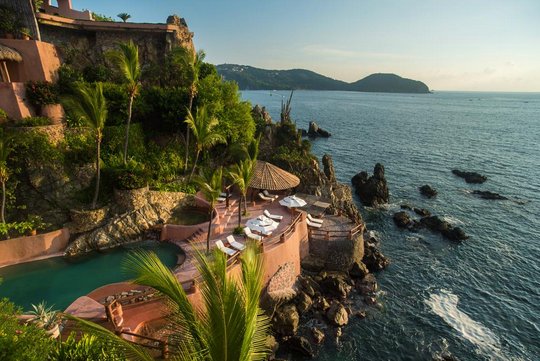 The restaurants 'Sol y Luna' and 'Mar y Cielo' enjoy spectacular views that make sharing even more enjoyable. The pools are located on steps (due to the rocky area on which this hotel is positioned), plus the furniture and the pleasant natural environment around these pools, make for ideal elements to achieve maximum relaxation.

Ultimate fun is achieved at this resort because of the unlimited activities which range from reading the newspaper peacefully by the pool,  to going fishing and losing track of time while getting lost in conversation together. There is also a romantic  rooftop terrace, and gift shops to explore together.
Compare prices, see the latest reviews and get more information on La Casa on Tripadvisor.
Video: A glimpse of La Casa Que Canta - Zihuatanejo
Villa Premiere Boutique Hotel & Romantic Getaway, Puerto Vallarta
Located in Puerto Vallarta, you can spend a great night at this extremely romantic hotel for about 199 USD. To enhance intimacy, the resort take only a small volume of guests and the stylish minimalism of it's decor are apparent the moment you set foot inside this little love nest.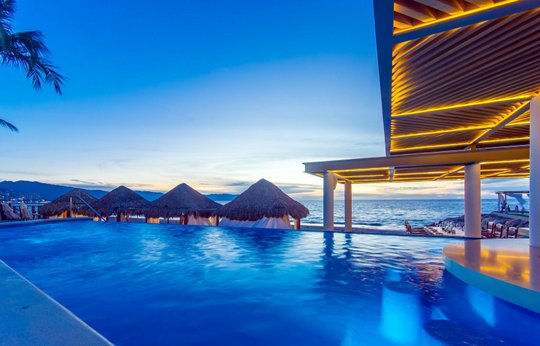 Villa Premiere Boutique Hotel & Romantic Getaway - Romantic Mexico Resort
Its modest price is not related to quality - which is great. Instead, when visiting this hotel, you will quickly realize the incredible value this place offers as a r romantic hotel evident in attention to detail given to everything  from the decor in the public spaces to the level of service and attention given to guests.

There is no other word that better describes this hotel than 'amazing.'
It has  the best:
access to the beach 
heated pool
butler
reception operates 24 hours a day
a  sun terrace
activities such as fishing and diving
saunas
a spa
shops
even currency exchange businesses
all in one place!
To compare prices, see the latest reviews and get more info, click here (Tripadvisor).
Video: Villa Premiere Boutique Hotel & Romantic Getaway

Grand Fiesta Americana Puerto Vallarta,
All Inclusive, Adults Only 
A classic adults-only hotel located just 13 kilometers from the Gustavo Díaz Ordaz International Airport of the city of Puerto Vallarta and with rooms often available for the affordable cost of around $271 USD.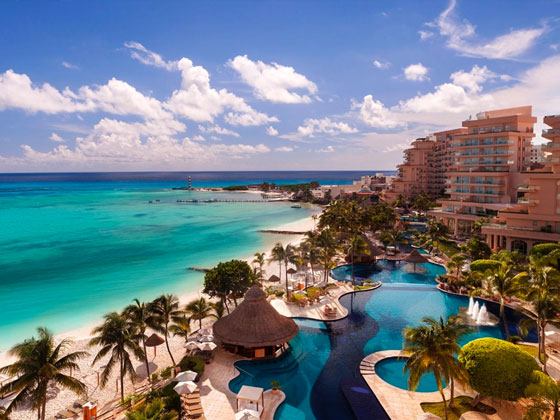 All Inclusive, Adults Only - Romantic Mexico Resorts
The entertainment opportunities for you and your partner at this hotel are fantastic. From simply relaxing and escaping from everyday life to exploring an extensive jungle area. You can enjoy rappelling, jumping off the zip line, swimming on the beach or lazing by the infinity pool.
In the evening you can indulge in dancing until your feet get tired in some of the bars and lounges or dropping into one of the restaurants that do not require a reservation.

Indulgent whirlpools are also readily available, and these offer the perfect opportunity to convince your partner that this is the ideal hotel for the much-needed romantic vacation and to start planning now.
The rooms are equipped with a refrigerator, a safe, a minibar, and air conditioning. Each of them has a private balcony and offer beautiful views of the sea. The perfect opportunity for a selfie to document your pleasant and unforgettable trip.
See the latest reviews, compare prices and get more info on Grand Fiesta Americana on Tripadvisor.
Video: Grand Fiesta Americana Puerto Vallarta Hotel Highlights/Master Suite Review

 Romantic Mexico Resorts = Beautiful Vacations
Make the time and space for a much-deserved romantic vacations at least once a year. Any of these seven romantic mexico resorts would do you well.  They are the recommended alternative to the bump and grind which keep the flame of passion burning or rekindle a love worn out by daily life.
Love yourself and love your partner on and honor your relationship with a romantic vacation in Mexico. The happiness you take with you when returning from the trip is the guarantee that your money was wisely invested.
Share Your All-Inclusive Adventures and Questions! 🌴 Have a memorable experience from a luxury all-inclusive vacation? We'd love to hear it at Luxury Resort Bliss. We're on the lookout for top-quality, insightful tales that'll inspire our community. Dive in and be a part of our sun-soaked stories! 🌊🍹✨
The story is a fictionalized account founded on travel expertise, research, and experience. Always refer to recent guest reviews and perform due diligence before booking.
💼 We cherish our independence! ✈️ Our travel recommendations are carefully researched, bias-free, and powered by human expertise by April and Ricky of LRB (we have personally researched and travelled to many of these destinations and researched others thoroughly through first-hand accounts). We also have put in the hard miles, and Ricky has worked for decades for resort and hotel chains  Hyatt, Hilton, Shangri-La and Radisson before starting Luxury Resort Bliss in 2007. 🌍✨ Unlike some other resort review websites we are concerned on the guest experience rather than mere corporate interest.