Honduras All Inclusive
Honduras is a tropical Central American country that faces the Caribbean Sea to the north and the Pacific Ocean to the south.
Bordering Guatemala, El Salvador, and Nicaragua, there's no denying that the country's mainland is considered sketchy to travel through.
Luckily, Honduras also has a bunch of stunning tropical Islands to its name. Just off its coast, on the Caribbean side, these delightful islands feel a world away from the mainland and the subsequent crime that it is known for. 
Best All-Inclusive Resorts in Honduras
Here are some of the top all-inclusive resorts in Honduras, each with its unique flair and offerings:
Paradise Beach Hotel: This resort is perfect for beach lovers seeking relaxation and natural beauty. Situated on the soft white sands of the coast, it offers spacious rooms and a stunning patio. With daily breakfast included, it's a great choice for families who enjoy seaside activities.
Seagrape Plantation Resort: Seagrape is an excellent choice for diving enthusiasts. The resort offers exceptional diving experiences, taking advantage of Honduras's rich marine life. With its all-inclusive plan, guests can dive during the day and relax in comfort at night. Ideal for adventurous couples and groups.
Infinity Bay Spa and Beach Resort: This resort combines the excitement of beach activities with the relaxation of spa services. With a variety of dining options and an inclusive breakfast, it suits those seeking a balance between adventure and relaxation.
Bananarama Dive & Beach Resort: This all-inclusive resort is a perfect choice for divers and beach enthusiasts alike. It offers an intimate, rustic beach experience with the convenience of an all-inclusive plan. Best for nature-loving families.
Anthony's Key Resort: Known for its unique architecture and stunning surroundings, Anthony's Key Resort is an excellent choice for luxury seekers. With a variety of water sports and inclusive breakfast, it's a haven for those who appreciate elegance and adventure.
Mayan Princess Beach & Dive Resort: Nestled on a pristine beach, this resort offers a mix of relaxation and water-based fun. With a focus on diving and an all-inclusive plan, it's great for couples and families passionate about underwater exploration.
Kimpton Grand Roatan Resort and Spa: This high-end resort offers luxurious accommodation, dining, and spa services. Perfect for those who appreciate finer things, the resort's all-inclusive plan ensures guests experience the best of what Roatan has to offer.
Villa On Dunbar Rock: This unique villa-style resort offers an intimate and luxurious all-inclusive vacation. Ideal for couples or groups seeking privacy and upscale amenities in an awe-inspiring setting.
The Lodge and Spa at Pico Bonito: Set in the natural splendor of Pico Bonito National Park, this resort is perfect for eco-tourists and nature lovers. Its all-inclusive offerings emphasize local, sustainable cuisine and immersive outdoor activities.
Turquoise Bay Dive & Beach Resort: Turquoise Bay combines the luxury of a modern resort with the excitement of a dive destination. Ideal for divers and families seeking a mix of comfort and underwater exploration.
Best All-Inclusive Resorts In Honduras: Find the best deal, compare prices, and read what other travelers have to say at Tripadvisor
We hope very much that one day, Honduras, as a whole country, is a safe place to visit. As its people and natural beauty only outshine each other. Until that day comes, it is highly recommended to stay in a high-end hotel on the mainland.
Alternatively, you could live that sweet island life on Roatán, Utila, or Guanaja.
Booking into one of the luxury and all-inclusive resorts below will have you diving into some of the most thriving reef ecosystems on the planet. Yeah, we guess you could say that this is paradise, and, yeah, you're about to discover it. 
Important: Not all the resorts listed are exclusively all-inclusive, and you need to take care that you actually book the all-inclusive package. 
Honduras is not particularly well known for having all-inclusive options, but things are changing. In recent years resorts have increasingly began offering all-inclusive packages and this is especially true on Roatán. 
See the top Roatán All inclusive Resorts here
Roatán all inclusive buffet
Paradise Beach Hotel
All Inclusive packages start at 3:00PM at Paradise Beach Hotel and include breakfast, lunch, and dinner, non-alcoholic beverages and house alcoholic drinks. We score this about a 6 out of 10 for all-inclusive, and the resort itself is not fully all-inclusive.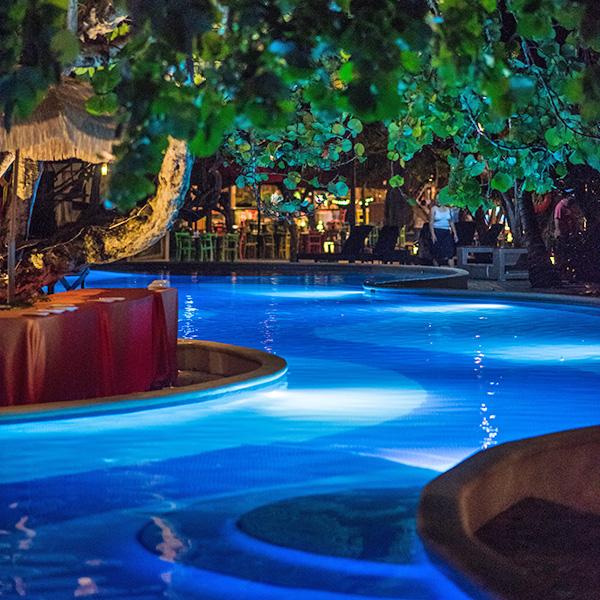 The resort itself is fairly comprehensive and complete, and we score it above 7 out of 10. The way it is surrounded by clear waters., the greenery, night-life, the pool deck, and the level of service elevate the resort above many others in the area. 
See more about Paradise Beach Hotel on Hotels.com
Outside Roatán there are not a great seal of all-inclusive options, but here are some resorts which do include some pretty cool features, and some with packages available as well.  
See the best Roatán All inclusive Resorts before moving on tho the other great  Honduras resorts. 
At the time of writing, packages include:
Accommodation
Breackfast, lunch, and 2 course dinner with one one non-alcoholic drink with each meal.
10-Dive package
Transportation.
Welcome Cocktail.
Pool, Restaurant, Ocean Pavilion, Beach Palapa, kayaks and snorkel equipment.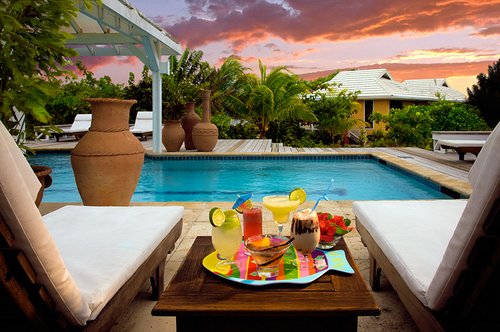 Barefoot Cay
Barefoot Cay is a boojie boutique resort that caters to your wildest island-hopping escapades. Are you one of the lucky few who cruises the Caribbean Sea by boat?
If so, you'll be pleased to know of Barefoot Cay's private marina that can tuck your superyacht in at night with up to 9ft of draft clearance. This unique selling point helps Barefoot Cay set itself as the premier resort on Roatán.
Like it's not already obvious but the lodgings at Barefoot Cay are nothing short of jaw-dropping.

Strategically positioned between the palm trees to create a private oasis for guests, a stay at one of its oceanfront villas will have you slipping into a relaxed state of mind, in no time.
Designed in a light and contemporary fashion and featuring bright colors and real wood furnishings, Barefoot Cay's villas do beach-shack luxury better than anyone.

They also have five ocean view lofts perched atop the Barefoot Divers building directly across from the cay's shores. This is the more affordable option that suits younger couples who are itching to dive and don't mind a cozy lodging.
Whether you're a newbie dipping your toes into the underwater world for the first time, and eager to pass your PADI.
Or, if you're an experienced diver who's only heard great things about Roatán, Barefoot Divers runs a well-oiled program that tailors to every diver's level and experience.
Dining-wise, let's just say that Barefoot Cay has already caught the catch of the day and it's waiting to be served on your plate.
Their signature Silversides Restaurant & Bar is a thing of dining beauty that sees you dining alfresco, poolside, with the warm sea breeze flowing through the open deck area. You can't help but feel happy here.
Serving globally inspired ingredients with locally sourced ingredients in an up-market rustic style - skip the afternoon snacks and head straight to this place for sundowners that put your appetite in a frenzy (you're going to need it).
Playing host to unforgettable weddings and special events, it's easy to see why Barefoot Cay is considered the jewel of Roatán. 
More information and reviews on Barefoot Cay

End Of The World is a quirky resort located on the island of Guanaja. A short boat ride from Roatán, this tropical island paradise is home to some of the most spectacular diving in the Caribbean.
Sites that keen divers fly in from all over the world to experience. Unlike the uber-exclusive vibe of Barefoot Cay, End Of The World is a low-key resort that delivers an impressive "Divers Package" at a competitive rate.
Dive package rates per person at the time ow writing include accommodation as well as 
All meals at the hotel (Breakfast, Lunch & Dinner)
local beer, well liquor: Rum, Vodka, tequila & Gin, Juice and Soda &
Free WIFI
Boat dives and beach dives including Night Dives
Waterfall Tourtransfers
One cool thing about End Of The World is that they know not every guest loves diving as much as their partner. This is why they also offer a "Vacationer Package" for the crew who want to live their best vacay-life and forget about everything.
Of course, there are also many activities and tours that End Of The World loves to take their vacationers on when the divers are off swimming with Nemo (if they so desire).
Whether you book onto the Diver or Vacationer package one thing is for certain, you will be eating well and drinking better in this resort.
The open bar allows you an all-access drinking pass to local beers, tequila, vodka, gin, juice, and sodas, with a special emphasis on spiced rum, because, well, we're in the Caribbean after all.
You'll also be sitting down to three delectable meals per day that are as fresh as they are homely.
For the diving enthusiast, expect two boat dives per day, one night boat ride, as much beach diving as you very well please (including nights), and all your equipment, naturally. 
Other notable features of both packages include a waterfall tour, free snorkeling equipment, transfers from Guanaja airport, and free Wi-Fi in all of the rooms.
There's just something more fun about End Of The World Resort. Letting you live out your wildest dreams on a tropical island with a bounty of color, Tiki, and pirate themes, End of the world is a place to escape to. 
Located in the heart of West Bay, Naboo is a thoughtfully-styled, modern resort that may just boast the smiliest staff in all of Roatán.
From the helpful concierge to the friendly bar staff and qualified diving instructors, you can't help but feel at ease with the warm afternoon breeze at Naboo.
Each of the 18 rooms is pool facing and comes equipped with king or queen beds, silent A.C, a safety deposit box, a ceiling fan, and a private balcony to soak in the sunshine before starting your day.
As is the case for many resorts on these dreamy dive-centric Honduran islands, Naboo has its own fully-certified PADI Dive Center.
Ready to whisk you away in their petite fleet of dive boats to over 80 underwater sites (all within a 15-minute radius), it's safe to say that you won't flipper away disappointed on a Naboo dive day.
At Naboo, there are a few dedicated packages to suit various levels of diving enthusiasm. If you don't fancy diving at all, then there's a package for that too. If you want to mix diving with other pleasures then there's a 10-dive week.
For the super keen there's a 15-dive week to fill you up on so much vitamin sea. They also run specific dive courses for beginners that allow you to take it slow and ease yourself into the whole kicking with the fishies thing.
One thing to note is that by booking onto any one of the packages, you'll be treated to a complimentary breakfast each day of your stay.
Lunch is provided for the diving crew and there's a poolside restaurant/ bar that's ready to serve you sundowners, snacks, and dinner while you talk about the colorful sea critters you spotted that day.
All in all, Naboo is a fresh and contemporary resort that puts diving first, because you do too.
Stepping away from the tropical island hi-life for just a moment, we've got a unique city escape for you, Honduran-style. The Real InterContinental of San Pedro Sula is a luxurious safe haven inside the Multiplaza Mall shopping center.
Located in the heart of the city's entertainment and business district, this clean and contemporary 3-star hotel is the perfect base to explore San Pedro Sula.
It's true - San Pedro Sula isn't the safest of places for tourists, but the Real InterContinental is without a doubt the safest and most secure hotel in the city.
If you stick to the touristy spots by day and avoid going out after dark you should have no issues visiting San Pedro Sula. Luckily, the Real InterContinental has everything you could ever need.
So, if you don't fancy it, you wouldn't even have to leave the safe oasis of the hotel for a thing, and especially not to eat well.
Their marquee restaurant Factory Steak & Lobster is known for dishing up the best steak and lobster in all of San Pedro and you'd be silly not to get stuck in.
Bambú is their more low-key restaurant that serves a stacked buffet breakfast, lunch, and dinner, alongside an international a la carte menu.
Nau Lounge is where guests and other international travelers flock to drink and mingle in the evening hours before stopping by the Nau Sushi Lounge for the best 2 am sushi in town.
The hotel rooms have that classic InterContinental decor that makes sure you know where you are, when you are.
You have a choice between standard, and executive, with the expansive suite rooms offering over 700 sq ft of space to delight in. Fitted to each of the rooms you will find soundproofed windows that help you to get a good night's rest.
The Real InterContinental is also a hot spot for business and it has multiple conference rooms to prove it.
We aren't going to sugarcoat the high crime rates of San Pedro Sula because that's just not right. But, if you are in town, you can have a very good time at this hotel.
Business, leisure, and the rest, this city sanctuary knows how to deliver a high level of service to their guests, and they do it every time. 
Hopping back over to the crystal clear waters of the Caribbean, Utila Lodge is another mighty fine choice for the intrepid divers amongst us.
From your arrival dinner to your farewell breakfast, the Utila Lodge all-inclusive package will have you feeling like royalty, relaxed royalty.
Run by divers for divers, this island lodge is a dedicated diver's dream and three dives a day tells it so.
That's right, while most diving packages will only take you out twice a day, Utila Lodge goes below and beyond the expected to give you three exciting dives at different locations each day.
Whether that's three day-dives or two day and one night-dive, the choice is yours to make.
To keep the diving side of your holiday running smoothly, the instructors will have your tanks, belts, weights, and other equipment ready and waiting for you to stroll across the deck and straight onto the boat.
Utila has a five, seven, and fourteen-day program that includes the aforementioned diving delights, three meals per day, use of sea kayaks, a complimentary bottle of wine, and a cocktail on arrival to kick off your holiday with a fruity bang.
For the non-divers, you'll be happy to know the all-inclusive rate is dramatically reduced and opens you up to explore the island in your own time.
Utila is the ideal island to ride, hike, kayak and cruise through with postcard-worthy vantage points around every turn.
The abundant coral reefs protect the bays from waves, and make snorkeling and sunbathing on the island's white-sand beaches as good a time as any.
They also have the option to jump on a whale shark spotting boat tour or an afternoon horseback ride along those same sandy shores.
The lodge has eight spacious seafaring rooms that are built, on stilts, over the island's pristine sheltered waters.
Each room features a cozy little balcony that is the perfect spot to retreat to and swing away the day from your private hammock.
Cozy, cute, unique, Utila is an affordable option for anyone who wants to experience the island's underwater wonders and inland beauty. 
Conclusion

In the face of ongoing corruption and high levels of gang crime, Honduras is a country that faces an uphill battle for peace.
Luckily for you, and us there are now steps being taken to make Honduras a safer country for both its people and tourists, but there are plenty more mountains to climb.
This is why the resorts above are so perfect. They give you that Central American flair alongside some Caribbean spice, mixed together in a tropical climate where the water is warm and the cocktails are cold.
So whether you're an experienced diver or someone who likes the idea but has never taken the plunge, now is the time to do it.
Roatán, Utila, and Guayana are known for their world-class dive sites and four of the all-inclusive resorts listed above are ready to take you down there!
Some popular all-inclusive resorts in Honduras are Infinity Bay Spa & Beach Resort, Mayan Princess Beach & Dive Resort, and Fantasy Island Beach Resort.
Safety can depend on specific regions. Some areas, particularly larger cities, experience higher crime rates. Always check updated travel advisories and follow recommended safety precautions.
All-inclusive packages typically cover accommodations, meals, beverages, and some recreational activities. They can vary by resort, with some offering additional services like airport transfers or water sports.
Some travel providers and resorts offer options to include flights in all-inclusive packages, but this isn't always the case. Confirm with your resort or travel provider.
Notable attractions include Roatán Island, Copán Ruinas Archaeological Site, and Pico Bonito National Park. Remember, these may not be included in your all-inclusive resort package.
The best time to visit Honduras is generally during the dry season, which typically runs from November to April. However, this can vary depending on the specific region of the country.
Yes, many all-inclusive resorts in Honduras are family-friendly and offer amenities like kids' clubs, child-friendly pools, and activities suitable for younger guests.
Visa requirements can vary based on your nationality. U.S. citizens do not need a visa for tourist stays of up to 90 days. Always check current requirements with your local consulate or embassy.
Resorts typically offer a variety of international cuisine, but you can also expect to find local Honduran dishes like baleadas, fried fish, or tamales.
💼 We cherish our independence! ✈️ Our travel recommendations are carefully researched, bias-free, and powered by human expertise by April and Ricky of LRB (we have personally researched and travelled to many of these destinations and researched others thoroughly through first-hand accounts). 🌍✨
We try to keep everything up to date, but please always do your own research and contact us if you know any issues for us to help others as best we can as a small but professionally focused team! 🧐📚⚠️