Ixtapa All Inclusive Resorts
Ixtapa All Inclusive Resorts
Our review of the top Ixtapa All Inclusive Resorts. Ixtapa is kind of the Pacific Coast's answer to Cancun in that it is a government created and well-kept beach resort.
See the winners of the Best All Inclusive Resorts in Ixtapa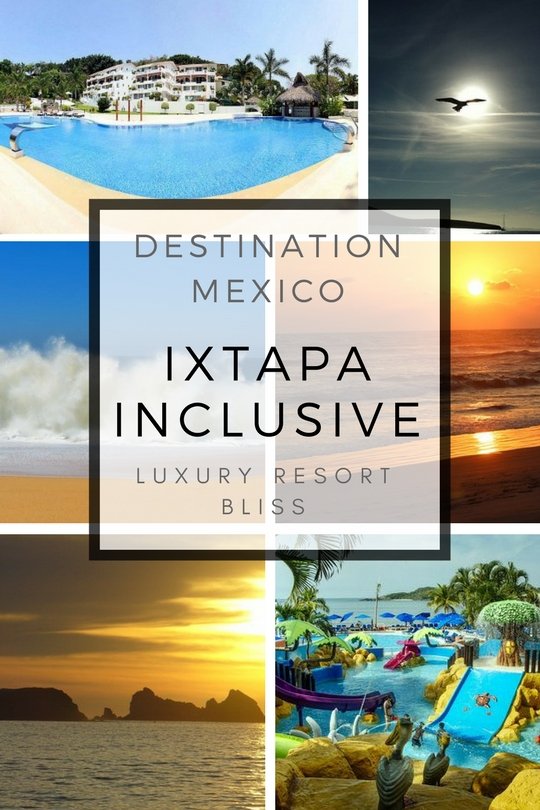 These towns are created tourist friendly spots and facilities and amenities are concentrated in them. Ixtapa is quite the Pacific Coast beach haven with quality bars, restaurants and the huge granite mountains as a backdrop. If you like diving Los Morros de Potosí is a must. The area is a little north of the exeptionally laid back resort of  Zihuatanejo.
This is a higher end classy five-star resort where you can expect personal assistants.
Video Review: Ixtapa & Zihuatanejo: Two Mexican Beach Paradises
The big attraction is the Playa del Palmar which is surrounded by cliffs and endless sunshine evident in the dry terrain. This part of itself lends itself to ocean adventures and a trip out on the sea to spot whales is always on the cards. There are also a series of day trips you can make to nearby beach havens and old fishing towns. Set in a quaint and lively part of the world with plenty of upbeat nightlife and restaurants. It's a good choice for an all inclusive vacation.

Cala de Mar Resort & Spa Ixtapa
Award for Best All Inclusive Resort in Ixtapa: Cala De Mar Resort & Spa Ixtapa
Note: Travel & Leisure's World's Best Awards also rank this as one of the best all-inclusive resort in Mexico. When we combine that with customer reviews, and advice from other travel experts and other platforms this resort came out a more clear winner than in other destinations and deserves the prize.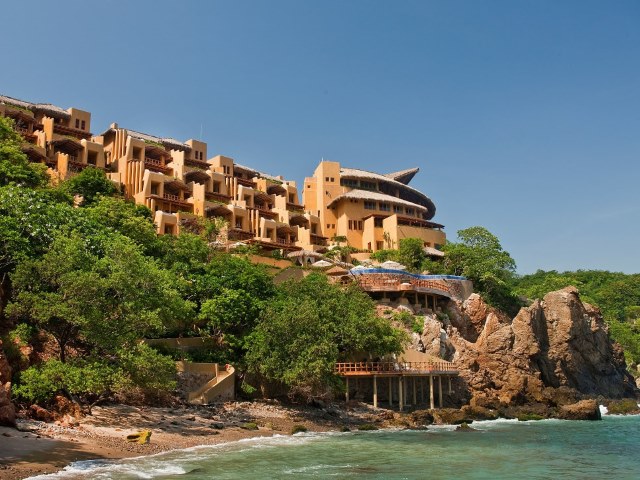 Cala De Mar Resort & Spa Ixtapa
This resort merits the award because of its outstanding commitment to service and providing an unrivaled experience in what is an outstanding destination and making the most of the natural beauty which surrounds the grounds. 
There are few other resorts which offer such a stunning rock cliff setting looking out towards the Pacific. Carved into the rock face are private plunge pools, a world-class spa, multiple restaurants, and a unique resort experience.
Cala de Mar Resort & Spa Ixtapa Mexico
Find the best deal, compare prices, and read what other travelers have to say at Tripadvisor
See more of the best All Inclusive Resorts in Mexico
Club Med Ixtapa
The Club Med All Inclusive Ixtapa resort is really on of the class acts on the block. Club Med doesn't always win out against the opposition resorts but Ixtapa they are our top rated resort. The whole place looks like a 1940s hacienda-wonderland with arches and pergolas predominant.
Video: Club Med Ixtapa Pacific - All Inclusive Resort in Mexico
One of the things Club Med does best of all are their kids and activities programs, in which they have more than 40 years experience in providing quality care. They provide great experiences for kids which really help their development. And the programs are delivered  by really well qualified practitioners who often have a degree or better. Where else can you get instruction at things like Archery School, Flying Trapeze School, circus and Tennis School! This is one of the few places you can have real confidence in leaving your kids in a kids program. 
Parents are not left out either with more than enough activities to fill extended vacations, stay excited, and not get bored.
There is also more variety here at the bars and restaurants than at many other resorts in the area. Included is water, and fruit juices for the kids, as well as non alcoholic cocktails. Mum and dad get theirs with and without alcohol and can have hot beverages. We like the mix of local and international options at the restaurants. You will need to upgrade to a premium all inclusive for some of the higher shelf wines and  and liqueurs however.
What really sets Club Med apart is the wonderful work of the GO's who become like members of the family and really set the scene for memorable vacations. With such a lot of activities it may think it may seem difficult to relax but this is not the case. You take part at your will and there never seems like any pressure to participate. 
More on Club Med Ixtapa All Inclusive Resort
Guest review video: Club Med Ixtapa, Mexico all you need to see
---
Barcelo Ixtapa All Inclusive Resort
Set on the main beach the Barcelo Ixtapa All Inclusive Resort has good access to local facilities, including the golf club. But the compelling reasons to stay here are, the excellent all-inclusive meal plans which feature international and local food, and a good entertainment program.
There are more than enough pools and recreational spaces. There is a hot tub as well as three family pools, a kids pool. For the kids there is also a quality program at the kid club daily from 9am to 5pm.
Promotional video review by property: Barceló Ixtapa, more than Paradise | Barceló Hotels & Resorts
Best of all for families the entertainment gets rolled out every evening with some entertaining shows.  The entertainment program here is a little more comprehensive, than some other resorts. Then don't get surprised if you see a Broadway style show, a big Mexican Party, Tropicana, A Las Vegas show, Michael Jackson and more, all in the same week.

The Spa is professional and well appointed with multiple treatment rooms, hydrotherapy, hairdresser, beauty salon, massages including hot stone, sports and more. 
Rooms are neat and have with a refrigerator, tea and coffee making facilities and a mini bar. 
Whilst the Robert Trent Golf course is close guests also can enjoy on the resort itself a couple of tennis courts.
Overall: While the resort has been around for a while they are managing to hold things together and guests are appreciating what is a comprehensive all-inclusive program. A good option for families rather than those seeking an ultimate luxury experience.
More information and reviews on Barcelo Ixtapa All Inclusive Resort
---
Ixtapa Pacifica Resort  
This is one of the top choices at the more affordable end of the market for Ixtapa all inclusive resorts and has all the ingredients for a top vacation.  An inviting  an outdoor pool and a sauna, kids club. Ixtapa-Zihuatanejo International Airport is a 20-minute drive away.
Video review by property: Pacífica Resort Ixtapa
There are a couple of all inclusive packages available at this hotel you can see when you book. Some include alcohol and some don't then keep an eye out for those options.

At the time of writing Children between 5 and 11 years old who measure shorter than 1.50 meters were eligible for a 50% discount on the all inclusive rate.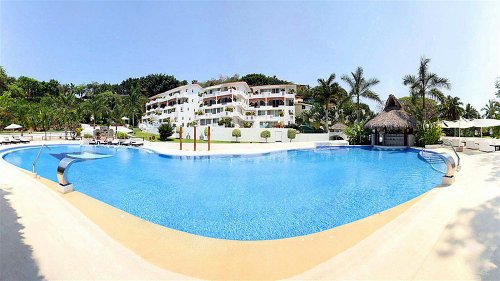 Around the area you can also enjoy some fishing, golf at the Palma Real, Robert Trent Jones course, local crafts and plenty of beach activities. 
Reviews are extremely favourable and the concierge team is only too happy to help you out with information on the local area. THe resort also maintains a chilled environment which makes it easy for guests to relax stress free. definitely worth considering this one especially if you are looking to save a few dollars for play.
More information on the packages and reviews on the Pacifica Resort Ixtapa.
---
The Holiday inn All-Inclusive Ixtapa Resort
The Holiday Inn All-Inclusive Ixtapa Resort  is only five minutes from Parque Ecológico Aztlan, on Boulevard Ixtapa.  Around the hotel / resort enjoy bicycle tours beach volleyball, yoga and aerobics. This is really in the middle of the hotel zone and you will have access to all the city has to offer.
Restaurant wise the All Inclusive dining options include 2 restaurants, and a snack bar. There are also weekly parties.
Reviews and More Information on the Holiday inn All-Inclusive Ixtapa Resort.
Promotional Video Review: Holiday Inn Resort Ixtapa All Inclusive | Ixtapa - Zihuatanejo, Mexico l Sunwing
---
Azul Ixtapa All Inclusive Beach Resort and Convention Center
Guest video review: Azul Ixtapa Grand Hotel | Best Travel place in Mexico
The 5-star Azul Ixtapa All Inclusive Beach Resort and Convention Center is another to consider.  This is an integral resort to the main tourist area and close to the Ixtapa Golf Club,  and the main beach. 
The amenities are well-kept and from the  at all-inclusive meal plans to the kids club and spa you can expect a class act. 
More information and reviews on the 
Azul Ixtapa All Inclusive Beach Resort
Share Your All-Inclusive Adventures and Questions! 🌴 Have a memorable experience from a luxury all-inclusive vacation? We'd love to hear it at Luxury Resort Bliss. We're on the lookout for top-quality, insightful tales that'll inspire our community. Dive in and be a part of our sun-soaked stories! 🌊🍹✨
The story is a fictionalized account founded on travel expertise, research, and experience. Always refer to recent guest reviews and perform due diligence before booking.
💼 We cherish our independence! ✈️ Our travel recommendations are carefully researched, bias-free, and powered by human expertise by April and Ricky of LRB (we have personally researched and travelled to many of these destinations and researched others thoroughly through first-hand accounts). We also have put in the hard miles, and Ricky has worked for decades for resort and hotel chains  Hyatt, Hilton, Shangri-La and Radisson before starting Luxury Resort Bliss in 2007. 🌍✨ Unlike some other resort review websites we are concerned on the guest experience rather than mere corporate interest.