Ski Resort Reviews
Our Ski resort reviews feature some of the best slopes together with great accommodation. We list the best ski resorts in each location. You may also like to consider a European ski resort if you live on the East Coast of the US.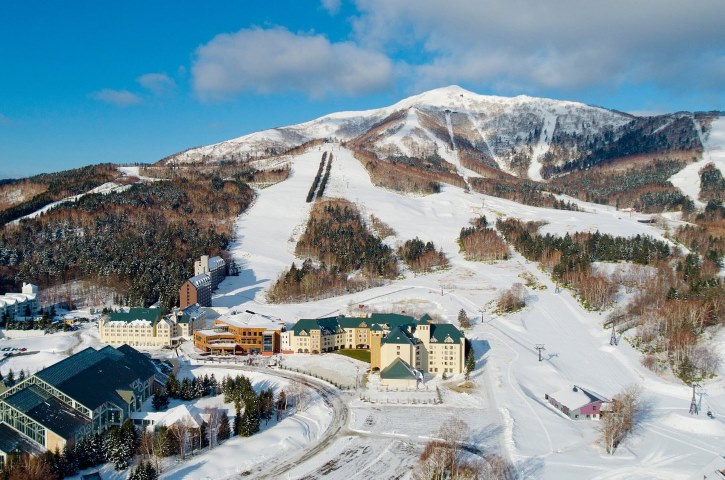 Club Med all-inclusive Ski Resort in Japan
---
North America's Best Ski Resorts
Whistler Village - North America's Top Ski Resort
North America Ski Review
In this YouTube review titled "10 Best Ski Resorts in North America" by SnowboardProCamp, Kevin, an adventurous and experienced snowboarder, shares his top 10 favorite resorts in North America. He takes us on a journey through each resort, highlighting their unique features and what makes them special.
Kevin begins with Palisades in Tahoe, California, praising its incredible alpine terrain, wide-open bowls, and exhilarating tree runs. He mentions the friendly locals and staff, creating a warm and welcoming atmosphere.
Next on the list is Alyeska Resort in Alaska. Kevin emphasizes the breathtaking views of enormous mountain peaks and the ocean. He highlights the challenging black and double black diamond runs and the opportunity to experience the largest and steepest chute in North America. He also mentions the possibility of visiting an animal sanctuary nearby.
Kevin then moves on to Crystal Mountain in Washington, where he discovered excellent tree riding, with a variety of flowy and technical runs. He appreciates the friendly vibe and the ease of riding from one chairlift to another.
Stevens Pass, also in Washington, captures Kevin's attention with its incredible tree riding and excellent flow on the mountain. He commends the friendly staff and the opportunity to explore new tree runs with every visit.
Revelstoke in British Columbia, Canada, makes it into the top 10 for its advanced terrain, long runs, and vast alpine riding. Kevin mentions the challenge of steep trees, open bowl areas, and the thrill of riding untouched powder. He also notes the welcoming town of Revelstoke.
Moving to Keystone Resort in Colorado, Kevin highlights the resort's well-rounded features. He enjoys the mix of tree runs, groomed trails, and an outstanding terrain park suitable for all skill levels. The friendly locals add to the overall positive experience.
Jackson Hole in Wyoming earns a spot on the list for its steep and challenging terrain. Kevin describes the fun of riding the trees, exploring open bowls, and the vibrant atmosphere of the town.
Mammoth Mountain in California offers a well-rounded experience with great powder days, an impressive terrain park, and an overall amazing vibe. Kevin mentions the enjoyment of riding through trees, steep double black diamond chutes, and the accessibility of off-chairlift powder.
Mount Baker in Washington surprises Kevin as an underrated gem. He raves about the mountain's incredible terrain, the biggest snow dumps in North America, and the excellent tree and backcountry riding opportunities.
Finally, Kevin's number one pick is Whistler Blackcomb in British Columbia, Canada. He describes the resort's exceptional alpine riding, with steep shoots, cliff drops, and vast bowls. He praises the extensive tree riding options and the world-class terrain park. The convenience of riding directly into the village adds to the appeal of this top-ranked resort.
Throughout the video, Kevin encourages viewers to share their own favorite resorts and engage in discussion about the rankings.
---
Ski Package Deals
World's Top 50 Most Popular Ski Destinations on TripAdvisor
Top 25 Most Popular Canada and United States Ski Destinations

Think Snow! Great Ski Deals. Book now on Expedia!
More Ski Resorts: 

| | |
| --- | --- |
| Popular USA Ski Resorts | International Ski Resorts |
Club Med All Inclusive Ski Resort in Canada
With its vast and diverse landscapes, the country offers an array of ski destinations to suit every preference. One such destination is Whistler Blackcomb in British Columbia, renowned for its awe-inspiring scenery, massive ski area, and world-class facilities. Its powdery slopes and extensive trail network cater to skiers and snowboarders of all levels. In Alberta, Banff National Park is home to exceptional resorts like Lake Louise and Sunshine Village, where visitors can revel in breathtaking mountain vistas and experience thrilling alpine adventures.
See also the best all-inclusive ski resorts in Canada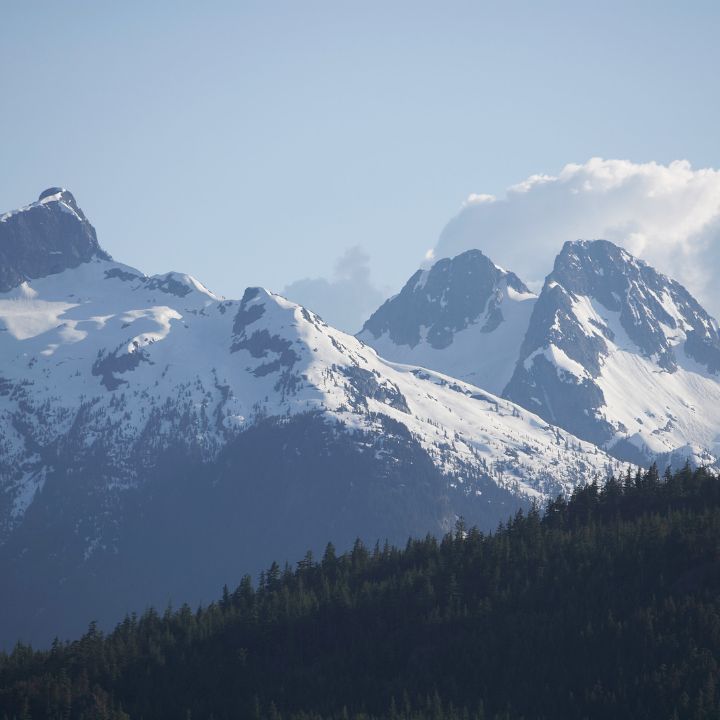 Whistler Blackcomb: An all-inclusive Skiing Giant
Further east, in Quebec, Mont Tremblant captivates with its charming European-inspired village and a wide range of ski terrain. With reliable snowfall, well-groomed slopes, and warm Canadian hospitality, ski resorts in Canada provide an unforgettable winter wonderland experience for all who seek the thrill of the slopes.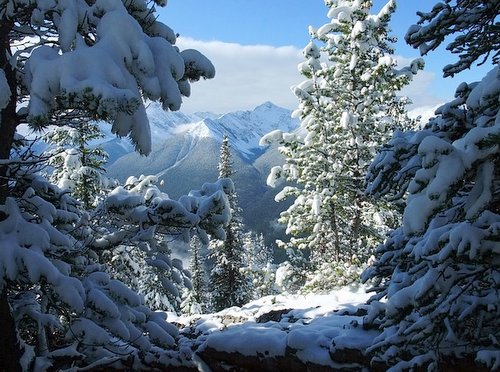 Lake Louise Ski Area
See Lake Louise Ski Resorts

Lake Louise has one of the most amazing settings for a ski resort anywhere. Set around the amazing blue green colored lake are 4,200 acres of skiable terrain with about 5m of fresh snow each year. With 139 runs and 9 ski lifts. Not to mention all there is to do around the resort.
VIDEO: Banff-Lake Louise: 3 Ski Resorts, 8,000 Acres, 360" of Snow
You may also like to begin your investigation by seeing the reviews on the amazing:
and the Blue Mountain Ski Resorts.

Video Below: Find out why Whistler Blackcomb has been named North America's No. 1 t ski resort by SKI Magazine Reader's AGAIN!.

---
Review
The United States is home to some of the world's premier ski resorts, Here are some of the best ski resorts in North America:
Aspen Snowmass, Colorado, USA: Aspen Snowmass is renowned for its four interconnected mountains, offering a variety of terrains suitable for all skill levels. The resort also boasts a vibrant après-ski scene and luxurious amenities.

Vail, Colorado, USA: Vail is one of the largest ski resorts in North America, known for its extensive terrain, including the legendary Back Bowls. The resort offers world-class skiing, upscale lodging, and a charming European-style village.
Jackson Hole, Wyoming, USA: Nestled in the Teton Range, Jackson Hole is celebrated for its challenging slopes, steep vertical drops, and abundant powder snow. It attracts advanced and expert skiers seeking thrilling experiences.
Park City Mountain Resort, Utah, USA: With its vast ski area, diverse terrain, and close proximity to Salt Lake City International Airport, Park City Mountain Resort offers convenience and excitement for skiers of all levels.
Sun Valley, Idaho, USA: Sun Valley holds a special place in North American skiing history as one of the first destination ski resorts. It offers world-class skiing, a charming mountain town, and a relaxed atmosphere.
Telluride, Colorado, USA: Nestled in the San Juan Mountains, Telluride offers a unique blend of stunning natural beauty, Old West charm, and exceptional skiing. It is renowned for its challenging terrain and uncrowded slopes.
Big Sky Resort, Montana, USA: Known for its vast skiable terrain, Big Sky Resort offers wide-open slopes, long vertical drops, and breathtaking views of the surrounding wilderness. It is a haven for outdoor enthusiasts.
This review showcases the top 10 ski destinations in the USA. Starting with Sun Valley Resort in Idaho, the article highlights its popularity among outdoor lovers and Hollywood celebrities. Whiteface Mountain in New York is praised for its designated areas catering to skiers of all skill levels, and Jackson Hole Mountain Resort in Wyoming is recognized for its breathtaking views and delicious waffle breaks.
 Big Sky Resort in Montana offers stunning panoramic views and thrilling zipline adventures, while Taos Ski Valley in New Mexico features exceptional trails and affordable lodging options. Squaw Valley in California, known for hosting the Winter Olympics, offers beautiful views and abundant snowfall. Stowe in Vermont offers a variety of snow activities and a gondola ride to Mount Mansfield's peak. Snowbird and Alta in Utah receive substantial snowfall and provide exclusive skiing experiences. Finally, Park City Mountain Resort in Utah is the largest ski resort in the US, and Vail Ski Resort in Colorado is praised for its diverse terrain and vibrant town.
The United States clearly is a prime destination to consider a ski vacation with some of the best ski mountains in the world. Here are some of the most popular.

California boasts several renowned ski resorts that attract visitors from near and far. Mammoth Mountain, located in the Sierra Nevada range, is one of the most popular destinations, offering an extensive trail network, breathtaking views, and reliable snow conditions.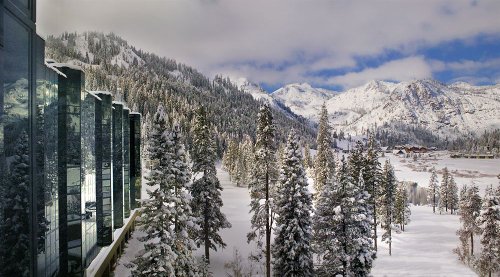 Lake Tahoe Ski Resorts
Heavenly Mountain Resort, situated on the southern shore of Lake Tahoe, offers a unique combination of skiing and stunning lake views. Squaw Valley and Alpine Meadows, both located near Lake Tahoe, provide diverse terrain and world-class facilities. These resorts, along with others in California, offer an unforgettable skiing experience in a beautiful and vibrant setting.
Many of the best California Ski Resorts like Mammoth, Heavenly and Squaw Valley are situated on and around the Lake Tahoe Resorts area. You may also like to check out Big Bear Ski Resort.
See the full reviews of more Lake Tahoe Ski Resorts and Lake Tahoe Getaways.
You can also find special offers on all these resorts on the Top 25 Lake Tahoe Resort Deals with Reviews on TripAdvisor
VIDEO: Mammoth Mountain Ski Area

---
Colorado is home to some of the world's most renowned ski resorts, attracting winter sports enthusiasts from around the globe. One of the most iconic destinations is Aspen Snowmass, which comprises four interconnected mountains and offers diverse terrain for skiers and snowboarders of all levels. Vail Mountain, with its vast ski area, stunning alpine scenery, and luxurious amenities, is another popular choice. Breckenridge, known for its charming town and excellent snow conditions, offers a vibrant atmosphere and diverse terrain. Other notable resorts include Keystone, Winter Park, Beaver Creek, and Copper Mountain, each offering its own unique appeal. Whether you're seeking challenging slopes, family-friendly options, or vibrant après-ski scenes, Colorado's ski resorts have something to offer for every winter enthusiast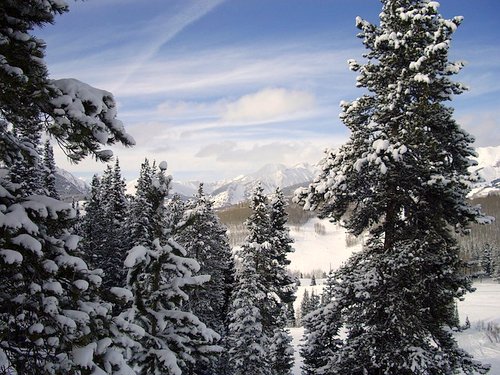 Colorado Ski Resort Reviews
The Colorado Ski Resorts are world famous and remain a favorite with celebrities and families alike. The Aspen Ski Resorts scene is well established and home to some amazing ski destinations.

Mountain Review: Breckenridge, Colorado
Breckenridge, Colorado, is a major destination for ski trips with its vast ski area spanning nearly 3,000 skiable acres and elevations reaching almost 13,000 feet. The resort has gained immense popularity over the years due to its diverse terrain, excellent snowfall, and resort amenities. In this review, we'll explore Breckenridge's overall mountain experience and how it compares to other resorts.
One of Breckenridge's standout features is the diversity of its terrain. With five interconnected mountains, ranging from regular trails to glades to wide-open bowls, the resort caters to skiers and snowboarders of all skill levels. The expansive footprint and substantial acreage provide ample space for a front-facing resort.
Breckenridge receives strong snowfall, comparable to upper-tier destinations in the Front Range. It experiences a good number of powder days during the winter, especially in the core season. In case of a slow start to the season, the resort utilizes snowmaking in multiple mid and lower mountain areas to ensure a resilient base layer.
While Breckenridge offers some areas for beginners, it may not be the best choice for less experienced visitors. The lower part of Peak 9 provides popular beginner terrain, but it lacks intermediate alternatives, resulting in mixed ski traffic. The less crowded Rip's Ride and Snowflake pods on Peak 8 offer more isolated options but with limited terrain. Overall, Breckenridge may not be the ideal mountain for beginner to intermediate progression.
Intermediate skiers will find a wide array of terrain at Breckenridge. The majority of lift-serviced Peak 6 and 7 areas consist of blue runs, including a unique opportunity for intermediate bowl skiing. Some of the blue trails on Peak 6 can be more challenging than the rest, comparable to easier groomed black runs elsewhere in the resort. Most intermediate runs are consistently groomed, although a few blue trails can accumulate moguls, providing a good environment for practicing bumps.
Breckenridge's freestyle terrain is still competitive, featuring three sizeable terrain parks with various features, including boxes, rails, jumps, and a bank slalom. However, the resort's former reputation for large features, like the old Freeway Terrain Park with its 22-foot superpipe, is no longer present. The resort's harder terrain, including glades and black trails, can be found in mid or upper mountain areas, offering steep and challenging runs. Breckenridge also provides access to backcountry terrain for those seeking a more adventurous experience.
The snow quality at Breckenridge is often best in mid-mountain areas, where wind exposure is reduced, ensuring good snow preservation throughout the season. Lower mountain areas may have more variable conditions, but early season snowmaking ensures a resilient base layer. Due to its elevation, conditions at Breckenridge can be windy and colder compared to other Colorado resorts.
Breckenridge offers a wide range of lodging options, both slopeside and in town, with upscale hotels and condos available. The town of Breckenridge itself is within walking distance of many attractions and offers easy access to the slopes.
In terms of rankings, Breckenridge scores well in categories like snow, size, terrain diversity, and mountain aesthetic. However, it faces challenges in terms of lift infrastructure, crowd flow, navigation, and ticket prices. While the resort holds up well against nearby mountains like Copper, Winter Park, and Keystone, there is room for improvement in areas like lift systems and logistical planning.
Overall, Breckenridge provides a well-rounded ski experience with its diverse terrain, excellent snowfall, and convenient access to bowls and backcountry skiing. However, its altitude, windy conditions, crowded peak days, and navigation challenges should be taken into consideration. With
Montana is home to some of the most spectacular ski resorts in the United States. With its rugged mountains and abundant snowfall, the state offers a paradise for skiers and snowboarders. Resorts like Big Sky, Whitefish Mountain Resort, and Bridger Bowl attract winter sports enthusiasts from around the world. Big Sky boasts the largest skiable terrain in the country, with over 5,800 acres of pristine slopes. Whitefish Mountain Resort offers breathtaking views of Glacier National Park and features a variety of terrain suitable for all skill levels. Bridger Bowl, known for its challenging runs and abundant powder, is a local favorite among experienced skiers. Montana ski resorts not only provide exceptional skiing and snowboarding opportunities but also showcase the region's natural beauty and unique mountain culture. Whether you're seeking thrilling adventures or serene alpine landscapes, Montana has it all for a memorable winter getaway.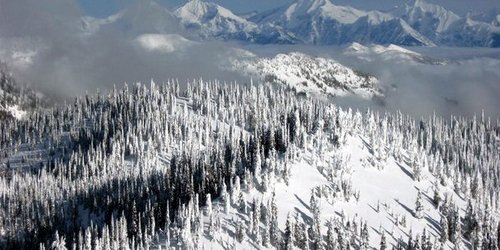 Montana Ski Resorts
Only a few miles from Yellowstone are some spectacular ski resorts which are often rated as the best in the Country. See these great Montana Ski Resorts.
review of Big Sky, Montana
The review of Big Sky, Montana ski resort highlights several key aspects of the mountain. The resort is known for its excellent snow quality, with some of the best accumulation in North America and a resilient base layer due to consistently cold temperatures. Big Sky offers abundant terrain diversity, catering to skiers of all ability levels. It has beginner-friendly areas as well as varied groomers and glades for intermediate skiers. For advanced skiers, there are steep ungroomed runs, tight glades, and challenging bowls. The resort also features terrain parks with freestyle features and extreme terrain, including the famous snow fields off Lone Mountain, which offer demanding and exhilarating runs. The Lone Peak Tram provides access to the resort's most formidable terrain, while the hike-to terrain in the Headwaters area offers extreme skiing and powder stashes. The lift system is decent but can be crowded during peak times. The on-mountain facilities, navigation signage, and ease of access to certain areas could be improved. The mountain aesthetic is unique, with stunning views of Lone Peak and other snow-capped peaks. The resort offers various lodging options, but prices can be expensive. Overall, Big Sky receives positive ratings for its snow quality, terrain diversity, and extreme skiing opportunities. However, there are areas for improvement in terms of lift infrastructure, crowd flow, on-mountain facilities, and navigation. The review concludes by mentioning that Big Sky ranks 13th in the Rockies and 14th overall among North American ski resorts, with potential for improvement in future rankings.
---
New England Ski Resorts
New England is known for its charming and picturesque ski resorts, offering a unique winter experience. From the stunning slopes of Vermont's Stowe Mountain Resort and Killington Ski Resort to the scenic beauty of New Hampshire's Bretton Woods and Loon Mountain, there are plenty of options for skiing and snowboarding enthusiasts. Maine's Sunday River and Sugarloaf Mountain also provide excellent terrain and breathtaking views. With a combination of well-groomed trails, challenging runs, and cozy mountain villages, New England ski resorts offer a delightful mix of outdoor adventure and cozy winter retreats.
Vermont is a homeland and traditional and integral part of the sports development. Even snowboarding has claims to have to begun here. Find out what the best ski resorts are for the type of ski vacation you like.
Some of the peaks and snowfalls can even rival the West Coast. The New Hampshire Ski Resorts, Maine Ski Resorts, And Poconos Ski Resorts are good options closer to the East coast as well.

---
Utah is renowned for its world-class ski resorts, offering a diverse range of terrain and stunning mountain vistas. Park City Mountain Resort, the largest ski resort in the United States, features over 7,300 acres of skiable terrain and is known for its excellent snow conditions. Alta Ski Area and Snowbird are renowned for their steep and deep powder, attracting advanced skiers and snowboarders. Deer Valley Resort offers a luxurious skiing experience with impeccable grooming and top-notch amenities. Other notable resorts include Snowbasin, Solitude Mountain Resort, and Brighton Resort, each offering unique features and opportunities for all skill levels. Utah's ski resorts are celebrated for their accessibility, quality of snow, and breathtaking landscapes, making it a premier destination for winter sports enthusiasts.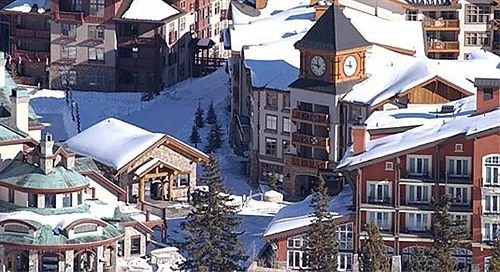 Solitude Village
See the Solitude Ski Resort Reviews.
Utah Ski Resorts Reviewed
Ranked from worst to best, the Utah ski resorts are as follows:
8th: Brighton - Offers good snowfall and terrain, but its small size and lift system can be frustrating.
7th: Solitude - Known for its expert terrain and snowfall, but lacks beginner options and has increased traffic.
6th: Powder Mountain - Offers low visitation and enjoyable terrain, but slow lifts and limited facilities impact the experience.
5th: Deer Valley - Luxurious amenities, but lacks terrain variety and has higher ticket prices.
4th: Park City - Large resort with excellent terrain parks, but limited terrain and crowded lifts.
3rd: Snow Basin - Impressive facilities and grooming, but beginner terrain is limited, and on-site lodging is limited.
2nd: Snowbird - Known for its extreme terrain and consistent snow, but beginner options are limited, and on-site lodging is limited.
1st: Alta - Offers the best overall snow and consistent conditions, with a local feel and diverse terrain.
This ranking provides a concise summary of the Utah ski resorts from worst to best, highlighting their strengths and weaknesses.
---
Arizona is not typically known for its ski resorts, as it is a state with mostly warm and desert-like climate. However, there are a few ski resorts in Arizona that offer skiing and snowboarding opportunities. Here are the top ski resorts in Arizona:
Arizona Snowbowl: Located near Flagstaff, Arizona Snowbowl is the most popular ski resort in the state. It offers a variety of ski trails for all skill levels and stunning views of the surrounding mountains. Snowbowl has modern facilities and amenities, including ski and snowboard rentals, lessons, and dining options.
Sunrise Park Resort: Situated in the White Mountains of eastern Arizona, Sunrise Park Resort is another notable ski destination. It features diverse terrain with trails suitable for beginners, intermediate, and advanced skiers. The resort also offers snowboarding, tubing, and other winter activities.
Mount Lemmon Ski Valley: Located in the Santa Catalina Mountains near Tucson, Mount Lemmon Ski Valley is a small ski area offering a unique skiing experience in southern Arizona. It has limited runs but provides an opportunity for locals and visitors to enjoy skiing without having to travel far.
Please note that the ski resorts in Arizona have limited snowfall compared to popular skiing destinations in other states. The snow conditions can vary, so it's advisable to check the current snow conditions and resort operations before planning a trip.
---
The Best Ski Resorts in the World
| Destination | Country | Highlights |
| --- | --- | --- |
| Niseko | Japan | Powder snow, variety of ski slopes, vibrant nightlife |
| Whistler Blackcomb | Canada | Massive ski area, breathtaking scenery, world-class facilities |
| St. Anton am Arlberg | Austria | Challenging slopes, vibrant après-ski, charming alpine village |
| Verbier | Switzerland | Extensive off-piste terrain, lively nightlife, stunning Swiss Alps |
| Aspen Snowmass | United States | World-class skiing, luxurious resorts, diverse terrain |
VIDEO: Top Ski Destinations in Europe | The Ski Channel
Worlds Top 50 Most Popular Ski Destinations on TripAdvisor

Check out some of the worlds top ski locations. These links will take you to the destination reviews and give you the best resort deals in those locations. An excellent resource.
South America Ski Vacation Deals with Reviews.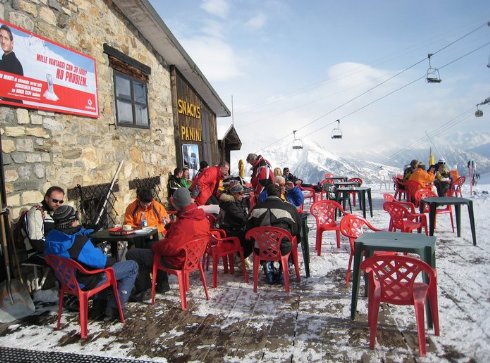 Then what are the best ski resorts in the world? This is not a case of depends who you ask. There is defiantly better places than others for a ski vacation and Jamaica does not make the list this year I am afraid. However there is a little room for personal taste and the top 5 best ski resorts list below is only really a suggestion.
Top 25 Ski Destinations In Europe
Japan boasts numerous top-notch ski resorts renowned for their abundant snowfall, impressive terrain, and quality amenities. Niseko United, located on Hokkaido, Japan's northernmost island, is arguably the most famous, offering multiple ski areas with a diverse range of trails, luxurious accommodations, and breathtaking views of Mount Yōtei. Hakuba Valley in Nagano Prefecture, home to the 1998 Winter Olympics, is another top-tier destination, with ten individual resorts and some of the country's most challenging runs.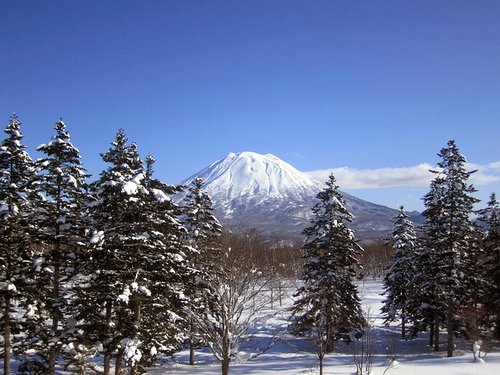 For families, Rusutsu Resort offers a variety of beginner and intermediate trails, alongside engaging activities like snow rafting and dog sledding. Shiga Kogen, the largest ski area in Japan, offers an immense variety of terrain across its 21 interconnected resorts, making it ideal for those seeking extensive skiing or snowboarding options. Finally, Nozawa Onsen Ski Resort in Nagano combines excellent skiing with traditional Japanese onsen (hot spring) culture, providing a unique experience that's quintessentially Japanese.
Japanese Ski Resorts Compared
A top Ski resort in Japan is Hoshino Resorts Tomamu The Tower.

---
Australia might not be the first place that comes to mind when thinking of skiing, but it does offer some unique ski resorts that promise a great time on the slopes. Here are some of the top ski resorts in Australia: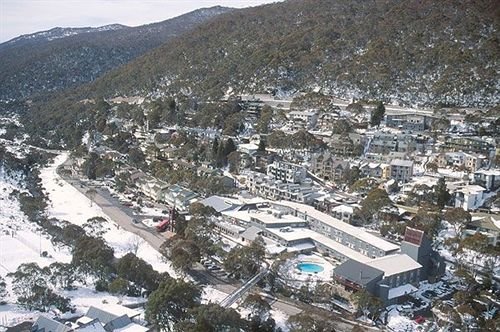 Thredbo, New South Wales
Perisher Valley, New South Wales: Perisher is Australia's largest ski resort, featuring an extensive range of terrain over seven mountain peaks. It's great for beginners and advanced skiers alike, with a variety of runs and a snowboarding park.
Thredbo, New South Wales: Thredbo is known for its long runs and offers some of the most challenging terrains in the country. It also has a lively après-ski scene with lots of dining and entertainment options.
Falls Creek, Victoria: Falls Creek is Victoria's largest ski resort and is well suited for families and beginners, with a significant proportion of beginner and intermediate runs. It's a true ski-in, ski-out resort with accommodation spread throughout the village.
Mt. Hotham, Victoria: Mt. Hotham is often referred to as the 'powder capital' of Australia and is popular with advanced skiers and boarders due to its challenging runs and off-piste skiing. The resort also boasts stunning views of the Victorian Alps.
Mt. Buller, Victoria: Just a three-hour drive from Melbourne, Mt. Buller is one of Australia's most accessible resorts. It has a good mix of beginner, intermediate and advanced runs, and offers a wide range of accommodations and dining options.
Remember, the ski season in Australia typically runs from June to October, a perfect escape for those who want to ski during the Northern Hemisphere's summer!
The Australian ski resorts are not the most amazing in the world. But the writer of this article is Australian and perhaps a little biased. Some may find it surprising however you can ski here.
---
Austria is famous for its picturesque ski resorts that offer a variety of terrains and experiences for all skill levels. Here are some of the top ski resorts in Austria:
St. Anton am Arlberg: Known as the "Cradle of Alpine Skiing", St. Anton is part of the Arlberg Ski Area, offering an impressive network of slopes and lifts. With its excellent snow conditions, challenging terrains, and  après-ski scene, it's a favorite among advanced skiers and snowboarders.
Kitzbühel: Renowned for hosting the Hahnenkamm, the most challenging World Cup ski race, Kitzbühel offers a combination of charming medieval architecture, stylish boutiques, and 170km of pistes. Its slopes are well-suited for intermediate skiers, though it offers runs for all levels.
Sölden: This resort is known for its reliable snowfall, high-altitude skiing, and lively nightlife. It also features two glaciers and three mountains over 3,000 meters, earning it the nickname "Big 3."
Mayrhofen: Located in the Zillertal Valley, Mayrhofen is a and popular resort that boasts the steepest piste in Austria, the Harakiri. It also offers a large, varied ski area that caters to all skill levels.
Saalbach-Hinterglemm: This resort is renowned for its extensive ski circuit that allows you to ski around the whole area without needing to take off your skis. It's perfect for families and skiers of all abilities.
Ischgl: Known for its high-quality, well-groomed pistes, and  nightlife, Ischgl is one of the most popular ski destinations in Austria. The ski area is vast, straddling the Swiss border and offering a good variety of runs.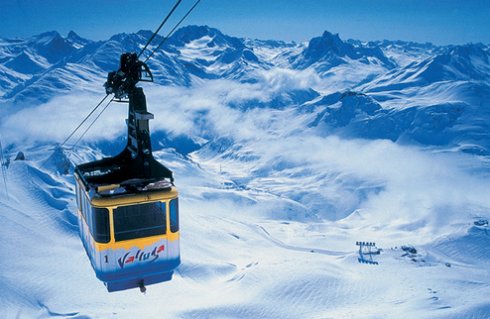 Austria Ski Resorts
In contrast to Australia, Austria does have some amazing resorts located in the Alps.
---
Among the top ski destinations in Italy, a few stand out for their exceptional ski terrain, charming alpine villages, and vibrant après-ski scene.
One such resort is Cortina d'Ampezzo, located in the heart of the Dolomites. Known for its glamorous ambiance and dramatic mountain vistas, Cortina d'Ampezzo has hosted the Winter Olympics and continues to attract skiers of all levels. With over 120 kilometers of slopes, it offers a diverse range of terrain, from gentle slopes for beginners to challenging runs for advanced skiers.
Another popular resort is Madonna di Campiglio, nestled in the Brenta Dolomites. This picturesque village combines Italian charm with world-class skiing facilities. Madonna di Campiglio boasts a vast ski area interconnected with neighboring resorts, providing over 150 kilometers of slopes. The resort is particularly renowned for its well-groomed runs, making it ideal for intermediate skiers.

For those seeking a blend of skiing and Italian culture, the resort of Courmayeur is a perfect choice. Situated at the foot of the majestic Mont Blanc, Courmayeur offers breathtaking scenery and a vibrant town atmosphere. With its charming cobbled streets and excellent restaurants, it provides an authentic Italian experience. The ski area of Courmayeur caters to skiers of all abilities, with a mix of gentle slopes and challenging off-piste terrain.
Additionally, the resort of Sestriere holds a prominent place in Italy's ski scene. Located in the Milky Way ski area, which spans the Italian-French border, Sestriere offers over 400 kilometers of interconnected slopes. This resort gained international recognition as a host of the Winter Olympics and provides a wide variety of terrain suitable for all skill levels.
Check out our Italy Ski Resorts Review.

A: The best ski resorts can vary depending on personal preferences and specific criteria. However, some highly regarded ski resorts globally include Whistler Blackcomb in Canada, Vail and Aspen Snowmass in the United States, Zermatt in Switzerland, and Val d'Isere in France.
A: Several factors contribute to a ski resort being considered the best. These factors include a variety of well-maintained ski slopes catering to different skill levels, reliable snow conditions, modern infrastructure and facilities, excellent amenities (such as ski rentals, lessons, and on-mountain dining), beautiful scenery, and a welcoming atmosphere.
A: Yes, there are affordable ski resorts that offer a great skiing experience. Some ski resorts may have lower lift ticket prices, affordable accommodations nearby, and options for budget-friendly dining. Researching and comparing different resorts, particularly those in less popular or remote locations, can help find more affordable options.
A: Many ski resorts cater to families and provide a range of family-friendly amenities. Some notable family-friendly ski resorts include Keystone and Breckenridge in Colorado, Park City Mountain Resort in Utah, and Whistler Blackcomb in Canada. These resorts offer dedicated children's ski areas, ski schools, childcare services, and various activities for the whole family to enjoy.
A: Ski resorts known for their challenging terrain and excellent options for advanced skiers include Jackson Hole in Wyoming, Verbier in Switzerland, Chamonix in France, and St. Anton in Austria. These resorts have steep runs, off-piste opportunities, and thrilling backcountry access.
A: Yes, many ski resorts have beginner-friendly slopes and comprehensive ski schools to help beginners learn and progress. Some notable resorts for beginners include Deer Valley in Utah, Solitude Mountain Resort in Utah, and Mont Tremblant in Canada. These resorts offer gentle slopes, patient instructors, and supportive learning environments.
A: Yes, many ski resorts offer a range of activities beyond skiing and snowboarding. These activities may include snowshoeing, snowmobiling, ice skating, sledding, spa facilities, and entertainment options such as live music or events. Resorts like Whistler Blackcomb, Park City Mountain Resort, and Aspen Snowmass are known for providing a variety of winter activities for visitors to enjoy.
A: Yes, many ski resorts provide ski-in, ski-out accommodations, allowing guests to conveniently access the slopes directly from their lodging. Resorts like Vail, Aspen Snowmass, and Heavenly Mountain Resort offer a range of ski-in, ski-out accommodations, including hotels, condos, and chalets located right on or near the slopes.
A: Ski resorts located at higher elevations or in regions with favorable snow conditions often have longer ski seasons. Resorts like Mammoth Mountain in California, Arapahoe Basin in Colorado, and Whistler Blackcomb in Canada typically have longer seasons, often extending into late spring or even early summer.
A: Powder skiing enthusiasts often seek out resorts known for their abundant and high-quality powder snow. Some popular destinations for powder skiing include Alta and Snowbird in Utah, Niseko in Japan, and Revelstoke Mountain Resort in Canada. These resorts receive significant snowfall and offer excellent opportunities for deep powder skiing.
A: Yes, many ski resorts have dedicated cross-country skiing trails or offer cross-country skiing opportunities in nearby areas. Resorts like Craftsbury Outdoor Center in Vermont, Royal Gorge in California, and Silver Star Mountain Resort in Canada have extensive cross-country skiing networks with groomed trails suitable for various skill levels.
A: Several ski resorts are renowned for their vibrant après-ski scenes, where visitors can enjoy lively socializing and entertainment after a day on the slopes. Popular resorts with a lively après-ski atmosphere include St. Anton in Austria, Val d'Isere in France, Aspen in Colorado, and Verbier in Switzerland.
A: Yes, most ski resorts are snowboarder-friendly and provide slopes suitable for snowboarding. Resorts like Breckenridge, Park City Mountain Resort, and Mammoth Mountain are known for their excellent terrain parks and halfpipes catering specifically to snowboarders.
A: Yes, some ski resorts offer heli-skiing or cat skiing experiences, providing access to remote backcountry terrain. Resorts like Whistler Blackcomb, Revelstoke Mountain Resort, and Big Sky Resort offer heli-skiing or cat skiing opportunities, allowing adventurous skiers and snowboarders to explore untouched powder slopes.
💼 We cherish our independence! ✈️ Our travel recommendations are carefully researched, bias-free, and powered by human expertise by April and Ricky of LRB (we have personally researched and travelled to many of these destinations and researched others thoroughly through first-hand accounts). 🌍✨
We try to keep everything up to date, but please always do your own research and contact us if you know any issues for us to help others as best we can as a small but professionally focused team! 🧐📚⚠️