Top 15 Ski Resorts in Japan
Powder Paradise: Discover Japan's Premier Ski Resorts
The Top 15 Ski Resorts In Japan are a blend of champagne powder, unique culture, and hot spring bathhouses (onsen). Beyond the powder paradise Japan's ski resorts offer an irresistible allure. Here's a curated list of the best ski resorts in Japan, each renowned for its superb skiing conditions and a wealth of off-piste experiences.
See also all-inclusive Ski Resorts in Japan (mostly accommodation) 
Best Ski Resorts in Japan
Best Ski Resorts at a glance comparison table: 
SKi Resorts in Japan Compared Table
Top 15 ski resorts in Japan
The top 15 ski resorts in Japan, known for their exceptional offerings:
Niseko United: Located on Hokkaido, it's known for its light powder snow, fantastic backcountry, and lively nightlife.
Rusutsu: Another Hokkaido gem, Rusutsu is known for its deep snow, tree skiing, and family-friendly activities.
Hakuba Valley: Nestled in the Japanese Alps, Hakuba offers diverse terrain across 9 different ski resorts, as well as easy access from Tokyo.
Shiga Kogen: The largest ski area in Japan, Shiga Kogen is known for its great variety of runs and access to the snow monkey park.
Furano: This Hokkaido resort is known for its long ski season, family-friendly facilities, and local Hokkaido cuisine.
Nozawa Onsen: Renowned for its traditional Japanese charm, Nozawa offers excellent skiing combined with historic onsen (hot spring) experiences.
Sapporo Teine: A compact resort near the city of Sapporo, Teine is known for its steep slopes and views over the city and sea.
Tomamu: This resort is famous for its off-piste skiing, quality family facilities, and unique Ice Village.
Kiroro: Another Hokkaido resort, Kiroro is less crowded than its counterparts, offering great snow and off-piste skiing.
Myoko Kogen: Situated in Niigata Prefecture, Myoko Kogen combines deep snow, long runs, and an authentic Japanese experience.
Happo One: Located in Hakuba Valley, Happo One is known for its Olympic heritage, challenging terrain, and panoramic mountain views.
Naeba: Easily accessible from Tokyo, Naeba offers diverse terrain, night skiing, and is linked to the Kagura ski area.
Asahidake: This is the highest skiable mountain in Hokkaido, known for its backcountry skiing and natural hot springs.
Yuzawa: Located in Niigata Prefecture, it offers easy access from Tokyo, plenty of snow, and multiple ski areas to choose from.
Zao Onsen: Famous for its snow monsters (frozen snow-covered trees), this Yamagata resort offers onsen, night skiing, and a long season.
Niseko United
Niseko United: The Powder Capital (9.5/10)
Niseko, located on Japan's northernmost island of Hokkaido, is often hailed as the powder capital of the world. Niseko is the quintessential fusion of exceptional skiing and embeded cultural experience.
Its diverse ski terrain, accommodating all skill levels, is comprised of meticulously groomed trails, as well as off-piste trails where you can carve through untouched powder, a delight for any skier or snowboarder. The magic of Niseko, however, extends beyond the slopes.

In the heart of the resort, Hirafu Village pulsates with energy and excitement. Unlike many other ski villages in Japan, Hirafu offers a bustling après-ski scene complete with an array of activities, shopping opportunities, an eclectic mix of restaurants, and a lively nightlife. These elements create a culturally rich ambiance that complements the exhilarating day on the slopes, providing a full, satisfying resort experience.
Located approximately a two-hour drive southwest from Sapporo, Niseko's accessibility is enhanced by the availability of numerous shuttle buses and trains, making it easy for visitors to reach from both the city and New Chitose International Airport. Overall, Niseko stands out not only as a premier ski destination but also as an engaging and enjoyable cultural hub, solidifying its position as Japan's most popular ski spot.
Vacation to Niseko with Expedia
Book a Hotel + Flight or Car together to unlock savings
Hakuba Valley
Hakuba Valley: An Olympian Legacy (9/10)
Hakuba Valley in Nagano Prefecture, a site for the 1998 Winter Olympics, boasts nine ski resorts, providing a vast expanse of skiable terrain. Known for its steep slopes and long runs, Hakuba is ideal for advanced skiers, though it has plenty to offer beginners and intermediates too.
The resort's proximity to Tokyo and a wide range of accommodation and dining options make it incredibly accessible and appealing. Yet, it does lack the consistent, light powder snow that Hokkaido resorts like Niseko are famous for.
Rusutsu: Hokkaido
Rusutsu: Hokkaido's Hidden Gem (8.5/10)
Rusutsu Ski Resort is a sublime snow haven tucked away in the beautiful landscape of Hokkaido, Japan. Known for its deep powder, the resort offers a sublime ski experience that caters to all abilities. The 37 diverse courses that span across three peaks and the absence of crowds ensure a serene environment, letting you immerse in the thrilling sport with ease. Those seeking an adrenaline rush can opt for the helicopter service to the summit of Mt. Shiribetsu and enjoy up to six guided ski sessions a day, while advanced skiers can test their skills in the two freestyle parks, complete with jumps, rails, and other features.
For families, Rusutsu doesn't fall short; numerous playgrounds and schools themed around the popular character, Crayon Shin-chan, keep the younger ones entertained. After an exhilarating day on the slopes, you can unwind in the thermal hot spring baths, offering a perfect blend of luxury and relaxation. Topping it off, the resort provides exquisite accommodations that fully capture the stunning scenery.
Conveniently located just a 90-minute drive from New Chitose Airport or Sapporo, and only a 30-minute drive from the more crowded Niseko, Rusutsu is an easily accessible alternative offering equally remarkable trails. Shuttle buses are also available between the resort, the city, and the airport, further enhancing its accessibility. Although Rusutsu might not be the top choice for those looking for an active nightlife, it more than compensates with its fantastic ski experience and luxurious facilities. Truly, Rusutsu is a gem in Japan's winter wonderland.
Just a stone's throw from Niseko, Rusutsu Resort often flies under the radar. It's renowned for its plentiful, high-quality snow and wide, tree-lined runs that offer a delightful mix of on-piste and off-piste skiing.
Rusutsu has a quieter, more local feel compared to its famous neighbor Niseko, making it a superb choice for those wanting to avoid the crowds. Yet, its nightlife and dining options can't quite match the vibrancy of larger resorts.
Rusutsu
Known for: Deep snow, non-existent crowds, and luxurious off-slope indulgence.
Highlights: Balanced trail variety for all abilities, luxury amenities including thermal hot spring baths.
Drawbacks: Not the best choice for party-seekers.
Holidays in Rusutsu at Expedia
Book a Hotel + Flight or Car together to unlock savings
Shiga Kogen in Nagano
Shiga Kogen: A Mountainous Tapestry (8/10)
At a glance: Shiga Kogen in Nagano Prefecture is Japan's largest ski area, comprised of 21 interconnected resorts. Offering a diverse range of runs, stunning panoramic views, and access to the nearby Jigokudani Monkey Park, it presents a uniquely Japanese skiing experience.
Despite its scale and charm, Shiga Kogen doesn't quite draw the international crowds like Niseko or Hakuba, making it a quieter, more understated winter destination. It also lacks a central hub, which might discourage those seeking a lively après-ski scene.
Shiga Kogen Review
Shiga Kogen Ski Resort, one of Japan's premier winter destinations, provides a magnificent mix of varied terrain and quality snow, thanks to being the country's second-highest ski resort. The resort is an absolute paradise for intermediate skiers, winning awards for the best intermediate terrain and providing a vast ski area that caters to beginners, intermediates, and advanced riders. The availability of English-speaking group ski lessons adds a level of comfort for international tourists.
However, the resort does come with certain drawbacks. The accommodation is primarily hotel-based, making it less suitable for those seeking self-contained or backpacker lodgings. Additionally, the lack of stand-alone restaurants, bars, and shops might disappoint those who seek a lively apres-ski scene.
Shiga Kogen is vast, composed of 19 interconnected ski areas, with a single lift pass providing access to all. It provides a feeling of exploration and novelty, but the scale also leads to the villages being quite spread out, causing potential difficulties for evening activities.
In terms of off-piste skiing, policies are strict at most ski areas, but this can be a hidden blessing as it reduces competition for fresh powder. Although not catering to the adrenaline needs of extreme expert skiers, the resort offers sufficient challenges to keep advanced riders entertained.
Located in Nagano Prefecture, Shiga Kogen does not feature a bustling town atmosphere, meaning most after-ski activities take place within the hotels. However, nearby attractions like the hot spring resort towns of Shibu Onsen and Yudanaka Onsen, as well as the Jigokudani Monkey Park, provide additional entertainment options.
Overall, Shiga Kogen Ski Resort's vast terrain, quality snow, and unique Japanese charm make it an enticing option for a memorable ski holiday. However, those seeking a bustling nightlife or a more westernized experience might want to look elsewhere.
Known for: Perfect corduroy groomers and access to the largest connected ski area in Japan.
Highlights: Terrain suitable for all abilities, ski-in/ski-out accommodation, interconnected lifts and trails.
Drawbacks: Limited dining venues due to the absence of a real ski village at the base area.
Find ski hotels & lodging in Nagano
Plan the perfect ski vacation from $83 with Expedia 
Tomamu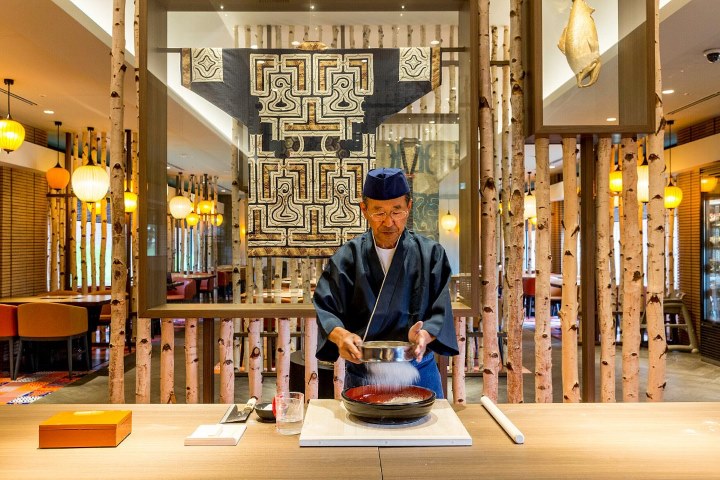 Club Med all-inclusive Ski Resort in Japan
Tomamu Ski Resort, set in the heart of central Hokkaido, is a winter wonderland that provides a wealth of activities on and off the slopes, making it an ideal destination for both beginners and expert skiers. Known for its 14 meters of annual snowfall and varied terrain, the resort offers well-groomed trails for all levels of experience, supplemented by a comprehensive lift system. Advanced skiers and snowboarders will enjoy the steep tree skiing and backcountry options, with the additional opportunity for cat skiing for the thrill-seekers.
Family-friendly, Tomamu excels in the provision of children's activities, making it a great choice for those traveling with their little ones. While some smaller resorts may lack the infrastructure to support a family vacation, Tomamu ensures a comfortable, exciting, and accessible experience. It boasts a kids forest run for novice tree skiers, a terrain park, and a plethora of off-slope attractions, such as the ice village and wave pool.
Tomamu also offers excellent value for money, with competitive ski package rates. Recent early bird deals, for instance, offered a seven-night stay, inclusive of accommodation, lift pass, breakfast, and access to all resort features, for approximately AUD 100 per day for a family of four or a couple.
In summary, if you seek a ski trip to Japan with an abundance of snow, varied terrain, family-friendly activities, and exceptional value, Tomamu Ski Resort is an excellent choice. From its well-groomed trails to its exciting off-slope activities, Tomamu delivers a comprehensive winter experience that will cater to all your needs.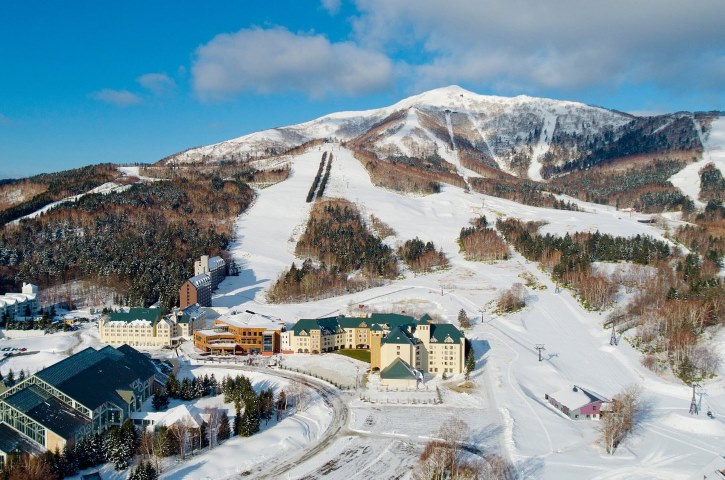 Club Med all-inclusive Ski Resort in Japan
Known for: Its relaxed attitude towards off-piste skiing and amazing family leisure facilities.
Highlights: Awesome inbounds off-piste skiing, family-friendly amenities, English speaking staff.
Drawbacks: Limited nightlife.
furano Ski Resort
urano Ski Resort is indeed one of the premier destinations in Japan for skiing and snowboarding. It's renowned for its light and powdery snow, beautiful scenery, and a good balance of runs for beginners, intermediates and advanced skiers and snowboarders. This resort is not just famous among locals but also is a popular destination for international tourists who want to experience Japanese snow and culture.
Here are some additional details and key features:
Mountain Information: Furano Ski Resort is made up of two zones, the Furano Zone and the Kitanomine Zone, and includes 28 marked trails. The longest trail is 4 km long, and the terrain breakdown is approximately 30% beginner, 40% intermediate and 30% advanced. The resort features a variety of terrain, from long groomed runs to challenging off-piste and side-country areas.
Location: Furano is centrally located in Hokkaido, Japan's northernmost island. It's about an hour's drive from Asahikawa and approximately two hours from Sapporo. There are various transportation options to reach the resort, including buses and trains.
Season: Furano's ski season is one of the longest in Japan, generally running from late November to early May. The best powder conditions are usually from Christmas to early March.
Lift System: Furano has a well-developed lift system that includes gondolas, high-speed quad lifts, and single and double chairs. This includes a 101-passenger Ropeway that directly reaches the summit.
Accommodation: The resort has a good range of accommodations, including two ski-in-ski-out Prince Hotels located at the bottom of each zone, self-contained apartments, hotels, pensions and backpackers.
Activities: Aside from skiing and snowboarding, Furano offers other winter activities like snowmobile tours, ice hole fishing, snow shoe trekking, banana boat, snow rafting, and hot air balloon rides. After a day on the slopes, visitors can relax in the local hot springs or explore the Furano town.
Cuisine: There are numerous dining options available, ranging from western-style fast food to authentic Japanese cuisine. Enjoy the local specialties of Hokkaido like seafood, dairy products, and fresh local produce.
Lessons and Guides: There are various ski and snowboard schools that provide lessons in English. Experienced guides are also available for those wanting to explore the backcountry areas.
Equipment Rentals: Ski and snowboard rental shops offer a wide range of equipment for all ages and ability levels. You can rent everything you need including skis, snowboards, boots, helmets, and poles.
Prices: Prices can vary depending on the season and the type of lift pass or package you choose. Discounts are often available for multi-day passes, children, seniors, and families.
Furano Ski Resort: All You Need to Know BEFORE You Go on Tripadvisor: 
Find the best deal, compare prices, and read what other travelers have to say at Tripadvisor
Furano truly offers an immersive ski holiday experience that blends thrilling ski opportunities with rich cultural experiences, making it a worthwhile destination for any ski or snowboard enthusiast.
Furano at a glace: 
Known for: An amazing blend of skiing and cultural experiences.
Highlights: Large resort with varied trails, nearby city with many amenities, better snow quality than Niseko due to its central location in Hokkaido.
Drawbacks: Lack of luxury accommodation.
Nozawa Onsen
Nozawa Onsen Ski Resort is one of Japan's oldest and most renowned ski resorts. It's not just known for its fantastic snow and wide variety of terrain, but also for the traditional hot spring village at its base. This provides an authentic cultural experience for visitors, who can enjoy not just skiing and snowboarding but also the traditional onsen (hot springs), and local cuisine.
General Information:
The ski resort spans three main areas and offers more than 50 kilometers of trails starting at an elevation of 1,085 meters. The terrain is quite diverse, with something to cater to everyone. There are wide pistes that are suitable for families and beginners, challenging mogul runs for the more advanced, and off-piste areas for powder enthusiasts. The resort also has a terrain park with jumps, rails, boxes, and a pipe for those who enjoy freestyle skiing or snowboarding.
Family-Friendly:
Nozawa Onsen Ski Resort is very family-friendly. There is a 'Naski Room' at the Hikage Trail Information Centre which offers a free rest station for kids. Outside the center is the Kids Park, with an inflatable bouncer, junior sled rides, and tubing courses. Day care services are also available for children aged 1 to 6.
Ski Season:
The ski season in Nozawa Onsen typically runs from mid-December until early May.
Lift System:
The resort has a total of 21 lifts, including 18 chair lifts, 1 moving walkway, and 2 gondolas.
Night Skiing:
Night skiing is also available, usually until around 20:00.
Ski Terrain:
The resort's 36 courses are divided roughly as follows: 40% for beginners, 30% for intermediate skiers, and 30% for advanced.
Location:
Nozawa Onsen Village is located about an hour's drive from Nagano City in the northern part of Nagano Prefecture.
Culture:
Apart from skiing and snowboarding, a visit to Nozawa Onsen isn't complete without experiencing the traditional onsen (hot springs). There are more than a dozen public bathhouses in the village that are free for anyone to use. The village also offers a variety of local and traditional dining options.
See the best Onsan Resorts in Japan
Nozawa Onsen at a glance;
Known for: Its charming traditional village and amazing onsens.
Highlights: Consistent powder, diverse terrain, numerous onsens, and uncrowded slopes.
Drawbacks: Slopeside restaurants can get very busy.
Find hotels in Nozawaonsen on Expedia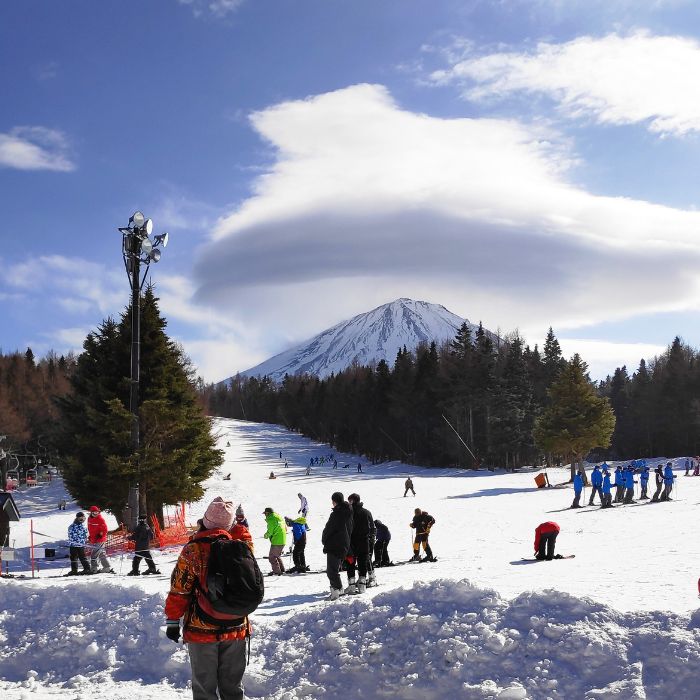 Ski Resort in Japan
The Peaks of Perfection

From the pristine powder of Niseko to the expansive terrain of Shiga Kogen, Japan's ski resorts are more than just a winter getaway. They're a rendezvous with nature, a thrilling exploration of snowy landscapes, and a window into the heart of Japanese culture. Whether you're a seasoned skier or a snow-curious traveler, these resorts offer an extraordinary winter adventure that's hard to forget.
FAQ on ski Resorts In Japan
The best time to ski in Japan is typically between December and February when snowfall is most abundant. January is often the best month for powder snow.
Japan is famous for its powder snow, known as "Japow". It's light, fluffy and deep, particularly in areas such as Hokkaido and Niigata.
No, it is not necessary to speak Japanese. Most popular ski resorts have English-speaking staff and signage.
Many resorts are accessible by public transportation, including buses and trains, from major cities or airports. Some resorts offer direct shuttle services.
Yes, nearly all ski resorts in Japan have rental services for ski and snowboard gear.
Yes, many resorts offer ski and snowboarding lessons in English.
Dress in layers and wear moisture-wicking and insulating clothing. Waterproof ski jackets and pants are recommended, as well as thermal layers, gloves, and a beanie or hat. Don't forget goggles and sunscreen.
Absolutely, many ski resorts in Japan have beginner-friendly slopes and offer ski lessons.
The cost varies by resort, but typically, a one-day lift pass ranges from 4,000 to 6,000 yen. Equipment rental and lessons are additional.
Yes, most resorts offer a variety of non-skiing activities, such as hot springs, snowshoeing, ice skating, snowmobile tours, and more.
This depends on the resort. Some resorts have strict rules against off-piste skiing while others are more lenient. Always check the resort's rules and respect them for your safety and the safety of others.
No, Japan's ski season aligns with winter in the Northern Hemisphere. The country does not offer skiing during the Northern Hemisphere's summer.
Comparing Japanese Ski Resorts to Other Areas 
Comparing ski resorts across different countries can be challenging due to the unique characteristics and offerings of each resort. However, here's a basic scorecard comparing some of Japan's top ski resorts to some renowned resorts worldwide, using a 10-point scale:
Key:
Snow Quality
Terrain Variety
Family-Friendly
Accessibility
Nightlife
Non-Skiing Activities
Cost
Cultural Experience
Niseko, Japan
Snow Quality: 10
Terrain Variety: 8
Family-Friendly: 9
Accessibility: 8
Nightlife: 9
Non-Skiing Activities: 8
Cost: 7
Cultural Experience: 8
Hakuba, Japan
Snow Quality: 9
Terrain Variety: 9
Family-Friendly: 9
Accessibility: 7
Nightlife: 8
Non-Skiing Activities: 8
Cost: 7
Cultural Experience: 9
Snow Quality: 8
Terrain Variety: 10
Family-Friendly: 9
Accessibility: 8
Nightlife: 9
Non-Skiing Activities: 10
Cost: 6
Cultural Experience: 7
Val d'Isère, France
Snow Quality: 8
Terrain Variety: 10
Family-Friendly: 8
Accessibility: 8
Nightlife: 9
Non-Skiing Activities: 8
Cost: 5
Cultural Experience: 9
Snow Quality: 8
Terrain Variety: 9
Family-Friendly: 7
Accessibility: 8
Nightlife: 10
Non-Skiing Activities: 8
Cost: 6
Cultural Experience: 9
Snow Quality: 8
Terrain Variety: 10
Family-Friendly: 9
Accessibility: 8
Nightlife: 8
Non-Skiing Activities: 9
Cost: 6
Cultural Experience: 7
Japanese ski resorts are well-known for their incredible snow quality, family-friendly facilities, and unique cultural experiences (like onsens). They also provide excellent value for money compared to many Western ski resorts. However, resorts in Europe and North America tend to have more extensive terrain and better accessibility.
Key to the table
Size: This refers to the skiable area, number of runs, and lift system.
Snowfall: This refers to the average annual snowfall. Japanese resorts are known for their deep, powdery snow, with some resorts like Niseko receiving on average over 15 meters per year.
Terrain Variety: This refers to the range of runs available, from beginner to advanced, as well as the availability of off-piste terrain, terrain parks, etc.
Accommodations: This refers to the quantity, quality, and variety of accommodations available, from budget hostels to luxury hotels.
Cultural Experiences: This includes elements such as traditional onsens (hot springs), local cuisine, and the general atmosphere of the resort and surrounding area.
Family-Friendly: This takes into account aspects such as availability of ski/snowboard lessons, childcare facilities, and family-friendly activities.
Remember that the best resort for you will depend on your personal preferences and priorities. For example, if you're an advanced skier looking for a challenge, Hakuba Valley may be a good fit for you, but if you're after a unique cultural experience, Nozawa Onsen could be the best choice. Similarly, a family with young children might prioritize resorts with good ski lessons and child-friendly facilities. Be sure to research further based on what is most important for your trip.
Share Your All-Inclusive Adventures and Questions! 🌴 Have a memorable experience from a luxury all-inclusive vacation? We'd love to hear it at Luxury Resort Bliss. We're on the lookout for top-quality, insightful tales that'll inspire our community. Dive in and be a part of our sun-soaked stories! 🌊🍹✨
The story is a fictionalized account founded on travel expertise, research, and experience. Always refer to recent guest reviews and perform due diligence before booking.
💼 We cherish our independence! ✈️ Our travel recommendations are carefully researched, bias-free, and powered by human expertise by April and Ricky of LRB (we have personally researched and travelled to many of these destinations and researched others thoroughly through first-hand accounts). We also have put in the hard miles, and Ricky has worked for decades for resort and hotel chains  Hyatt, Hilton, Shangri-La and Radisson before starting Luxury Resort Bliss in 2007. 🌍✨ Unlike some other resort review websites we are concerned on the guest experience rather than mere corporate interest.