Best All Inclusive Family Resorts (2023) A to Z 
Looking for the best all inclusive family resorts? For families with children, it's nice to find a place where they are included, involved and well catered for. There are all inclusive resorts in a lot of locations around the world but tend mass around those countries where the cost of living is a little less. The best all inclusive resorts are in places like Mexico, Jamaica, The Dominican Republic and other Caribbean Islands. 
Some resorts offer opportunities for quality together time and away time by providing kids clubs or teen activities.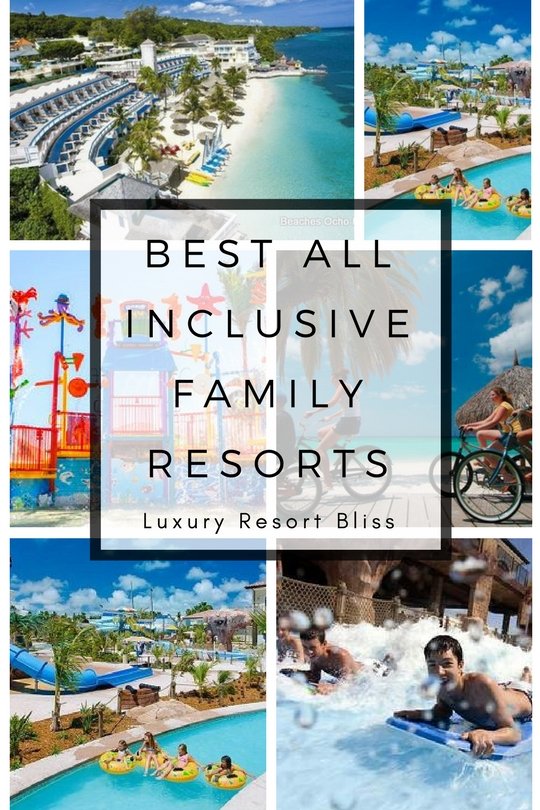 Beaches All Inclusive Family Resorts
Take a leap into an underwater adventure. Only Beaches includes the most comprehensive dive program in the Caribbean. Whether you're a novice or an expert, you'll explore the Caribbean's sub-surface with top-notch equipment, the best instructions and purpose-built dive boats. And, only at Beaches, even kids can get in on the adventure!

Beaches Resorts are dedicated for family vacations and have a great reputation.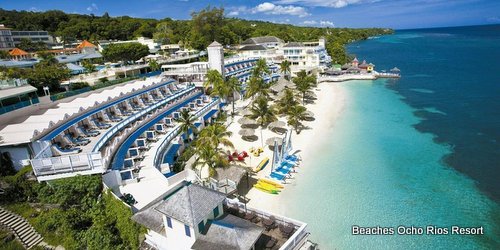 All ages from toddler to teens are catered for (and adults too). These fantastic resorts are in the Turks and Caicos, Negril, Jamaica and Ocho Rios, Jamaica.
See All Beaches Family Resorts

---
In this video, the Top Flight Family check outa 5-night stay at the family-friendly Grand at Moon Palace Cancun luxury all-inclusive resort with their kids. 
VIDEO: The Grand at Moon Palace Cancun With Kids - Mexico Family Travel Vlog
If you are looking for the best All Inclusive Mexican resorts for families, we have a complete review on this topic. 
Mexico has some of the best family all-inclusive resorts anywhere, which happily bundle up some amazing family packages. You may have had some reservations about travelling to Mexico, and these on occasion have been well-founded fears. However, the quality and exceptional level of family friendly activities, facilities and service make this an option that really is worth considering seriously. 

Best Mexican All Inclusive Resorts: 

The island has many amazing beaches, resorts and activities that are perfect for couples and singles looking to relax and have fun. Cozumel is one of the most popular dive sites in the world. Alongside the Yucatan Peninsula it offers divers the opportunity to explore some of the region's most idyllic dive sites, including Palancar Reef and Columbia Reef.
Cozumel is a wondrous place with all sorts of beautiful features. Couples will enjoy a vacation on the island, but sometimes you need some time away from the kids. Adults only vacations are an excellent opportunity to explore Cozumel to its full potential and get some much-needed rest.
One of the best things about Cozumel is that it has a large variety of resorts, hotels and other accommodations to choose from. Whether you prefer an all-inclusive resort or like to do some exploring on your own, there's something for everyone, especially adventurous couples.
Secrets Aura Cozumel 
Video Review: Secrets Aura Cozumel
Location: Cozumel jungle surrounded by Mayan Ceiba trees and gardens.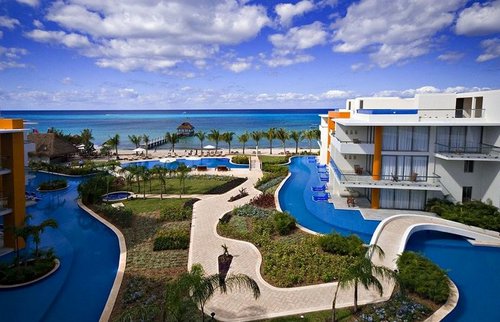 Secret Aura Cozumel
Amenities: All-inclusive means all meals, snacks, alcoholic beverages, soft drinks, Italian fusion cuisine restaurant, Sandy Terrace Lounge, Lobby Bar, and "Niki-Tiki" Beach Lounge.

Rooms: 96 rooms on three floors. They are all exclusive suites with views of the Caribbean Sea.
Reviews: Everyone who has stayed here has loved it as far as we can tell. You can assume from this that the food service is up to or above the standard of other resorts in the area. Having a brand-new resort is a clear advantage when it comes to room and facility satisfaction and this shows. Guests are equally impressed with the location and the service. Quick to give upgrades.
Go to Aura Cozumel Grand Bay

Mexico has many (many) resorts and a lot of choices for families with waterparks, quality kids and teens clubs and calm beaches. If you're looking at Mexico as an option, take a look at the Mexico All Inclusive Resorts and Mexico Family Resorts pages. 
---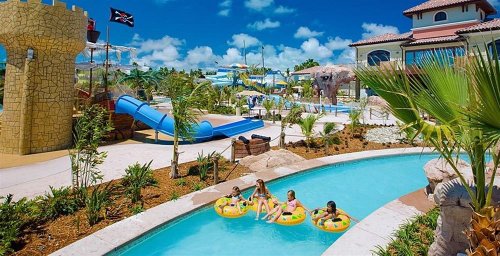 ---
---
Franklyn D. Resort & Spa All Inclusive Family Resort in Jamaica
Franklyn D All Inclusive Family Resort in Jamaica
Beach, waterslides, ball pit, your own vacation nanny and exceptional kids activities managed by a professional and dedicated team. This resort gets very very good reviews from past guests - most of which are families. 

See more on this exceptional family all inclusive resort on our Jamaica All Inclusive Family Resorts Reviews or latest reviews and pictures here. 

---
Antigua regularly comes up in best of islands for families lists and clearly has clear calm water, white sand beaches. They say there is a family friendly beach here for each day of the year in fact. 

---
Jolly Beach Resort and Spa
This family focused resort is close to the airport (great after a flight), has regular family-friendly activities, entertainment and kids and teens clubs. Everything is all inclusive.
One thing that makes Jolly special is it's programs.

Jolly has 3 programs all included and you can sign up for 1 or all. The Jolly Adventure Program (includes kayaking, star gazing and arts and crafts), Jolly Sports Program (includes tennis, dance and family beach olympics) and Jolly Relax Program (includes massages, parents date night and little chef).
More information and latest reviews for Jolly Resort.
Jolly Beach Resort & Spa All Inclusive deals @ expedia

---
Aruba is a former Dutch colony and has a certain glitz different to many of the other Caribbean islands. The all inclusive resorts here are of a high quality, but quite a few of them are also supported by an accompanying casino. A mix of surf beaches on the east and sandy white beaches are present along it's 80 km length.
Aruba is jam packed with family friendly resorts and has gone out of it's way more than any other island in the Caribbean. Apart from festival time Aruba ins not really known as a party island and there are family friendly all inclusive resorts scattered throughout the island.
From limestone caves, island ferry trips, baby beaches and the family friendly resort zone along Palm Beach all make Aruba one of the ultimate family friendly destinations.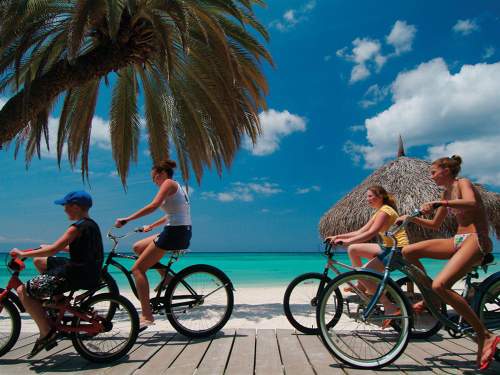 Bikes from the Divi Aruba all inclusive family resort
Tamarijn Suites and Divi Aruba All Inclusive Resorts
If heading to Aruba, these two resorts are a great spot for families. Choose the resort depending on the accommodation you'd like (suites, rooms or villas). You may find a deal where children under a certain age are free. 
There's a kids club, kids activities and a great beach. Reviews are generally good. 
For more in Aruba visit the Aruba All Inclusive Resorts review.
The official Aruba travel website: http://www.aruba.com/
---
The Bahamas is great for family all inclusive resorts! It is one of the spots to go for families. There is a huge fantastic family resort in the Bahamas called The Atlantis. It is very large and there are different types of accommodations.
This mega resort in the Bahamas is known the world over for its spectacular water park and outlandish over the top styling's. They have really gone out of their way to create the ultimate family friendly paradise. The resort is ideal for kids of all ages from toddlers right through to teenagers but this is not the only family friend all inclusive resort in the Bahamas.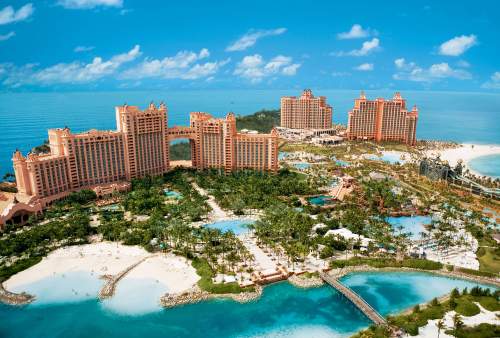 Atlantis Resort for Families
For more in the Bahamas:

All Inclusive Resorts in the Bahamas
Official Bahamas travel website: https://www.bahamas.com/
Atlantis Bahamas - World's Best Water Park?!

---
The Barbados has a few great all inclusive resorts to choose from.  They tend to be on beautiful beaches and have laid-back atmosphere.
One of the great resorts here is Turtle Beach Resort. It's got a great kids program that includes marine activities, calypso dancing and golf lessons. There's a lot to choose from. 
If you're interested in the Barbados as your destination, take a look at the Best Barbados All Inclusive Resorts. Crystal Cove is another great one to take a look at for families on an ideal beach.
Official Barbados travel website: https://www.visitbarbados.org/
Video: Barbados Travel Guide
---
---
Bermuda Family All Inclusive Resorts
Bermuda is a beautiful spot that has many great resorts. If you are looking for an all inclusive resort however, it can be a bit of a challenge. I'd recommend going straight to the Bermuda All Inclusive Resorts page to see what's on offer. 
---
Belize is an up and coming destination that has some wonderful all inclusive resorts. If you want some peace and quiet or if you like to fish and snorkel, this is a great spot for you. Hatchet Caye Resort offers specific packages for families. It's a secluded and private resort and a great spot for fishing. For more in this area, visit our Belize All Inclusive Resorts page. 

---
Cancun is well known as the capital for all inclusive resorts for families. The quality of vacation attainable here is outstanding and the level of safety actually exceeds a lot of other locations. You will find it difficult to find a location where your dollar goes further and the quality is as good.

Moon Palace Cancun - High End
Moon Palace is a high end All inclusive dedicated to family vacations. The flowrider and a huge playroom for kids. Really this is another Mayan Riviera resort given its location on the beach to the south of town but it really has everything you could want for kids at the luxury end of the market and has 20 restaurants to prove it. There are kids rooms for about every age group. You can enjoy a real game of golf or a pretend game o(mini golf) and the pools and slides are incredible when you start to introduce tings like the flowrider machine. One Consideration you may like to make is whether you would want to encourage the use of dolphins. 
AZUL Cancun Family All Inclusive VACATION Resort
The Azul in Cancun is a pretty amazing place for kids and is one of the best resorts in Cancun despite perhaps not having the ultimate Cancun beach you might imagine. Although it is a little out of town and hard to get to all the attractions of Cancun there is more than enough to keep you amused around the resort. Get some kayaks of bob around the lazy river.  The great part is the Kids club and amenities, and there are pools for adults only if you need to get away from all the noise for a while. 
More information on the Azul Beach By Karisma All Inclusive Cancun Resort Hotel.
Best of the best Cancun Family All Inclusive Resorts

Cuba is fast opening up to Americans who will soon join the scores of Canadian and European vacationers who enjoy Cuba all inclusive resorts each year.
Video of the best resorts in Cuba:
Another mecca of all inclusive resorts! All the elements are here to make the  Dominican Republic all inclusive resorts some of the most popular in the world. Great beaches and friendly hospitality are only the start.
The Grand Bahia Principe El Portillo is a resort highly rated by families. It's close to major tourist attractions and on a beautiful beach. 

Jamaica is another well established all inclusive family destination. Lots of good resorts to choose from here with quality options from some of the big name establishments and also some family run resorts.

See the Jamaica all inclusive resorts.

Montego Bay has lots of resorts and some that work quite well for families.
Take a look at the Montego Bay Family All Inclusive Resorts here. 
St. Kitts is in the Caribbean and has a few resorts to choose from when traveling with the family. Visit St. Kitts All Inclusive Resorts to see what's on offer.
St. Lucia is one of the prettiest islands in the Caribbean with quite a few quality resorts. Check out Coconut Bay Beach especially on the St. Lucia All Inclusive Resorts page. 
The best St Thomas All Inclusive Resorts.

Costa Rica All Inclusive Family Resorts
Costa Rica is another great destination for family all inclusive resorts. There are quite a number of great resorts where families are catered for and get high praise from the ones that have visited. 
Best Family All Inclusive Resorts in Costa Rica. 
The Hilton Papagayo Costa Rica Resort & Spa is a good resort to visit as a family. They've got a children's activities and menus, a playground and lots of things to do and see in the area. 
Reviewers have differing views on the food. Some say great, others aren't thrilled. Most love the location and staff.
Barcelo Langosta Beach is another resort and a great choice if you like to surf or kayak. It's not your 5 star resort but it is a good mid-range, budget-friendly choice.

---
All-inclusive family resorts in Fiji are becoming more common. Fiji is really one of those to dream of places with such a unique way of life. See the Fiji all-inclusive resorts.
United States All Inclusive Resorts for Families
You would think there are more Florida all-inclusive family resorts than the less than a handful that exist in the pure form.  That has not stopped us from finding great resorts that best fit the requirements of the hoards that are looking each season.  
This category gets requested such a lot, we had to do our own search for Florida all-inclusive resorts. We are the first to admit that such a thing is hard to find, but there are some good resorts if you'd like to visit the area.
Video: FLORIDA KEYS FAMILY VLOG | Islamorada | Key West
This video is all about having fun family trip to the Florida Keys! The video is made for a family of 4 with kids under 10.  
With the arrival of the Disney Aulani Resort and so many people looking for Hawaii all inclusive family resorts, you can expect to see some start to arrive soon. While it's difficult to find all inclusive resorts in the USA, there are resorts that have similar characteristics like inclusive packages and meals (generally breakfast).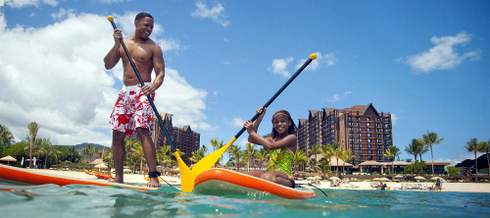 Disney Hawaii
---
There's more to Panama than canals! Check out Panama all inclusive resorts. 
The Turks and Caicos is another great spot in the Caribbean. It's closer to North America than some of the other Caribbean islands so that means a shorter flight for the kiddies. See the best Turks & Caicos family resorts.

---
Family Sandals Resorts
Looking for a Sandals All Inclusive Family resort. While Sandals does offer luxurious all-inclusive vacation options, you really need to check out the offerings by Beaches Resorts to really find what you are looking for.  
Luxury Resort Bliss  inspires families to travel in their own unique way, to achieve their full potential, passions, and purpose in the journey. We'll journey with you (not literally) through some of the best family vacation places, and the top kid friendly activities and ideas in each.
When you are in doubt travel. Travel on special occasions and travel to forget losses.  Travel does the heart good and your children's development wonders. Aristotle said, "educating the mind without educating the heart is no education at all. Through taking family vacations together you not only strengthen family bonds but enhance your child's cognitive development. You not only refresh at the essential playfulness of your own heart and soul, but set your kids on a positive trajectory.  
You recall that playful attitude you had when you were a kid that drove you to: make a mud pie, run under a sprinkler, and climb a tree. This same drive moves mums and dads to set sail on new family vacations and adventures to remember what life is all about and it's all good news for child development. The great educationalist Vygotsky said "in play a child always behaves beyond his average age and above his daily behavior.  In play it is as though he were a head taller than himself". We think the same is true of adventure travel, which is rich with ever new natural and cultural experiences which at the playful spirit of children adore and relish in. You have that chance to put yourself in that happily challenged flow zone again. At (1)"the end of the day your feet short be dirty your hair messy and your eyes sparkling" and you will have had a great vacation.
Set out on your own family adventures and show your kids how to travel in an enjoyable, sustainable, and prosperous way. We will share: family travel ideas and discounts and information on how you too can make money on the road and extend your trip into an open-ended family vacation lifestyle like we are doing.
Below are some of the best resorts hand-picked for families because of their excellence, suitability and quality reviews.

If you're looking for a deal, also check out our all inclusive vacations deals page.