Best Oahu All-Inclusive Resorts (2023)
In this review we will explore the best Oahu All-Inclusive Resorts and make comparisons with the top beach resorts. 
There are some excellent Oahu luxury resorts. These resorts get great reviews by past guests, are 5-star and of course, luxurious. Below are the fantastic resorts that have met our standards—and those who've been there before as well as the top all inclusive-alternatives.
Expedia Video of Honolulu

Oahu is to the locals from generations past, been called the gathering place. Since long before we came along people have gravitated towards the wonderful, beaches, mountains, and hospitality of this enchanted island. A special place—now with outstanding luxury resorts.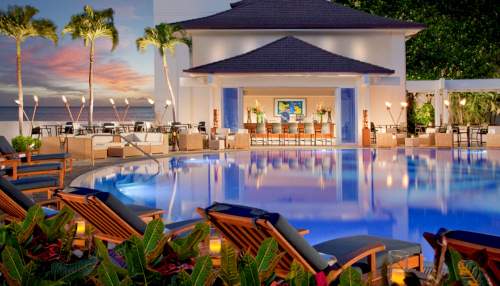 Ihilani Oahu Family Vacation Resort & Spa at Ko Olina
See also the Top 25 Oahu Resort Deals and the best Oahu vacation rentals.

Oahu All-Inclusive Resorts
The Hawaiian Islands are a popular tourist destination for people from all over the world. With Oahu Hawaii All-Inclusive Resorts you can take advantage of the many activities that this island has to offer. 
Generally, at all-inclusive resort hotels, visitors can expect the best of everything. Food, drinks, and entertainment are included in the price of their stay. Visitors can also expect to be pampered with luxurious amenities such as private pools and gourmet food. But in Hawaii this is not always the case because of the cost of produce the all-inclusive deals are not always the same as you would typically find in places like the Caribbean, Mexico or Spain.
That's why there is in fact only a handful of resorts that qualify as all-inclusive on TripAdvisor as all-inclusive in Oahu. 
The best all-inclusive resorts in Oahu:
Turtle Bay Resort (Oahu, Hawaii All-Inclusive Honeymoon Resort)
The Kahala Hotel & Resort (adults all-inclusive)
Hilton Waikiki Beach (Waikiki Beach All-Inclusive) 
Hilton Grand Vacations Club Grand Waikikian Honolulu
Hilton Grand Vacations Club at Hilton Hawaiian Village
Aulani, A Disney Resort & Spa (family-all-inclusive)
Oahu Hawaii All-Inclusive - find the best deal, compare prices, and read what other travelers have to say
While I don't agree all the resorts on this following video are all-inclusive it does offer an overview of some top resorts in Oahu including those from our list. 
Video: Top 10 Best All Inclusive Resorts in Oahu
Let's now discover some of the best beach resorts in Oahu. 
Halekulani Oahu Luxury Resort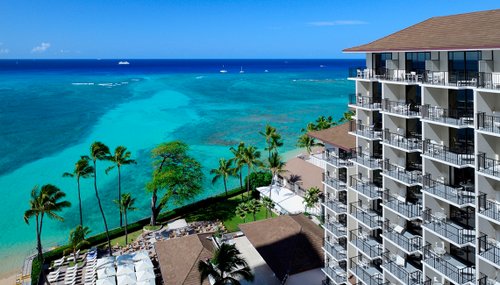 Halekulani Oahu
This is the luxury resort that has traditionally set the standard in Hawaii for decades. While the price tag these days implies it is a great place for royalty to stay, back in the day it was indeed the grounds for Hawaiian royalty. Today, you can take a walking tour and experience a retelling of this glamorous past. Despite the price tag, we find today the resort does continue to offer value and quality at the luxury end of the market.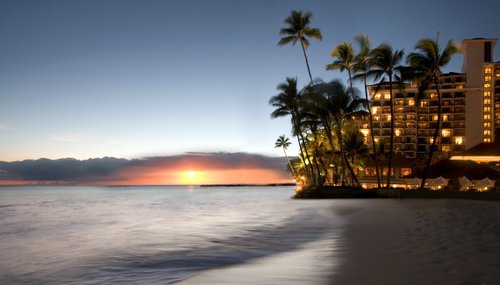 Halekulani
Location: 5 acres, end of Waikiki Beach. Honolulu, Oahu, Hawaii. Walking distance to shopping, restaurants and entertainment.
10 reasons to stay at Halekulani: Resort highlights:
a leading hotel in the world with numerous awards,
private registration,
heated Oceanside pool, s
Spa with South Pacific treatments,
complimentary wireless Internet,
fitness center,
tickets to 3 museums,
business center,
afternoon tea on the veranda,
French and contemporary cuisine, water sports nearby, golf nearby.
Perfect for: swimming, spa, shopping, great location.

Accommodations: 455 rooms, furnished lanais, 300-count cotton linens, elegant decor.
What reviewers say: Friendly and professional service, the best shopping is right on the doorstep, an oasis away from busyness, showing its age and needs updating, great value for Hawaii, wonderful room.
There were a number of negative reviews concerning customer service, renovations, and it's not living up to it's 5 star standard a few years back now but this aspect seems to have improved a lot in recently.  Also, the recent renovations have come off a treat to prepare this prestigious hotel will continue delivering a quality into the future.
More information, reviews and special offers on Halekulani.
Find more 5-Star Hawaii All-Inclusive Resorts. 

---
---
Four Seasons Resort Oahu at Ko Olina

Four Seasons Resort Oahu At Ko Olina is an excellent place for couples or families who want to experience luxury in Hawaii.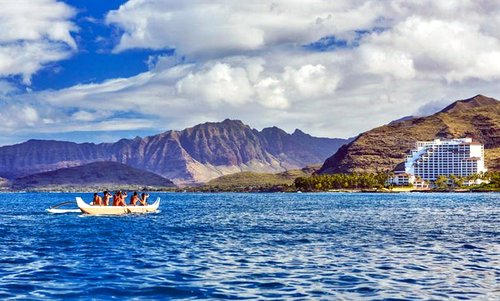 Four Seasons Resort Oahu at Ko Olina
Formerly the Ihilani Oahu Family Vacation Resort & Spa at Ko Olina 

Ihilani is set on a peaceful beach - actually four secluded beach coves on the warmer side of the island - and is a fairly easy choice for one of the best resorts in Oahu. A spectacular location in roomier and authentic Ihlani which is about a forty minute drive from the airport and the major tourist spots.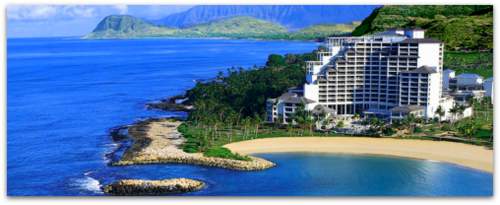 The luxury aspect of this quality resort is well established is a sizable complex that really does have as many facilities and amenities as any comparable resort in Hawaii. A truly outstanding spa and marina, tennis with views to a championship golf course.
Read more on the family friendly qualities of this resort or see the latest reviews and information on Ihilani Resort and Spa here. 
---
Best Family All-Inclusive Resort in Oahu: Aulani Disney
Aulani, Hawaii's first and only Disney Resort, offers an Alii Nui Experience for families of all sizes and budgets. The resort features two pools, a lazy river, water slide and children's pool with zero-entry depth for toddlers. There are also two restaurants that offer both Ala Carte Dining as well as Buffet Dining.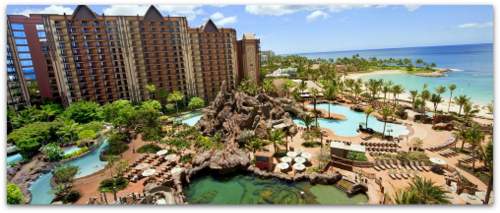 While not one of the classic Oahu luxury resorts, the Aulani Disney Oahu Luxury Family Resort has been done with the taste you would expect of a 4.5 star resort. It's a step up from what is offered on the mainland. 
Read more about Aulani and other great Oaha family vacation resorts or see more information, special offers, and reviews on Aulani, a Disney Resort & Spa
---
---
The Kahala Hotel & Resort
Best Adults All-Inclusive Resort on Oahu: The Kahala Hotel & Resort
The Kahala Hotel & Resort is a popular choice with couples and has continued to get really outstanding reviews year after year since it was a celebrity haunt in the 1960s. Although this is a popular choice for royalty and heads of state, everyone here is treated exceptionally well and it never looks down on people or gets overly pretentious. This is one of the reasons it is often regarded as the best hotel on Oahu
Location: Beach front, Honolulu, Hawaii.
Perfect for: Spa, beach, swimming with dolphins, great service.
Accommodations: 312  rooms, 31 suites, spacious, mixture of plantation and Asian influenced decor.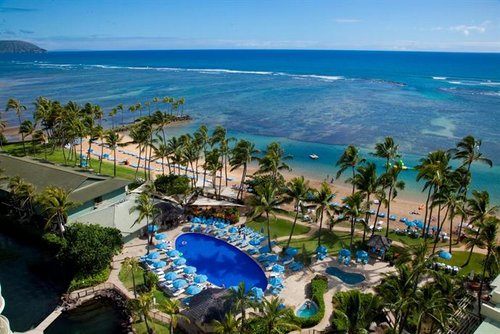 The Kahala Hotel & Resort
Resort highlights: Spa, meet the dolphins, pool, secluded beach, CHI Health and Energy fitness center, sports and water sports, Keiki club for kids, Hawaiian cultural classes, 5 restaurants and cafes, business center, room for functions and meetings, strive for subtle and discreet service, lessons (surfing, etc).
What reviewers say: beautiful and romantic, great place for a honeymoon, excellent service (many staff have been there for a long time), renovation looks great, "no luxury hotel had better service than the Kahala", food could be better. One of the great Oahu luxury resorts.
More information on the The Kahala Oahu Luxury Resort.
---
Waikiki Beach All-Inclusive Resorts
Waikiki Beach is one of the most popular beaches in Hawaii. It is located on Waikiki, an urban Honolulu neighborhood. The beach has a long history of being a favorite destination for locals and tourists alike.
If you visit Oahu, don't forget to stop by Waikiki Beach. It is one of the country's most famous beaches and is worth exploring if you only have a day.
The beach is known for its calm, clear waters and white sand. The water is shallow and great for swimming, snorkeling, surfing or just relaxing on the beach. There are also many restaurants nearby if you want to grab some lunch or dinner after spending some time at the beach.
The top All inclusive Resorts and Hotels on Waikiki Beach are: 
Hilton Waikiki Beach
Hilton Grand Vacations Club Grand Waikikian Honolulu
Waikiki Beach All Inclusive Resorts: Find the best deal, compare prices, and read reviews.
Let's compare these to some of the best beach resorts on Waikiki Beach 
Hyatt Regency Waikiki Beach Resort And Spa
Location: Across from Kuhio Beach, Waikiki, Oahu, Hawaii. oahu luxury resorts
Accommodations: 1230 rooms, Hawaiian decor, spacious, private balconies, mountain, city or ocean views. 40 story building.
Resort highlights: Na Ho'ola Spa, beach, pool, hot tubs, Camp Hyatt, "Dive-in Movies", gym, function space, nightly entertainment, fine dining, Asian and Italian cuisine, 24-hour business center, water sports nearby, surfing school nearby, many attractions nearby.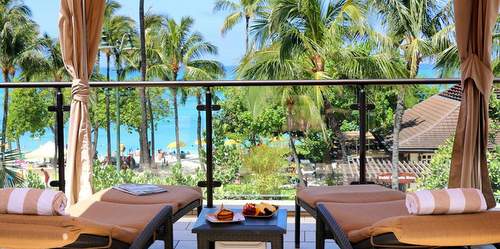 What reviewers say: fabulous location, unpretentious and elegant hotel, you can buy everything you can think of nearby, clean, huge room - ocean front view is amazing, the double beds are too small, perfect place for a honeymoon.
More information, reviews and special offers on the Hyatt Regency Waikiki Beach Resort And Spa.
---
The Sheraton Waikiki offers good access to Waikiki if you are looking for a larger well established resort with lots of amenities.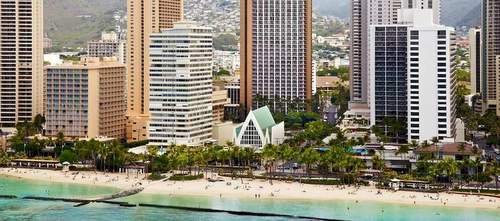 The Sheraton Waikiki
---
Looking for a condo style apartment on Waikiki? Click to learn why the Aston is one of you best choices.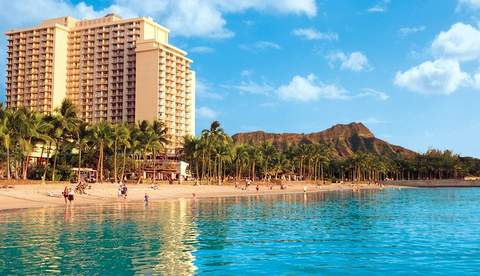 Aston Waikiki Beach
---
Special Note: If you want to go swimming at the beach, note that not all beaches are swim-able. We have noted the ones that are not. Also, note that all rooms are non-smoking in Hawaii. 

Like to know more about Oahu and some fantastic family vacation options? Check out our Oahu Family vacations review with our picks for the best family resorts and options on this outstanding Hawaiian Island.
For more in Hawaii, take a look at the right hand menu. 
---
The Royal Hawaiian A Luxury Collection Resort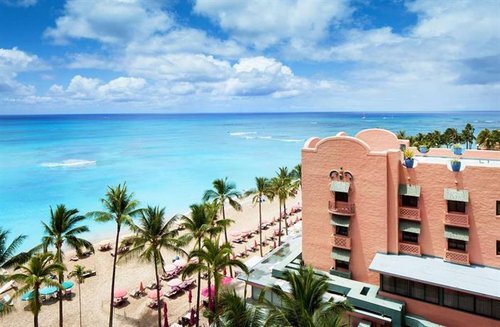 The Royal Hawaiian A Luxury Collection Resort
Having been around since 1927 this historic Honolulu, the five star The Royal Hawaiian has had a bit of practice getting things right. And that they do with a gorgeous private beach and heaps of facilities around the large 500+ room resort. 
This is a Hawaii vacation resort and you don't need to think twice about bringing your kids here with a kids club,slides and a lot's of play areas. Similarly for parents there are plenty of facilities and you are als right on the main beach at Waikiki.
More information and special offers on the The Royal Hawaiian A Luxury Collection Resort
Best Beaches on Oahu
When it comes to a beach paradise, Oahu is up there with the best of them. Some of our favorite beaches:

Waikiki Beach:The name says it all and it is very popular for it's beauty and surf culture.
Sunset Beach: Famous for those huge barrels on the surf movies but becomes calm, safe beach in the summer.
Waimea Bay: Another famous for big surf waves but turns into a snorkeling haven in summer.
Kahana Bay Beach Park: With protection offered by the cliffs that rise out of the water this beach is safe for children.
Kailua Beach: This beach is fronted by a huge grassy park making it ideal for the family
Lanikai Beach: For sunshine in the morning and afternoon shade provided by the nearby mountains.
Oahu Beach: Quieter more romantic beach.
---
Sarah loves to check out all-inclusive resorts and find great packages and report about what real travelers are saying, Sarah is an indicative character created for the purpose of providing insights uncovered during our research.  These reviews are indicative of others first-hand experiences using our research methodology designed to uncover the best  (as opposed to those that are simply marketed as the best).

While our reviews are founded on real accounts and stories and thoroughly researched do your own research and exercise your best judgment when making travel decisions. And keep in mind all-inclusive packages are always changing.