Barbados Luxury Resort 
Looking for the perfect Barbados luxury resort? There are many great ones to choose from. Each one is a little different and has something special to offer. These are the best 4 and 5 star resorts.
---
---
Barbados Travel Information
With an upbeat tropical calypso rhythm Barbados these days moves to it's own beat. But the relics of its British Colonial and slave history are evident. In Barbados you will see endless cricket games, pink seas, and wonderfully blue green clear waters. The cliffs hug the Atlantic east coast which can provide spectacular settings, while the west coast is where the spectacular sandy, beaches with a rich marine life are. 
You will need a passport to pass through the relatively easy customs procedures which are consistent with most countries. 
At the time of writing there was a 7.5% additional tax on your room rate  and other GST like taxes added to meals. When it comes to tipping you will usually find a10%  fee added to your bill which you can add to. 
VIDEO: Barbados destination guide

When to Go to Barbados
Barbados sees great weather from January to April,as the humidity drops. Hurricanes are always difficult if you are planning in advance, and while the season is from June to November, the hotter patch later in summer is when most storms arrive. You don't need to discount this period entirely at all however. Festivals are common in the tourist season in St. James full of music and fairs of the Holetown festival. April brings the Oistins Fish Festival and then others follow on into the summer.
Flights to Barbados
There are dozens of flights daily to Grantley Adams International Airport including Some from Toronto (5 hours)and New York (3 hours).

---
Best Barbados Luxury Resorts
The Fairmont Royal Pavilion Hotel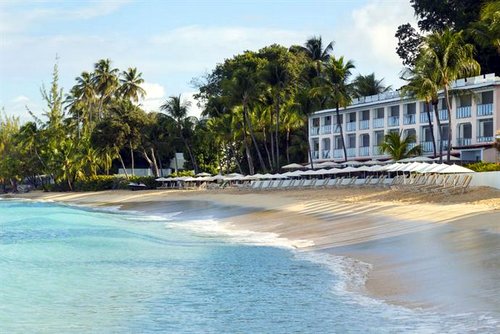 The Fairmont is beachfront on the east side of the Caribbean Sea in St. James, Barbados. It's perfect for golfing, snorkeling, water skiing, and sailing. Children are invited only between March and October.

Resort highlights include exclusive golf courses (by shuttle), tennis, 11 acres of tropical thickets between you and the outside world, 24 hour fitness center, in-room massages, large pool, and 2 restaurants.

Rooms: 72, decorated Caribbean style, extra large sunset view balconies/terraces, ocean-front.
What reviewers say: superb beach location, very good service, good food, comfortable rooms, "perfect mix of relaxed meets formal", great concierge. Reviews are fantastic overall. 
Get more information and see the latest reviews for Fairmont Royal Pavilion. 
---
Sandals All Inclusive Barbados Luxury Resort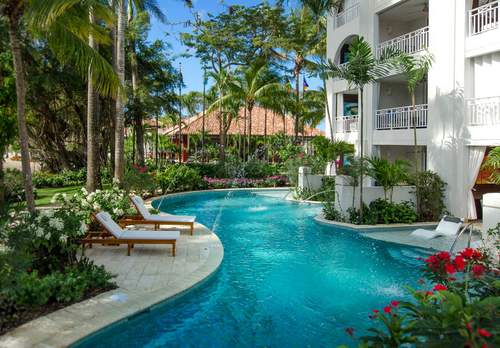 Sandals Barbados in a luxury all inclusive resort with fantastic reviews from past guests. There is a lot on offer including 11 restaurants, unlimited land and water sports, swim-up suites, romantic fire pits, spa, butler service and more.
Past guests love this place. Many recommend the butler service saying it's fantastic (and there's nothing awkward about it). Service in general is noted as being very good. Accommodations and food are also said to be great. 
Get more information and see the latest reviews here. 
See more great luxury Barbados All Inclusive Resorts here. 
Video of Sandals Barbados:
---
The Crane Residential Resort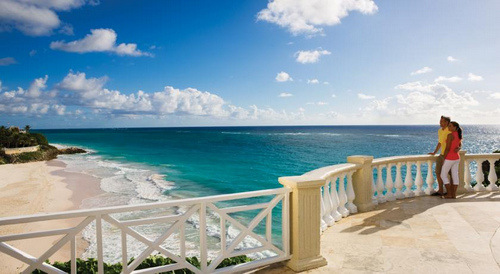 This resort is set on the renowned Crane Beach - one of the best in the Caribbean. It is a resort full of history - dating back to the 1800s - and offers luxury and all inclusive packages. Here you'll find plenty of privacy with private pools, gardens and rooftop terraces. There are a number of themed restaurants, spa services, and lots of activities. 
Reviews are pretty good here. Guests who are looking for peace and quiet love this spot. Staff are friendly and rooms have great views. There's a kids pool which does very well for little toddlers.
Get more information and see the latest reviews for The Crane Resort.
---
Cobblers Cove Barbados Luxury Resort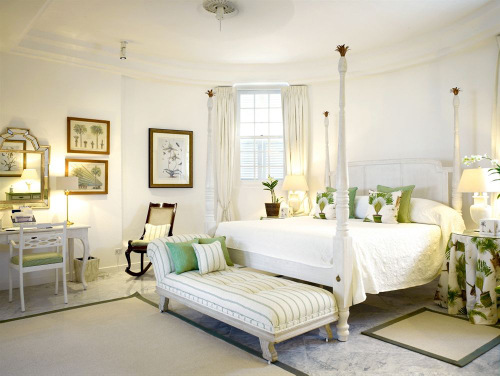 Cobblers Cove is a highly rated resort for "discerning travelers". It gets excellent reviews and is surrounded by ocean and gardens. It's small with only 40 suites. Their restaurant is an attraction in itself as people travel to dine there.
A number of different specials are offered here like kids stay free and all inclusive packages. Families enjoy this spot and there are many activities arranged for kids and teens.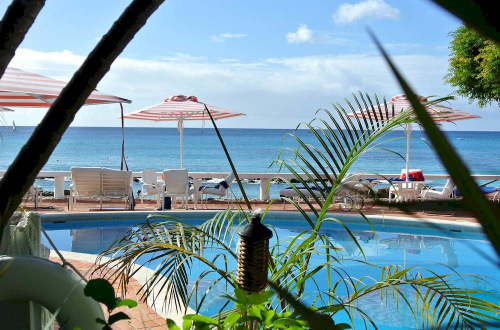 Reviewers love this resort with past guests calling in quaint and saying the service is first class. Guests have also stated their best meal in Barbados was at the restaurant here. Many many perfect scores for this spot. 
Get more information and see the latest reviews for Cobblers Cove. 
Website for Cobblers Cove Barbados
---
---
Boutique Barbados Luxury Resorts
The following Barbados luxury resorts are not all the full, expansive resorts like the ones listed above. They are smaller or more exclusive or extremely luxurious. We couldn't leave these off as the reviews from past guests are amazing!
Sandy Lane Hotel Resort Barbados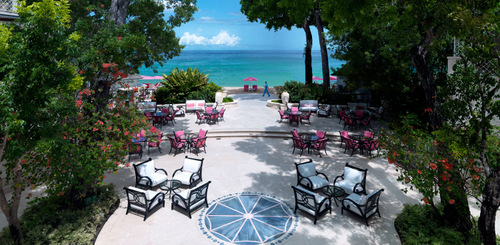 Sandy Lane is in St. James and a great spot for fine dining and golf. It is an 112 room resort with 7 different room types including villas. 
Resort highlights include 3 golf courses, driving range, pro shop, 3 level pool - including a grotto and waterfall, large 2-story spa with unique Caribbean treatment (and much more!), 3 restaurants, tennis, all kinds of water sports, and Treehouse club for kids. 
What reviewers say: great food, amazing spa and pool, excellent service, lots for kids to do, chic dining, not as laid-back as other Caribbean resorts, beach is a little small, beach is public, ultra-lux, rooms like pictured, "best place in the Caribbean hands down."

Get more information and see the latest reviews for Sandy Lane. 
---
The House Barbados Adults Only Resort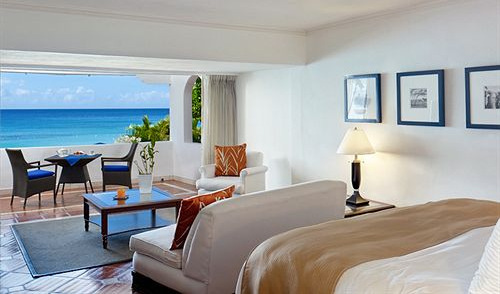 The House is an adults only boutique resort with perfect reviews from past guests. It's on the beach and perfect for couples. There are some wonderful suites here. 
Resort highlights: intimate, boutique hotel - like a private residence, designed for couples - adults only, fitness center, personal ambassador assigned to each couple,  2 level pool, water activities close-by (at a partner resort), beach, library, 1 restaurant (Italian), golf nearby.

What reviewers say: perfect place to relax and be looked after, good but not excellent, great views, great place to unwind, excellent service, love that it's not a conventional hotel, love the Champagne breakfast. *Many repeat visitors.
More information and reviews for The House.
---
Ocean Two Resort & Residences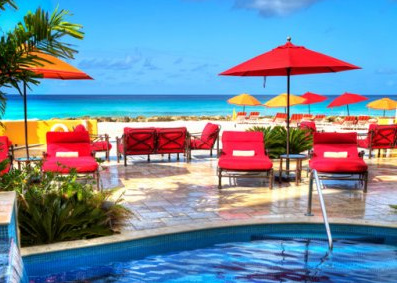 Ocean Two is a 4 star resort on the south coast. Accommodations range from rooms to suites. The beach here is great for swimming and there's a number of water sports available. You'll also find a pool, a number of restaurants and it's a great spot for weddings.
Reviews are excellent here. Honeymooners love this spot. Rooms are reportedly lovely with great views and couples especially love it here. 
More information and the latest reviews for Ocean Two.
---
Little Arches Hotel, Barbados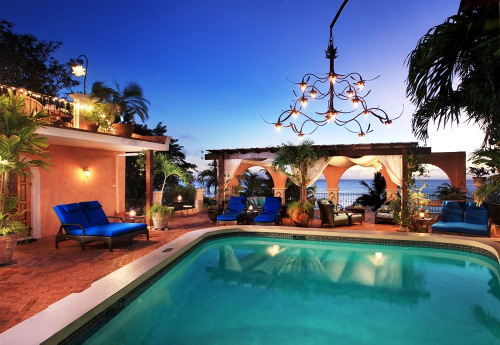 Little Arches is a boutique hotel with perfect scores from past guests. It's on a white sandy beach, is for adults only, and has a restaurant that has won a number of titles and awards like "Best Eclectic Food".
Reviewers use phrase like "a piece of heaven" or "a little gem". Honeymooners love it here and reviews are amazingly fantastic overall.
Get more information for Little Arches Hotel. 
---
There are a number of fantastic Barbados luxury all inclusive resorts. If you're looking for a great all inclusive resort, start with Mango Bay All Inclusive Resort. You'll also see Turtle Beach, Crystal Cove, Bougainvillea Beach Resort, and The Club, Barbados Resort and Spa which are all 4 or 5 star resorts.
For more luxury resorts in the Caribbean, visit our Caribbean Luxury Resorts page to see the best of the best in the region. We hope you found the Barbados luxury resort you were looking for!