Best All Inclusive Resorts in El Salvador

Best All Inclusive Resorts in El Salvador (2023) you must try
Until recently, El Salvador was not on the average tourist's itinerary. And honestly today, even it remains a little travelled part of Central America with only a few all-inclusive resort options. Located on the North Pacific Ocean, and surrounded by the countries of Guatemala, and Honduras, this is a smaller (21,000 km2) densely populated countries in the region, of about six million residents.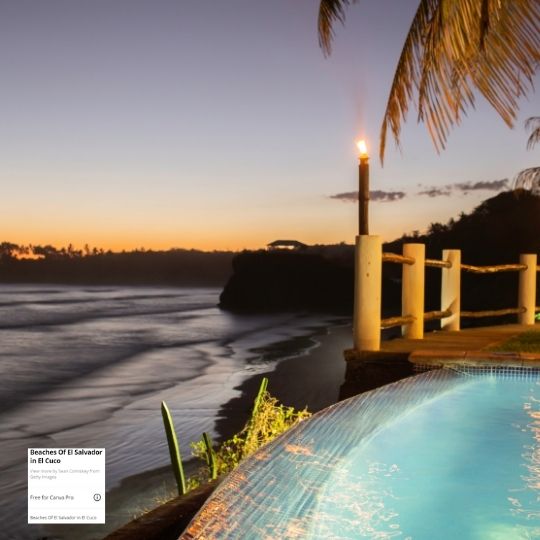 All Inclusive beach resort in El Salvador
Before we get to the Best all-inclusive resorts in El Salvador, it is worth noting that El Salvador is one of the best places for food in the world, and it is kind of fun to explore the options on your own. Then it is worth considering if all-inclusive is the right option for you or if a beach vacation like this one documented below is perhaps more your style. 

VIDEO: El Tunco Beach, El Salvador | Surf & Fun in the Sun | 90+ Countries with 3 Kids.

El Salvador travel was once of most people's Itinerary because it was known as the murder capital of the world. Those type of headlines don't do justice to the tourist areas which are mostly safe as anywhere. Violence is largely due to gang violence in the Larger cities like San Salvador and then mostly in the neighbourhoods where gangs are at it against each other. Many families visit El Salvador and have fantastic vacations every year in a destination that is compact and easy to navigate using a little common sense.

If you are in a bigger city you do take a taxi home and don't wonder around late at night. There is a lot to do in El Salvador, and you don't simply need to stay at your resort. Have a driver take you on a tour, check out the Mayan Sites. You will find this is a country that is quite accessible. 
El Salvador is home to a lot of diverse landscapes, And nature reserves, including the odd cloud or rain forest, or volcano. The hundreds of kilometres of coastline enjoy a warm tropical climate year round with an average 25C temperature.
El Salvador: The Don'ts of Visiting El Salvador from Walters World

decameron resort el salvador
The Decameron Resort in Los Cóbanos, is one of the few all-inclusive resorts in El Salvador. This is a full scale resort with a  Maya vibe. The resort is promoted as an all-inclusive beach resort and lives up to the branding with five pools and a full schedule of activities. Like many resorts in the area the beach conditions can vary quite a bit and don't find it surprising if for some reason, usually tides or marine stingers, that the advice is to restrain from swimming in the ocean from time to time. Thankfully, there is a system of flags to keep updated with swimming conditions, and it is easy to keep track because of the resort's proximity to the beach. Offers direct access to the beach.

Then make use of the multitude of activities around the resort and then head to the beach when conditions are good make use of things like paddleboarding, scuba and kayaking
Video: Royal Decameron Salinitas - Acajutla, Sonsonate (El Salvador)
The Royal Decameron Resort Salinitas  is only 90 km from, San Salvador. You can enjoy an all-inclusive drink at any one of four bars and there are of course all-inclusive breakfast lunch and dinner buffets.  Importantly this resort gives you the option of À la carte dinners as well. 
All-inclusive drinks are generally limited to domestic options and non alcoholic options. There is also a healthy line-up of entertainment for both children around the resort, including a show nightly.
Some restaurants include the buffet with an international Breakfast, Lunch, and Dinner looking out towards the pool and ocean. A second food court buffet for breakfast, lunch and dinner. A Thai restaurant (à la carte). The Steak House, Italian Pasta , And Mexican. 
Elsalvador All INclusive Beach Resort
Eco-friendly, Playa Las Flores makes maximum use of its dramatic location to provide a quality, more eco orientated all-inclusive resort experience. The resort itself has attracted a large surf following and is located  in a small tropical cove, complete with a black sand beach made from the charcoal of the volcanic outflows.

All Rates Include 3 Meals American Plan/Semi-Inclusive*and Per Person on website at the time of writing. 
This is only a tiny resort with a mere 15 rooms. But this is the type of resort guests are increasingly seeming to seek out in the Wake of COVID.  Surf passes are handed out sparingly and with 7-acres of beachfront property there is plenty of room to move in the area. 
All Inclusive beach chairs in El Salvador
Share Your All-Inclusive Adventures and Questions! 🌴 Have a memorable experience from a luxury all-inclusive vacation? We'd love to hear it at Luxury Resort Bliss. We're on the lookout for top-quality, insightful tales that'll inspire our community. Dive in and be a part of our sun-soaked stories! 🌊🍹✨
The story is a fictionalized account founded on travel expertise, research, and experience. Always refer to recent guest reviews and perform due diligence before booking.
💼 We cherish our independence! ✈️ Our travel recommendations are carefully researched, bias-free, and powered by human expertise by April and Ricky of LRB (we have personally researched and travelled to many of these destinations and researched others thoroughly through first-hand accounts). We also have put in the hard miles, and Ricky has worked for decades for resort and hotel chains  Hyatt, Hilton, Shangri-La and Radisson before starting Luxury Resort Bliss in 2007. 🌍✨ Unlike some other resort review websites we are concerned on the guest experience rather than mere corporate interest.