Top Golf Resorts Worldwide
Welcome! Here you'll find many of our more recent popular golf resorts, vacations and package.
Golf Resorts Closer To The UK.
Golf Resorts Near The United States.
You may like to focus on specific locations with our Costa Rica Golf Holidays, Hawaii Golf Resorts, Michigan Golf Resorts and the Scottsdale Arizona Luxury Resort options.
Top Destinations for Golf Resorts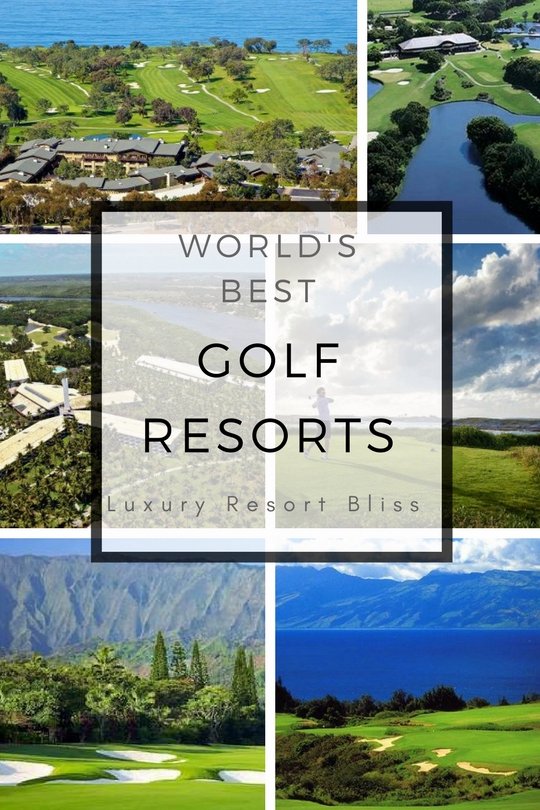 Discovering the Best Destinations in the World for Golf Resorts
Golf enthusiasts, prepare to pack your clubs and travel to some of the most outstanding golf destinations in the world. For the seasoned pro or or amateur seeking to hone your skills, these golf resorts offer not just world-class courses but unparalleled experiences. Here's a closer look at some of the best destinations for golf resorts:

1. Scotland – The Home of Golf
St. Andrews Links: Often regarded as the "Home of Golf," St. Andrews Links in Scotland is steeped in history and offers seven courses. The Old Course is a must-play for any golf lover.
Gleneagles: Another iconic destination, Gleneagles boasts three championship courses and exquisite lodging.
2. USA All Inclsuive Resorts– From Coast to Coast
Pebble Beach, California: This iconic coastal course provides stunning views of the Pacific Ocean.
Pinehurst, North Carolina: Known as the cradle of American golf, Pinehurst offers multiple courses to suit various skill levels.
Ballybunion Golf Club: Renowned for its majestic dunes and stunning Atlantic vistas, Ballybunion is an Irish gem.
Adare Manor: Recently redesigned, Adare Manor provides a challenging but fair test of golf.
4. Australia – Down Under Delights
Royal Melbourne Golf Club: As one of the best golf courses in the Southern Hemisphere, it hosts national and international tournaments.
Barnbougle Dunes: Set on Tasmania's rugged coastline, Barnbougle offers pure links golf.
5. Costa Rica – Tropical Paradise
Four Seasons Resort Costa Rica: Enjoy golfing amidst the lush rainforests and coastal views.
Reserva Conchal Beach Resort: This course offers a challenging game while embracing Costa Rica's ecological commitment.
6. Portugal – Algarve's Allure
Quinta do Lago: With three award-winning courses, Quinta do Lago offers a luxury golfing experience.
Monte Rei Golf & Country Club: Known for its top-notch service and immaculate conditions.
7. Spain – Sun-soaked Fairways
Valderrama Golf Club: This famous Spanish course has hosted numerous European Tour events.
La Manga Club: With three courses, La Manga offers options for golfers of all abilities.
Emirates Golf Club, Dubai: Experience lush fairways amidst the desert at this top-ranked course.
Yas Links, Abu Dhabi: With stunning Gulf views, Yas Links offers a unique golfing experience.
Leopard Creek Country Club: Play golf while observing wildlife from the course.
Fancourt: Known for its three highly ranked golf courses and luxury accommodations.
10. Turkey – Eurasian Elegance
Carya Golf Club: With its night golfing experience, Carya stands out as a unique destination.
Cornelia Diamond Golf Resort & Spa: This luxury resort provides a perfect blend of golfing and relaxation.
The golf resorts in Costa Rica are renowned for their breathtaking scenery, set against lush rainforests, stunning coastlines, and majestic mountains. Courses such as those found at the Four Seasons Resort Costa Rica at Peninsula Papagayo or the Reserva Conchal Beach Resort provide golf enthusiasts with world-class facilities. These courses often intertwine with the native landscape, offering not only a challenging game but also an opportunity to experience the unique flora and fauna of Costa Rica. Sustainability is often at the forefront of these resorts, reflecting Costa Rica's commitment to ecological preservation.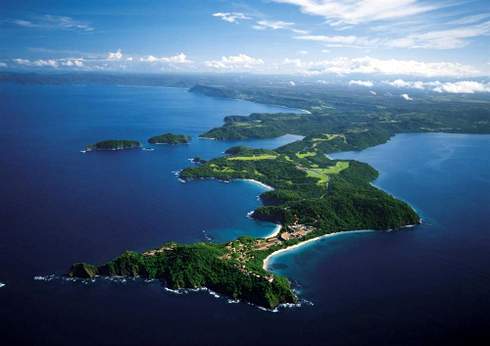 Four Seasons Costa Rica Golf Resort at Papagayo
Enjoy an Arnold Palmer designed course complete with strategically placed howler monkeys that await you. 
More information and reviews of the top Costa Rica Golf Resorts.
VIDEO: Want to Hear a Howler Monkey Howl? Costa Rica Howlers Sound Off?
---
Sandals Golf Vacations
Sandals Special Golf Package Offers

Tip: Catch a birdie at all the top Sandals Golf Resorts special offers on some of the Caribbeans top Golf Courses - Click Here

Amazing Sandals Golf Vacation Offer: Sandals are well known for their luxury all inclusive resorts attached to magnificent golf courses.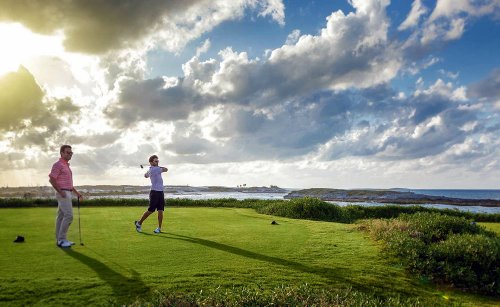 Sandals Emerald Bay All Inclusive Golf Resort
Sandals Resorts are home to many of the top golf courses in the Caribbean. At Sandals you can enjoy unlimited golf in Jamaica, Saint Lucia and the Bahamas. In this video get an idea of the Greg Norman designed Emerald Reef Golf Club in Great Exuma.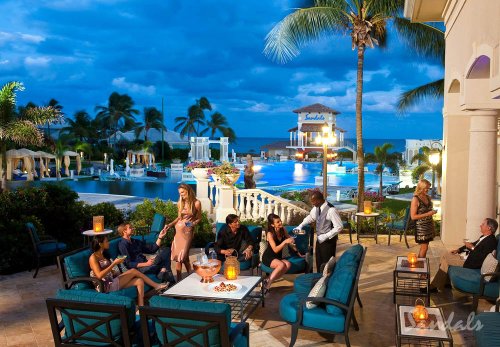 Sandals Emerald Bay All Inclusive Golf Resort
Sandals Emerald Bay Special Offers
Sandals resorts special offer: Experience the Caribbean's most challenging golf on beautiful and prestigious courses!
VIDEO: Golf Vacations in the Caribbean: The Unmatched Sandals Resorts Experience
---
---
Hawaii, with its tropical paradise setting, offers an unparalleled golfing experience through its stunning golf resorts. From the championship courses at Mauna Kea Resort on the Big Island to the lush and dramatic layouts at Kapalua on Maui, each island provides unique landscapes and challenges. The Princeville Makai Golf Course in Kauai offers views of towering sea cliffs, while Oahu's Ko Olina Golf Club offers impeccable greens and water features. Hawaii's golf resorts are not just about the game; they provide a holistic vacation experience with luxurious spas, world-class dining, and access to various water and outdoor activities. The PGA TOUR's annual Tournament of Champions in Maui highlights the importance of Hawaii in the golfing world, attracting professionals and enthusiasts alike to these islands. Whether a seasoned golfer or a beginner, Hawaii's golf resorts offer a blend of challenging gameplay and breathtaking scenery, making it an unforgettable destination for any golf lover.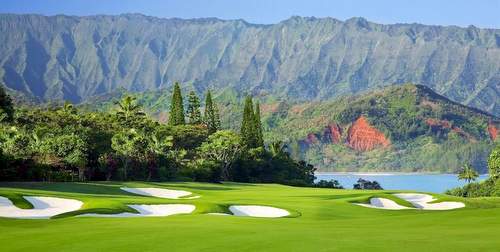 The St. Regis Princeville Golf Resort
---
The Ritz-Carlton, Kapalua Golf Resort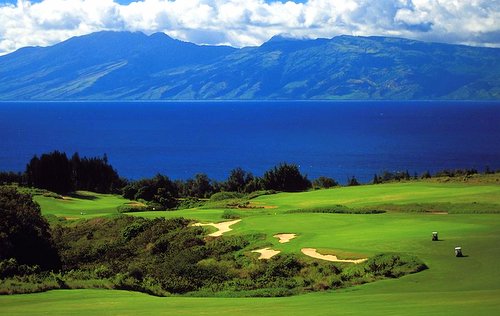 The Ritz-Carlton, Kapalua Golf Resort
Golf: This course is the "annual home of the PGA Tour's season- opening Mercedes-Benz Championship." It's on a pineapple plantation. There are 2 18-hole courses with great views. It's suitable for all skill levels of golfers.
See the latest reviews and get more information for the Ritz in Maui.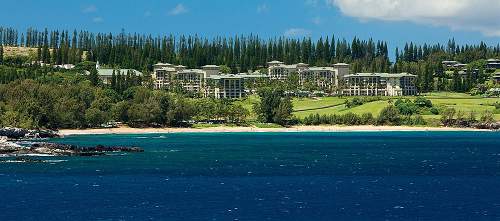 The Ritz-Carlton, Kapalua
More Golf Resorts in Maui
---
Hotel Transamérica Ilha de Comandatuba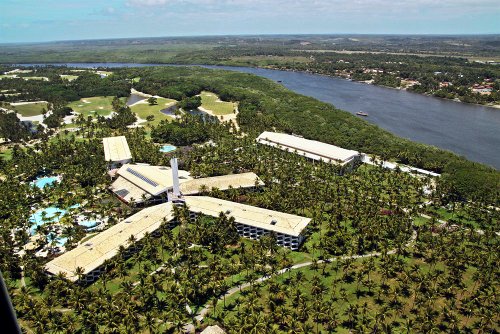 Hotel Transamérica Ilha de Comandatuba
A fabulous beachside Brazil golf resort. Complimentary cabanas and lots of beach activities await for your time away from the golf course. Big pools, free water parks, a full service spa and a different restaurant or bar each night fill out a well rounded resort.

The Hotel Transamérica Ilha de Comandatuba made the list for South America this time round.


---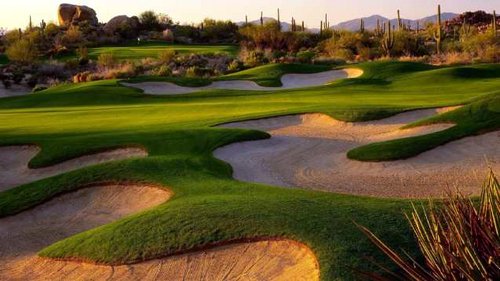 Four Seasons Resort Scottsdale at Troon North
A top resort in a golf crazy location. The par-72, 18-hole course designed by Tom Weiskopf is a key aspect of this resort.
See reviews of this resort and other great Scottsdale Golf Resorts.
---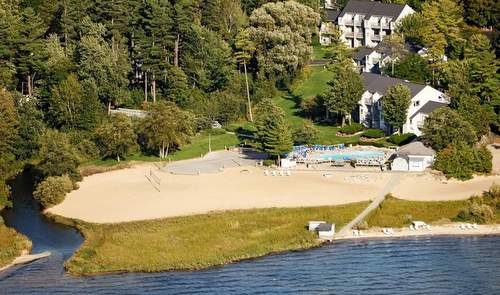 Michigan Golf
Grand Traverse Resort And Spa
Recently renovated, this resort is near Traverse City, Michigan. It's got 3 championship golf courses, a full-service spa, an indoor water playground and is close to Turtle Creek Casino. There are 600 rooms in the 17-story glass Tower, the hotel and the condos. The beds are noted as being especially great.

More on Grand Traverse Resort And Spa

More golf resorts in Michigan.

---
San Diego Golf Resort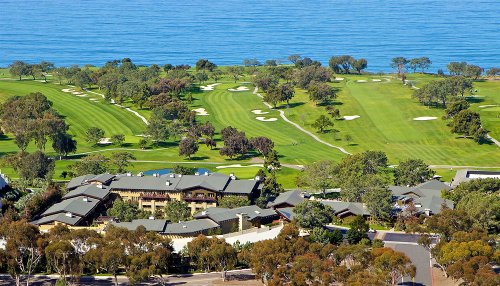 Lodge At Torrey Pines in La Jolla
The championship Golf Course at the Lodge At Torrey Pines in La Jolla you may recognize as the home of the 2008 U.S. open.
---
Jamaica Golf Resort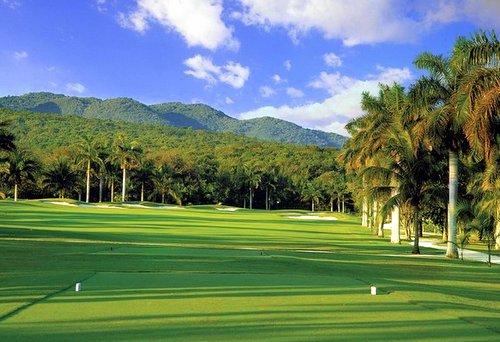 Half Moon is touted as the original Caribbean, golf resort and has regularly been called Jamaica's best Golf Resorts by golf authorities. This is a Robert Trent Jones Sr. There are also a number of other golf courses and facilities in this Golf rich location.
More on the Half Moon Montego Bay

More all inclusive resorts in the Caribbean. 

---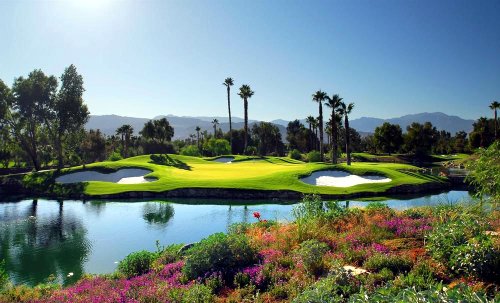 Palm Springs Golf Resorts
Palm Springs is one of the top Golf Locations on the West Coast with some spectacular golf resorts. Not the least of these is the Hyatt Grand Champions Resort, Villas and Spa.


More on the Hyatt Grand Champions Resort, Villas and Spa

---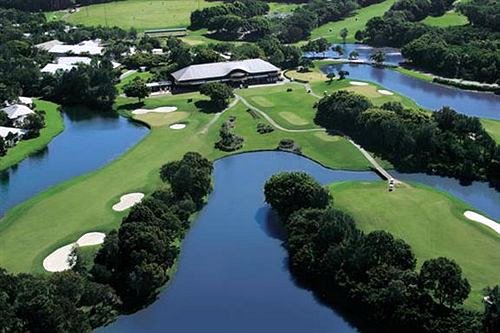 Australia Golf Resorts
Australia is home to some of the world's most remarkable golf resorts, showcasing the nation's diverse landscapes and catering to golf enthusiasts of all levels. The Royal Melbourne Golf Club in Victoria is often regarded as one of the finest golfing venues in the Southern Hemisphere, boasting two championship courses. In Tasmania, Barnbougle Dunes and Barnbougle Lost Farm provide a rugged links-style experience, with dramatic dunes and sweeping vistas of the Tasman Sea. Queensland's Hamilton Island Golf Club offers an unparalleled island golfing experience with views over the Great Barrier Reef, while New South Wales' Hunter Valley provides lush vineyard settings for a relaxed round of golf. The Joondalup Resort in Western Australia features 27 holes designed by the renowned Robert Trent Jones Jr, set among limestone caves and kangaroo-filled bushland. Luxury accommodations, fine dining, and state-of-the-art facilities often accompany these top-notch courses, making Australia's golf resorts not just a destination for the game but a holistic luxury escape. Whether in the coastal regions, near the bustling cities, or in the tranquil countryside, Australia's golf resorts offer an exciting and diverse range of golfing experiences.
Golf resorts closer to the UK.
Notable Golf resorts closer to the UK. Below, I'll provide a brief overview of some of the notable ones:
Heritage Awali Golf & Spa Resort: Located in Mauritius, this luxurious resort offers an unforgettable experience with a world-class golf course, spa facilities, and beautiful beachfront access.
Elba Sara Beach & Golf Resort: Situated in Fuerteventura in the Canary Islands, Spain, this resort is perfect for golf enthusiasts looking to combine their passion for the sport with sun, sea, and sand.
CLC Kusadasi Golf & Spa Resort: Located in Turkey, this golf and spa resort offers spectacular views, a challenging course, and top-tier amenities for relaxation.
Ramada Resort by Wyndham Kusadasi & Golf: Also in Turkey, this resort offers exceptional golfing along with a wide range of accommodations and dining options.
Sandos San Blas Nature Resort & Golf: This unique eco-resort combines golf with nature conservation, offering an immersive and responsible tourism experience.
The Mere Golf Resort and Spa: In Cheshire, UK, this resort offers a championship golf course and a relaxing spa experience in an idyllic English countryside setting.
Hilton Al Hamra Beach & Golf Resort: Located in the United Arab Emirates, this resort boasts stunning views and an impeccable golf course, just a short flight from the UK.
Cornelia Diamond Golf Resort & Spa: A gem in Turkey's Belek region, offering top-notch golfing facilities along with extravagant dining and leisure options.
DoubleTree by Hilton Forest Pines Spa & Golf Resort: In Lincolnshire, UK, this resort provides a serene getaway with a top-rated golf course and spa facilities.
Galgorm Spa & Golf Resort: Situated in Northern Ireland, this resort is famous for its luxurious spa and beautifully designed golf course.
Regnum Carya Golf & Spa Resort: In Turkey's Antalya region, this resort provides an all-inclusive luxury experience with a renowned golf course and extensive spa services.
Sheraton Fuerteventura Beach Golf & Spa Resort: A beautiful option in the Canary Islands, Spain, offering golfing opportunities along with beach access and relaxing spa treatments.
La Manga Golf Resort: A famous resort in Spain's Murcia region, known for its three championship golf courses and luxury accommodations.
Druids Glen Hotel & Golf Resort: Located in Ireland's County Wicklow, this resort is famous for its golf courses, set among some of Ireland's most beautiful landscapes.
These golf resorts cater to various tastes and budgets and are located in different regions close to the UK. Whether you are looking for a quick weekend getaway or a lavish golf vacation, these resorts offer a range of options for every golfer.
Best Golf Resorts Near the United States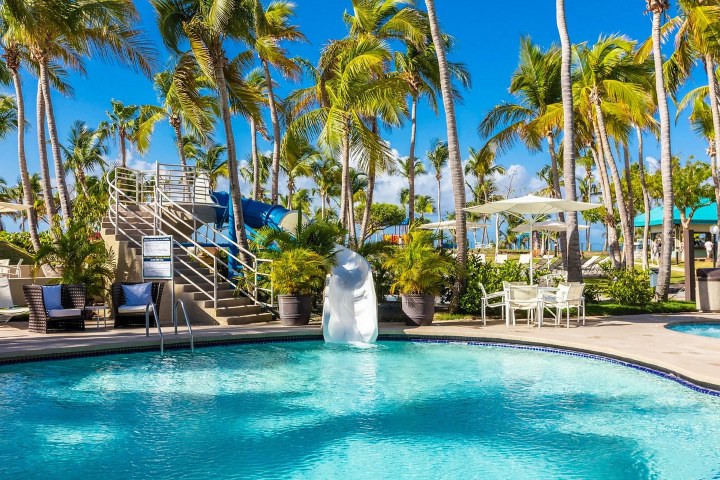 Hilton Ponce Golf & Casino Resort
For golf enthusiasts, there's nothing quite like stepping onto a world-renowned championship course, surrounded by luxury accommodations and breathtaking scenery. Whether you're planning a weekend getaway or a week-long golf vacation, the following golf resorts near the United States offer the ultimate experience for every level of golfer.
Secrets Playa Mujeres Golf & Spa Resort - Nestled in an exclusive gated community, this stunning resort offers an adults-only escape with 6,400 yards of challenging fairways and greens. The all-inclusive packages are sure to delight any golfer looking for a sophisticated retreat.
Kiawah Island Golf Resort - Famous for hosting major tournaments, Kiawah Island Golf Resort's Ocean Course is a must-visit. With 4,300 acres of golfing paradise and a competitive comp score of 12.58, it's no surprise that this resort has been the choice of pros and amateurs alike.
Lajitas Golf Resort - Located in Texas, this resort offers 2,900 acres of golfing nirvana. With a competitive rating of 9.47, Lajitas offers a blend of luxury and rustic charm, featuring top-notch amenities and a unique desert golf experience.
Bandon Dunes Golf Resort - Situated along the rugged Oregon coast, Bandon Dunes is synonymous with pure links golf. With 2,800 acres and a competitive rating of 10.11, this resort offers five distinct courses, each providing a unique golfing challenge.
Sandestin Golf and Beach Resort - Destin Florida's Sandestin Golf and Beach Resort offers 2,700 acres of golfing heaven. With a competitive rating of 11.59, this family-friendly destination features four championship courses and beachside amenities, perfect for a luxurious golfing vacation.
Westin Mission Hills Golf Resort & Spa - Located in Palm Springs, California, this 1,100-acre resort is renowned for its two championship courses. It's a haven for those seeking a luxurious golf vacation.
Cimarron Golf Resort - With a competitive rating of 9.2 and 1,000 acres of playing field, Cimarron offers a unique desert golf experience in California. Its courses are both challenging and scenic.
Jewel Runaway Bay Beach & Golf Resort - This 1,000-acre all-inclusive resort in Jamaica features a stunning 18-hole championship golf course. Combining tropical beauty with world-class golfing, it's a Caribbean dream for golf enthusiasts.
Sedona Golf Resort - Offering 1,000 acres of breathtaking views in Arizona, Sedona boasts a competitive rating of 10.14. Its course is set against the backdrop of the magnificent red rock formations.
Innisbrook Golf Resort - Known for hosting the PGA TOUR's Valspar Championship, this 750-acre Florida resort offers four championship courses. With a 9.32 rating, it's a favorite among professionals and amateurs alike.
Pueblo Bonito Sunset Beach Golf & Spa Resort - This 870-acre Mexican oasis in Cabo San Lucas offers all-inclusive golf packages and a Jack Nicklaus Signature course, providing a world-class golf experience by the sea.
Kiawah Island Golf Resort Contact Number - With 810 acres and a unique opportunity to dial in for personalized packages, Kiawah Island in South Carolina remains a must-visit with its famous Ocean Course.
Wyndham Grand Rio Mar Puerto Rico Golf & Beach Resort - Spread across 810 acres, this Puerto Rican gem boasts two championship golf courses. It's a tropical paradise for those looking to combine beach relaxation with golfing action.
Charleston SC Golf Resorts - Explore the charm of Charleston, South Carolina, with its 660-acre golf resorts. The city offers various golfing options with southern hospitality and coastal allure.
Cloudmont Ski & Golf Resort - A 660-acre resort in Alabama offering both golfing and skiing, Cloudmont caters to sports enthusiasts year-round. Its unique combination of activities makes it a versatile vacation destination.
Pinehurst Golf Resort - With 660 acres in North Carolina, Pinehurst is a historic resort offering several courses, including the famed No. 2. Its timeless charm has attracted golfers for generations.
Suncadia Golf Resort - Nestled in Washington State's Cascade Mountains, Suncadia's 660 acres offer a Pacific Northwest golfing experience. Its courses blend seamlessly with the natural landscape.
Tapatio Golf Resort - Located in Texas, Tapatio's 630-acre resort offers an authentic Texan golfing experience. Its scenic courses and southern hospitality provide a warm and engaging environment for golfers.
Newstead Belmont Hills Golf Resort & Spa - This 630-acre Bermudian resort offers an idyllic island golfing experience. With stunning ocean views and top-notch facilities, it's a romantic getaway for golf-loving couples.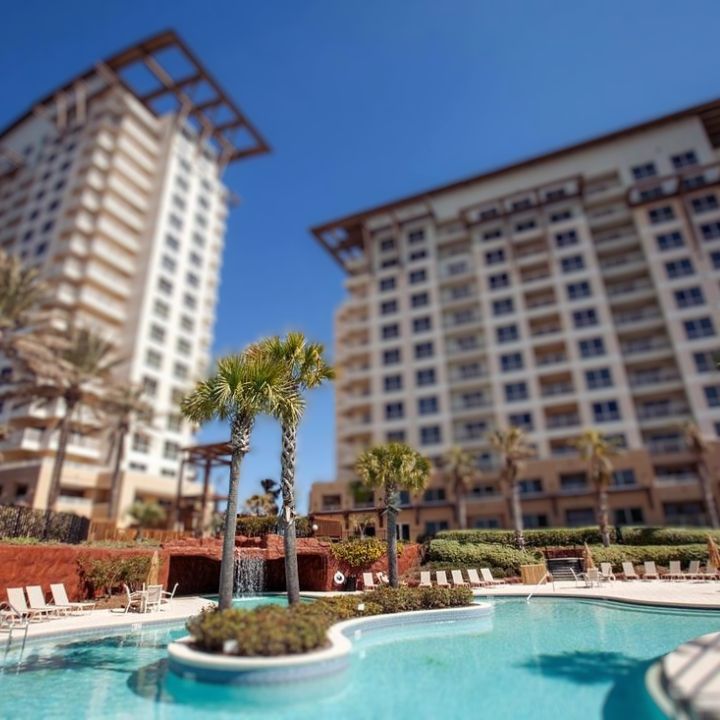 Hilton Sandestin Beach Golf Resort & Spa
FAQ section that addresses common questions about the best golf resorts:
A1: The best golf resorts offer a combination of challenging and beautifully designed courses, exceptional amenities, top-notch service, luxurious accommodations, scenic views, and unique geographical locations.
A2: Yes absolutely! Many of the world's best golf resorts offer courses designed for all skill levels, including beginners. They often provide professional instructors, clinics, and equipment rentals to help newcomers enjoy the game.
A3: Many golf resorts are designed with the entire family in mind, offering activities and facilities for children and non-golfing members of the family such as swimming pools, spas, tennis courts, and various recreational activities.
A4: While some prestigious golf resorts may have private courses restricted to members, many offer packages for visitors, allowing non-members to enjoy their facilities and courses. Always check with the resort for specific details.
A5: The best time to visit a golf resort depends on its location and your preferences for weather and crowd levels. Many golf resorts in temperate regions offer year-round golfing, while others may be seasonal.
A6: Yes, many top golf resorts offer packages that include a variety of other activities and amenities like spa treatments, guided tours, water sports, gourmet dining, and more.
A7: Consider factors such as your skill level, budget, desired amenities, geographic location, and the type of experience you want (e.g., beachfront vs. mountain views, historical vs. modern settings).
A8: Many of the best golf resorts cater to corporate events and private tournaments, offering professional planning services to ensure a successful and memorable event.
A9: Yes, an increasing number of golf resorts are embracing sustainable practices, including water conservation, wildlife protection, and environmentally friendly maintenance practices. But we do need to get a lot better at this. 
A10: You can usually book directly through the resort's website or through various travel platforms. Some also offer customized packages through travel agents specializing in golf vacations.
A11: Most golf resorts have specific dress codes and etiquette rules for the course. It's advisable to check with the resort ahead of time or consult their website for specific guidelines.
Exploring these FAQs can help you make informed decisions about your next golf resort vacation and ensure that you have an unforgettable experience tailored to your preferences and needs.
Share Your All-Inclusive Adventures and Questions! 🌴 Have a memorable experience from a luxury all-inclusive vacation? We'd love to hear it at Luxury Resort Bliss. We're on the lookout for top-quality, insightful tales that'll inspire our community. Dive in and be a part of our sun-soaked stories! 🌊🍹✨
The story is a fictionalized account founded on travel expertise, research, and experience. Always refer to recent guest reviews and perform due diligence before booking.
💼 We cherish our independence! ✈️ Our travel recommendations are carefully researched, bias-free, and powered by human expertise by April and Ricky of LRB (we have personally researched and travelled to many of these destinations and researched others thoroughly through first-hand accounts). We also have put in the hard miles, and Ricky has worked for decades for resort and hotel chains  Hyatt, Hilton, Shangri-La and Radisson before starting Luxury Resort Bliss in 2007. 🌍✨ Unlike some other resort review websites we are concerned on the guest experience rather than mere corporate interest.