Worlds Best New Resorts
What are the world's best new resorts? Here are the latest and greatest that we've found. If you've heard of a good one, let us know!
See also the world's best resorts.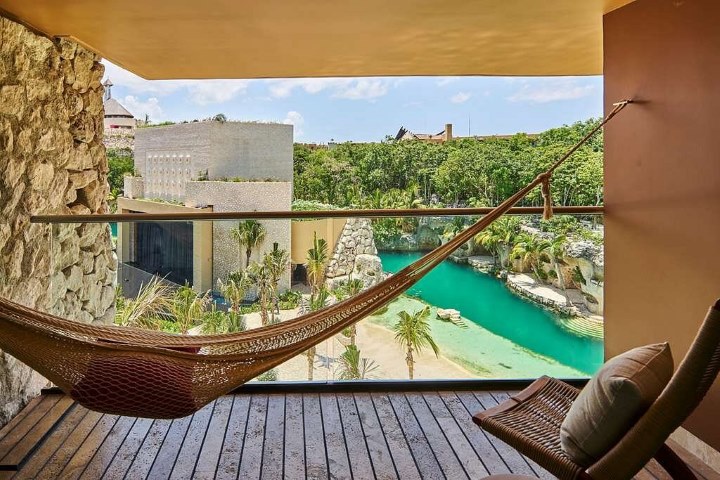 Hotel Xcaret Arte - Playa Del Carmen
Travel agent Karen has listed out some of the most promising all-inclusive resorts scheduled to open. Her suggestions are based on considering factors like destination, time of year, and type of activities that travelers would like to do.
Zoetry Marigot Bay St Lucia - A boutique resort with spacious suites offering tranquil vibes and easy access to top attractions like the infamous batons.
Sandals Dunn's River, Ocho Rios, Jamaica - Offers first of its kind suite designs, unique restaurant concepts, bars, and new ways to experience Jamaica's natural wonders.
Jewels Palm Beach, Punta Cana - Offers mid-level luxury experience in the Dominican Republic with diverse dining options and elevated Spa experiences.
Dreams Flora, Punta Cana - Ideal for couples and families with spacious accommodations, a variety of dining options, and a range of activities for all ages.
Banyan Tree, Valle de Guadalupe, Mexico - Offers luxury in wine and wellness amidst grape vines and olive oil groves.
Waldorf Astoria, Cancun - Offers world-class amenities, suites with individual balconies, soaking tubs, and ocean views.
Westin Beach Resort, St Thomas, U.S Virgin Islands - A transformed resort offering luxurious accommodations and beachfront facilities.
Margaritaville Beach Resort, Burgess Key, Belize - Offers a secluded, sustainable, family-friendly Hideaway, ideal for vacationing in Belize.
Saint Regis Kanai resort, Riviera Maya, Mexico - Scheduled to open on March 30th, 2023, offering world-class amenities and services with architectural elements inspired by the ancient Mayan culture.
Secrets Impressions, Isla Mujeres - Set to debut in March 2023, offers ultra-luxurious unique resort experience, situated near island sanctuary ruins and surrounded by calm, clear turquoise waters.
For more detailed travel advice and recommendations, Karen invites viewers to subscribe to her channel and reach out to her via email or her website.
Our Picks for the Worlds Best New Resorts:
Greeted by sunrise and the soothing rhythm of the azure Indian Ocean, my initial moments on JOALI BEING, the first-ever wellbeing island in the Maldives, were unforgettable. Amidst the untouched wilderness of the Maldivian island, I felt an immediate sense of lightness, as if stepping into a realm of tranquility, carefully engineered through its Biophilic design principles. As I ventured further, the balance between untouched natural beauty and artful human creation was breathtaking - the resort's structures appeared to be an extension of nature itself, promoting an uninterrupted flow of energy.
JOALI BEING, tucked away on the pristine Bodufushi Island in Raa Atoll, wasn't just a destination - it was an unfolding narrative, teeming with magic, adventure, and authenticity. Only a 40-minute seaplane journey from Malé International Airport, it felt like a world away. Comprising 68 individual villas, each accompanied by a dedicated butler, or "Jadugar", the hospitality was a seamless blend of warmth and attentive service, making me feel like a character in an unfolding saga of rejuvenation and personal discovery.
At JOALI BEING, wellbeing isn't merely a slogan; it's an immersion into a way of life - of existing. Their holistic philosophy offered a transformative journey, tailored to my unique lifestyle and wellness goals. From exhilarating adventure to soulful relaxation, JOALI BEING scripted my personal path to renewal around the Four Pillars - Mind, Skin, Microbiome, and Energy.
I dined at a restaurant that served up a palette of flavours, ranging from the American classics to the aromatic richness of Indian cuisine, and the traditional British dishes. What struck me was the focus on nutrition tailored to my palate and dietary needs, including vegetarian, dairy-free and halal options.
Being at JOALI was indeed a journey of transcendence, a dance with the elements - the sea, the sand, the sun and the stars. As I connected with the profound gifts of nature, I commenced a voyage of self-discovery and rejuvenation, combining ancient wisdom with the precision of modern science. The island became my sanctuary, my canvas of expression, a place to indulge in the joy of the present moment, set my intention, and co-create moments of magic and transcendence.
As I left, my heart was full, my mind clearer, my spirit invigorated. I was lighter, radiant, transformed. A new story was written, a part of me reborn, forever woven into the tapestry of JOALI BEING. The island promised not just a luxurious stay, but a life-altering experience - one that whispered softly, yet deeply resonated within me, long after I returned home.
Find the best deal, compare prices, and read what other travelers have to say at Tripadvisor
Hotel Xcaret Arte - Playa del Carmen, Mexico
Amidst the sun-drenched Riviera Maya, Hotel Xcaret Arte in Playa Del Carmen, Mexico, offers a retreat that seamlessly combines luxury with an homage to Mexican artistry. More than just a hotel, it's a museum in paradise, a creative sanctuary where art and nature blend in breathtaking harmony.
As soon as you step into the grand entrance of Hotel Xcaret Arte, you're welcomed with a unique treat—a granular chocolate delicacy native to the region, a rich taste of Mexico's authentic flavors. And that's just a taste of the captivating journey that lies ahead.
Hotel Xcaret Arte is dedicated to celebrating Mexican arts in all their forms. Each segment of the hotel highlights a different facet of the country's rich artistic heritage—from the stunning rooms adorned with textile and sewing elements to the dedicated spaces for practicing pottery, painting, and dancing. It's an invitation to explore your creative side while relishing in the sheer luxury the hotel has to offer.
In the heart of Mexico's Riviera Maya lies the Hotel Xcaret Arte, a luxury resort that encapsulates the spirit of Mexican artistry and promises an unmatched hospitality experience. A stone's throw from the pristine beaches of Playa del Carmen, the hotel entices guests with its unique fusion of culture, art, and luxury.
See also the world's best wellness retreats.
Upon arrival, guests are treated to nostalgic treats such as the textured Chocolate Weelita, followed by an introduction to their multilingual butler. The resort provides guests with an all-access pass, not just to its exquisite facilities, but also to a rich tapestry of Mexican art styles, transforming the property into an immersive art gallery.

Beyond artistic indulgence, the resort also boasts of stellar dining options, with an emphasis on quality over quantity despite its all-inclusive status. Unmissable features include the breathtaking lagoon, the extravagant pool, and secluded hot tubs, all adding to the resort's opulent atmosphere.
Excursions to surrounding parks, revitalizing spa treatments, and exclusive dining experiences hosted by one of Mexico's top chefs are all part of the Hote's offer. The adventure concludes with a mesmerizing visit to Ashkera Park for a mesmerizing display of Mexico's rich history. The Hoste invites travelers to embark on a journey of rest, adventure, and indulgence, making it the ultimate luxury getaway in the Riviera Maya. Vlog by Lost LeVlog
Find the best deal, compare prices, and read what other travelers have to say at Tripadvisor
The Maybourne Riviera
Indulgence on the Azure Coast: Maybourne Riviera, Roquebrune-Cap Martin, France
Tucked away in the tranquil village of Roquebrune-Cap-Martin, the Maybourne Riviera is an oasis of lavish serenity on the French Riviera, an intimate enclave designed for those who appreciate both the quieter and the more sophisticated moments in life.
Casting your gaze over the ever-changing tableau of the Mediterranean from one of the 69 suites, it is easy to understand the hotel's magnetic appeal. Each sunrise breathes life into the expansive view over Cap Martin, igniting the sky in a spectacular display of colors. As evening falls, the hotel offers guests a vantage point to admire the sun's descent, followed by the nightly spectacle of Monte Carlo as it begins to twinkle under the cover of darkness. This view is further elevated by the opulence of marble bathtubs, where guests can immerse themselves in luxury, accompanied by the shimmering lights of the distant city.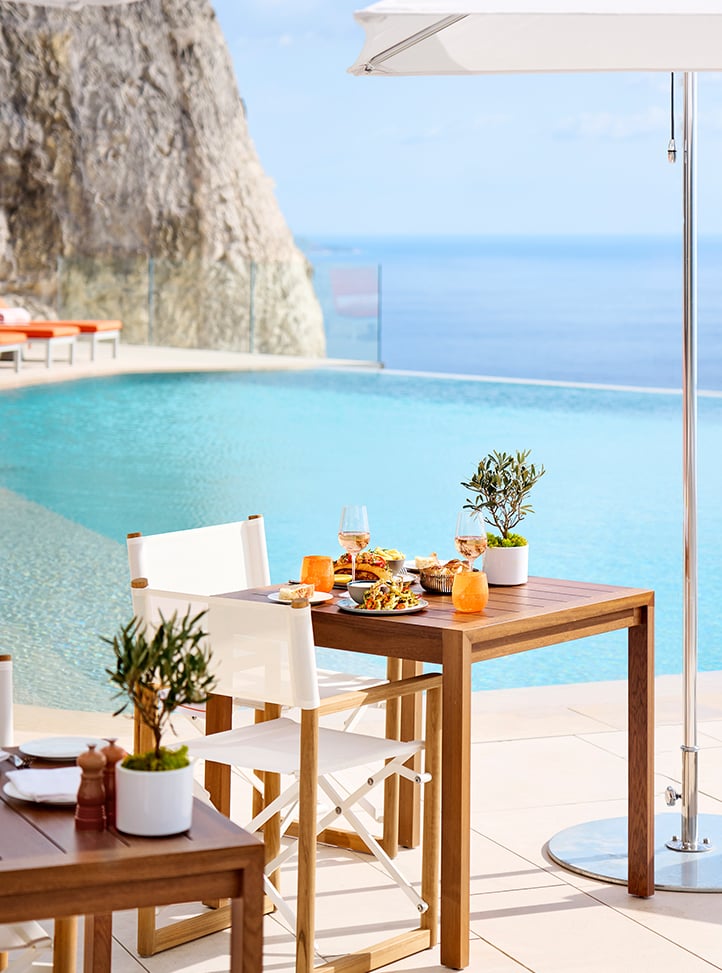 Culinary aficionados will be thrilled by the hotel's gastronomic offerings. The Maybourne Riviera has curated three world-class dining options, each orchestrated by acclaimed chefs. The crown jewel among them is an establishment by sushi maestro Hiro Sato, adding a touch of the Far East to the classic French Riviera atmosphere.
However, while the Maybourne Riviera's luxurious ambience and world-class dining set it apart, one must consider its remote location. Situated in a peaceful village, it's ideal for those seeking a quiet retreat from the bustling world. However, it may prove less appealing to travelers seeking a dynamic nightlife scene or bustling city ambiance.
Final Score: 8.5/10
For those who appreciate secluded luxury, Maybourne Riviera is a world away from ordinary. It's perfect for travelers seeking to experience the Côte d'Azur's more serene side. However, if you yearn for a more vibrant locale, consider a resort in the heart of Monte Carlo, such as Hotel Metropole, known for its proximity to the city's pulsating life and glamorous casinos. Whichever you choose, the French Riviera promises an unforgettable escapade.
Find the best deal, compare prices, and read what other travelers have to say at Tripadvisor
In the video, Luxscape, the narrator presents an impressive list of seven new all-inclusive resorts located in Cancun, Mexico, highlighting their unique features, activities, and amenities.
At number seven, we have Garza Blanca Resort and Spa, a luxurious all-inclusive resort that opened in 2022. It offers modern suites, various culinary experiences, including Japanese fusion and pre-Hispanic specialties, along with numerous water activities and vibrant evening entertainment.
Hilton Cancun takes the sixth spot. Opened in November 2021, this resort offers a range of rooms for families, friends, and couples. It offers beachside activities, a gym, a kids' club, and a nightly Fiesta Show that captures the vibrant Mexican culture.
Wyndham Ultra Cancun comes in fifth. The resort was completed in April 2022 and offers access to nearby landmarks like the Tulum and Coba Mayan ruins. It features an inviting infinity pool, thrilling water slides, and a wide variety of culinary options.
Fourth is Waldorf Astoria Cancun, which started operating in November 2022. It offers elegant rooms and suites, excellent dining options, fitness centers, and a top-class spa. The resort is set amongst verdant green mangroves and is a short distance from Cancun International Airport.
Paradisus Playa Mujeres ranks third on the list. Opened in 2020, it offers modern accommodations with views of lush tropical gardens or beautiful beaches. It offers a variety of day and night activities, including Mezcal and tequila tasting, cooking classes, scuba diving, and nightly shows.
The second spot goes to Hotel Xcaret Arte Playa Del Carmen, a resort that opened in July 2021. This resort showcases Mexico's art and heritage and offers a variety of exciting activities and culinary experiences.
Finally, at number one is Secrets Moxche Playa Del Carmen Resort. Opened in April 2022, the resort offers well-appointed rooms and suites, numerous daytime and nighttime activities, 11 dining options, and a world-class spa with various body and facial treatments.
World's Best New(ish) Resorts
Though certain resorts may not be the freshest faces on the scene, their novelty does not diminish their allure. They've had a bit more time to perfect their craft, and these relatively established destinations continue to merit a special mention. We only add a few resorts each year. 
Set on the outskirts of bustling Shanghai, Amanyangyun Resort is a sanctuary of tranquility and a testament to a heroic conservation project. It took a decade-long effort to relocate and restore the ancient camphor forest and Ming and Qing Dynasty houses that now grace this unique resort. When guests arrive, they step into a timeless world where ancient China blends effortlessly with contemporary comfort.
Each of the meticulously restored villas whispers tales of a bygone era, while offering the luxury and convenience of the modern age. Immersed in the verdant tranquility of the camphor forest, it's easy to forget the metropolis lies just outside.
Dining at the resort is an epicurean delight, with a selection of restaurants serving traditional Chinese delicacies. In contrast, wellness enthusiasts can unwind at the Aman Spa, offering a range of holistic treatments rooted in Chinese traditions.
Amanyangyun stands as more than just a resort; it's a cultural oasis. The on-site cultural complex, Nanshufang, inspired by scholars' studios of old, invites guests to explore traditional crafts, calligraphy, and tea ceremonies. A stay here is not merely a break from the everyday; it's an intimate encounter with Chinese heritage, a journey back in time, a story of preservation, and an experience of unrivaled luxury.

Amanyangyun Resort, China
When you think of China, you don't always think "tranquil" and that's what makes this new resort so great. 
It's set in a peaceful woodland setting just outside of Shanghai. While it's a new resort, it is historical as well. Villas are in restored Ming and Qing-dynasty houses.
The story of how this resort came about is amazing in and of itself!
Check out our full review of Amanyangyun Resort here.
---
Tucked away in the serene Sian Ka'an Biosphere Reserve, Mukan Resort offers an exclusive retreat for those seeking tranquility amidst unspoiled nature. This hidden gem on the Yucatan Peninsula caters to the discerning traveler looking for both luxury and eco-conscious accommodation.
The moment you step off the boat – yes, the resort is accessible only by water – you're enveloped by the soothing embrace of verdant mangroves, white sandy beaches, and crystal-clear turquoise waters. Mukan's seclusion allows it to provide a uniquely intimate experience. With just five beachfront rooms and five premium villas, the resort never feels crowded, affording guests a genuine sense of private paradise.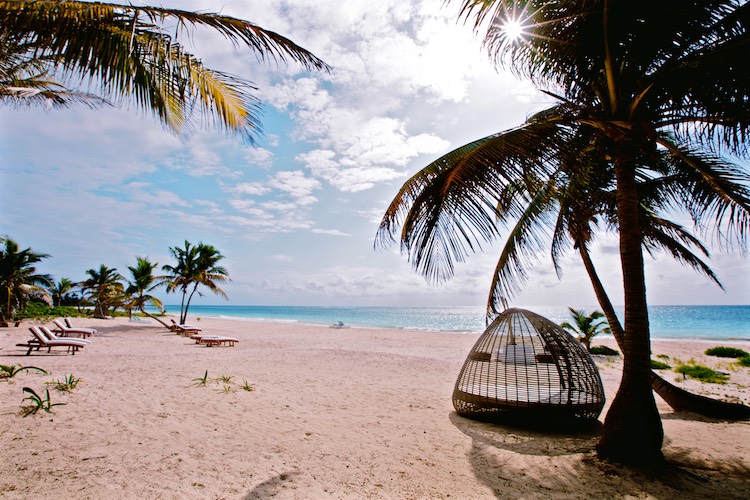 The Beach at Mukan Resort
The architecture of Mukan Resort artfully fuses local materials and Mayan influences, creating an atmosphere that is at once luxurious and authentically rustic. The rooms boast handcrafted furniture and local artisan decor, each carefully selected to enhance the sense of harmony with the surrounding nature.
Gastronomy at Mukan is a delightful adventure, with menus based on locally sourced ingredients, featuring Mexican and international favorites prepared with a creative twist. Its environmental ethos extends to the dining table, with a focus on sustainable and organic practices.
However, Mukan's seclusion might be a double-edged sword for some. While it's perfect for those seeking solitude, it may not cater to travelers looking for lively nightlife or a wide array of shopping and dining options.
Mukan Resort's key strength lies in its unique blend of luxury and nature. It distinguishes itself from competitors by offering a rare sanctuary where opulence coexists with conservation. This balance, coupled with the mesmerizing natural beauty of the Sian Ka'an Biosphere Reserve, provides a travel experience that is both indulgent and spiritually rejuvenating.
For travelers craving a similar escape but with more social options, perhaps the eco-chic Hotel Esencia, situated midway between Tulum and Playa del Carmen, might be an appealing alternative.
Mukan Resort has the distinction of being the only resort in the Sian Ka'an Biosphere - which is a UNESCO World Heritage site. It is a resort surrounded by sand, sea and jungle.
This is a small luxury resort with great excursions and all inclusive fine dining. It is not your average mega resort but instead a peaceful place to be in nature.
Located close to Tulum, Mexico, this is definitely a resort to check out. 
See our full review or compare prices for Mukan Resort here.
---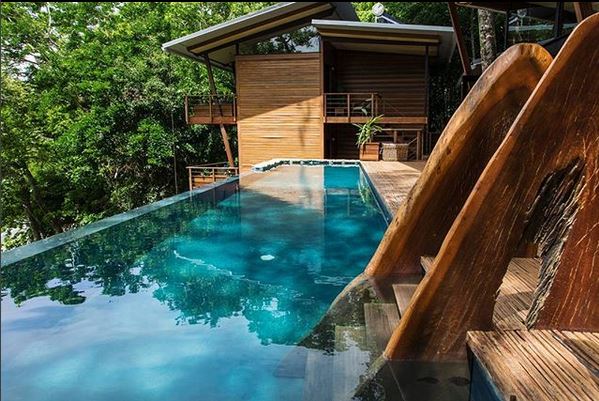 Isla Palenque is a great new resort located on a private island in Panama, It is surrounded by 400 acres of jungle and set on the largest (private) beach on the island. 
If you love nature, getting far away from the hustle and bustle and a good bit of luxury mixed in, check out our full review of this resort - Isla Palenque.
---
On the sun-drenched coast of Cabo San Lucas, the Mar Adentro Resort is an exquisite tapestry of modern architecture and tranquil seascapes. From its stark, minimalist buildings that seem to float upon reflective pools, to the undulating waves of the nearby azure sea, the resort exudes an ambience of serene luxury.
One step into this sanctuary, and the world outside begins to fade. The gentle hum of the ocean forms a soothing symphony, playing in perfect harmony with the crisp lines and bold geometry of the resort's architecture. Each suite offers panoramic vistas of the endless ocean, the horizon interrupted only by the distant sails of a wandering yacht or the vibrant hues of a Mexican sunset.
Mar Adentro is not without its thoughtful contrasts. While its aesthetics are a hymn to modernity, the resort's heart beats to a sustainable rhythm, demonstrating a deep respect for the environment. Eco-conscious practices are not mere afterthoughts but are seamlessly integrated into the resort's operations.
While there are many luxury resorts in Cabo San Lucas, Mar Adentro stands apart with its bold, contemporary design and dedication to sustainability. For travelers seeking a unique blend of luxury and eco-conscious living, it offers a distinct, memorable stay that gently pushes the boundaries of a traditional resort experience. However, those seeking a more typical Mexican resort atmosphere may find its ultra-modern design somewhat stark. As always, the perfect resort is in the eye of the beholder.
More information and reviews for Mar Adentro, Cabo San Lucas, Mexico
---
Timber Cove Resort, Sonoma California
Perched on a dramatic bluff high above the Pacific Ocean lies Timber Cove Resort, an iconic retreat nestled in the heart of Sonoma County's stunningly beautiful coastline. It's a place where the deep, moody blue of the Pacific meets the rugged wild terrain of California's famed wine country.
The drive up the coast to reach Timber Cove Resort is an experience in itself. The winding Pacific Coast Highway carves through towering redwood forests and hugs the rocky coastline, offering breathtaking views at every turn. Along the way, one can spot the occasional deer grazing near the road or a playful otter diving into the ocean waves.
Upon arriving at Timber Cove Resort, a sense of peace immediately washes over you. The sounds of the city are replaced with the gentle hum of the wind through the cypress trees and the rhythmic crashing of the waves. The resort, a masterwork of mid-century architecture, seems to emerge naturally from the landscape, its earthy tones and materials echoing the surrounding wilderness.
The lobby greets you with a grand stone fireplace, a warm and welcoming sight, especially on chilly coastal evenings. A sculpture of a diving otter, whimsical and full of life, catches your eye, setting the tone for the rest of your stay - a perfect blend of art, nature, and luxury.
The resort's 46 guest rooms are a celebration of understated elegance and rustic sophistication. Each room boasts floor-to-ceiling windows, offering awe-inspiring views of the rugged cliffs, the endless ocean, or the serene forest. The rooms feature a mix of vintage and custom furnishings, local artwork, and retro-inspired record players with a selection of vinyl, evoking a sense of nostalgia.
Just outside, the resort's expansive grounds beckon for exploration. Trails wind their way around the property, leading guests to secluded picnic spots, outdoor sculptures, and a rugged private cove. In the heart of it all stands a 93-foot totem pole, a holdover from the resort's early days, now serving as a beloved landmark.
Culinary delights await at the resort's restaurant, Coast Kitchen. Offering ocean-to-table dining, the restaurant showcases the best of Sonoma's local produce, organic farm-raised meats, and freshly caught seafood. Pair your meal with a bottle from the extensive wine list, featuring an impressive selection of Sonoma and Napa Valley's finest.
Whether sipping a glass of local Pinot Noir by the firepit as the sun dips below the horizon or exploring the coastline during a morning hike, a stay at Timber Cove Resort is an immersion into the tranquil beauty of Sonoma's coast. It's a place where luxury is defined not just by thread counts and spa menus, but by the quiet moments of connection with nature and the soul-soothing power of the wild, rugged landscape.
More information and reviews for Timber Cove Resort
---
Four Seasons Resort Lanai
At the Four Seasons Resort Lanai, each day promises a new discovery - be it a quiet morning exploring the stunning marine life during a snorkeling expedition, an afternoon of pure relaxation at the world-class spa, or an evening beneath the stars, feasting on exquisite local cuisine while traditional Hawaiian music fills the air.
This resort has certainly been renovated enough to qualify as a new resort with the change of ownership.
More information on the Four Seasons Resort Lanai
VIDEO: Four Seasons Lanai - Our Luxury Lanai Resorts in Koele and Manele Bay
---
Excellence El Carmen Punta Cana
The Excellence El Carmen in Punta Cana is an all-inclusive adults-only haven of tranquility where luxury is seamlessly interwoven with the natural beauty of the Dominican Republic. Its contemporary Caribbean design extends to 492 spacious suites, all boasting private pools or outdoor Jacuzzis, and immersive views of the azure ocean or lush tropical gardens. A stroll around the resort offers numerous dining options, with 12 internationally-inspired restaurants catering to every palette. The sandy beaches, bathed in the warmth of the Caribbean sun, offer an idyllic setting for relaxation, while the state-of-the-art fitness center and world-class Miilé Spa provide opportunities for rejuvenation. At Excellence El Carmen, every detail is curated to create an unforgettable experience of pure indulgence in paradise.
See the full review on our Dominican Republic Couples Resorts and Adult Only Resorts review.
---
Sandals Barbados All-Inclusive Resort redefines luxury and takes couples on a journey of sublime relaxation and romanticism on the enchanting shores of St. Lawrence Gap. The resort offers 280 lavishly designed rooms and suites that encapsulate the island's unique charm and rich culture. Boasting 11 gourmet dining options, each with a distinctive culinary narrative, guests can traverse the world through delectable dishes without ever leaving the resort. The property's sprawling pools and swim-up bars, set amidst lush tropical gardens, offer a refreshing escape under the Barbadian sun. Adventure-seeking guests will appreciate the water sports facilities and scuba diving opportunities, while those seeking relaxation can find solace in the world-class Red Lane Spa. Sandals Barbados promises a perfect blend of sun-soaked bliss and sophisticated luxury, where every moment is imbued with the spirit of Caribbean enchantment.
See our reviews for Sandals Barbados on our Barbados all inclusive resorts review.
---
the Andaz Scottsdale Resort & Spa is a modern oasis that offers guests a retreat into the soothing embrace of nature. The resort's 201 bungalow-style guestrooms and suites, inspired by the mid-century modern art scene of the 1950s, offer panoramic views of Camelback Mountain, seamlessly blending luxury with the captivating scenery. Guests can satiate their palate at the resort's dining venues that serve locally-sourced, seasonal American cuisine with a creative twist. The Palo Verde Spa & Wellness center, imbued with the healing traditions of the Sonoran Desert, provides holistic treatments that aim to rejuvenate the mind, body, and spirit. With its unique cultural programs, engaging art workshops, and exploration tours, the Andaz Scottsdale Resort & Spa encapsulates an authentic, enriching, and memorable Arizonian experience.
VIDEO: Andaz Scottsdale Resort & Spa  NOW OPEN
---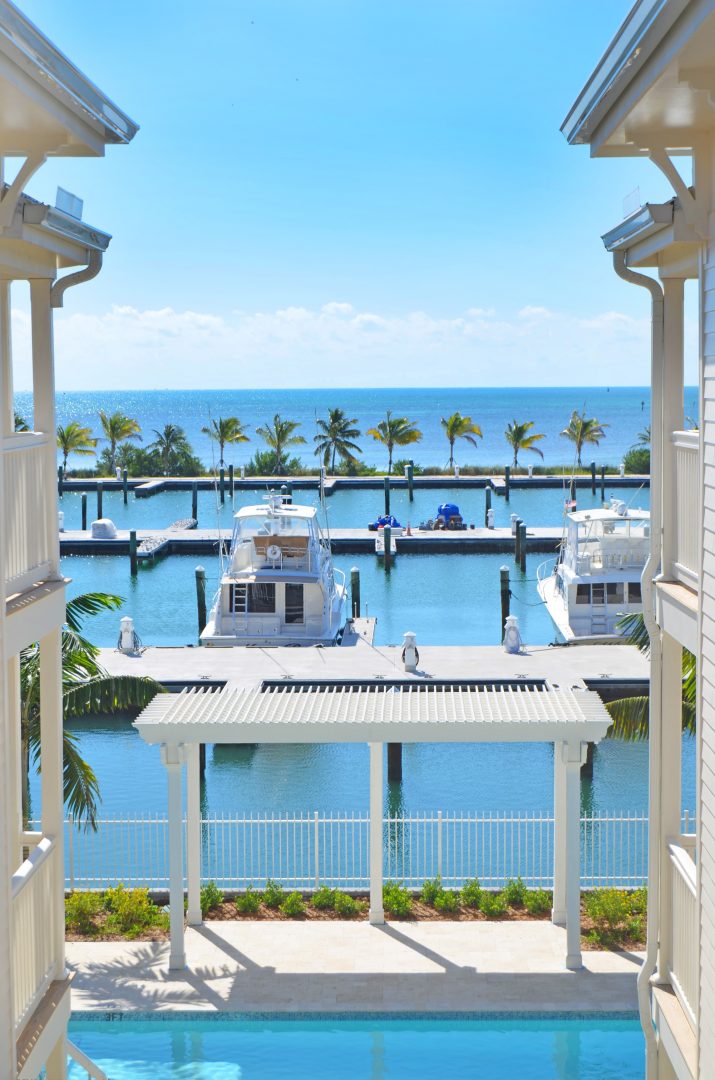 Worlds Best New Resorts
This new resort in beautifully modern and close to Old Town. It has 100% ocean views, the best restaurants in the area and 6 pools. 
Activities here include the watersports, fishing and snorkeling. From here you can check out the world third largest reef.
Click here for more on Oceans Edge Key West. 
Like the look of Key West? Check out more resorts in Key West.
---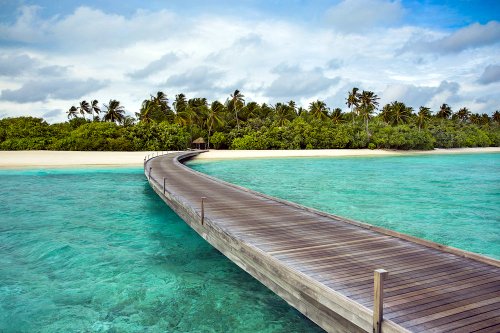 Maalifushi by COMO
The Maldives is the only place you can say it looks a bit like every other resort and it comes out sounding like a supreme compliment. Maalifushi by COMO is however getting better reviews and looks a treat than the other already impressive established resorts and it is also family friendly. 65 overwater bungalows and beach rooms available.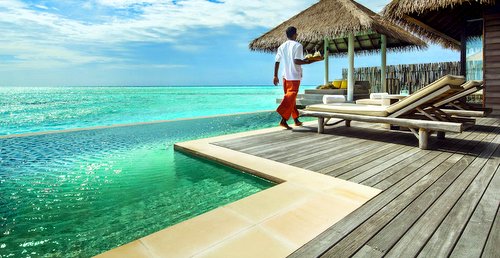 Maalifushi by COMO
Four Seasons Landaa Giraavaru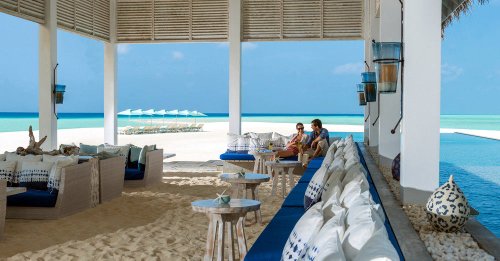 Four Seasons Landaa Giraavara
Guests are reporting a remarkable and amazing deserted tropical island type experience. Right on the lagoon.

Reviews and offers on the Four Seasons Landaa Giraavaru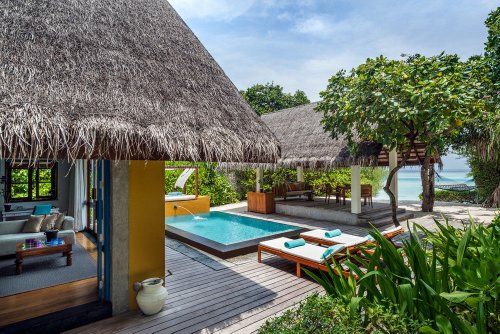 Worlds Best New Resorts
---
This is one resort I would happily find myself. Set in the cloud forest this resort is not exactly roughing it and has plunge pools, luxury fittings and more importantly an organic farm from which it can source produce for meals.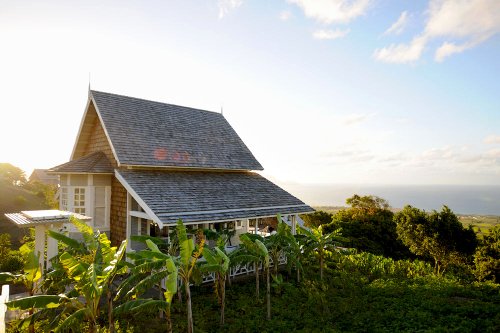 Belle Mont Farm
Belle Mont Farm, Dieppe Bay Town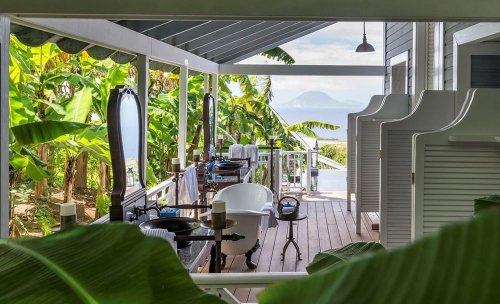 Belle Mont Farm
The full service farm, and excellent golf are not the only attractions at Belle Mont Farm. The food in the three restaurants and impressive country house style really create a unique atmosphere.
Information and special offers on Belle Mont Farm, Dieppe Bay Town

---
New in the South Pacific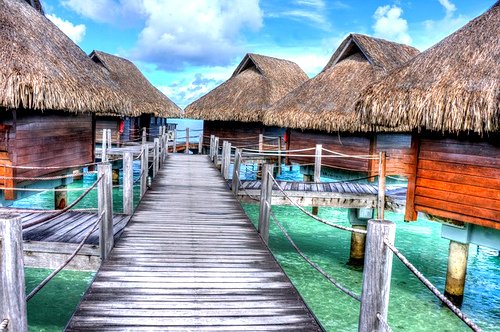 Bora Bora Resort
Reviewers generally give this resort a great review. Most say the service is excellent. They say the bungalows are huge, the butlers are great and the location is unbeatable. Travel + Leisure call it one of the best resorts.

Click to find out more on St. Regis Bora Bora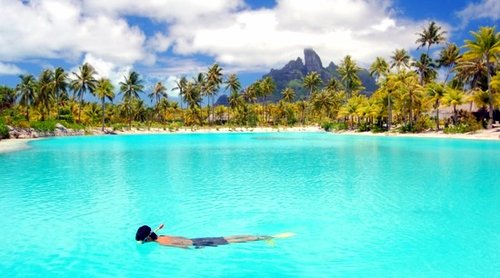 St. Regis Bora Bora
---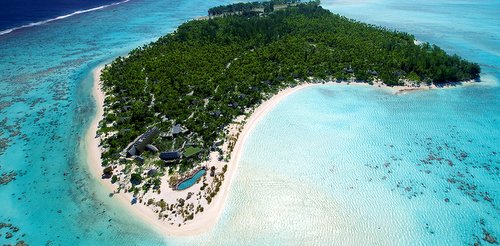 The Brando Tahiti
The resort scene was nearly bursting at it's seems waiting for this resort to open. Now that it has it all seems worth the hype. There are 30 villas 26 miles north of Tahiti on the special little atoll of Tetiaroa. The water activities and opportunities for adventure are out of this world.
More on the Brando with reviews and video.
---
Fiji has had it's share of exciting developments with new resorts in recent years. For something a little different the Poseidon Mystery Island Underwater Hotel opening is becoming.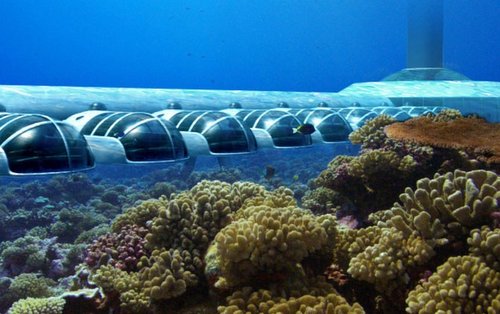 Poseidon Mystery Island Underwater Hotel
See our review for the fantastic new Royal Davui Fiji Island Resort on Beqa Lagoon on our Fiji Resorts Review.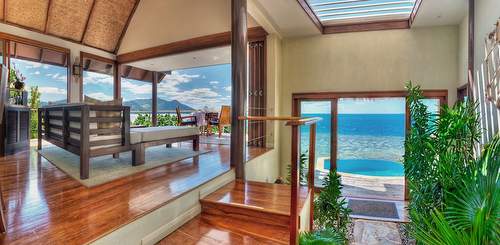 Royal Davui Fiji Island Resort on Beqa Lagoon
---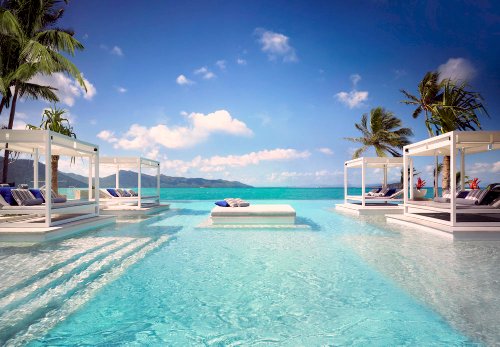 Hayman Island
There have not been many new additions to the Whitsundays resort scene for many many years with resorts changing hands from time to time without too many significant changes. Then when One and Only resorts completely overhauled Hayman Island spending big dollars, it was the closest thing to a new resort and one to include in this list.
Check out more on One and Only, Hayman Island.
The criteria typically include factors such as location, service quality, amenities, guest reviews, environmental sustainability practices, innovative design, uniqueness of experience, and culinary offerings. These resorts are often newly opened within a certain timeframe, typically the past one to two years.
Most reputable travel publications and organizations update their lists annually to account for new openings and improvements in the luxury resort industry. However, some might update their lists more frequently, even semi-annually or quarterly.
As these resorts represent the high end of the market, prices can vary greatly depending on factors such as the resort's location, time of year, and the specific package or room type booked. In general, guests can expect premium pricing in line with the luxury amenities and services provided.
The world's best new resorts are typically scattered around the globe, from the crystal clear waters of the Maldives to the snowy peaks of the Swiss Alps, and the ancient landscapes of Africa to the lush jungles of Central America. This ensures a diversity of experiences catering to different traveler preferences.
Yes, many of these resorts offer special packages or curated experiences to enhance your stay. These may include things like spa packages, adventure tours, culinary experiences, or romantic setups. Check with the resort directly or look at their website for specific offerings.
The world's best new resorts often offer a unique selling point or an extraordinary experience that sets them apart. This could be a spectacular location, an innovative concept, a focus on sustainability, outstanding design, exceptional dining, or unparalleled service. These resorts not only meet the highest standards of luxury but also provide something uniquely their own.
💼 We cherish our independence! ✈️ Our travel recommendations are carefully researched, bias-free, and powered by human expertise by April and Ricky of LRB (we have personally researched and travelled to many of these destinations and researched others thoroughly through first-hand accounts). 🌍✨
We try to keep everything up to date, but please always do your own research and contact us if you know any issues for us to help others as best we can as a small but professionally focused team! 🧐📚⚠️