Caramoan Resorts

Caramoan Resorts have really come into their own in recent years. Many of the Philippines lesser known islands received a boost in tourism when Boracay was forced to close in 2018.
Efforts to promote  the area  featuring  models in this Video mean the location wont remain a hidden paradise forever: The Ultimate Philippine Travel destination (Caramoan Islands)
The island is an ideal tropical destination for a beach resort. It's exotic credentials have been highlighted by the series of Survivor reality TV series that have chosen the destination.
 Apart from have been chosen for the American Survivor series it has featured in the series for a whole host of other countries from Sweeden to Isreal.
Now, the  spectacular Caramoan Peninsula, complete with its high limestone cliffs, deep green forests, lagoons, and snow white powder beaches  is beginning to have its moment in the sun as one of the Philippines hottest tourist destinations.
Despite the recent attention though the islands are in comparison to other similar areas of rare natural beauty, otherwise untouched. If you are looking fror brightly colored pristine corals, sparkling clear waters, islets, lagoons and natural rock formations this is a good choice.

Gota Village resort is one of the main places  to stay. This was designated as a tourism destination by the local government and has since picked up more than a few international travel and eco-tourism awards

Caramoan Resorts

Although only emerging as a tourist destination there are already some quality established resorts as well as lots of ultra affordable small resorts which let you explore the paradise which lies at your doorstep.
Tugawe Cove Caramoan Resort

Special Offer: Book early and save 10% Tugawe Cove Resort Caramoan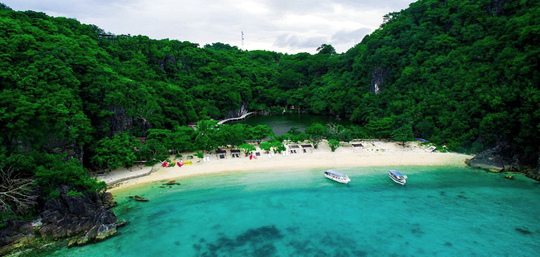 Tugawe Cove Caramoan Resort
At the luxury of the spectrum, Tugawe Cove  is the standout resort. Located right on the alluring beachfront  and takes advantage of its location with  activities well catered. You can go snorkeling, paddle-boarding, or kayaking right from the resort and the cost is included in your tariff (at the time of writing) .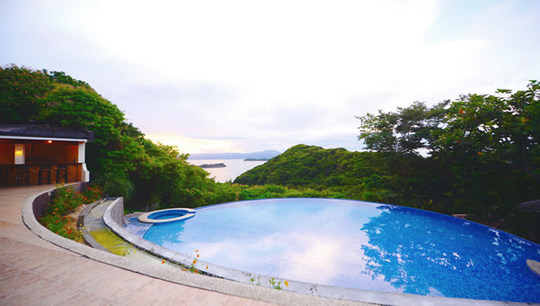 Infinity pool
Infinity pools, and great restaurants help bring you the full luxury resort experience and guest obviously rate this resort highly (otherwise we would not include it on Luxury resort Bliss)
Video: Tugawe Cove Resort Caramoan
Rooms:  It seems all the best luxury resorts separate their rooms out to give you maximum privacy  and separation from noise from other guests.  This resort is not any exception in that regard. The options include  hillside options with air-conditioning,  LCD HDTV satellite TV, hot and cold shower and complimentary bottled water.
Special offers and Reviews for Tugawe Cove Caramoan Resort

---
West Peninsula Villas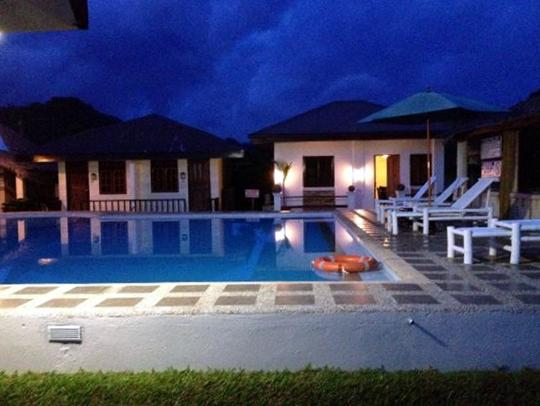 West Peninsula Villas
West Peninsula Villas are located in at San Andres, Solnopan,.
This is actually a vacation rental located on an especially nice private beach. But when you experience this establishment it does gove of the vibe of a resort with room service and a coffee bar. 
The rooms offer  air conditioning,  private bathrooms, wireless internet and cable/satellite television.
There is a restaurant on site.
More information and special offers on West Peninsula Villas

---
Gota Village Resort

Gota Village Resort is also very well rated by guests and features isolated cabins close to Goto Beach.
More about Goto Beach Resort on TripAdvisor

Video: Gota Village Resort
---
Attractions of  Caramoan
The TipAdvisor Coramoan travel guide has a good overview of the things to do and attractions.

At this early stage of development the main attraction of Caramoan is obviously Island hopping. Basically taking boats between the attractions which scatter the islands.
Outdoorsy activities like mountain biking and exploring the limestone cliffs is popular. Hiking, climbing, abseiling

---
Caramoan Attractions
Caramoan has a number of packaged boat hopping tours you can do. The first journey visitors try the close in islands including Goto Beach.  There are other tours which venture a little further away to Sabitang.
Video: How to Island Hop the Philippines (Caramoan Islands)
The Caves also offer some great adventures. Omang Cave in the Caramoan National Park is one of the most popular. 
This Video explores the 10 great things to do in the Caramoan Islands

---
Gota Beach
Gota Beach is the main attraction. This is the spectacular location of the French Survivor series.

Getting to the Caramoan Resorts

Coramon is actually accessible by land from Manila and the major cities to the south. Once you make your way to the peninsular township you are then free to explore the different islands by boat. Alteratively you can arrive directly by boat from

 Philippine Airlines and Cebu Pacific can get you from Manila to Naga.  From Naga. From the central terminal in Naga it is then about two hours overland to Sabang Port which is the gateway to Caramoan.
Or another quite easy way is to  fly to Virac,and take the boat to Caramoan from there.

Best Time to Go to Caramoan

Most travelers stick to the dry season from December to May when the humidity drops and traveling is easier. From September to the end of November the waves get bigger and there are frequent heavy downpours.

Authors Unleashed: Unveiling the Ultimate Travel Experience through Expert Reviews, Ratings, and Research
💼 We cherish our independence! ✈️ Our travel recommendations are carefully researched, bias-free, and powered by human expertise. We use AI sparingly for editing purposes, ensuring an authentic and reliable experience. Join us on our unbiased journey! 🌍✨
Always do your own research! 🧐📚⚠️