Europe AIl Inclusive Resorts - All
All Inclusive Resorts in Europe
A review of the best all-inclusive resorts in Europe is not easy to find outside these lists. A few years back finding a good European all-inclusive resorts was as rare as hens teeth, but that has changed dramatically over the past decade and the format has completely taken off and is now the preferred way to vacation. 
Europe is home to some of the most beautiful and diverse destinations in the world. From bustling cities to picturesque countryside, there's a little something for everyone. We've rounded up some of the best all-inclusive resorts in Europe.
Top All Inclusive Destinations in Europe
In this article, we will be looking at some of the best all-inclusive destinations in Europe and what makes them so great.
Adult Only All Inclusive Resorts In Europe
Top Destinations For All Inclusive Holidays In Europe

 Also see on this page our top all-inclusive resorts in Cyprus, Greece, Italy, Portugal,  Spain including the Canary Islands, and Turkey.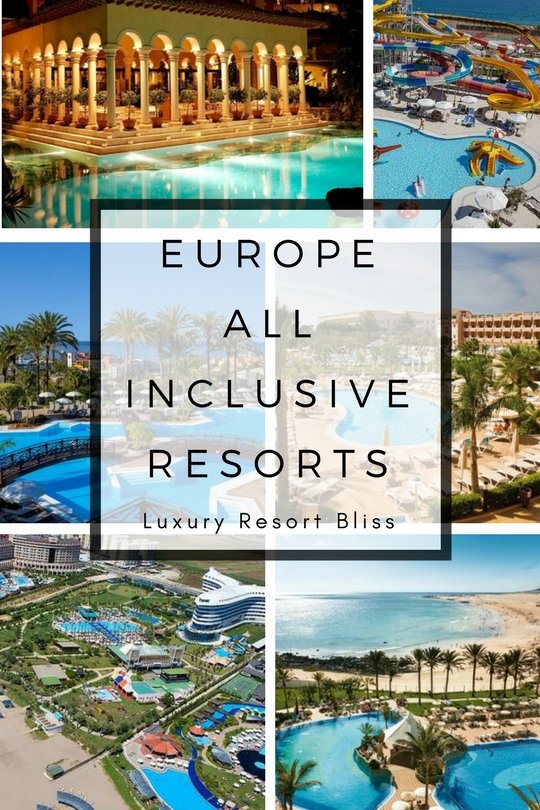 Europe is home to some of the most beautiful beaches in the world. This is why you will find many resorts in Europe that are dedicated to adults only. These resorts are perfect for couples who want a romantic getaway, or for those who just want to unwind and relax.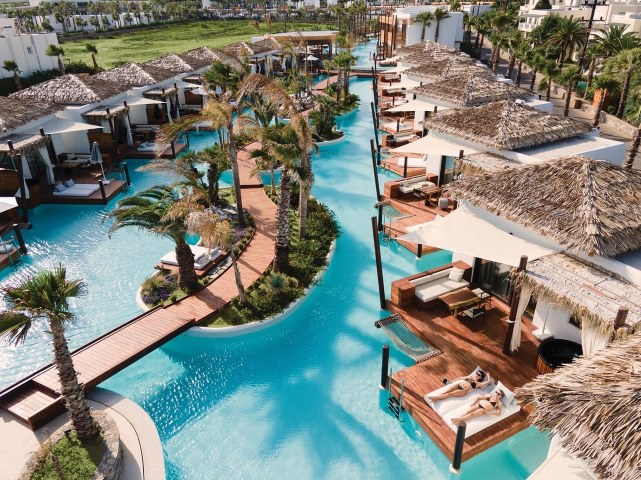 Stella Island in Crete is one of our top Adult only All-Inclusive Resorts in Europe
Really when we talk about adult only all-inclusive resorts in Europe we are mostly talking about the Mediterranean adult only all-inclusive resorts here with a few exceptions in places like the Canary Islands and Portugal. 

Some ideas to get you started on finding the best all-inclusive adult only resorts in Europe that a right for you are found below:
The Best Adult Only All Inclusive Beach Resorts in Europe:
Video: The Best All-Inclusive Resorts in Europe | SmarterTravel
---
Cyprus All Inclusive Resorts
Cyprus is a popular tourist destination with its beaches and resorts. In addition to its natural beauty, the country also offers great nightlife and shopping opportunities.
Cyprus is in the Eastern Mediterranean Sea.
There are about 150 listed properties which are all-inclusive in Cyprus including great family and adult only all-inclusive resort options.
All-inclusive in Cyprus: best deal, compare prices, and read what other travelers have to say at Tripadvisor
Video: Things You Need to Do in Cyprus! | Cyprus Travel Guide
Cyprus is a popular tourist destination that offers a variety of all-inclusive resorts.

A good all-inclusive resort will have a variety of amenities and activities for both adults and children.
The best Cyprus all-inclusive resorts are those that provide an array of services, such as spa treatments, water sports, and family-friendly entertainment.
The standout all-inclusive Europe resort vacation group in Cyprus is the Louis Hotel Group. Their resorts consistently receive excellent reviews including the Louis Phaethon Beach and the Ledra listed below.
Louis Ledra All Inclusive Cyprus Beach Resort
This is a popular smaller four star all inclusive hotel with a couple of good restaurants and a complimentary kids club.  A popular choice with families looking for a little sun and kid friendly environment. Conveniently the location on the beach in Paphos is accessible to the nearby waterpark. The resort enjoys an favorable satisfaction rating from past guests. 
More information and latest reviews on the Louis Ledra All Inclusive Cyprus Beach Resort

---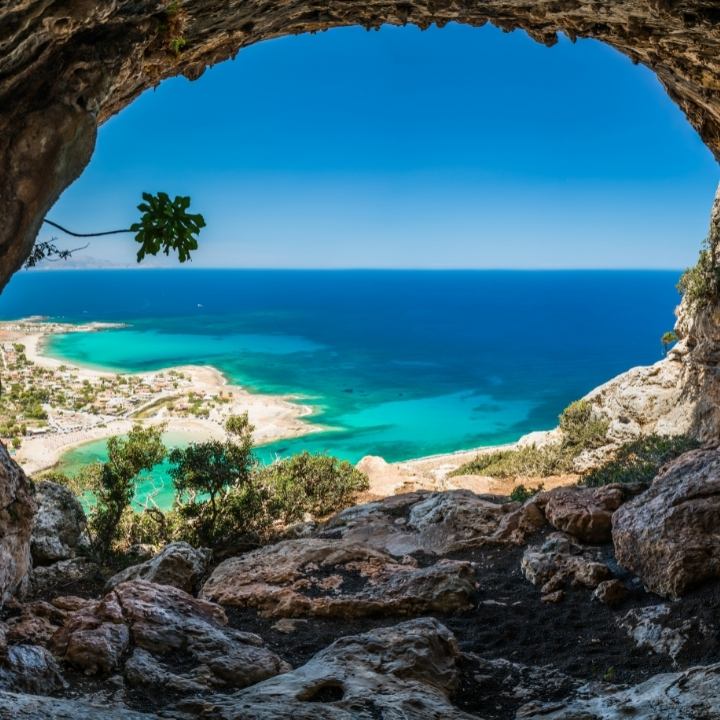 Crete, Greece All Inclusive Resorts
Greece is an island country in the southeastern Mediterranean Sea. The country shares its borders with Albania, Macedonia and Bulgaria to the north, Turkey to the northwest, and Italy to the west. Athens is Greece's largest city, followed by Thessaloniki.
Greece is a beautiful country with many beaches and islands to explore. With the All Inclusive Resorts, you can enjoy your stay in Greece without having to worry about the costs.
The resorts are a great place for families and couples to spend their vacation time together, while enjoying all of the amenities that they have to offer. The all-inclusive resorts in Greece provide everything from food and drinks to entertainment, activities and more.
The beginning of civilization really started with the rise of the all inclusive resorts scattered across the Greek Islands but with a lot of the best ones situated in Crete.
See the best All Inclusive Resorts in Greece here.

Top Greece Beach Resorts
While the island of Crete is one of the most densely populated with all-inclusive resorts there are family friendly and adult all-inclusive resorts all over the Greek Islands and on the mainland too.
The Greek island of Santorini is one of the most idealized tourist destinations in the world, and for good reason. The picturesque island is situated in the Aegean Sea and is a popular vacation spot for visitors from all over the globe. And yes there are even all-inclusive resorts in Santorini you can read about on our review of the best all-inclusive resorts in Greece. 
Santorini Greece All-Inclusive holidays
Ikos Oceania, Nea Propontida
A quality all inclusive resort that is equally well enjoyed by both families and couples alike located. Rooms enjoy private balconies and gardens leading down to the private beach complex.
Enjoy your meals at one of the four a la carte or a "Dine Out Experience" at one of the local restaurants. Kids are well taken care of at the 7 day a week kids program.
Find out more on the Ikos Oceania.

---
The Adriana Beach Club Portugal All Inclusive Resort is one of a handful of a classic 5-star resorts in Albufeira and another great choice. See more on on our Portugal All Inclusive Resorts page.
Pestana Porto Santo All Inclusive & Spa Beach Resort
On sunny Porto Santo Beach, this five star all inclusive Europe resort has good sized outdoor swimming beach pools with bar service and a quality full-service spa.
The kids club is also included and meals at the three restaurants are also included. There are 300 well maintained rooms with balconies.

Find out more information and get special offers on the Pestana Porto Santo All Inclusive & Spa Beach Resort.
---
---
Here's our Spain All Inclusive Resorts Bliss List where we've listed all the best all inclusive resorts there.Also see our list of the best Canary island All Inclusive Resorts
Ibiza is a popular tourist destination for many people. It is located in the Mediterranean Sea and is an island of Spain. The island has a population of around 150,000It is one of the most famous party destinations in Europe, and it has a reputation for being one of the best places to go on holiday.
Ibiza then has lots of adult only all-inclusive resorts but because of the natural beauty also has a number of all-inclusive family resorts.
There are more than 50 all-inclusive resorts on the relatively small island of Ibiza.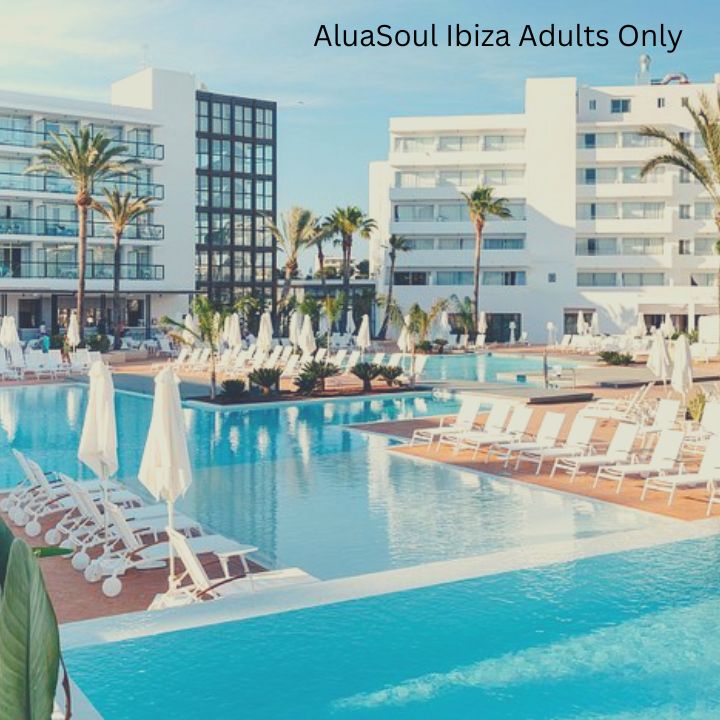 Majorca All Inclusive Resorts
The Balearic Islands, Baleares in Catalan, are a Spanish autonomous community made up of two large islands, Majorca and Minorca, and several tiny islets. The islands are located in the Mediterranean Sea off the eastern coast of Spain. They're a popular holiday destination with a lot of great beaches on offer.
The big Balearic Island of Majorca, has great beaches, protected areas and mountains. Many Majorca all-inclusive resorts are located close to the capital of capital, Palma de Mallorca..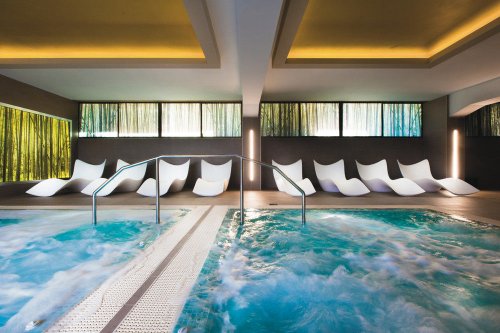 Indoor Spa Tubs at Hotel Riu Bravo, Majorca All Inclusive Resort, Spain
Learn more about the fabulously sunny and warm Canary Islands resorts including the Tenerife all inclusive resorts.

---
Hotel Costa Calero Lanzarote All Inclusive Resort
This is an excellent Canary Islands all inclusive resort for families close to the Dolphin Museum Yaiza.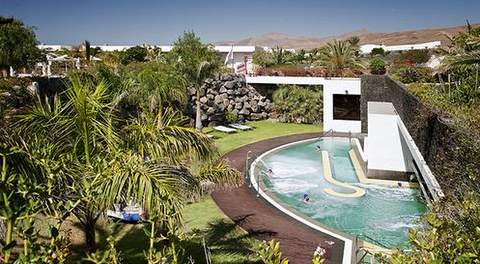 The resort itself has all the amenities you would expect of a quality 320 room European all inclusive, with 5 restaurants, 4 pools and a good variety of  kids clubs for the little ones at different ages (generally the younger or older than 8 years of age). 
More information and special offers on Hotel Costa Calero Spain All Inclusive Resort.

Official website for Hotel Costa Calero
---
Croatia is a beautiful country filled with idyllic islands, crystal clear waters and iconic architecture. Along with its beautiful scenery and rich culture, Croatia also offers some of the best all-inclusive resorts in the world. As you might expect in a small country with fewer than five million people, there are a lot of Croatian destinations worth visiting. Here are some of the best places to see, eat and stay in Croatia: the best All-inclusive adult-only and family All-Inclusive resorts.
Croatia All-Inclusive Beach Holidays
Many would find it surprising that the Turkey All inclusive resorts are some of the best in Europe. From large upscale resorts with scores of pools and facilities to small boutique hideaways.
The Turkish Riviera is one of the most beautiful coastlines in the world. With its long sandy beaches and crystal clear waters, it's no wonder that it has become a favourite destination for many holidaymakers.
One of the most popular destinations in Turkey is Antalya, which has a stunning coastline and incredible resorts. The Antalya region is also home to some of Turkey's best golf courses.
Marmaris Imperial All Inclusive Turkey Hotel
This is a well regarded Europe Adults All Inclusive Resort with an age 16 limit while maintaining all the inclusions you would find at a comparable property. From water sports to romantic dinners, this resort does it all and with class and style.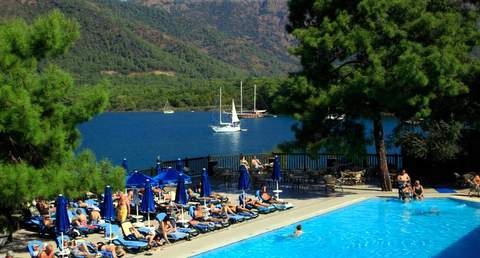 Set on oceanside slopes plentifully lined with a lush green pine vegetation with beach bays and many a jetty for boats to land. This really is a spectacular location.
More information on Marmaris Imperial All Inclusive Turkey Hotel
Note: Please ignore the cover image of this video to see the an overview of the hotel (not the women).
---
Italy has some great all-inclusive resorts. 
Adler Thermae Spa & Relax Resort
An infamous spa resort located in the Orcia Valley, Tuscany. This outstanding Europe all inclusive resort makes for a special vacation for the whole family to enjoy the warm and therapeutic waters and outstanding facilities.
Enjoy cultural Tuscany with guided walks, tours and bike rides to experience wine and food. Importantly for many families, the kids club is extended into meals.
More information on the Adler Thermae Spa & Relax Resort
 Official website for the  Adler Thermae Spa.
Sardinia is a large island in the Mediterranean Sea and an autonomous region of Italy. It's known for its beautiful beaches and picturesque scenery.
The Sardinia region has a lot to offer, from sandy beaches to rugged coastline, from ancient villages to modern cities. The island boasts some of the best preserved natural landscapes in Europe.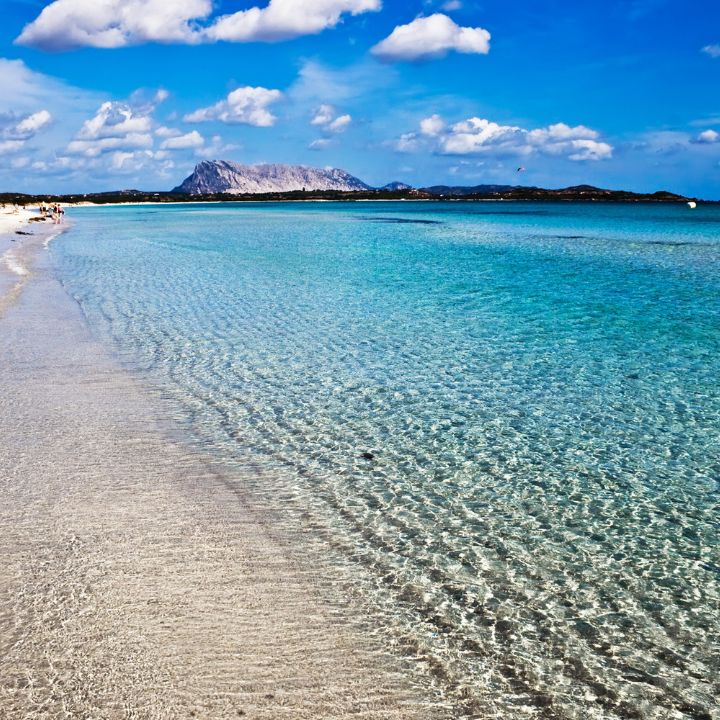 Sardinia, Italy All-Inclusive Beach Resorts
It offers visitors an experience that is both relaxing and exhilarating, with many activities on offer all year round.

The all-inclusive resort scene in Sardina while hidden for a long while is quickly developing while staying really affordable. 
---
more great luxury's resorts in Europe
All-Inclusive Resorts in Europe: Your Frequently Asked Questions, Answered
Planning your next European getaway and considering an all-inclusive resort? We've got you covered! We've compiled a list of frequently asked questions, answered with a friendly human touch, to help you make the best decision for your dream vacation.
An all-inclusive resort is a vacation paradise where you pay a fixed price for a package that includes accommodations, meals, drinks, and often a wide range of activities and entertainment. It's like having everything you need for a fantastic vacation all wrapped up in one cozy package – just sit back, relax, and enjoy!
Nope! While many all-inclusive resorts are located in beach destinations, Europe offers a variety of options that cater to different tastes, including mountain resorts, countryside retreats, and city breaks. So whether you're a beach bum, a culture vulture, or a mountain lover, there's an all-inclusive resort waiting just for you!
Start by considering your vacation priorities. Are you looking for family-friendly activities, a romantic escape, or perhaps an adults-only experience? Focus on resorts that cater to your preferences, and make sure to read reviews from fellow travelers to get a feel for the overall experience.
Booking your dream all-inclusive vacation is a breeze! You can reserve your stay directly through the resort's website, work with a travel agent, or use popular online booking platforms like Expedia, Booking.com, or TripAdvisor. Don't forget to compare prices and read reviews to ensure you're getting the best deal.
Absolutely! Many all-inclusive resorts offer day trips and excursions to nearby attractions or activities, giving you the chance to explore the local area. While some activities may be included in your package, others might require an additional fee – so remember to check beforehand.
Tipping policies vary between resorts and countries, but generally, tips are appreciated by the staff for exceptional service. While not always required, it's a nice gesture to show your appreciation for the hard work of the resort staff.
Most all-inclusive resorts in Europe include alcoholic beverages as part of the package. However, keep in mind that premium brands or certain types of drinks may come with an extra cost. Be sure to check the resort's specific inclusions to avoid any surprises.
Did you find the all-inclusive resort you were looking for? Here are some other great luxury resort options in Europe
💼 We cherish our independence! ✈️ Our travel recommendations are carefully researched, bias-free, and powered by human expertise by April and Ricky of LRB (we have personally researched and travelled to many of these destinations and researched others thoroughly through first-hand accounts). 🌍✨
We try to keep everything up to date, but please always do your own research and contact us if you know any issues for us to help others as best we can as a small but professionally focused team! 🧐📚⚠️