Best Canary Islands Resorts and All Inclusive
Canary Islands resorts are some of the great luxurious and best reviewed resorts in Europe. We've listed the best of the best below starting with a quick overview of the Canary Islands. 
Canary Island Luxury and All Inclusive Resort Awards: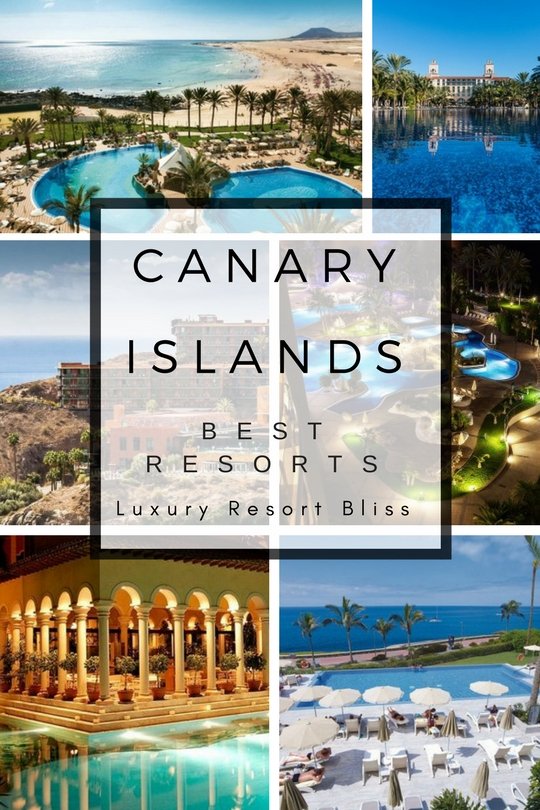 When to go to the Canary Islands?
The Canary islands are well known for their warm dry weather. July and August are pretty hot. There are two high seasons one in winter and one in Summer when the Spanish take their break.  You can higher into the mountain resorts of Gran Canaria for cooler weather year round.  For less crowds and reduced tariffs the Autumn is a good time.
---
The Canary Islands are located in what was recently a poorer area of 600 km off the coast of Spain and within 100 km of the African mainland. As a result there are some sustainability issues when it comes to supporting a comprehensive tourism industry. Water is a precious resource here and some resorts will work hard not to waste it.
The volcanic rim of islands offer some really exotic and exciting holiday options. Before we get to the best Canary Islands resorts, this video give an impressive overview of the territory:
Canary Islands All Inclusive Resorts
The Canary Islands as a group of Spanish islands off the northwest coast of Africa are now considered as having some of the best All Inclusive Resorts in Europe.
While the Canary Islands are sometimes stigmatized as a bit trite like the boldly colored buildings, behind the veneer is a destination rich in character and diversity.  Brilliant villages, wonderful resorts and some outstanding beaches, with beachside cocktail bars, and year round sunny warm weather are an everyday part of life.
---
You may also want to check out:
---
Lanzarote All Inclusive Resorts
Lanzarote is one of the most scenic spots in the Canary Islands and is further to the east. For beaches seek out a hotel or resort near Puerto del Carmen or Playa Blanca. This is also an extremely active volcanic region. 
Lanzarote is also one of the most popular destinations in Europe for scuba diving and snorkeling.
TripAdvisor lists more than 70 All Inclusive Resorts in Lanzarote. This earns an A+ rating from us as far as all-inclusive density is concerned setting this destination apart from other who claim themselves to have all-inclusive credentials
H10 Rubicon Palace Lanzarote All Inclusive Resort
H10 Timanfaya Palace Adults Only Area is our top honeymoon resort or for romantics looking for an classier upscale all inclusive experience. The resort has brilliant beachside whirlpools, pools and a fer over the top gourmet restaurants. The quality of the main Mediterranean buffet and professional quality entertainment options set it aside from some of the busier all inclusive resort in the area. 305 rooms.
Information and reviews on H10 Timanfaya Palace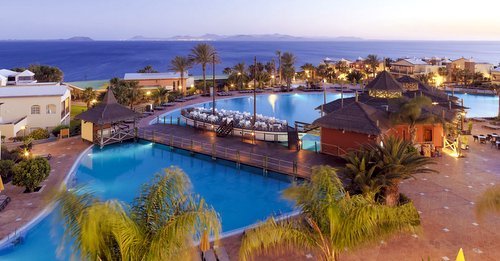 H10 Rubicon - Canary Island All Inclusive Resort
The H10 Rubicon Palace main resort is a massive Canary Islands all inclusive resort with nearly 600 rooms. Restaurants include 2 huge buffet restaurants and a wide assortment of al la carte offerings. With the size come a full scale entertainment line up and kids clubs.
For Kids: Daisy Adventure pirate ship and fun water games and five pools. 
For Adults: Access to Despacio Thalasso Centre and personalised service.
This can all seem great for busy families with diverse interests looking for a casual upscale vacation as the food and entertainment options are wide ranging but if you are on honeymoon you may like to opt for the H10 Timanfaya Palace for couples or spend a lot of time at the spa. 
More information and reviews on H10 Rubicon Palace All Inclusive Resort

Pros: Lanzarote is one of the most beautiful destinations in the Canary Islands. It boasts palm-fringed beaches, volcanic geology, and lush vegetation. It is a perfect destination for honeymooners B+.
---
Best Tenerife Resorts
The biggest island is Tenerife, and the high peaks of active volcano Mt. Teide, often has snow on it and is fringed by sandy tropical beaches and lush foliage. Tenerife, in the Atlantic which has a year round 20ºC to 28ºC temperature variation.
Tenerife is known for its stunning natural beauty and the warm hospitality of its people. It is a popular destination for many Europeans who want to escape the cold winter season.
Bahia del Duque Tenerife Luxury Resort
The 5 star Bahia del Duque Tenerife is located beachside on one of Tenerife's most gorgeous spots.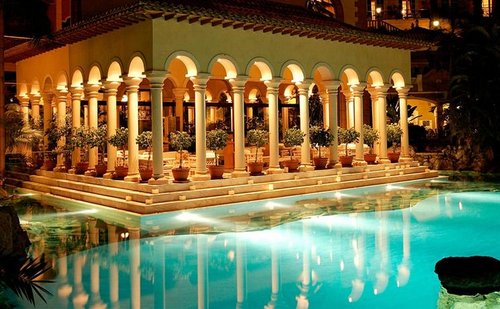 The 5 star Bahia del Duque Tenerife is located beachside on one of Tenerife's most gorgeous spots.  The newly renovated Hotel and Thalasso Spa sits neatly on a hilly slope on the prime golden Playa del Duque in Costa Adeje. The 40 villas are amazing with huge rooms and private pools. Around the high end classy resort and dense green gardens, you will find extensive free form pool areas, pilates, yoga restaurants of European and Asian descents. Expect an equally huge array of wine, drinks and juice bars scattered throughout. Kids and Teens are not forgotten either with respective clubs and amenities.
More information, reviews and special offers on the Bahia del Duque
Tenerife is one of the first places look to find sun-filled Canary Islands resorts. We have specific pages on this area alone including:
---
best Fuerteventura Resorts and All Inclusive Resorts
After Tenerife, Fuerteventura is the next biggest of the Canary Islands and holds claim to also having the best beaches. The Island also has its share of pretty villages, great seafood restaurants, sun, and great resorts. The island has more than enough restorative natural places to visit as well.
See the top Fuerteventura Resorts on TripAdvisor.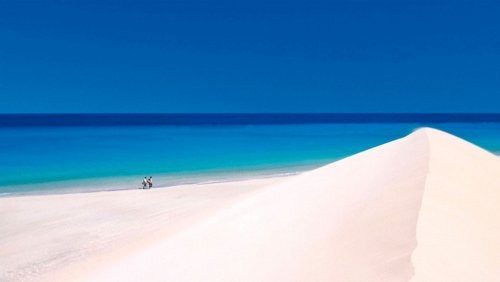 Fuerteventura Canary Islands Dunes
Hotel Riu Palace Tres Islas
Hotel Riu Palace Tres Islas on the North sand dunes shore of Fuerteventura Playa de Corralejo beach is something special and our top All Inclusive Beach Resort on the island. If it's a Canary Islands beach vacation you are seeking than you wont do much better than this. A full "Renova Spa" .
Food wise Enjoy:
A huge buffet restaurant as well as some more specialised options.
Live music and entertainment.
More on Hotel Riu Palace Tres Islas 
Pros: Fuerteventura is a Canary Island in the Atlantic Ocean. It is one of the most popular destinations for tourists and honeymooners.
The island offers a wide variety of resorts, from luxury hotels to budget-friendly hostels and cozy campsites.
The island has been attracting tourists since the 18th century, when it was used as a stop on the way to America by Spanish sailors who were traveling with their families. B+
Video: Hotel Riu Palace Tres Islas
Gran Hotel Atlantis Bahia
Gran Hotel Atlantis Bahia on Fuerteventura sits majestically on the clear blue seas and among the dunes of the Corralejo Natural Dune Park.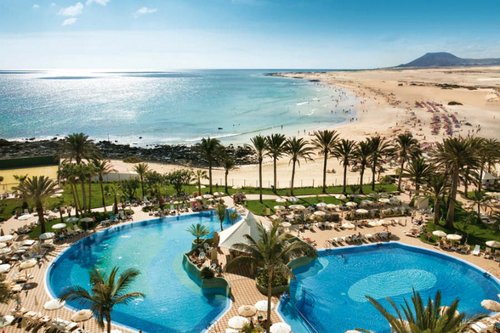 Top Fuerteventura Beach Resort
The 5-star resort complete with Turkish steam bath, and views of Lobos and Lanzarote, is in a stunning location but close enough to restaurants in the area as not to seem isolated. Or dine onsite at the stylish La Cúpula de Carles Gaig.

Family friendly additions include a kids pool and a well managed childrens club. 
More on Gran Hotel Atlantis Bahia and other great Fuerteventura Resorts and Hotels.
Video: Gran Hotel Atlantis Bahía Real G L, Corralejo, Spain
Elba Carlota Beach Resort - Antigua, Spain:
Antigua is a town on Fuereteva, one of the Canary Islands. It has a working windmill, an outdoor crafts shop and cactus garden, which give it an authentic feel.

Within an hour you can find a museum that has cheese displays, the foliage of the island's flora, and even its fauna. The church in town has a beautiful white facade.
This property is perfect for couples looking to escape to paradise while still having all of their needs met.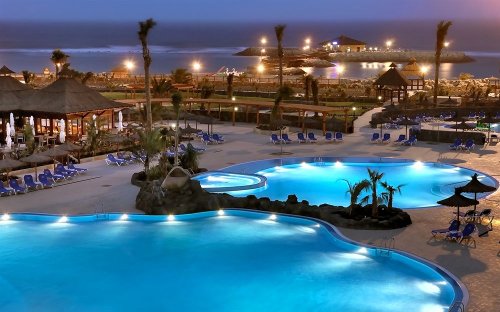 Elba Carlota Beach Resort
On the beach in Caleta de Fuste near a golf course. With a restaurant, bars including a swim-up bar, this 4-star property with has a concierge desk, a children's club and 346 guestrooms. Reviews are good.

Elba Carlota Beach & Convention Resort
---
Gran Canaria Resorts
Grand Canaria is white sand beaches and black lava beaches to explore. Most tourists find themselves on the southern beaches of Playa del Ingles, Puerto Rico, and Puerto de Mogán. There are also several quieter beaches (e.g., Puerto de San Agustín) on the island's north coast.In the northeastern region of Spain, you can find the capital city of Las Palmas. Many cruise ships stop here as it is close to Africa and Europe. The interior is mostly rural and mountainous, perfect for hiking in beautiful scenery.
For some of the untouched beaches and night activities head to Gran Canaria has pristine beaches and an active nightlife.
Gran Canaria, Spain Hotel Deals Finder

A great spot for quality Canary Islands resorts is in Gran Canaria. Here's a quick overview of the area:
Seaside Grand Hotel Residencia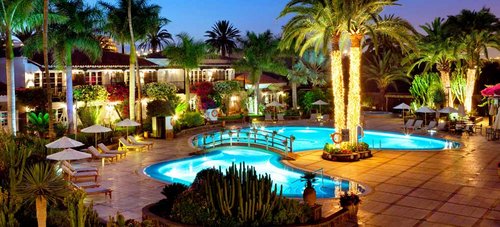 Built in 2000, this boutique hotel is located in the Canary Islands. It's steps from the famous beach and dunes of Maspalomas. The 94 rooms are located in one of the 7 two-story villas. 
The spa is set in the middle of a thousand-year-old palm grove and offers a large variety of treatments. You'll also find a freshwater pool, sun terrace, restaurant serving Canary Island specialties and international cuisine, a fitness area, heated salt water pool, 6 golf courses in the area and lots of trip and outings in the area.

Reviewers rate this resort as a great place for older travelers and for a great honeymoon. The staff are said to be efficient and friendly, the bus station is 200 m from the hotel, and it has many (many) return visitors.

See the latest reviews for Seaside Grand Hotel Residencia. 
See all of our favorite Tenerife resorts.

---
Lopesan Baobab Resort, Gran Canaria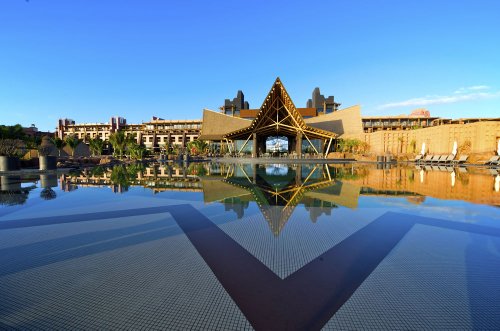 Lopesan Baobob is a 5-star, luxury resort in Tirajana, Gran Canaria. It's large with nearly 700 guest rooms and 6 meeting rooms. Highlights include the pool and lazy river, breakfast, fitness center, and much more.

Reviewers give this resort great scores noting how clean it is, the great location and great food at the restaurants.
See the latest reviews for Lopesan Baobob.
---
Lopesan Costa Meloneras Resort, Spa & Casino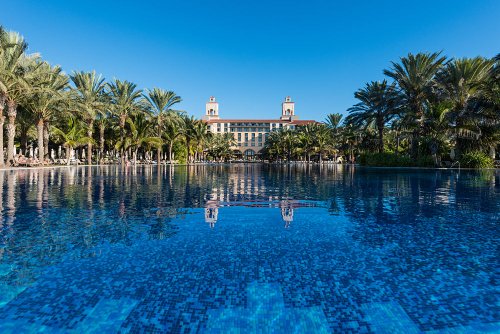 The Amazing Pool
Lopesan Costa Meloneras is an excellent 4 star resort in in Meloneras, Gran Canaria. It is HUGE which means there is a lot of offer. It has over 1100 guest rooms and suites, a casino, full-service spa, large outdoor pool, nightclub, rooftop terrace, health club and more. 
Reviews are excellent as well with past guests loving the staff, saying the resort is like a small town, it's very clean and guests like to return which is always a great sign. 
See the latest reviews for Lopesan Costa Meloneras Resort.
---
Sheraton Gran Canaria Salobre Golf Resort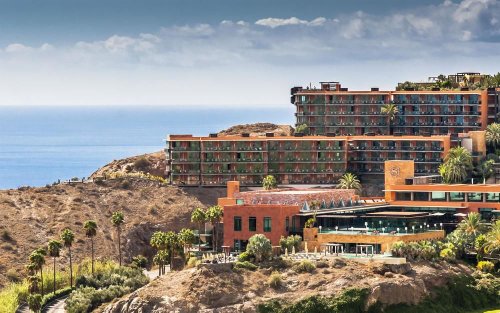 Sheraton Gran Canaria is an excellent 5 star resort with a lot to offer. It's got a golf course, 5 restaurants, poolside bars, full-service spa, 7 pools, a free children's club, free shuttle, 7 meeting rooms and more. 
Reviews are excellent with reviewers loving the friendly staff, the amazing food, children get a special welcome and it's a beautiful property. 
Get more information and see the latest reviews for Sheraton Gran Canaria Salobre.
---
Lopesan Villa Del Conde Resort And Thalasso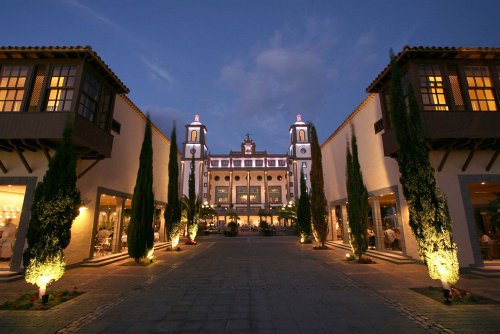 Another of the fine 5 star Lopesan resorts. It's mid-size with 561 rooms, full-service spa, indoor and outdoor pools, health club, airport shuttle and close to the Meloneras Beach. Reviews are excellent with many saying it's a great overall resort.
Get more information and see the latest reviews for Villa del Conde Resort.
---
Radisson Blu Resort, Gran Canaria
The Radisson Blu Resort, Gran Canaria sits on the southern coast of the island, with convenient access to several beaches, from Patalavaca Beach (Playa de Patalavaca) to other top white sand beaches.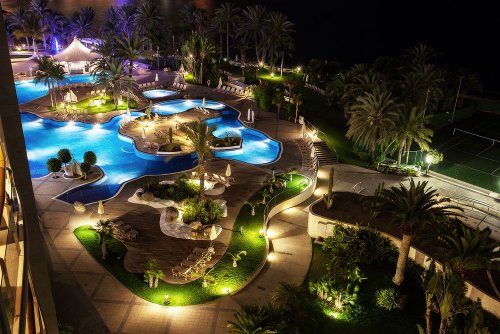 Pros: Radisson Blu Resort is 5 star and in Patalavaca, close to at least 3 great beaches. It's on the smaller side with under 200 guestrooms, close to the beach, has 2 restaurants, a full-service spa, 2 outdoor pools, and a kid's club. 
Whether you're on a beach, out at night, or on an inland hike with your friends, the Canary Islands offer endless adventure to explore. Whether you're finding an escape from the work week, or are planning a fun family vacation, Gran Canaria is a beautiful destination. Clear blue waters and a tropical climate shroud this island from the rest of the world. White sand beaches, forested mountains and valleys, and forests all converge to form one of the best-known vacation destinations
This resort is the perfect place to stay while exploring nearby Arguineguin and the rest of the island.
Reviews are excellent B+++ with great comments covering just about everything. 
Get more information and see the latest reviews for Radisson Blu Resort.
Video Review: 5-star Hotel Radisson Blu Resort, Arguineguin, Gran Canaria - Canary Islands
---
Hotel Riu Palace Meloneras Resort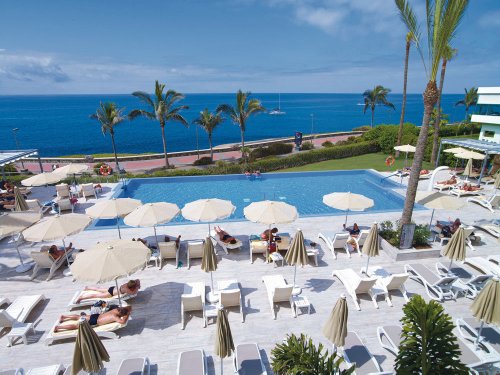 Hotel Riu Palace is a 5 star resort is in Meloneras. It's pretty big with 515 rooms, 3 restaurants, a full-service spa, 5 pools, 2 tennis courts, and a free buffet breakfast.
Reviews are great with past guests saying it's absolutely a 5 star resort and even gives a bit extra. It has a beautiful garden and the buffet is great.
Get more information and see the latest reviews for Hotel Riu Palace Meloneras. 
Video: Hotel Riu Palace Meloneras - Gran Canaria - Spain - RIU Hotels & Resorts
---
For more see:
The 10 Best Gran Canaria Hotels and Resorts
We hope you've found one of the Canary Islands resorts to suit you!
---
---
Share Your All-Inclusive Adventures and Questions! 🌴 Have a memorable experience from a luxury all-inclusive vacation? We'd love to hear it at Luxury Resort Bliss. We're on the lookout for top-quality, insightful tales that'll inspire our community. Dive in and be a part of our sun-soaked stories! 🌊🍹✨
The story is a fictionalized account founded on travel expertise, research, and experience. Always refer to recent guest reviews and perform due diligence before booking.
💼 We cherish our independence! ✈️ Our travel recommendations are carefully researched, bias-free, and powered by human expertise by April and Ricky of LRB (we have personally researched and travelled to many of these destinations and researched others thoroughly through first-hand accounts). We also have put in the hard miles, and Ricky has worked for decades for resort and hotel chains  Hyatt, Hilton, Shangri-La and Radisson before starting Luxury Resort Bliss in 2007. 🌍✨ Unlike some other resort review websites we are concerned on the guest experience rather than mere corporate interest.