Turkey All Inclusive Resorts
These Turkey all-inclusive resorts and travel ideas should set you up nicely for your next vacation. Here are our hand-picked best resort options.

When to Go to Turkey
If you are by water and intend to do a lot of swimming then summer is not too hot in Turkey, otherwise  hold off heading there mid summer. Also you may want to avoid mid winter as well for resort vacations as it does get quite cold with snowfall in many parts of the country.
---
The Best Resorts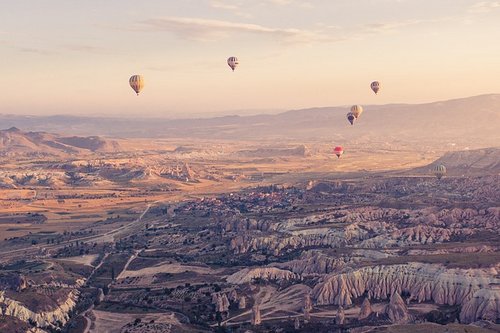 We searched out what we think are the best for you to enjoy. While many of these resorts do not set their all inclusive offerings in stone, this page does represent the best on offer (at the time of writing). We will continue to make updates. But please do check the package details at the time of booking. Things can change at any time!

Turkey All Inclusive Packages
TripAdvisor has a list of 348 all-inclusive resorts in Turkey
You may also like to see
Hillside Beach Club Fethiye
Enjoy the crystal clear natural waters at the best hotel in Fethiye and one of the best all inclusive resorts in Europe.
Hillside Beach Club - Fethiye see the reviews and more

---
Cornelia De Luxe Resort 

The Cornelia Resorts have been offering packages with their 5 à la carte restaurants and bars, really appealing to discerning guests tastes (although children are restricted from attending many of these options).
There is also a selection of activities around the resort and "special evenings", and room service. This is in addition to the big main buffet that operate during meals throughout your stay. 
This resort gets outstanding reviews and is a great option for a Turkish all inclusive vacation resort.
More information on Cornelia De Luxe Resort 
Cornelia De Luxe Resort - Official Video
---
Concorde De Luxe Resort
This five star resort by Lara in Antalya is getting great reviews from guests who are really enjoying the quality of the "5 star Turkey All Inclusive experience"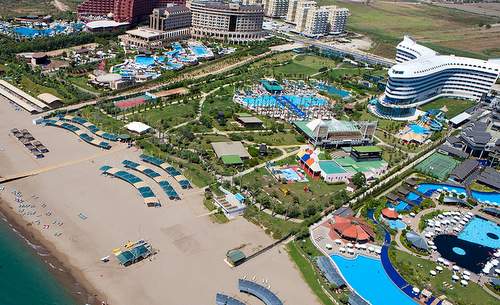 Making a resort in the shape of a Concorde airplane may seem a little cheesy, but this is a little bit of the point in this part of Turkey. Facilities really are 5 star however with tennis courts, swimming pools, Jacuzzis, waterslides, Six a 'la carte restaurants, a good variety of entertainment though the day and night. 
Click for more info on Concorde De Luxe Resort.

---
Liberty Hotels Turkey All Inclusive Resort at Lara Antalya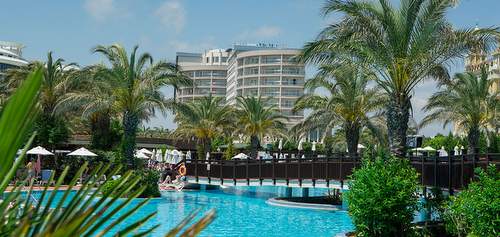 Liberty Hotels Turkey All Inclusive Resort at Lara Antalya
5 star Lara Beach Hotel with a poolside bar. Located in Antalya. This resort has a great private beach. Four quality restaurants provide variety at mealtime. The quality of the rooms is quite good with additions like bathrobes, sofa beds, coffee makers, WiFi and balconies included.
More information on the Lara Beach Hotel

---
Club Med Palmiye
The two Club med hotels in Turkey rate at the top of the TripAdvisor all inclusive list for Turkey. Even some of the experienced Club Meders rate this as one of their best all inclusive experiences.

Club Med Palmiye see the reviews and more

Club Med Kemer
Rated the best all inclusive resort in Turkey Recently. See the reviews and more.

---
Barut Hotels Labada
Barut Hotels Labada
Barut Hotels Labada with such a lot of great amenities and facilities is a good choice for families. There's a poolside bar, a private beach, an outdoor pool, an indoor pool, a children's pool, and a health club and guest parking is complimentary. Breakfast in this 179 guestrooms resort is also included.

More on Barut Hotels Labada

---
If you are looking for a Turkey all Inclusive resort because you want a place where kids can enjoy the splash-park than the Nashira Resort Hotel & Aqua is an excellent choice.
---
Hilton Dalaman Resort And Spa
This amazing Turkey Resort with spa is located on the beach in Sarigerme. Packages includes meals and beverages at the on site dining establishments, taxes, and gratuities (at the time of writing). 

It has six (yes 6) restaurants, a poolside bar and recreational amenities include a water park make this 5.0, 410 room resort a top choice and gets excellent reviews consistently.

More on the Hilton Dalaman Resort And Spa

---
---
Gloria Verde Resort
On the beach in Belek with complimentary breakfast. This 5 star resort features, a golf course, an outdoor pool, an indoor pool, a sauna, and spa amenities.
---
Gloria Golf Resort
The 5 star Gloria Golf Resort in Belek on a private beach with a restaurant and a coffee shop, a poolside bar and serves a complimentary breakfast.
Recreation includes a golf course, indoor pool, a children's pool, and a sauna and spa amenities.
Food in Turkey
Food:  Before you head out on your journey, you are likely going to want to have a bit of an idea of the food choices, as you will want to make the most of the opportunity to try exciting new creations. Get familiar with some of the more common Turkish choices and street foods  before you leave to help make your daily routines a little more predictable.  Here is a list of popular Turkish dishes you can get acquainted with.  In the video below, the host cruises the streets of Istanbul and  gives us some background on these dishes and treats.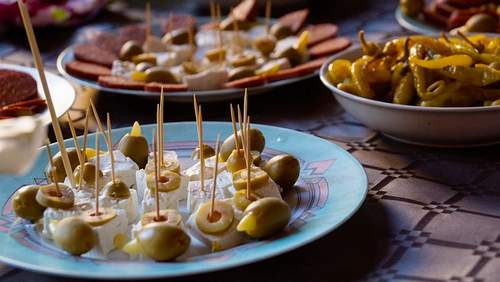 Food Turkey
As a family we usually like to find out what the local fermented foods are as these are essential for family nutrition and health. This video will show you some of these which will help keep the family vibrant and healthy for travels, especially if you eat a little too much Turkish delight.

Meals  are made really easy for families as well and  it's the local custom to bring the kids along to restaurants. Try a Meze of dozens of little dishes to give kids the opportunity to try different things local. Kids tend to love the array of dips and things that come with Turkish meals.

Getting in and out of Turkey
Turkeys location by the edge of Europe makes it not that hard to get to as international destinations go. Flights in and out of the capital are frequent from many cities in Europe and the country is home to modern facilities and airports. Many of the discount airlines that operate in Europe will also have special offers here as well. Turkish Airlines, American Airlines, KLM, British Airlines ans Lufthansa all operate flights to Turkey. Convenient Taxis are usually a reasonable option for the 20 minute journeys from cities to town and cost about twice as much as buses. 
Pick up a 90 day visa at he visa office at the airport you land in BEFORE you go through customs.  Although you can also get this from a Turkish consulate at hoe before you leave it will often cost more that way.
An odd law in Turkey is also that you have to carry ID around with you. For you and your family this means you need to have your passport and visa ready to show officials while you are in the country. Keep it safe but handy in a photocopied form.  There are also laws about taking pictures of military facilities.
Transport Around Turkey
Once you are in Turkey hiring a car is often  an option many families opt for to get around this relatively huge (by nearby European standards) country.  While Turkey has a really high accident rate the majority of these occur in the chaos of Istanbul and some other larger cities. Then in these places it's definitely a time to opt for  public transport. Otherwise, the roads are likely similar to the standard in your own country.

Airport Bus in Turkey
  Bussing is also a reasonable option to transit between intercity, airport, and village bus stations where all the major companies have depots.  The services are comparable to what you would find at home and provide the opportunity for everyone  in the family to relax between destinations and to soak up a little more of the local culture. Buses n Turkey
Dolmus mini buses are what the locals use and are cheaper again. These have routes, and you can hop on and off along the way. But there is limited time for hauling all your family, and baggage on and off. Then if this is a restraint you have, perhaps give these a miss.
Trains generally are not a  preferred mode of transport in Turkey.  Parts of the country have a lot of mountains and are not serviced by rail at all. In Other parts of the country where trains do run, there are few direct links and many stops between stations.   Rail Europe  however includes Turkey   in their Eurail Global Pass and as an option in their Eurail Select Pass. You make your reservations locally, though. (at the time of writing)
Money in Turkey
While credit cards can get used throughout the country your obviously not going to pull out the plastic after you finished bartering at the Bazaar or if purchasing street food for example. Keep a record of all your purchases of Turkish Lira either in Turkey or before you leave because you may at some stage have to prove you didn't get the money on the black market. Most major currencies are available to trade at exchanges at the airport.
I've generally found traveler's checks  a bit of a hassle to cash and tend not to use them too often, but am aware that you can cash them at banks in Turkey if you have ID. I find it easier to use the teller machines with visa,  These have an English display option and are easy enough to use.

Remember to tell your credit card provider you are going to Turkey and have an emergency contact.
Also  keep in mind  that Turkey is NOT a member of EU and don't assume the same rules exist about buying expensive items between borders. Especially don't purchase antiques which are not permitted to leave the country and ease up on any drug trafficking you may have been planning.
Always carry enough medical insurance for your family and keep also enough cash in your accounts to  cover upfront payments for unforeseen medical expenses. Then keep all the receipts for your insurance provider should something occur.
Turkey Travel Spots and Where to Go
Family vacation options range the  Winter can get cold and snowy in the inland areas with their spectacular natural rock formations and civilisations carved into rock foundations.  At this time and in the extremely hot mid-summer months tourists tend to head to the beaches.  The Black Sea beach towns are greener and enjoy more rainfall while calm waters of the Augean or Mediterranean  and have their own  fancy all included Turkish beach resorts.
While terrorism is a threat especially around Istanbul and  the south, at the time of writing thousands of families were also enjoying family vacations around Turkey. However, in this modern world events can change quickly and with countries like Syria and Iraq nearby it's always worth checking the latest government tourist advice. Likely the biggest threat you will encounter is from sunburn. Then make sure you take lots of cool clothes that allow you to cover up against the sun in Summer.  Full length pants and a coloured shirt for men and boys will also come in handy for  when you visit religious monuments.
 Around the cultural centrepiece of Istanbul the climate is reasonable year round which makes it a good hub for explorations into the regions.
You're going to need a good Turkish Travel guide for a more in depth choice of options than many of the travel books that are out there.  Try  https://goturkey.com/ to compliment  our Turkey travel advice.
Istanbul Travel Advice
This tour of Istanbul by lonely planet will help you get a great overview of the city. And while it is not directed at children many of the activities and attractions visited are appropriate for families with kids of all ages.
Turkey is a friendly country  with kids in tow. However sometimes a little too friendly and it's not too uncommon for a local to pick up or unwittingly invade your personal space a little. But that in itself is not any reason to hesitate a city rich in history and sensational experiences. And while there are a few made for children attractions like Atlantis water-park and the Miniaturk miniature Turkish monument reconstruction. Really it's the cultural and street attractions the kids need appreciate to really make of a vacation here.
The Grand bazaar
Great place to pick up an ice cream with the kids. Remember, bartering is more the  norm than the exception. The stallholders will think you want to buy if you stop to look for too long in a country where browsing  is not really something people do.
Travel around Istanbul with families with kids is extremely possible and enjoyable as this video gives testament to:

Istanbul can  seem more than overwhelming and it's hard to know where to start planning your travels. But successful family travels and navigation of this large cosmopolitan  city are not difficult if you organize your sorties out into the tree recognized districts  like The Bazar Quarter  or The Sultanahmat.

Boat to Istanbul Turkey
Catching a ferry to Istanbul is an option sometimes overlooked. This can work well especially with your plans  if you are in a religion of Greece or Italy which has a direct ferry link. See Turkish Ferries
The Augean region
The Augean sea sure conjures up images of perfect family vacations, on clear water, blue flag beaches.  This is where  you will find  a good many family resorts which attract holidaymakers from all over Europe in places like Bodrum and Marmaris.
The Festival of Troy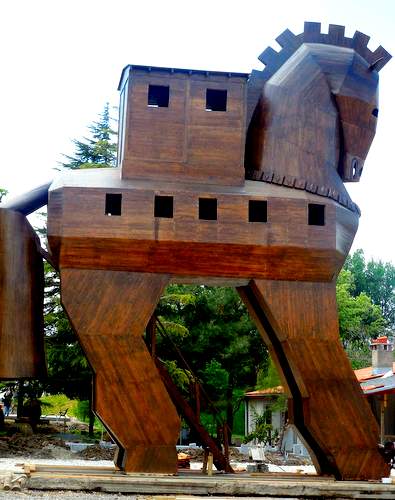 The Festival of Troy
The iconic hose associated with the battles against the Trojans is the setting for a festival organised for the joy of children specifically in mind. In August as part of the festival of Hisarlik white doves are released from the Trojan Horse in a gesture of peace, and there are continuous dancing and singing involved. The kids can  climb up into the body of the wooden horse.

Pamukkale Thermal Pools
Located between the Mediterranean and Augean areas of Turkey these pools are made as limestone settles as the springs rise and overflow.  They look spectacular and make for terrific Turkey Travel Pics. Nearby children can enjoy the thermal baths for themselves.