Travelling To Turkey From The US
Travelling to Turkey from the US or Europe
Traveling to Turkey from the United States or Europe is both an exciting and accessible adventure. With its rich history, stunning landscapes, and mouthwatering cuisine, Turkey offers a unique and memorable experience for travelers. Here are some practical tips and insights to help you plan your journey to Turkey from the US or Europe.
From the United States: Major airlines, including Turkish Airlines, Delta, United, and American Airlines, offer direct flights from various US cities like New York, Los Angeles, Chicago, and Atlanta to Istanbul, Turkey's most popular entry point. Flight durations typically range from 10 to 13 hours, depending on the departure city.
From Europe: Numerous airlines operate direct flights from major European cities to Istanbul, such as Turkish Airlines, Lufthansa, British Airways, Air France, and KLM. Flight durations vary from 2 to 4 hours, depending on the departure city. Budget airlines like Pegasus, Ryanair, and EasyJet also offer affordable options for travelers.
2. Visa Requirements
United States: US citizens need a visa to enter Turkey for tourism or business purposes. The most convenient option is obtaining an e-Visa online before your trip through Turkey's official e-Visa website (www.evisa.gov.tr). The e-Visa is valid for 180 days, allowing multiple entries with a maximum stay of 90 days.
Europe: Citizens of most European Union countries, including the UK, Germany, France, Italy, and Spain, do not require a visa for short stays (up to 90 days within a 180-day period) in Turkey for tourism or business purposes. However, it is recommended to check the latest visa regulations before your trip, as requirements may change.
3. Currency and Exchange
The local currency in Turkey is the Turkish Lira (TRY). It is advisable to exchange some money before your trip or use ATMs at the airport upon arrival for the best exchange rates. Major credit cards are widely accepted in hotels, restaurants, and larger shops, but carrying cash is recommended for smaller establishments and street vendors.
4. Transportation
Istanbul has an extensive public transportation system, including buses, trams, metro, and ferries. The Istanbulkart, a rechargeable smart card, is a convenient and cost-effective way to pay for public transportation. Taxis are also readily available but make sure the driver uses the meter to avoid overcharging.
For traveling within Turkey, consider domestic flights, buses, or trains. Turkish Airlines, Pegasus, and other carriers operate flights to various destinations. The bus network is extensive and comfortable, with many companies offering long-distance services. Trains are a scenic and affordable option, especially with the recent expansion of high-speed train services.
5. Accommodation
Turkey offers a wide range of accommodation options, from budget hostels to luxurious hotels. Istanbul, in particular, has an extensive selection of lodgings catering to different tastes and budgets. When visiting other cities or coastal areas, consider staying in boutique hotels, guesthouses, or holiday resorts for a more authentic experience.
Turkey is a fascinating country that offers a blend of rich history, diverse cultures, beautiful landscapes, and warm hospitality. There are many reasons to consider Turkey as your next travel destination:

History and culture: Turkey has a long and storied past, with influences from ancient civilizations like the Hittites, Greeks, Romans, Byzantines, and Ottomans. This rich history is visible in the stunning architecture, archeological sites, and museums throughout the country.
Natural beauty: From the turquoise waters of the Mediterranean and Aegean coasts to the unique landscapes of Cappadocia and Pamukkale, Turkey offers an incredible variety of breathtaking natural wonders to explore.
Cuisine: Turkish food is a delightful fusion of Mediterranean, Middle Eastern, and Central Asian flavors. From flavorful kebabs and mezes to mouth-watering baklava, there's something for every palate.
Shopping: Turkey is a shopper's paradise, with bustling bazaars and markets offering everything from handcrafted textiles and ceramics to spices, tea, and Turkish delight.
Warm hospitality: Turkish people are known for their genuine warmth and hospitality, making visitors feel welcome and at home.
Turkey Travel Spots and Where to Go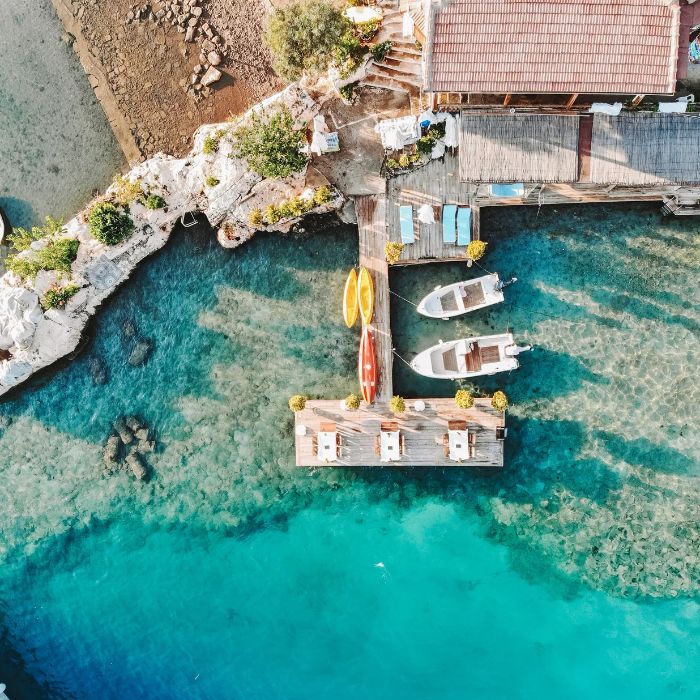 Family vacation options range the  Winter can get cold and snowy in the inland areas with their spectacular natural rock formations and civilisations carved into rock foundations.  At this time and in the extremely hot mid-summer months tourists tend to head to the beaches.  The Black Sea beach towns are greener and enjoy more rainfall while calm waters of the Augean or Mediterranean  and have their own  fancy all included Turkish beach resorts.
While terrorism is a threat especially around Istanbul and  the south, at the time of writing thousands of families were also enjoying family vacations around Turkey. However, in this modern world events can change quickly and with countries like Syria and Iraq nearby it's always worth checking the latest government tourist advice. Likely the biggest threat you will encounter is from sunburn. Then make sure you take lots of cool clothes that allow you to cover up against the sun in Summer.  Full length pants and a coloured shirt for men and boys will also come in handy for  when you visit religious monument
 Around the cultural centrepiece of Istanbul the climate is reasonable year round which makes it a good hub for explorations into the regions.
You're going to need a good Turkish Travel guide for a more in depth choice of options than many of the travel books that are out there.  Try https://goturkey.com/ to compliment  our Turkey travel advice.
Istanbul Travel 
Istanbul, the enchanting city where East meets West, is an absolute delight for families seeking adventure, culture, and unforgettable memories. As a bustling metropolis steeped in history and adorned with architectural marvels, Istanbul promises a thrilling journey for every member of the family. So, buckle up and let's explore the wonders of Istanbul, family-style!
1. Get Acquainted with History at Hagia Sophia and Topkapi Palace
Kick off your Istanbul adventure with a visit to the iconic Hagia Sophia. This architectural masterpiece, which has served as both a church and a mosque, will leave the entire family in awe of its grandeur. Continue your historical journey at Topkapi Palace, where the opulent lifestyle of the Ottoman sultans comes to life. Don't forget to check out the Harem section – it's a real eye-opener!
2. Marvel at the Blue Mosque and the Basilica Cistern
The stunning Blue Mosque, with its cascading domes and six minarets, is a must-see for every family. As you step inside, the intricate blue Iznik tiles will captivate you. Afterward, venture underground to the Basilica Cistern, an ancient subterranean marvel that offers a cool respite from the bustling city above.
3. Navigate the Labyrinth of the Grand Bazaar and Spice Bazaar
Let your senses guide you through the bustling labyrinth of the Grand Bazaar, where you'll find everything from colorful lanterns and spices to exquisite textiles and jewelry. A fun family activity is to have each member choose a unique souvenir to remember this magical place. Don't miss the nearby Spice Bazaar, where the aroma of exotic spices will whisk you away to a culinary paradise.
4. Cruise Along the Bosphorus
A Bosphorus cruise is the perfect way to take in the breathtaking beauty of Istanbul from a different perspective. As you glide between two continents, you'll be treated to stunning views of grand palaces, ancient fortresses, and picturesque villages.
5. Embrace Nature at Emirgan Park
Escape the city's hustle and bustle by spending an afternoon at Emirgan Park, one of Istanbul's largest and most beautiful green spaces. Pack a picnic, rent bikes, or simply stroll through the park while enjoying the colorful tulips and stunning Bosphorus views.
6. Take a Bite of Istanbul's Culinary Scene
Food is an integral part of Istanbul's charm. From mouth-watering street food like simit and roasted chestnuts to sumptuous baklava and Turkish delight, your taste buds are in for a treat. Make sure to visit a traditional Turkish meyhane (tavern) for an authentic family meal.
7. Visit the Kid-Friendly Rahmi M. Koç Museum
Finally, round off your trip by visiting the Rahmi M. Koç Museum, which offers a fun and interactive experience for kids and adults alike. With exhibits on transportation, industry, and communications, there's something to pique everyone's curiosity.
There you have it – a family-friendly guide to exploring the magical city of Istanbul. Whether it's history, culture, or nature that excites you, Istanbul promises to leave you and your family with memories to last a lifetime. So, pack your bags, gather your loved ones, and embark on the ultimate family adventure in this vibrant, unforgettable city.
Turkey is also a friendly country with kids in tow. However sometimes a little too friendly and it's not too uncommon for a local to pick up or unwittingly invade your personal space a little. But that in itself is not any reason to hesitate a city rich in history and sensational experiences. And while there are a few made for children attractions like Atlantis water-park and the Miniaturk miniature Turkish monument reconstruction. Really it's the cultural and street attractions the kids need to appreciate to really make off a vacation here.
The Grand bazaar
The Grand Bazaar, a lively treasure trove nestled in the heart of Istanbul, Turkey, has been stealing the hearts of locals and tourists alike for centuries. As one of the oldest and largest covered markets globally, this vibrant maze encompasses over 61 streets and boasts a whopping 4,000+ shops, each filled with character and charm.
Upon entering the bazaar, you'll be instantly greeted by a sensory overload – the rich aroma of Turkish spices wafting through the air, the dazzling array of colorful lanterns and textiles, and the harmonious cacophony of shopkeepers haggling with eager customers. It's an enchanting, bustling world of its own that invites you to get lost within its labyrinthine alleys.
From exquisite handmade carpets and intricately designed ceramics to glittering gold and silver jewelry, the Grand Bazaar offers a diverse shopping experience that caters to every taste and budget. But it's not just about shopping; the bazaar also serves as a cultural melting pot where you can savor delicious Turkish cuisine, sip on piping hot çay (tea), or strike up a conversation with friendly locals.
As you wander through the labyrinth, don't be afraid to haggle. Bargaining is an essential part of the Grand Bazaar experience, and shopkeepers often expect it. So, put on your best bargaining face, and you might just snag that one-of-a-kind souvenir at an unbeatable price.
Pro tip: The Grand Bazaar can be quite overwhelming for first-time visitors, so consider joining a guided tour to learn more about its history, culture, and hidden gems
Travelling with a family
Travel around Istanbul with families with kids is extremely possible and enjoyable as this video gives testament to:

Istanbul can seem more than overwhelming, and it's hard to know where to start planning your travels. But successful family travels and navigation of this large cosmopolitan city are not difficult if you organise your sorties out into the tree recognised districts like The Bazaar Quarter or The Sultanahmat.
Boat to Istanbul Turkey
Catching a ferry to Istanbul is an option sometimes overlooked. This can work well especially with your plans if you are in a religion of Greece or Italy which has a direct ferry link. See Turkish Ferries.

The Augean region

The Augean sea sure conjures up images of perfect family vacations, on clear water, blue flag beaches.  This is where  you will find  a good many family resorts which attract holidaymakers from all over Europe in places like Bodrum and Marmaris.
The Festival of Troy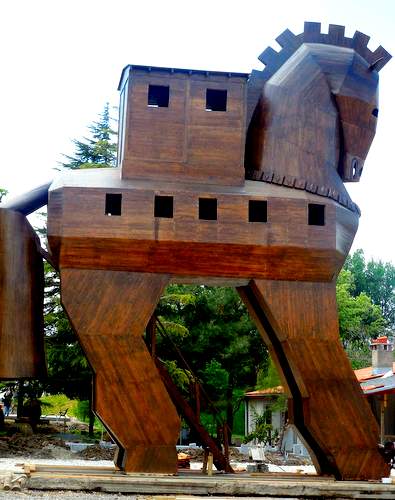 The Festival of Troy
The iconic hose associated with the battles against the Trojans is the setting for a festival organized for the joy of children specifically in mind. In August as part of the festival of Hisarlik white doves are released from the Trojan Horse in a gesture of peace, and there are continuous dancing and singing involved. The kids can  climb up into the body of the wooden horse.

Pamukkale Thermal Pools
Located between the Mediterranean and Augean areas of Turkey these pools are made as limestone settles as the springs rise and overflow.  They look spectacular and make for terrific Turkey Travel Pics. Nearby children can enjoy the thermal baths for themselves.

FAQs about Travelling to Turkey:
Turkey uses Type F electrical outlets, which have two round pins and operate on a 220-volt system. Travelers from countries with different plug types and voltages should bring a suitable adapter and converter if needed.
The ideal time to visit Turkey depends on your interests and the regions you plan to explore. Spring (April to May) and fall (September to October) offer milder temperatures and fewer crowds, making them popular times for sightseeing. The summer months (June to August) are best for beach vacations but can be hot and crowded in popular tourist destinations.
Turkey is generally a safe country for tourists. As with any destination, it's essential to stay informed about current events, exercise caution, and follow local guidelines and advice from official sources.
Many nationalities require an e-Visa to enter Turkey for tourism purposes. Check the Turkish government's official e-Visa website for details on eligibility and application procedures.
The currency in Turkey is the Turkish Lira (TRY). It's a good idea to have some cash on hand for small purchases, although credit cards are widely accepted in most tourist areas.
The official language is Turkish. English is spoken in many tourist areas, but learning a few basic phrases in Turkish can help enhance your experience and interactions with locals.
Authors Unleashed: Unveiling the Ultimate Travel Experience through Expert Reviews, Ratings, and Research
💼 We cherish our independence! ✈️ Our travel recommendations are carefully researched, bias-free, and powered by human expertise. We use AI sparingly for editing purposes, ensuring an authentic and reliable experience. Join us on our unbiased journey! 🌍✨
Always do your own research! 🧐📚⚠️