Best Florida All-Inclusive Resorts
Florida All Inclusive Resorts
Florida all-inclusive resorts are a great vacation option for families and couples. Let's compare the all-inclusive resorts in Florida to other options.
Best Florida All-Inclusive Resorts
A few years ago, Florida did not even have any All-Inclusive resorts to speak of, but things are changing. Now there are adult only all-inclusive resorts in the Florida Keys through to Florida family all-inclusive resorts in Orlando!  Here are our top choices and some deals too. 
Here we've listed the best resorts that are fully all-inclusive. We have also included a summary of those resorts with inclusive packages.
The freedom to move around without having to constantly pull out your credit card or room card can make for a more enjoyable vacation.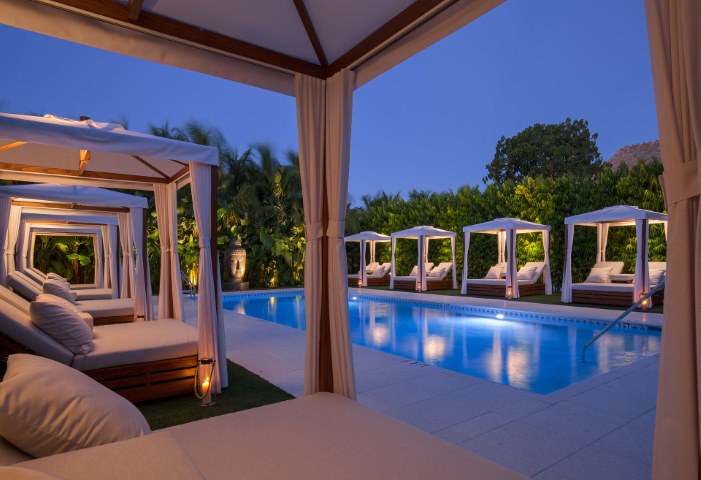 Bungalows Adult Only Resort in the Florida Keys
The best all-inclusive resorts in Florida for adults are concentrated mostly in South Florida and especially in the Florida Keys. 
The Florida Keys offer a wide range of all-inclusive resorts. These resorts offer access to a variety of activities and amenities, from fantastic restaurants to stunning beaches.
There are many types of all-inclusive resorts in the Florida Keys, from luxury to budget friendly. All-inclusive resorts are perfect for someone who wants to experience everything that the Florida Keys has to offer without having to worry about paying for anything extra - most of the time. The following resorts are either fully all-inclusive or offer all-inclusive packages:
Bungalows Key Largo Adult All Inclusive
Southernmost on the Beach
Hawks Kay Resort
Pier House Resort & Spa Key West
Baker's Cay Resort Key Largo, Curio Collection By Hilton
Reefhouse Resort & Marina
Find out more of our awards and reviews for the top all-inclusive resorts in the Florida Keys
Bungalows Key Largo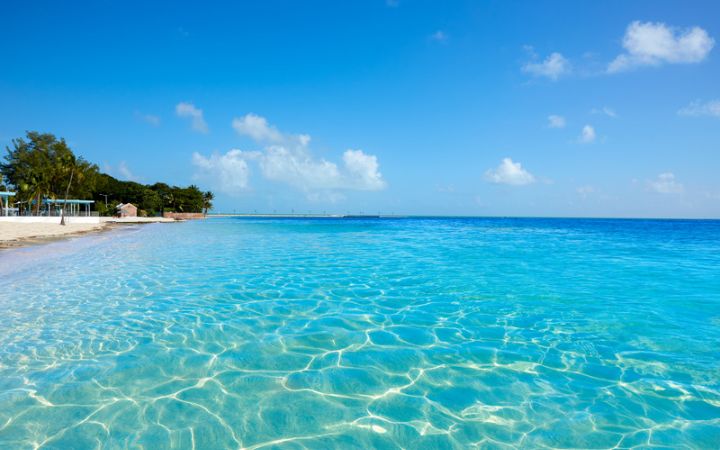 Nestled in the heart of Key Largo, Bungalows Key Largo presents an adults-only all-inclusive sanctuary where luxury meets tranquility. From the moment you step into your private bungalow, the pristine setting and upscale amenities transport you to a realm of serenity. Each bungalow exudes elegance, complete with private outdoor verandas for soaking in the breathtaking views. Dine at any of the five distinct restaurants, each a gateway to a unique culinary adventure. Engage in a myriad of water activities, find solace at the Zen Garden Spa, or simply unwind by the pool with a cocktail in hand as the sun paints the sky with shades of dusk. As day turns into night, the resort comes alive with curated entertainment to enliven your evenings. With its impeccable service and a plethora of offerings, Bungalows Key Largo isn't just a destination, but an experience where every detail is crafted towards creating a memorable escape amidst the natural beauty of the Florida Keys.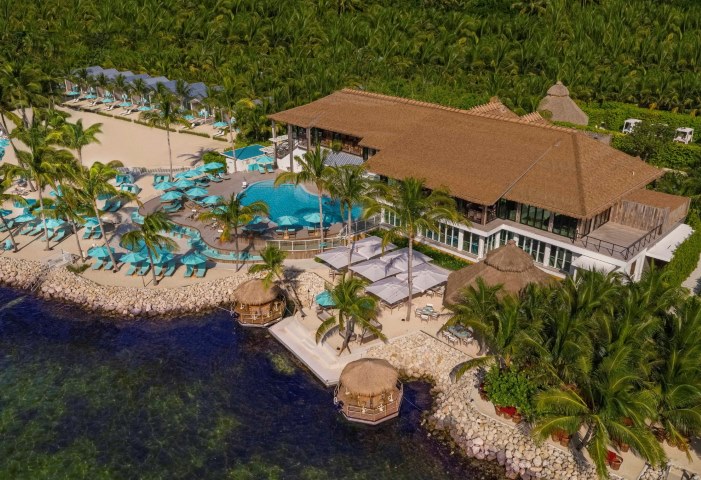 Here's an extended list of offerings at Bungalows Key Largo:
Accommodations and Dining:
Luxurious stand-alone bungalow accommodations with private outdoor verandas.
All meals included, from casual bites to fine dining experiences.
Welcome drinks and refreshments upon arrival.
Unlimited access to five on-site restaurants.
Poolside and beachside dining and refreshment options.
Premium alcoholic beverages, selected wines, and beers.
Wine tastings, beer tastings, and spirits tastings events.
Activities and Entertainment:
Zen Pool & Jacuzzi, Sunset Pool & Jacuzzi for relaxing dips.
Coconut Beach and Tranquility Beach for serene shoreline experiences.
Poolside and beachside cabanas for a private retreat.
Water sports gear including kayaks, stand-up paddleboards, and snorkel gear.
Group yoga classes for mindfulness and relaxation.
Fitness tiki hut featuring Peloton bikes for a good workout.
Recreational amenities and games for light-hearted fun.
Cruiser bikes – for exploring the property at a leisurely pace.
Day & Night Entertainment, Specialty holiday events and entertainment for a lively atmosphere.
Additional Amenities:
24 Hour guest services for your convenience.
High-speed WiFi in all bungalows and public areas to stay connected.
Valet parking, Bell staff, and Concierge services for a seamless experience.
Daily housekeeping and Nightly turndown service for a tidy space.
In-town transportation within a 5-mile radius for local exploration.
Optional (not included in the all-inclusive rate):
Room service for in-room dining.
Laundry services for fresh clothing.
Spa treatments at the Zen Garden Spa and access to Himalayan salt treatment and eucalyptus steam rooms for rejuvenation.
Floating tiki boat rides, Catamaran tours, Sunset sails for nautical adventures.
Sea plane arrival/departure and island hopping for a unique experience.
Scuba diving, Reef, off-shore, and backcountry fishing for underwater exploration
Florida Keys, Florida Hotel Deals

Secluded, tropical, Little Palm island is more a resort more for romantics than families. An all-inclusive romantic interlude here is only accessible by seaplane or boat. The resort is dedicated to quality dining and the environment is noticeably unplugged from technology and cars. The all-inclusive element is achieved through resort credits is achieved by resort credits which help you get on with your romantic getaway - free of anyone under 16 years of age.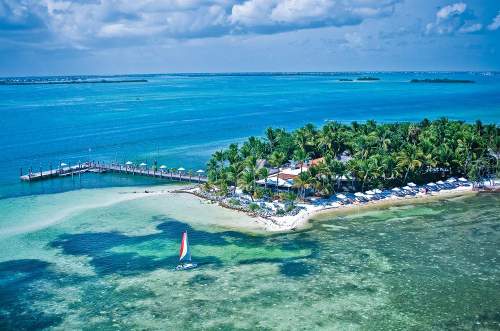 Little Palm Island Resort
Noted as a best romantic resort worldwide and top 50 of all resorts worldwide. While not fully inclusive, Little Palm does cater well for active adults (only adults) with a complimentary motor yacht shuttle to the island. 
Once you arrive enjoy complimentary outboard-motor pontoon boats, Boston Whalers for fishing, snorkeling, island excursions, kayaks, canoes, paddleboats, small catamarans and more.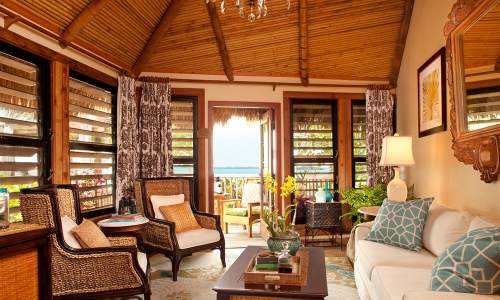 Little Palm Island Florida All Inclusive Resort
Little Palm Island Special Prices and Reviews 200 resort credit for a min 3 night stays.

Some amazing inclusive packages available at this exclusive resort. Read more on our Key West Luxury Resort reviews.
There are more than a few all-inclusive family resorts in Florida, centered around the theme parks of Orlando, but also on other beaches around the state. The ones we list here are not always fully inclusive family resorts, but rather offer enough of the benefits included that you would expect to find in equivalent resorts located in Mexico or the Caribbean that make them the best equivalents. 
You may also like to check out the review of the best Florida Family resorts. 
Miami is a city that has the best of everything. It has beautiful beaches, amazing restaurants, and some of the world's most luxurious hotels. Miami is also home to many all-inclusive resorts that offer a great vacation experience for people of all ages.
There are a few great all-inclusive resorts in Clearwater Beach, Florida. However, not all of them offer the same services and amenities. Some are better than others. We have compiled a list of best all inclusive resorts in Clearwater Beach, Florida to help you choose the right one for your vacation.
Sandpearl Clearwater Beach Resort is an all-inclusive resort on the Gulf of Mexico. It offers a variety of activities and amenities to suit the needs of any traveler.
Sand Pearl Clearwater Beach
The Sandpearl Clearwater Beach Resort is an all-inclusive resort in the Florida Panhandle that offers the best of both worlds. The resort features four different restaurants, three bars, two pools, and a private beach with volleyball courts. There are also two outdoor spas, a fitness center, and a beauty salon onsite. The property is also equipped with WiFi in all public areas.
 Pros: You can enjoy a relaxing day at the beach and then head to the spa for a rejuvenating massage. The resort has a wide range of activities to keep you entertained and occupied, all while enjoying some of Florida's most beautiful beaches.
Cons: All Inclusive packages are not comprehensive
Find out more on the Clearwater Beach All Inclusive Resort Reviews
Guest Review Video: Sandpearl Resort Clearwater Beach Video Review
The video review is a detailed and comprehensive overview of the Sandpearl Resort in Clearwater Beach, Florida, provided by FitnessNBeer, a YouTube channel that reviews hotels and resorts around the world. The review covers various aspects of the resort, including the lobby, guest rooms, pool and beach, dining options, and fitness center. The reviewer provides an honest and unbiased assessment of each feature, highlighting both the positives and negatives of the resort. The video also includes footage of the resort, showcasing its beauty and amenities. Overall, the review provides helpful insights for anyone considering a stay at the Sandpearl Resort.
Waterparks are a great way to cool down and have fun in the sun. They are also a great way to entertain the kids for hours on end. It is hard to find an all-inclusive resort with waterpark that has all of your needs, but this article will help you find the perfect one for your family.
We have compiled a list of some of the best all inclusive resorts with waterparks included in Orlando. We will review each one, so that you can decide which is right for you and your family.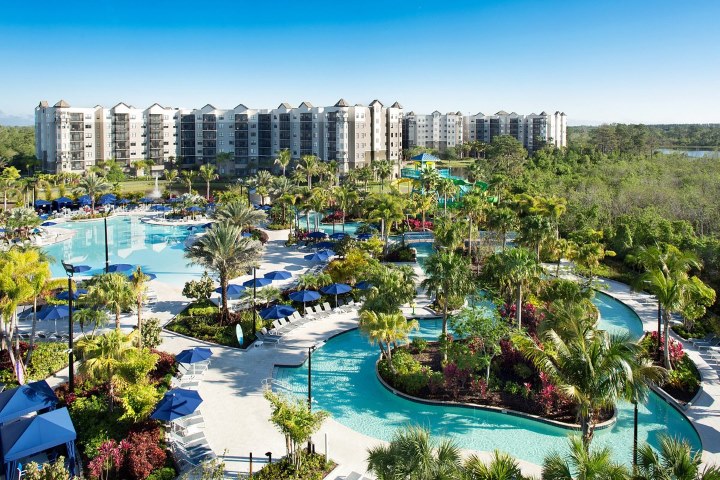 The Grove Resort and Waterpark: Top Resorts with Waterparks Included
The best Orlando resorts are those that offer the perfect combination of luxury and affordability. And while Orlando is a very popular tourist destination, it's still possible to find some great deals on hotels and resorts.
The Orlando all-inclusive resorts are a great way to enjoy your vacation. These resorts offer all the amenities and services you need for a great vacation.
See our review of all the top Orlando Florida all-inclusive resorts and package offers which are especially great for family vacations. We will look at their amenities, food, services, and activities.
At LEGOLAND® Florida Resort, the all-inclusive packages 
At LEGOLAND® Florida Resort, the all-inclusive packages are tailored to provide a hassle-free and immersive experience for guests. With options like the Kids Stay & Play Free Package, Brick-or-Treat Package, and the 3rd Night Free Book Early & Save Package, guests can delve into a world of imaginative play while enjoying the comforts and conveniences the resort offers. These packages often include overnight stays at themed accommodations, multi-park tickets granting access to LEGOLAND Florida® Theme Park, Water Park, and Peppa Pig Theme Park, alongside extra perks like a hearty breakfast, self-parking, and evening entertainment. Every package is crafted to enrich the LEGOLAND® experience, blending the playful essence of LEGO® with the luxury of resort living, ensuring that every moment spent is a blend of adventure and ease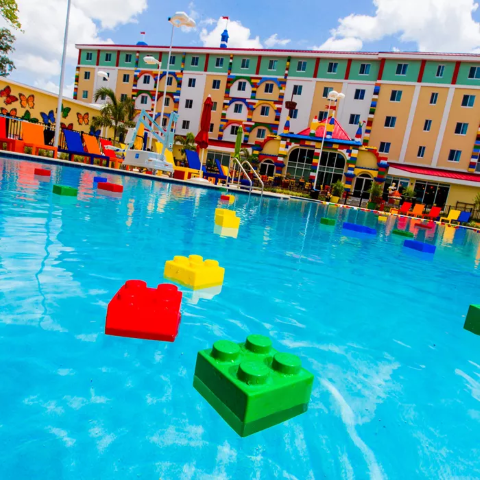 At LEGOLAND® Florida Resort, the all-inclusive packages are tailored to provide a hassle-free and immersive experience for guests. With options like the Kids Stay & Play Free Package, Brick-or-Treat Package, and the 3rd Night Free Book Early & Save Package, guests can delve into a world of imaginative play while enjoying the comforts and conveniences the resort offers. These packages often include overnight stays at themed accommodations, multi-park tickets granting access to LEGOLAND Florida® Theme Park, Water Park, and Peppa Pig Theme Park, alongside extra perks like a hearty breakfast, self-parking, and evening entertainment. Every package is crafted to enrich the LEGOLAND® experience, blending the playful essence of LEGO® with the luxury of resort living, ensuring that every moment spent is a blend of adventure and ease.
These packages are quite comprehensive and include things like 'meals from check-in through check-out' at any of the 'theme park or water park restaurant', a daily treasure hunt, pools, workshops, parties.
This video review follows a family which checked out the all-inclusive package at Legoland: 
Legoland Florida Resort Reviews Orlando Prices And Reviews

Here is a top Orlando resort that often will put up inclusive packages. See special offers and reviews for Floridays. (Note: special offers do change and are time sensitive but often include breakfast and activities)
Floridays Resort Orlando, nestled near Lake Buena Vista on International Drive, stands as a luxurious, all-suite condominium-style sanctuary right in the throes of Orlando's bustling entertainment scene. While not offering traditional all-inclusive packages, the resort extends a range of amenities and services aimed at providing a lavish yet comfortable stay. With spacious 2- and 3-bedroom suites equipped with full kitchens, guests have the liberty to craft their own culinary experiences or venture out to nearby eateries. The resort fee encapsulates WiFi access throughout the property, self-parking, and scheduled shuttle services to select theme parks, easing the journey to Orlando's iconic attractions. The resort's vicinity to prominent shopping, dining, and entertainment venues, along with its array of on-site facilities like outdoor pools, fitness center, and a business center, blend to offer a rich, self-contained resort experience. Those in pursuit of traditional all-inclusive packages may find it beneficial to explore other resort options within Orlando to meet their comprehensive needs.
For a drive to Condo style property with full kitchen this is a good choice. The best part is the huge pool area complete with some water park features, which gives the impression you are staying at an all-inclusive resort. Additionally, extras like live bands, movie nights, and craft activities and the free shuttles to the theme parks provide for a value experience.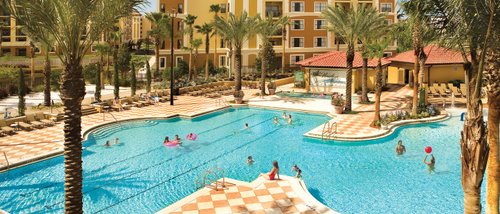 Floridays Resort
Video By Floridays
If you're planning a family vacation to Orlando, you might want to check out Floridays Resort. In this video review, a family shares their experience staying in the resort and going to nearby attractions like Busch Gardens and Clearwater Beach. The vlogger, who runs the channel FitnessNBeer, provides an honest and down-to-earth assessment of the resort, praising the spacious rooms, washer-dryer, and central location. The family also raves about the convenience of having everything they need right on the property, making it feel like a home away from home. Overall, the video offers a helpful glimpse into what it's like to stay at Floridays Resort, especially for families traveling with kids. So if you're considering a trip to Orlando, be sure to watch this video and see if Floridays Resort might be the right fit for your family!: 
Highly-rated Disney World vacations provide the best All Inclusive packages in Florida. These packages include food, lodging, and admission to the theme park.
Orlando also has some special Disney Resort Packages. Check out  our top 10 Disney Resorts Video Bliss List below.
Disney's Animal Kingdom Lodge has all-inclusive packages with transfers, park entry and dining.
---
Pool
Sandpiper Bay All-Inclusive, Trademark Collection by Wyndham, nestled in Port Saint Lucie, is a haven of leisure and family-friendly recreation. This all-inclusive resort offers a myriad of activities, from water sports and land-based games to elite sports training through Altitude Academies.
A temporary closure for renovations back in July 31 to November 15, 2023 saw regeneration. The resort promises an enriched guest experience upon reopening. With comfortable accommodations, diverse dining outlets, dedicated kids' programs, and rejuvenating spa services, it caters to a broad spectrum of vacation desires. However, some premium activities and spa services come at an additional cost, and the resort's distance from major urban centers may be a consideration for some travelers. The blend of inclusive amenities and a variety of recreational options makes Sandpiper Bay a compelling choice for a family-oriented getaway.

Sandpiper Bay All-Inclusive, Trademark Collection by Wyndham

As an all-inclusive resort for families in Florida this is a rare find, but it has a bit of work to do yet to get back to its former glory: 
Find the best deal, compare prices, and read what other travelers have to say at Tripadvisor
---
Cheeka Lodge best resembles an authentic, luxury adult only All Inclusive resort in Florida out of the options we have surveyed.
Cheeca Lodge & Spa Inclusive Package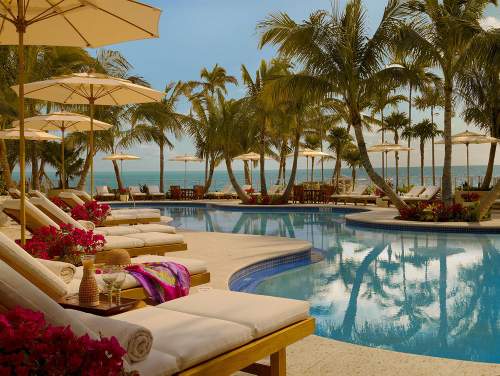 Cheeca Lodge & Spa Inclusive Package
At the time of writing, the Cheeca Lodge & Spa Inclusive Package includes $100 in dining credit at Limoncello, while you can also enjoy smoothies by the pool and discounts on Camp Cheeca for the children.

Cheeca Lodge & Spa Inclusive Packages Reviews and Special offers from TA.

Video Review: In this video by Suite Life Sanburg, the vlogger takes us on a tour of the Cheeca Lodge in Islamorada, Florida Keys. The vlogger begins by expressing their excitement about finally staying at the resort and provides a tour of the spacious, well-lit rooms. They also talk about the different types of rooms available at the resort and show the various amenities available on-site, such as the two pools and tiki bars. The vlogger also highlights the convenient location of the resort, which is across the street from Village Square, a hub of shops, cafes, and restaurants. The vlogger also talks about the seagrass present on the resort's beach and mentions that while it may not be everyone's cup of tea, the beach is still beautiful and enjoyable. Overall, the vlogger provides a comprehensive tour of the Cheeca Lodge and emphasizes the resort's convenience and amenities.
---
Embarking on a quest for an all-inclusive haven akin to the famed Sandals resorts, the journey led to the picturesque Florida Keys, showcasing a perfect blend of luxury, adventure, and tranquility at various resorts. The adventure commenced at Hawks Cay Resort on Duck Key, offering a fusion of romantic ambiance and aquatic adventure, reminiscent of the luxury associated with Sandals. 
Hawks Cay All Inclusive Florida Keys Resort
Venturing further led to the serene Cheeca Lodge and Spa, the luxurious Bungalows Key Largo, the exclusive Little Palm Island Resort & Spa, and the historic charm of Casa Marina Key West, each presenting a unique yet familiar allure of all-encompassing luxury. The exploration culminated at the Southernmost Beach Resort in Key West, embracing the ocean's tranquility. Each resort, with its distinct charm, encapsulated the essence of a paradisiacal escape, akin yet unique to the Sandals experience.
We often get request to review the Sandals resorts in Florida. This is a category which really does not exist, but we have done up a review of the resorts that resemble the Sandals all-inclusive experience.  The Amelia Island Plantation Resort is one resort in the genre:
Omni Amelia Island has been one of the Florida all-inclusive resorts that have offered all-inclusive options over a long time. The resort is itself is a huge 1,350 acres and is located on a barrier island in Northeast Florida.
Omni Amelia Island Plantation Resort has a Passport Package which includes special offers on golf, tennis, spa, recreational activities, food, and beverage (see the links below to see the deals at the time of writing).
Only a few minutes walk from the Amelia Island Nature Center, and with Oak Marsh Golf Course, and Tennis, A full spa, and beachside restaurants and bars there is enough to keep the whole family entertained – especially the beach lovers.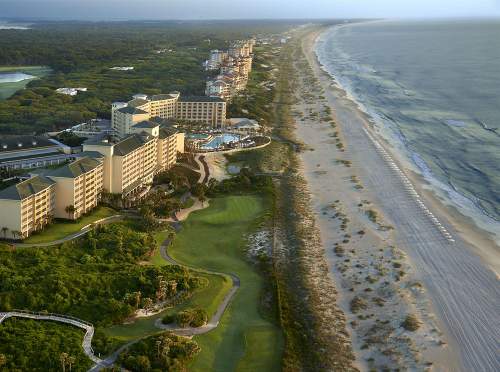 Omni Amelia Island Plantation Inn
The spectacular Amelia Island Plantation has recently had some all inclusive packages available. See the current reviews and deals on this Amelia Island resort here.
See more Florida Beach Resorts

---
Visit Florida also have compiled a list of All inclusive resorts in Florida
More of the Worlds Best All Inclusive Resorts

See all Florida Package Deals
All Florida Locations
Best All Inclusive Family Resorts
Cheap All Inclusive Vacations
Florida All Inclusive Deals
Discount Disney Resort Packages
---
Frequently Asked Questions
Welcome to our FAQ section, where we've compiled some of the most commonly asked questions about all-inclusive resorts and travel in Florida. We know planning a vacation can be overwhelming, so we're here to provide some answers to help you make the most of your trip. Read on to find out more!
Yes, you can find all-inclusive resorts in various locations throughout the United States, including in Florida.
The beach at Siesta Key near Sarasota, Florida is often compared to the Maldives for its crystal-clear blue water and white sand beaches.
It depends on the resort and your travel style. All-inclusive resorts can offer a good value since meals, drinks, and many activities are included in the price. However, if you prefer to explore local restaurants and attractions, staying at a traditional hotel or vacation rental may be a more budget-friendly option.
Yes, there are many all-inclusive resorts in Florida, particularly in popular beach destinations like Miami, the Florida Keys, and the Gulf Coast.
he best time to visit Florida is during the spring (March-May) or fall (September-November) when the weather is mild and the crowds are smaller. However, Florida is a year-round destination, so you can visit anytime depending on your preferences and travel plans.
No, there aren't any overwater bungalows in Florida. However, there are plenty of other unique accommodations, such as treehouse hotels and beachfront villas, that offer a one-of-a-kind experience.
Some of the best adult-only all-inclusive resorts in Florida include Bungalows Key Largo, Little Palm Island Resort & Spa, and H2O Suites Hotel. These resorts are mainly concentrated in South Florida and the Florida Keys (source)​1​.
lorida offers a variety of all-inclusive resorts catering to different traveler needs. Some are family-friendly with facilities and activities for children, while others are adults-only. Resorts may also cater to specific interests like golfing, spa retreats, or water sports (source)​2​.
All-inclusive resorts in Florida provide a package deal where guests pay a flat rate for the room, food, drinks, and activities. However, the exact offerings can vary from property to property. Some resorts include all meals and drinks, plus airport transportation, while others might only include lunch and dinner. Additional amenities like spa treatments, golf outings, or local tours usually cost extra​.
Prices for family all-inclusive resorts start from $86, with average prices closer to $256​​. For adult-only all-inclusive resorts, prices can range from $200 to over $1,000 per night, with an average cost of $400 to $1,000 per person, per day.
Sandpiper Bay, Little Palm Island Resort & Spa, and Bungalows Key Largo are among the top all-inclusive resorts in Florida​.
An all-inclusive resort is the perfect choice if you want to be pampered. You don't have to worry about spending money on food, drinks, activities or transportation. All-inclusive resorts often have high quality food and drinks, so you can eat and drink as much as you want without worrying about additional costs. These resorts are also great for families because they often offer kids clubs and activities for children of all ages, but there are also adult only all-inclusive resorts on our list.
Share Your All-Inclusive Adventures and Questions! 🌴 Have a memorable experience from a luxury all-inclusive vacation? We'd love to hear it at Luxury Resort Bliss. We're on the lookout for top-quality, insightful tales that'll inspire our community. Dive in and be a part of our sun-soaked stories! 🌊🍹✨
The story is a fictionalized account founded on travel expertise, research, and experience. Always refer to recent guest reviews and perform due diligence before booking.
💼 We cherish our independence! ✈️ Our travel recommendations are carefully researched, bias-free, and powered by human expertise by April and Ricky of LRB (we have personally researched and travelled to many of these destinations and researched others thoroughly through first-hand accounts). We also have put in the hard miles, and Ricky has worked for decades for resort and hotel chains  Hyatt, Hilton, Shangri-La and Radisson before starting Luxury Resort Bliss in 2007. 🌍✨ Unlike some other resort review websites we are concerned on the guest experience rather than mere corporate interest.