Florida All Inclusive Resorts (2022)
Florida all inclusive resorts are a great vacation option for families looking to make the most of your time together and contain costs. The freedom to move around without having to constantly pull out your credit card or room card can make for a more enjoyable vacation. 
Here we've listed the best resorts that are fully all-inclusive as well as those that come close because of the packages they offer. A few years ago Florida did not even have any All Inclusive resorts and now there are adult only all-inclusive resorts in the Florida Keys through to Florida family all-inclusive resorts in Orlando!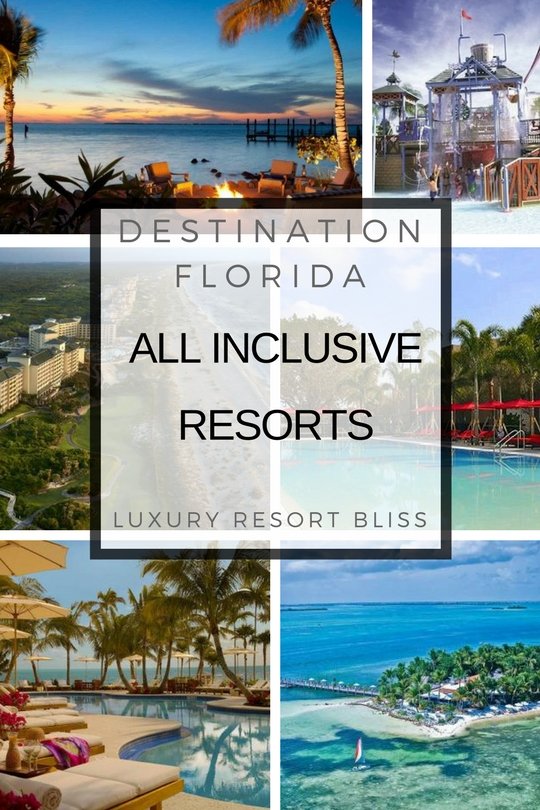 Florida All Inclusive Resorts
There are only a handful of all-inclusive type resorts in Florida. They can be difficult to find, but they are out there. Here are our top choices. 
---
Tips:  Check out our own Florida All inclusive Florida packages review and our Florida deals review.
Tripadvisor also post packages from Florida resorts (simply click the inclusions you want to include):

Key Largo All Inclusive Resort
We have only one resort which really qualifies as a Key Largo, Florida Adults Only all Inclusive Resort:
Bungalows Key Largo
The Bungalows is an Adult Only All Inclusive resort in Key Largo.  Start with an isolated private Bungalow, outdoor shower and huge tub. Delicious unlimited food. The beauty of a Caribbean All Inclusive resort brought to Florida. Cuisines from all around the world, and you can eat as much as you want when you want. Pools with service, A Spa. Get a scrub or a massage.
The Bungalows Adult Only All Inclusive Florida resort invites you to 'revel' in the immersive experience, lively entertainment to countless activities.

---
Club Med Sandpiper All Inclusive
While not the kind of all inclusive resort you may find in Mexico or the Caribbean, Club Med has some really redeeming features. This is especially true for parents looking to have their kids enjoy some quality active time with a kids club. Too often kids clubs are happy to plonk the kids in front of a movie but not here. This is a "premium all sports resort" and there is something available for all ages.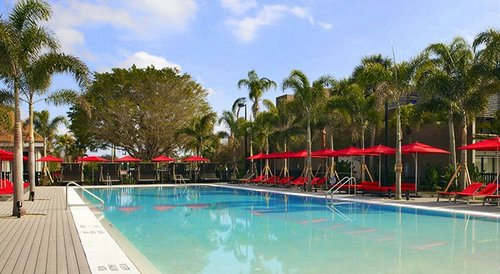 Club Med Pool
The Saint Lucia river beach and sailboat activities and one of the most outstanding children's and activities programs around. It will provide you with carefree days filled with exciting fully included options. The ocean beach is about 10 minutes down the road.


Club Med Sandpiper
The dedicated specialist activities staff and facilities make this our top choice for an all inclusive resort in Florida. This resort has won a swag of awards and is an authentic family all inclusive resort at Sandpiper Bay.

Information on Club Med Sandpiper - reviews, bookings and best deals @ TA
Club Med all inclusive Holidays in Florida include activities like golf or even a big tent with a trapeze and trampoline. This is really a great place for the family to develop their sporting aspirations.
Official Website of Club Med Florida
---
If you are looking for all-inclusive beach resorts in Florida, you may like to see the  Florida inclusive packages to further explore popular beach locations.
Florida Keys All Inclusive Resorts
Florida Keys, Florida Hotel Deals

Little Palm Island Resort & Spa - A Noble House Resort
More a resort more for romantics than families is the secluded tropical  Little Palm island. A romantic interlude only accessible by seaplane or boat. The resort is dedicated to quality dining and the environment is noticeably unplugged from technology and cars. The all-inclusive element is achieved through resort credits is achieved by resort credits which help you get on with your romantic getaway - free of anyone under 16 years of age.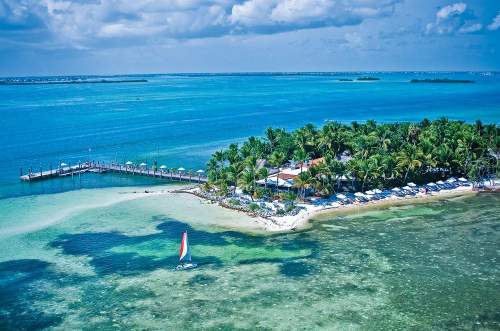 Little Palm Island Resort
Noted as a best romantic resort worldwide and top 50 of all resorts worldwide. While not fully inclusive, Little Palm does cater well for active adults (only adults) with a complimentary motor yacht shuttle to the island. 
Once you arrive enjoy complimentary outboard-motor pontoon boats, Boston Whalers for fishing, snorkeling, island excursions, kayaks, canoes, paddleboats, small catamarans and more.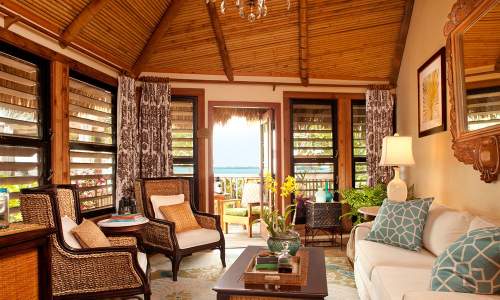 Little Palm Island Florida All Inclusive Resort
Little Palm Island Special Offer @ TA - $200 resort credit for a min 3 night stay.

Some amazing inclusive packages available at this exclusive resort. Read more on our Key West Luxury Resort reviews.
H2O Suites Hotel Key West

This luxurious hotel has a full five stars across the board on TripAdvisor, and with good reason: it's one of the best all inclusive Florida adult vacation resorts.  There are eleven individual plunge pools, in addition a swimming pool found on the roof of the building. Guests will have plenty of room to stay in thanks to the 22 one-bedroom king suites, and they can exercise easily thanks to the fitness center. They also have access to concierge services 24/7,  and relax at the secluded courtyard, which includes a fancy water feature and stylish landscaping with tropical foliage.
---
See our review of all the top Orlando Florida all inclusive resorts and package offers which are especially great for family vacations.
All-inclusive resorts in Florida for families
There are more than a few all-inclusive family resorts in Florida. Or at family  resorts that offer enough of the benefits included that you would expect to find in equivalent resorts located in Mexico or the Caribbean. 
You may also like to check out the review of the best Florida Family resorts. 
Floridays Resort

Here is a top Orlando resort that often will put up inclusive packages. See special offers and reviews for Floridays. (Note: special offers do change and are time sensitive but often include breakfast and activities)
What does not change about Floridays is it's kid friendly attributes and the good position on Ocean Drive, in proximity to restaurants and shopping. 
For a drive to Condo style property with full kitchen this is a good choice. The best part is the huge pool area complete with some waterpark features, which gives the impression you are staying at an all inclusive resort. Additionally extras like live bands,  movie nights, and craft activities and the free shuttles to the theme parks provide for a value experience.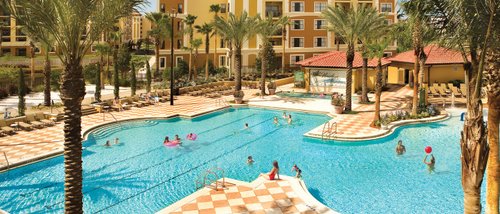 Floridays Resort
This resort has also often been ranked among the best family resorts in the USA and often has special offers. Check out what else the resort offers in the video below. 
Apart from these inclusive packages, Orlando also has some special Disney Resort Packages. Check out  our top 10 Disney Resorts Video Bliss List below.
---
---
Another option you have is simply to pick up a top resort deal at a top hotel. These deals change often but you can pick up packages with things like kids club and meals included.
If you are simply looking to add a little value these discount offers help provide cheap Florida vacations without compromising on quality.  
---
All-inclusive adults only resorts in Florida
Cheeka Lodge best resembles an authentic, luxury adult only All Inclusive resort in Florida out of the options we have surveyed.
Cheeca Lodge & Spa Inclusive Package

Islamorada, Florida Hotel Deals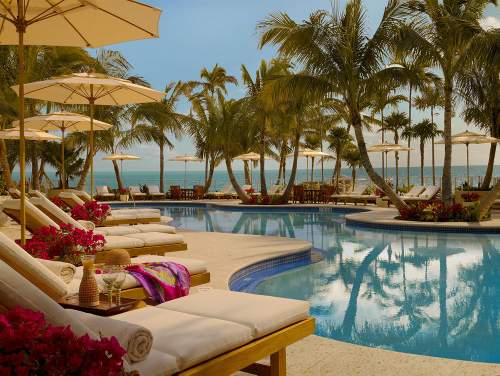 Cheeca Lodge & Spa Inclusive Package
At the time of writing, the Cheeca Lodge & Spa Inclusive Package includes $100 in dining credit at Limoncello, while you can also enjoy smoothies by the pool and discounts on Camp Cheeca for the children.

Cheeca Lodge & Spa Inclusive Packages Reviews and Special offers from TA.

---
We often get request to review the Sandals resorts in Florida. This is a category which really does not exist, but we have done up a review of the resorts that resemble the Sandals all-inclusive experience.  The Amelia Island Plantation Resort is one resort in the genre:
The Amelia Island Plantation

Hotels in Fernandina Beach, Florida

Omni Amelia Island has been one of the Florida all inclusive resorts that have offered all inclusive options over a long time. The resort are itself is a huge 1,350 acres and is located on a barrier island jin Northeast Florida.
Omni Amelia Island Plantation Resort has a Passport Package which includes special offers on golf, tennis, spa, recreational activities, food and beverage (see the links below to see the deals at the time of writing).
Only a few minutes walk from the Amelia Island Nature Center, and with Oak Marsh Golf Course, and Tennis, A full spa, and beachside restaurants and bars there is enough to keep the whole family entertained - especially the beach lovers.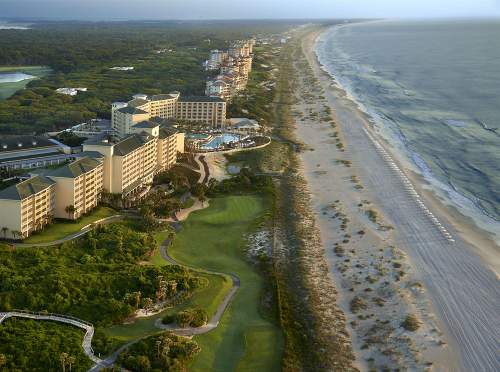 Omni Amelia Island Plantation Inn
The spectacular Amelia Island Plantation has recently had some all inclusive packages available. See the current reviews and deals on this Amelia Island resort here.
See more Florida Beach Resorts

---
Nearby All Inclusive Resorts
If you can't find the all inclusive resort you are looking for in Florida, or you are looking for a Sandals resort in Florida one option is to look only a little beyond the radar to the Bahamas All Inclusive Resorts, Caribbean all inclusive resorts, and Mexico all inclusive resorts.
---
South Florida All Inclusive Resorts
Why we don't recommend the Inverrary All Inclusive Vacation Resort in Ft. Laurderdale.

Find out what guests are saying about the Inverrary All Inclusive vacation resort which is touted as the only all inclusive resort in South Florida. While it does have multiple restaurants, pools and activities, their are some serious limitations. We recommend you find other great options in South Florida.
---
Visit Florida also have compiled a list of All inclusive resorts in Florida
More of the Worlds Best All Inclusive Resorts

See all Florida Package Deals
All Florida Locations
Best All Inclusive Family Resorts
Cheap All Inclusive Vacations
Florida All Inclusive Deals
Discount Disney Resort Packages
---