Cheap Florida Vacations Post COVID
Welcome to the Cheap Florida Vacations Bliss List. Here you can find all you need to know about Florida to make for a successful vacation for less. Use this price comparison tool to check you are getting the best price. 
We have moved many of our best deals to our best Florida inclusive vacation packages page.
Florida Travel Deals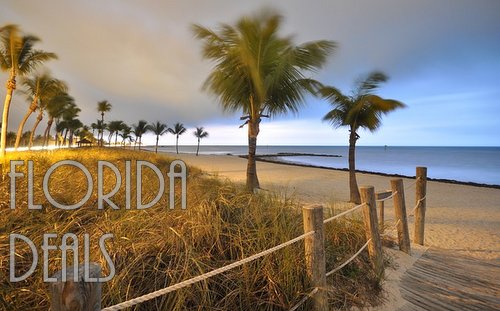 Florida Travel Deals
We recommend you check out the following Florida links to help plan your time away. Whether you are looking for a cheap Florida beach vacation, or a cheap Florida wedding destination we have you covered

While we have plenty of deals listed on this page you may also like to check out  Tripadvisor reviews of the top Florida resorts before you book.
Check out all the latest discount Florida deals from some of these top travel networks:
---
Cocoa Beach Resort Reviews 
Known for it's sun and it's surf, Cocoa Beach is a great place to get your dose of Florida bliss.  This area is especially popular for families visiting Cape Canaveral and the Kennedy Space Center.
---
Clearwater Cheap Florida Vacations Deals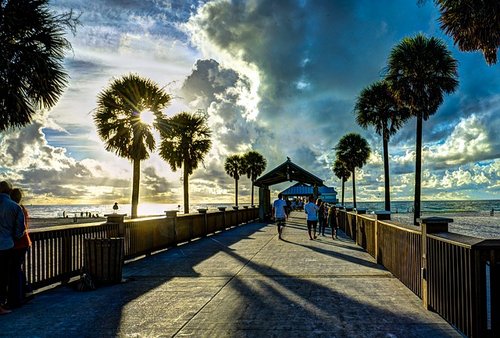 Clearwater Florida Vacations
Clearwater has long been a top destination for families and couples alike.  Today it is thriving and finding a little space for yourself in the peak winter season is a challenge unless you head further out of town.

Welcome to Clearwater, Florida - Promotional video for the City of Clearwater, Florida

---
Daytona Beach is well known for car racing and as a fading spring creak mega hot spot. But there is more to it than that. There has been some redevelopment in recent years and there is some gilts returning to this famous beach stretch 
---
---
A wonderful eco location exists today despite the increased number of tourists who make the rip all the way down here. Hundreds of islands with Caribbean style waters surrounding them is the alluring attraction. The calm family friendly water are home to an array of marine critters.
---
Fort Lauderdale is another great beach in history that has entertained holiday makers for years. These days the strip is a little more fancy la dida style than the old party days. But there remains lot's of opportunities to pick up a cheap Florida vacation here.

Only a short trip north of Miami and provides good access to beaches, Everglades and a good many more attractions.
---
Cheap Florida Travel in Miami 
A wonderfully cultural city, with great resorts out by South beach, and a great place to catch a cruise from.
---
Orlando is known for it's theme parks but such a lot of other alternate activities have sprung up you could enjoy these alone on a cheap Florida vacation.  Sea World®, Walt Disney World®, Universal Orlando® and Wet 'n Wild®, are some of the most popular. 
---
Florida Family Attractions
The best Florida Family attractions are not always the most obvious ones. Check out these ideas for day trips and outings across the Sunshine State.

 Here are our top attractions and links to more attractions and ideas. We have also listed the best Florida Family Vacation Resorts and some pet friendly Florida vacation rental options to help you enjoy these attractions.
Many of our top recommendations are set in the natural environment. This is because the American best beaches, state parks, Everglades and forests offer some great experiences and escape the ever present Florida highway noise. Florida is also home to the mega theme parks of Orlando and the interesting cultural and diving cultures of South Florida. 

Top 10 Family Attractions in Tampa
Heading the list in Tampa are family friendly beaches, Florida Aquarium, Museum of Science & Industry, Lowry Park Zoo and Dinosaur World.
Best Family attractions in Miami and South Florida
Miami and South Florida in general have a wealth of attractions. Miami is home to the Miami Seaquarium with it's killer Killer Whale Show and Jungle Island. You can read more about these and other Miami attractions in our Miami Vacation Spots article.
Video: Family airboating adventure on the Everglades. See more South Florida attractions and vacation ideas on our South Florida page.
Destin Family Attractions
The Emerald Coast area around Destin seems to have become more popular since it was named as one of Americas top destinations on Good Morning America. 
Choosing to spend your next holiday at a vacation rental in Destin Fl is a great idea! Let's find out a little more about this ideal family vacation spot before we find out more about the Destin Florida vacation rentals and where to find the best deals below. You may also like to check out our Destin Vacation Packages.
Where is Destin, Florida?
Destin is located on the north end of the Gulf Coast on the west side of Florida. It's on an island - no - a peninsula - no - now it's an island again - depending on the whims of hurricanes, changing sea levels and the continual dredging of East Pass, a man made waterway.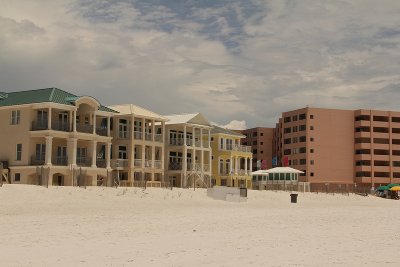 Destin Condos
The pass leads to Choctawatchee Bay, allowing you to choose between the Gulf and the calm waters of the bay.
Destin is also a vacation rentals hot spot in Florida with only the Orlando area listing more places to stay.
HomeAway, Tripadvisor and VRBO have the best deals for you, and you can see some of the properties right of screen and below.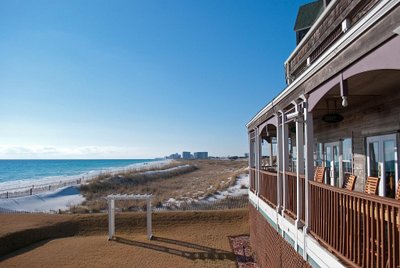 Henderson Park Inn
Things to do in Destin, Florida
What is there to do in Destin, Florida? Well, you can start with the 24 miles of sparkling white beaches! The white sand of Destin is among the whitest sand in the world. The quartz crystal that makes up the sand is ground so fine that it that it looks like it's made of sugar. All of the beaches here are superb, but I will mention a couple of special places.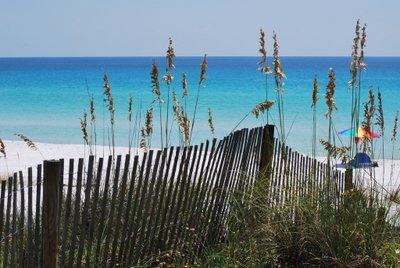 Henderson Beach State Park has clean beaches, sparkling water, clean restrooms and change rooms. The small fee charged for admission is well worth it. Bring your picnic lunch and enjoy the uncrowded beach. The Okaloosa Day Use Area has no entrance fees, and you still get picnic tables, a boat launch and public restrooms with outdoor showers. The water is sheltered and calm in this area, great for children.

Gator Beach is a lot of fun for the kids. Enjoy a meal in the restaurant, then afterward, take in one of the gator shows. The kids can even feed the gators, or hold them and have a picture taken.

The "World's Luckiest Fishing Village"

Destin began as a small fishing village in the 1800s, and today boasts that is has the largest fishing fleet in the world. For good reason - the fishing is fabulous!
Everywhere seems to be a good place to fish. Fish off the beach, at the jetties, in the canals, or take a fishing charter. In October you'll find the annual Destin Fishing Rodeo in full swing, as well as the Destin Seafood Festival which brings fresh seafood and local artists together for an exciting weekend.
Spend some time at Destin Harbour, watching the fishing boats come in with their catch. You may be able to catch a cigar boat race, and there are often activities planned at the harbour in the evenings. And eat - yes, lots to eat! A unique place to dine is The Kitchenette. You can take a cooking class, watching and learning from the chef as he prepares YOUR meal, and of course, you get to enjoy the meal after it's ready. Makes a great date night.
Better yet plan your own Destin Family fishing vacation. Or there are plenty of charter fishing charters that can plan the trip for you.
---
Accommodations - Vacation Rentals in Destin Florida

With beaches this superb, you can be sure it's easy to find an ideal vacation rental in Destin Fl. Along with the many hotels and motels, you can also choose from private beach-front homes that will accommodate a large crowd to condominiums which are literally a few steps from the beach. 
An area to definitely consider when choosing your vacation rental in Destin Fl is in the Holiday Isle area. Drive up to your driveway in a car or pull up to your back yard in a boat. The fishing is great in these canals around these houses as well.
Destin FL Golf Vacations

Sandestin Golf Resort, Regatta Bay Golf and Country Club, Indian Bayou Golf Club, there are many more I could mention. If you can manage to tear yourself away from the white sandy beaches, there are plenty of "greens" to choose from. You could probably golf at a different course every day while you're staying at your vacation rental in Destin Fl.
There are also hosts of other great Florida vacation spots not even mentioned on this page yet. For example:
Are also top locations in their own right. For more deals, visit our Florida deals page. 
Florida pet friendly vacation rental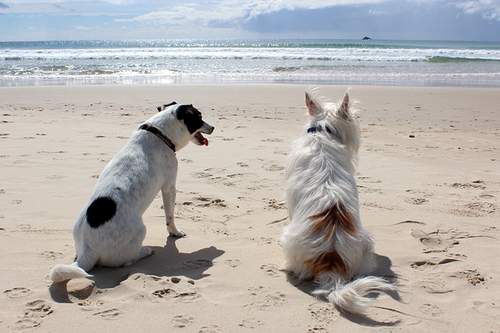 Another advantage for the family is that kids stay free (with a few conditions of course).
Florida Pet Friendly Beach Vacation Rentals

Check out Orlando Pet Friendly vacation at Motel 6 Kissimmee /Orlando - Main Gate
Destin Pet Friendly Vacation Rentals
Destin seems to have become more popular as a family pet friendly location since it featured on Good Morning America as one of the best vacation spots in the U.S.
Tang O Mar Winds - Pet Friendly Vacation Rental - Destin
This pet friendly beach vacation home is located walking distance to a private beach.
Sarah loves to check out all-inclusive resorts and find great packages and report about what real travelers are saying, Sarah is an indicative character created for the purpose of providing insights uncovered during our research.  These reviews are indicative of others first-hand experiences using our research methodology designed to uncover the best  (as opposed to those that are simply marketed as the best).

While our reviews are founded on real accounts and stories and thoroughly researched do your own research and exercise your best judgment when making travel decisions. And keep in mind all-inclusive packages are always changing.