Destin Florida All-Inclusive Resorts
Destin Florida All-Inclusive Resorts
Looking for Destin Florida All-Inclusive Resorts?
As the great hand of the Florida Panhandle stretches into the Gulf of Mexico, it cradles a gem within its gentle grasp. This gem, none other than Destin.
As I alight on this Floridian paradise, I feel an unspoken promise in the air – the promise of a journey that will be as transformative as it will be enjoyable. This tiny, town on  the Emerald Coast is home to more than just breathtaking beaches; it's a sanctuary for soul searchers, much like myself.
Also see All-Inclusive Pensacola Beach Resorts
All Inclusive Resorts in Destin
Note: While these resorts offer a wide range of amenities and services, none of them are fully all-inclusive but rather many offer packages. See our Florida all-inclusive resorts review for more traditionally all-inclusive properties.
The Henderson Park Inn
Henderson Park Inn: Located directly on the beach, this charming inn is perfect for couples seeking a quiet getaway. Its adult-only policy ensures tranquility, and the endless supply of water bottles is a thoughtful touch. Bonus: access to amenities at the neighboring property.
The Henderson Beach Resort: Ideal for both families and couples, this resort boasts beautiful grounds and its private beach. The staff is friendly and helpful, making it great for those looking for a relaxing, hassle-free vacation.
Sandestin Golf and Beach Resort: This resort is a haven for golf enthusiasts, offering four award-winning golf courses. With a full kitchen and laundry facilities in every room, it's great for extended stays and families looking for the convenience of home-like amenities.
Fairfield Inn & Suites by Marriott Destin: A clean, no-frills hotel with a small gym, indoor and outdoor pools, this place is perfect for budget-conscious travelers. It continues to deliver on comfort and efficiency.
Sundestin Beach Resort: This resort features a 24-hour desk, gift shop, and a little cafe, providing convenience and comfort. With no resort fees and free parking, it's a budget-friendly choice for families and couples alike.
Club Destin: With its well-kept pools and an appealing resort-like ambiance, this place is well-suited to families seeking an affordable and comfortable beach getaway.
Hilton Grand Vacations Club in Sandestin Golf and Beach Resort: This resort offers spacious rooms, an excellent pool, and friendly staff. It's perfect for travelers looking for a resort experience with the Hilton stamp of quality and reliability.
Hidden Dunes Beach & Tennis Resort: A family-oriented property with beautiful fountains and a large pool, this resort suits families who enjoy tennis and seek a peaceful beach holiday with home-like amenities.
Pelican Beach Resort: Known for its welcoming staff and cleanliness, this resort is a favorite among families. Its close proximity to the beach makes it a great choice for beach lovers.
Club Wyndham Majestic Sun: A resort that offers garage parking, easy beach access, and a full kitchen in every room, it's ideal for families who value security, convenience, and the independence to prepare their own meals.
Silver Shells Beach Resort & Spa: While the resort itself might have a few hiccups, unit 801 is highly recommended for its top-notch renovations and oceanfront location. Best suited for those seeking luxury accommodations within a resort.
The Village of Baytowne Wharf at Sandestin Golf and Beach Resort: Despite some maintenance issues, this resort offers plenty of activities for kids. It's best suited for families who prioritize fun and activities over pristine conditions.
Find the best deal, compare prices, and read what other travelers have to say at Tripadvisor about Destin FL Resorts
Find All-inclusive Resort Packages in Fort Walton Beach - Destin, FL on Expedia
Hilton Sandestin Beach Golf Resort & Spa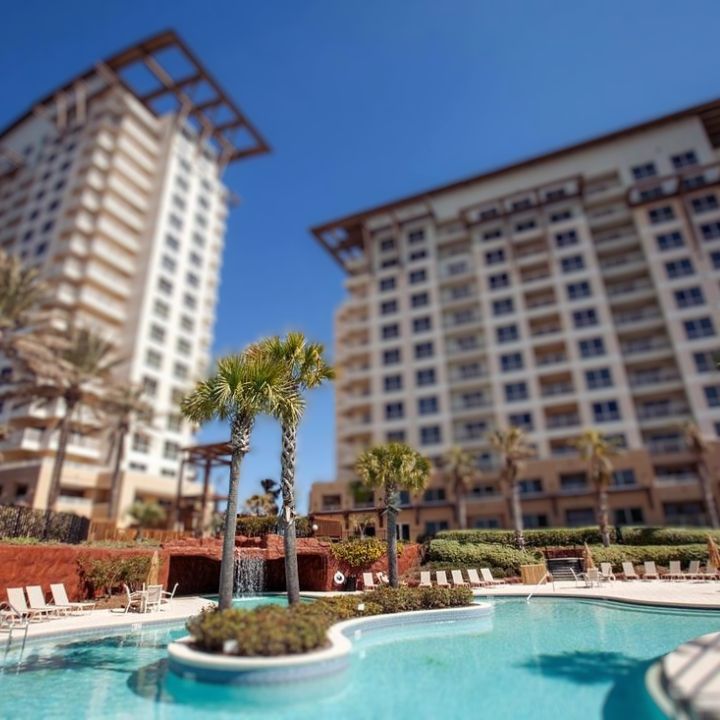 The only resort listed as all-inclusive on travel sites. 
The Hilton Sandestin Beach Golf Resort & Spa is a stunning 4-star family-friendly haven nestled in the tranquil suburbs of Miramar Beach. Golfers will find this suburban gem, complete with its own golf course, to be paradise. For those keen on staying active, opportunities abound with volleyball, rowing, canoeing, and aerobics.
At the heart of this resort lies the Serenity by the Sea Spa, a haven of relaxation and self-care. Here, you can indulge in a refreshing facial, body treatment, or a manicure/pedicure. Dining is an experience in itself with five onsite restaurants offering a range of cuisines. Yoga enthusiasts can start their day with a class at the health club.
The 590 rooms at the Hilton Sandestin provide comfort and luxury in abundance, including air conditioning and laptop-compatible safes. The hypoallergenic bedding and pillowtop mattresses in all rooms ensure a restful night. Bathrooms come equipped with free toiletries and hairdryers, while HDTVs with premium channels offer entertainment.
This resort is a dream for those wanting to explore Florida's famed Gulf Coast. Just a stone's throw away from Destin, it's a gateway to the beautiful white sand beaches and charming coastal communities connected by the scenic road of Highway 30A.
This resort caters to all kinds of travelers, but it particularly suits families seeking a convenient and diverse beach vacation with activities for all ages. Golfers will also find it an exceptional choice, given the world-class golf options in nearby.
Image: Hilton Sandestin Beach Golf Resort & Spa
Hilton Sandestin Beach Golf Resort & Spa: Review
Location: 4/5 Sprawling. Suburb meets sea at Hilton Sandestin Beach Golf Resort & Spa, Northwest Florida's giant. Easy access, yet a peaceful retreat. Natural lovers may seek more wilderness.

Accommodation: 5/5 Luxurious seclusion. Every room, be it King Bed Suite or Presidential, a sanctuary of comfort. Steps away from a dance with the waves.
Amenities: 5/5 Serenity by the sea Spa, the epicenter of rejuvenation. For thrill-seekers, beach volleyball beckons, or perhaps a canoe ride on the tranquil lake. Spacious golf courses for swing perfection, a blend of adventure and relaxation. Could do with more diversity.
Service: 4/5 Service at Hilton Sandestin speaks of professionalism. Staff ready, helpful, but occasionally the pace slows during the rush.
Value for Money: 4.5/5 High on the scale but matches with quality. Premium service, location, amenities justify the expense.
Gateway to the Gulf Coast. Close to Highway 30A, leading to emerald beaches, gourmet dining, charming boutiques. Nestled since its inception in the 70s, Hilton Sandestin has grown synonymous with grand beachfront living. Ideal for families, couples, and golf enthusiasts. Luxury meets adventure, makes memories.
Find the best deal, compare prices, and read what other travelers have to say at Tripadvisor
This place may not promise an all-inclusive experience, yet its charm goes beyond that typical label. As I strolled the golf course, I was struck not just by its design, but by the interplay of human desire to master nature, and nature's subtle reclamation of each corner not continuously tended. The beach, with its virginal white sands and restless waters, held me captive - a tangible poem of earth and water.
The Henderson Park Inn
See the inclusive offers at The Henderson Park Inn including some with meals.
Henderson Park Inn Review: A Love Affair with Tranquility
Location: 4.5/5
Henderson Park Inn, tucked between the unspoiled splendor of a state park and a private beach, offers a location that is nothing short of a love letter to nature. Its balance between the attractions of Destin and the solitude of the adjacent park is an irresistible dance of contrast - of serenity and excitement, isolation and accessibility. The seduction of the beachfront is potent, yet for those with a penchant for city life, the tranquil location might feel a touch too secluded.
Accommodation: 5/5
Every room in this exquisite inn is a testament to the harmonious marriage of comfort, elegance, and a home-away-from-home ambiance. Each accommodation tells its own story and has its own heartbeat, making every stay not just unique, but personal. Views of the emerald waters are as rejuvenating to the soul as the amenities are to the body.
Amenities: 4/5
The amenities at Henderson Park Inn offer an intimate embrace rather than a grand spectacle. The resort's focus is on creating memorable experiences - be it beachside services, indulgent breakfasts, or cocktails kissed by the setting sun. Although the absence of a wellness center or a pool might be noticeable to some, the call of the sea and the gentle whisper of nature more than make up for it.
Service: 5/5
Service at the Inn is like a warm, consistent, comforting hug. The staff, ever so friendly and welcoming, walk the extra mile to cocoon you in comfort and care. The attention to detail and personalization is not merely professional service but a connection, turning guests into extended family.
Value for Money: 4.5/5
Henderson Park Inn's value proposition is not just about dollars and cents. It's about the bliss of serenity, the melody of the sea, the comfort of top-notch service, and the solace of exquisite rooms. While the pricing might lean towards the upper end, the memories crafted here are truly priceless.
The Henderson Park Inn is a perfect sanctuary for those seeking peace and luxury, delicately folded into a beachfront experience. It sings a siren song to couples and solo travelers, offering a place to eat the freshest food, pray amidst the rhythm of nature, and love every moment of existence. This is a corner of the world where one can reconnect, not just with themselves, but with the heartbeats of the universe.
Find the best deal, compare prices, and read what other travelers have to say at Tripadvisor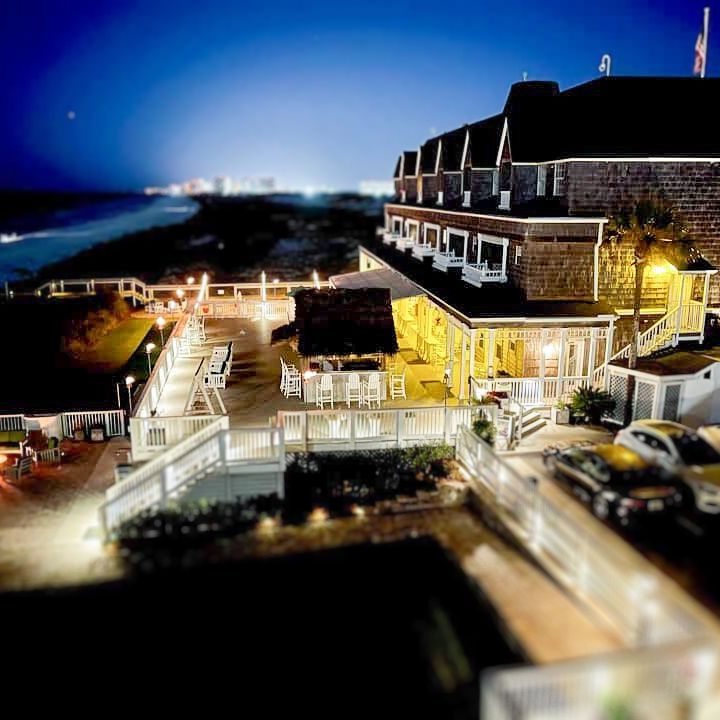 The Henderson Park Inn
Vlogger Review of The Henderson Park Inn
Vicky FlipFlop, the vlogger, visited the newly opened Henderson Park Resort Hotel. She highlighted the ongoing construction of vacation rental lofts, the diversity in accommodation options, and the family-friendly atmosphere. She appreciated Destin as a relaxation destination, ideally situated for a post-city tour unwind or a follow-up to Orlando's theme parks.
She indulged in a relaxing spa session involving a body scrub wrap and an exquisite massage. Her room in the Henderson Park Inn boasted a luxurious experience with a Jacuzzi bath, a coffee machine, and Lindt chocolates on the pillow.

She appreciated the resort's environmental commitment, demonstrated by the protected land around the resort. Despite missing a cooking class due to her spa schedule, she got to enjoy a stunning beach view during cocktail hour. The vlog emphasized the resort's romantic atmosphere, making it an ideal getaway
Henderson Beach Resort
The Henderson Beach Resort & Spa, a five-star luxury resort in the Crystal Beach neighborhood of Destin, Florida, promises an indulgent beachfront experience with impressive amenities. It's conveniently located near the airport and within proximity to Regatta Bay Golf and Country Club and Indian Bayou Golf Club.
The resort features a private white sand beach, a beach bar, poolside bar, and a rooftop terrace. The on-site spa offers treatments like sports massages, aromatherapy, and body scrubs. Guests can dine at one of the four on-site restaurants and enjoy activities like beach yoga, surfing, and bodyboarding.
A 24-hour gym, featuring yoga and aerobics classes, is available for those looking to stay active. Guests can also enjoy two outdoor pools, a children's pool, a lazy river, and free cabanas. Other perks include free bike hire, valet parking, and in-room WiFi. For shopping enthusiasts, the resort offers on-site stores.
The resort offers a range of package deals, including a minimum 2-night stay with a $100 food and beverage credit and up to 20% off. They also offer weekday getaways, senior rates, and special breakfast offers.
All 170 rooms are designed with comfort in mind, offering amenities like 24-hour room service, premium bedding, furnished balconies, and air conditioning. The resort is known for its helpful staff and commendable service, as highlighted by guest reviews.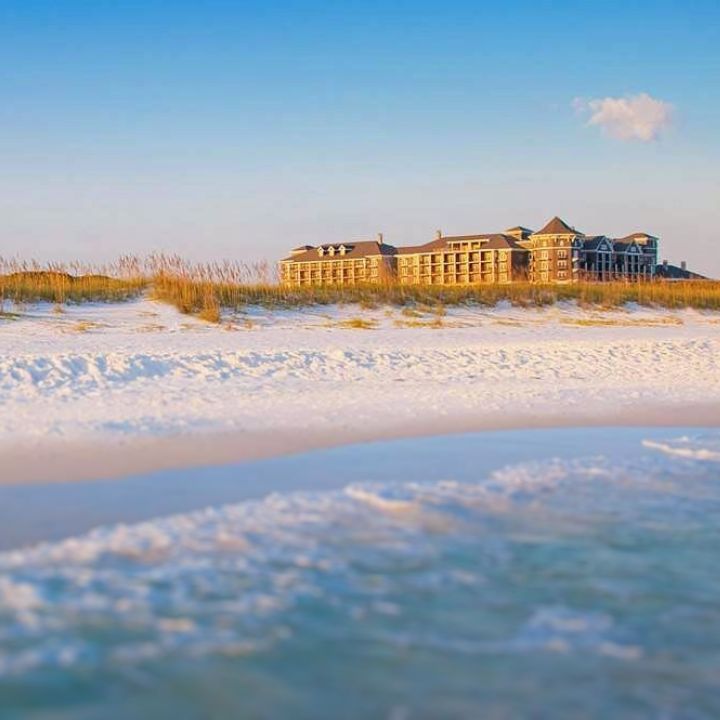 Henderson Beach Resort
Find the best deal, compare prices, and read what other travelers have to say at Tripadvisor
Review Henderson Beach Resort & Spa
The first time I caught a glimpse of the Henderson Beach Resort & Spa, it was from the window of a clunky airport shuttle. The Florida sun was sinking low on the horizon, painting the sky a canvas of fiery oranges and pinks that sparkled on the surface of the azure Gulf of Mexico. I'd heard about this five-star sanctuary nestled in the heart of Destin, but seeing it for the first time was like stumbling onto an oasis.
I'd come on a quest of relaxation and culinary exploration, armed with curiosity and a hearty appetite. From the eccentric cocktail mixologist to the taciturn fishermen hauling in the day's catch, each person I met had a story woven into the tapestry of the resort's charm.
One evening, over dinner at one of the resort's four gourmet restaurants, I met Maggie. A woman in her late fifties with sparkling emerald eyes, her infectious laughter filled the space. She was a local, born and bred, who had watched the Henderson Beach Resort blossom from a far-off dream into the stunning reality it is today. Over plates of perfectly seared scallops and mugs of rich, frothy lattes, she shared her memories of Destin before the resort came to life.
It was those stories that flavored my stay more than any seasoning. And though I savored each bite of succulent seafood and relished each sip of crisp Sauvignon Blanc, the narratives I absorbed were the real feast. Stories of fisherman wrestling grouper off the coast, of beach yoga sessions that stretched into vibrant sunsets, and of the laughter of children as they splashed about in the resort's lazy river.
The resort, with its warm white sand, relaxing beach yoga, and surf-friendly waves, is an ideal destination for nature lovers, adventurous souls, and food enthusiasts. But if you're someone seeking a more diverse city vibe, you might want to consider the all-inclusive resorts in Miami or the all-inclusive resorts in Orlando instead.
One morning, while enjoying a blissful beach yoga session, I met a family from New York. Their kids, gleefully building sandcastles and chasing seagulls, reminded me of how rejuvenating such experiences can be. At that moment, I realized that the resort doesn't just provide a luxury stay, it curates a series of memorable moments. It caters to those who appreciate tranquility and value experiences over material possessions.
From its luxurious rooms with furnished balconies and the on-site spa offering sports massages to the free bike hire service for exploring the surrounding nature, Henderson Beach Resort is a realm of its own. It's a place that infuses your travel experience with narratives, moments, and memories that you'll relive long after your suntan has faded.
Every journey ends, but the stories we collect become part of us. As I boarded the plane back home, my heart was heavier with the fond farewells but lighter with the memories I'd made. The Henderson Beach Resort was no longer just a place; it had become a chapter in my own story, woven into the fabric of my adventures. - Sarah
Destin, FLorida as a Destination Review from Sarah
As Sarah, the New York-based travel writer, I stepped off the plane and into the sultry heat of the Sunshine State, the air laden with a briny sea tang and a promise of unexplored adventure. As a girl of concrete jungles, the allure of Destin's emerald waters and sugary white sands was irresistible. I was embarking on an all-inclusive journey in Destin, Florida, the "World's Luckiest Fishing Village" turned beach paradise.
My resort of choice was the Sandestin Golf and Beach Resort, an all-encompassing entity boasting four award-winning golf courses, multiple dining options, and a seductive stretch of private beach. As I stepped into my beachside villa, the view was a dreamy vista of emerald green waters lapping at the white sandy shore - an artist's palette come alive. My heart rate: 4.8/5, as my city-bred heart found tranquillity it never knew it sought.
The first morning in Destin introduced me to its culinary delights. The aroma of Southern-style grits wafted through the resort's restaurant, while I feasted on Apalachicola oysters, freshly harvested and tasting of the sea. Anecdotes from locals revealed the rich fishing heritage that gifted Destin its diverse and mouthwatering seafood culture. For a seafood lover like me, it was heaven.
Each day unveiled a new side of Destin. I indulged in rejuvenating spa treatments, laughed with fellow tourists during dolphin-watching excursions, and cheered at local seafood festivals. My adventure-seeking spirit found satisfaction in paddleboarding lessons, while my curious side relished the intimate local stories shared by my paddleboarding instructor, a Destin native. The all-encompassing experience at Sandestin Golf and Beach Resort earned a solid 4.5/5.
As the sun painted hues of orange and purple across the sky, my last evening was spent with sand between my toes, reminiscing the rich tapestry of experiences. But for travelers seeking a nightlife hub, I'd suggest Miami's glitzier resorts. For me, Destin, with its laid-back charm, stunning landscapes, and all-inclusive comforts, had quietly stolen my heart. After all, don't we all travel seeking to find pieces of ourselves we never knew existed? In the tranquility of Destin's beaches, I found a piece of me that loved the slow, savored, sun-soaked moments. That piece was here to stay.
Things to Do in Destin, Florida
As the sun painted the Floridian sky with hues of apricot and rose, I found myself pulling into the sandy driveway of a quaint beach house in Destin, Florida. An adventure was knocking on my door, and being the curious travel writer I am, I readily invited it in. I had packed my bags, left the bustling cityscape of New York, and headed south to immerse myself in the tranquility of the Emerald Coast.
My first morning in Destin had me venturing out early, eager anticipation bubbling within me. With a rented bicycle, a map, and a heart full of enthusiasm, I embarked on my Destin journey. The salty sea air filled my lungs as I pedaled along Scenic Highway 98, a path known for its picturesque ocean views.

My first stop was the famed Henderson Beach State Park. The moment my toes touched the powdery white sands, I felt a rush of pure serenity. Emerald waves rhythmically kissed the shoreline, a soothing soundtrack to the peaceful morning. A spontaneous conversation with a local fisherman led to a quick lesson in surfcasting, a popular activity amongst Destin's residents. I cast my line into the sea, the morning sun glinting off the roiling waves. I may not have caught anything, but the shared laughter and camaraderie were enough of a catch for me.
Biking further, I found myself at the heart of Destin's Harbor Boardwalk. The air here was infused with a blend of aromas: fresh fish from the market, sizzling treats from food trucks, and the ever-present salty tang of the sea. A local food truck, Brotula's Seafood House & Steamer, tempted me with their catch of the day—perfectly grilled grouper with a zesty lime drizzle. Every bite was a delightful dance of flavors, transporting me straight into Destin's vibrant culinary culture.
One cannot speak of Destin without mentioning its vibrant underwater world. Inspired by the stories of a group of enthusiastic divers at the harbor, I decided to delve beneath the waves. A quick trip to the Emerald Coast Scuba had me fitted for a diving suit and gear. My dive was a kaleidoscopic journey, complete with a chorus of curious fish, shy seahorses, and an enchanting display of coral formations.
As I resurfaced, I was greeted by the sinking sun casting a golden glow over the horizon. My day in Destin was coming to an end, but the memories of scenic bike rides, shared laughter with locals, culinary delights, and the magical underwater world, were deeply etched in my heart.
Destin proved to be more than just a beach getaway; it was a community brimming with life, warmth, and unique experiences at every corner. Whether you are an adventure seeker, a foodie, or someone seeking solace in nature's beauty, Destin welcomes you with open arms.
If, however, you are a history enthusiast, St. Augustine, a little further east in Florida, may satiate your thirst for knowledge with its rich past and ancient fortresses. But for me, Destin was the perfect blend of tranquility, adventure, and local culture. A place that has become a part of my travel stories, and a part of me.
Here are the top things to do in Destin, Florida:
Visit Henderson Beach State Park: With its pristine white sand and emerald green waters, this state park is perfect for a day of relaxation, sunbathing, or fishing.
Stroll Along Destin Harbor Boardwalk: Explore shops, restaurants, and local vendors along this bustling waterfront boardwalk. You may even catch a magical sunset.
Explore Destin History & Fishing Museum: Delve into Destin's past and its rich fishing culture.
Go Fishing: Known as the "world's luckiest fishing village", Destin offers ample opportunities for fishing. You can rent a charter boat or try your hand at shore fishing.
Dive or Snorkel: Experience the vibrant underwater world of Destin with a scuba diving or snorkeling trip. Numerous dive shops offer equipment and guided tours.
Water Sports at Crab Island: An underwater sandbar, Crab Island is a popular spot for water sports, floating food vendors, and live music.
Visit Gulfarium Marine Adventure Park: Enjoy dolphin shows, feed penguins, or have close encounters with other marine life in this educational and interactive park.
Golfing: Destin has several world-class golf courses suitable for both beginners and experienced players.
Try Local Seafood: Destin is known for its fresh seafood. Make sure to dine at a local seafood restaurant or try the catch of the day from a food truck.
Shopping at Destin Commons: This open-air shopping center has a range of stores, eateries, and entertainment options, including a movie theater.
Explore the Village of Baytowne Wharf: This picturesque village offers a variety of dining and entertainment options, including ziplining, rock wall climbing, and live music events.
Go Parasailing: For the adventurous, parasailing provides breathtaking views of Destin and the surrounding Gulf of Mexico.
Scorecard fror Destin All-Inclsusve Resorts
Here's a quick scorecard for all-inclusive resorts in Destin, Florida. Note that while these resorts offer a wide range of amenities and services, none of them are fully all-inclusive in the same way resorts in destinations like Mexico or the Caribbean might be.
Henderson Beach Resort & SpaAccommodation: 9/10Food & Drink: 8/10Activities & Amenities: 9/10Not Truly All-Inclusive: 2/10
Sandestin Golf and Beach ResortAccommodation: 8/10Food & Drink: 7/10Activities & Amenities: 8/10Not Truly All-Inclusive: 2/10
Emerald Grande at HarborWalk VillageAccommodation: 8/10Food & Drink: 7/10Activities & Amenities: 8/10Not Truly All-Inclusive: 2/10
Pelican Beach ResortAccommodation: 7/10Food & Drink: 6/10Activities & Amenities: 7/10Not Truly All-Inclusive: 2/10
While these resorts offer many amenities and services, they do not provide a fully all-inclusive experience. This means that things like meals, drinks, and certain activities may not be included in the initial cost and will be an additional charge.
If you're seeking a true all-inclusive resort experience, you may want to consider destinations like Mexico, the Dominican Republic, or Jamaica. These locations are known for their large number of all-inclusive resorts that cover everything from your meals and drinks to a variety of activities and entertainment, all included in the upfront cost.
💼 We cherish our independence! ✈️ Our travel recommendations are carefully researched, bias-free, and powered by human expertise by April and Ricky of LRB (we have personally researched and travelled to many of these destinations and researched others thoroughly through first-hand accounts). 🌍✨
We try to keep everything up to date, but please always do your own research and contact us if you know any issues for us to help others as best we can as a small but professionally focused team! 🧐📚⚠️