Cancun Honeymoon All Inclusive
Cancun Honeymoon All Inclusive
We don't think it's a stretch to say that Cancun is the best place on earth to honeymoon. With the bluest water, the whitest sands, and the most idyllic weather you have ever stepped off a plane into, the jewel of Mexico's Yucatán Peninsula does not disappoint.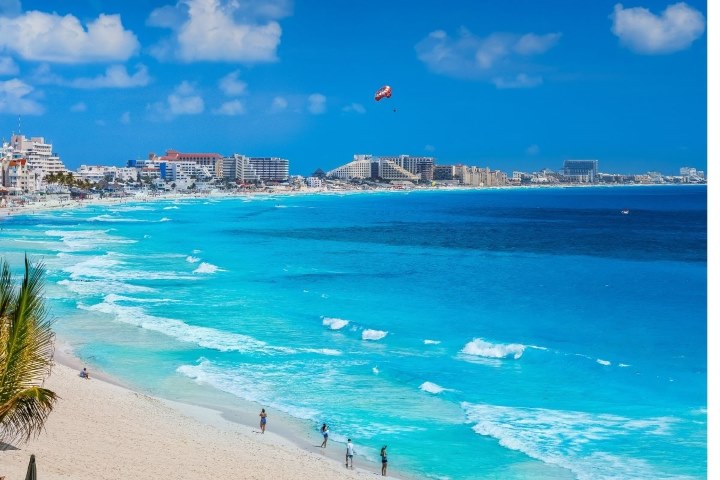 Proving why Cancun is now the world's premium destination to honeymoon (move over Hawaii), we've got a tantalizing list of all-inclusive resorts that cater to swooning couples.
From the effortlessly chic to the ultra-exclusive and party-centric, each of the four and five-star resorts featured below know exactly how to make post-wedding getaways unforgettable.
By keeping the outside world at arm's length and giving your love bubble its space, it's best to think of these high-flying resorts as the butter to your honeymoon.
The question now isn't where you're going, it's which resort feels the most like you, and a lot of honeymoon.
Sun Palace is a place where romance isn't just adhered to, it's championed. This couples-only all-inclusive has found the secret recipe for keeping romance alive, and they serve it to honeymooners any chance they can get. 
Take, for instance, the Superior Honeymoon Suite which leans on opulent amenities to be brilliant.
Imagine you and your loved one sharing a bottle of bubbly in your room's double whirlpool tub with unspoiled ocean views in front of you, and this is the kind of dreamscape that becomes reality at Sun Palace.
Other romance-centric aspects of staying in the Superior Honeymoon Suite include a waiter at your private beach lounge area, a selection of the world's most premium liquors, nightly petit fours, a specialty pillow menu, and this is just the tip of their luxuriously-crafted iceberg.
The all-inclusive experience at Sun Palace, is, quite frankly, so much more enticing than a standard all-inclusive, it's a stretch to even put them in the same bracket.
World-class chefs serve high-end gastronomy from four in-resort restaurants, breakfast, lunch, and dinner. Sun Palace also employs elite mixologists to serve you cocktails as you've never sipped before.
It's true, the proof is in the pudding, and every finer dining detail looks, smells, and tastes different at Sun Palace. 
When you're not eating, drinking, and enjoying the spoils of your honeymoon suite, there are plenty of opportunities to keep busy at Sun Palace.
Whether that means getting a full day of pampering at the resort's super-serene Awe Spa, getting a cheeky round of golf in at the Jack Nicklaus-designed 27-hole golf course, an early morning gym session, or some thrilling watersports, your thirst for excitement will be quenched at Sun Palace.
We could go on and on about this pillar of honeymoon luxury, but that would only get in the way of you and your newlywed trip of a lifetime, and we certainly don't want that.
Spread out over 250 acres of beautifully-kept oceanfront grounds between Cancun and Riviera Maya, Haven Riviera is a sophisticated 5-star that's strictly adults-only.
If you do have kids, it's best to leave them at home with a responsible family member, because Haven Riviera is a place to escape the rat race and child-minding life.
Thoughtfully located just outside of town, and as the namesake suggests, Haven is a secluded haven of immense extravagance. 
Ditching the idea of "standard" by fitting every room suite-style, it's clear Haven doesn't deal in second-best, because you shouldn't either.
The commitment to their romantic suites is nothing short of bewildering, with private swim-up pools, balconies, whirlpool tubs, and furnishings that can only be described as contemporary-chic.
Each suite has picturesque ocean views and a private Butler that is ready to tend to your every need and arrange personal aromatherapy sessions and premium upgrades. 
Dining at Haven Riviera is an experience all in itself with four stupendous restaurants that take you on a culinary journey of the highest tasting order.
Start your week sampling Southern Europe's finest eats at Olios Mediterranean, then sit down to the finer side of authentic Mexican at Agua Bendita, Asian fusion at Satsu, and Vora Mar's dedication to high-grade Trattorian cuisine. 
Specializing in both high-end wedding and honeymoon experiences - imagine having a Haven wedding, then saying "bye-bye" to your family and friends, and staying on for an extra week in paradise.
Of course, a resort as luxurious as Haven Riviera doesn't come without its hit to the back pocket.
But, you only honeymoon once (hopefully) in life, and cherishing memories made at Haven will help any married couple weather the storms likely to come their way.
Where Haven Riviera is the tucked-away slice of secluded Cancun, Temptation is front, center, and ready to party.
This adults-only party resort has been designed by "sensual minimalism" concept creator/ mover and shaker Karim Rashid, bringing a sensual side to architecture.
Inspired by the human body, the entire 430-room super hotel has been designed with sensuality in mind. Elegant curves and bright colors tantalize the senses into a stimulated state of sensuality. 
Yes, we know, and we get it, a party resort may not be the first choice for prospective honeymooners, but hear us out first. For any recently-hitched couples who want their space in the day, and to cut shapes at night, Temptation is the place for you.
The resort puts dining in style and romance first, with a staggering seven restaurants that offer 15 cuisines from around the world. Their signature restaurant "She" is an aphrodisiac-induced dining experience unlike any other.
The ever-changing set menu is a sultry mix of dishes proposed with evoking a sense of pleasure that couples simply can not resist first, and themselves second.
That's right, this is a couples-only restaurant that is deliciously erotic and perfect for honeymooners who prefer a racier style of dining. 
If you were wondering whether a night at She is included in the all-inclusive package, yes, yes, it is.
On top of the most sensual meal of your life, the all-inclusive features a jaw-droppingly long list of services, amenities, and activities to make your honeymoon fun and exciting.
Get ready for spicy nightly entertainment that typically presents resident and international DJ's spinning tracks while performers put on a show that can only be described as "wow".
With two swimming pools, a string of in-resort bars, 24-hour room service, round-the-clock meal service, and daily organized activities that air to the side of adult-centric - Temptation is a place where singles mingle and couples cut loose, making memories and friends for life
If Temptation sounds a little intense for your honeymoon (we don't blame you) and Now Emerald is here to take care of your quieter desires.
Now Emerald is a super-luxe 5-star nestled into Cancun's famed Hotel Zone. Their all-inclusive experiences have an unlimited dining and drinking policy, and with eight restaurants and bars in-resort, it'd be rude not to make good use of this policy. 
In terms of honeymoon packages, Emerald has two. Choose between the Honeymoon Bliss and Do Not Disturb Honeymoon packages, depending on how exclusive you want to make your stay.
The Do Not Disturb brings out all the bells, whistles, and streamers to give you a supreme experience, while the Bliss still gets you breakfast in bed, just for a whole lot less.
If you do go all out and down the Do Not Disturb route, expect sparkling wine, fresh flowers, and fruit on arrival to set your stay off with a bang.
On top of an impactful first impression, this package features an extra-special turndown service, a couples massage spa treatment, nightly petit fours, a romantic beachfront dinner, a daily breakfast in bed, and every finer detail that the standard Now Emerald all-inclusive includes.  
Now Emerald has a notable range of room types that include a mix of deluxe and suite rooms.
The stakes get raised considerably on the ultra-plush Preferred Club upgrade. Booked with the Do Not Disturb Honeymoon experience, this may just be the most impressive honeymoon package in existence. 
On top of typical room amenities like daily mini-bar refreshers, 24-hour room and concierge service, private balcony or terrace, and hydro tub, Preferred Club is a clear cut above.
Think upgraded room and room location, access to the super-exclusive Preferred Club Lounge, exquisite desserts, high-end liquors, upgraded bath amenities, robes, slippers, you name it, and Preferred Club will present you with it.
There's nothing left to say, except now, book Now Emerald now, because Cancun's dipping sun waits for no one.
Doing the Hyatt Dynasty proud, Hyatt Zilara is another premier 5-star hotel located in the lively Hotel Zone of Cancun.
This adults-only, all-inclusive resort comprises 310 luxury suites that don't skimp on a thing. Contemporary decor with a refined sense of style floods your senses as the unspoiled ocean views elevate them.
Whether you'd prefer a swim-up suite, a luxury ocean view, or maybe even the presidential, Hyatt Zilara is eager to accommodate. 
A recurring issue with all-inclusive resorts is the repetitive nature of their food, but at Hyatt Zilara, this couldn't be further from the truth.
From authentic Mexican, gourmet Asian, Caribbean seafood, wood-fired pizzas, alfresco dining, and the multi-course haute cuisine of the Chef's Table dining experience, your honeymoon will be an enthralling one, come dinner time. 
Staying active is a great idea on your honeymoon. Because, not only will it ensure you have a ravenous appetite to make light work of all that was mentioned above, but it's also the best way to make memories.
Sitting around the pool is fine for an afternoon or two, but with a string of fun-filled activities ready to entertain and delight you, it seems silly not to get involved.
Challenge another couple to a game of ping-pong, throw your thinking-cap into trivia evening, dance to the nightly entertainment, get wet and wild at the daily watersports - however, you look to get your kicks, Hyatt Zilara is ready to lead you there. 
One way to make your honeymoon extra special at Hyatt Zilara is to sign yourselves up for their romance package.
With a personal romance concierge ready to plan out your week with moonlit dinners, couples beach massages, and the rest, there is, simply put, no other honeymoon like a Hyatt Zilara honeymoon.
Summary



We hope, by now, that you've gathered an idea as to the "why" behind our bold starting statement.
Through an impressive selection of four and five-star adults-only, all-inclusive resorts, Cancun is a paradise for honeymooners from all walks of life.
Whether you're looking to inflame the senses at a place like Temptation or fall into an unrestrained level of luxury at Haven Riviera, we've said it once, and we'll say it again - Cancun is the best place on earth for a honeymoon.
So skip the over-done Hawaiian-island brochure, and after the deed is done and the rings are on, fly your loved-up selves to Cancun and try to wipe the smiles off your faces, after picking your jaws up off the floor, of course.