Xcaret Mexico All Inclusive Resorts
Xcaret Mexico All inclusive Resorts
Xcaret, is a mesmerizing natural waterpark located near Playa del Carrmen where you can stay at our nearby Xcaret all-inclusive resorts.
Exploring Xcaret on the Riviera Maya in Mexico is an immersive journey that harmonizes nature, culture, and adventure. This captivating ecological and cultural park seamlessly integrates with the lush surroundings, offering visitors an unforgettable experience.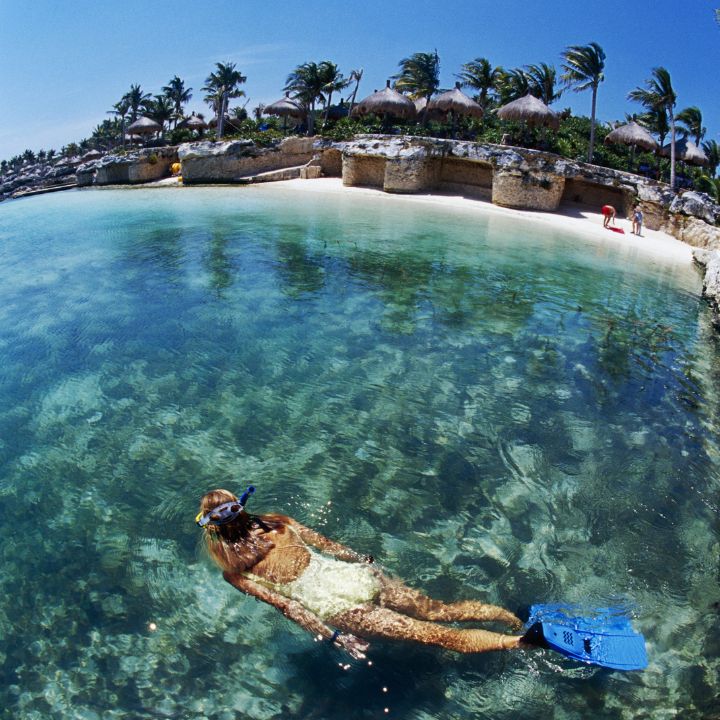 Xcaret Mexico
1. Hotel Xcaret Arte
Hotel Xcaret Arte - A Cultural Haven by the Caribbean Sea
I arrived at Hotel Xcaret Arte with high expectations, eager to immerse myself in the artistic richness and sustainability of Mexico. This beachfront resort, located along the stunning Riviera Maya in Mexico, promised to be more than just a place to stay—it was an experience in itself.
The resort's dedication to Mexican artistry was evident from the moment I stepped foot into its magnificent premises. With 900 adults-only suites, each inspired by renowned Mexican artists, Hotel Xcaret Arte celebrated the country's intriguing culture. The accommodations were a testament to luxury and comfort, adorned with authentic Mexican decor and offering a range of organic amenities. The attention to detail in curating these spaces made my stay truly unparalleled.

One of the standout features of Hotel Xcaret Arte was its culinary offerings. With 10 gastronomic experiences curated by Mexico's finest Gastronomic Collective, my taste buds were treated to a journey through the rich flavors and textures of Mexican cuisine. From the inventive creations of Paco Méndez to the culinary masterpieces of Roberto Solís, each dining experience was a true work of art, crafted by passionate and talented chefs.
Beyond its culinary delights, Hotel Xcaret Arte offered a range of activities and amenities that catered to all interests. The resort's commitment to eco-integration was evident in its architecture, seamlessly blending with the surrounding natural environment. Guests had access to five freshwater pools, a saltwater pool exclusively for adults, and a private cove with smooth white sand, providing the perfect backdrop for relaxation.

For art enthusiasts like myself, the resort's Casa experiences were a true delight. Each Casa represented a different aspect of Mexican culture, from textile workshops in Casa del Diseño to painting workshops in Casa de los Artistas. Exploring these Casas awakened my senses to the authenticity and beauty of Mexican art.
During my stay, I took advantage of the resort's All-Fun Inclusive concept, which granted me unlimited access to the beloved Xcaret eco-archeological park and seven other iconic parks in Cancún and Riviera Maya. From snorkeling through ancient caves to exploring a Mayan village, these experiences allowed me to fully immerse myself in the natural wonders of the region.
The resort's commitment to the well-being of its guests was evident in its Muluk Spa, a sanctuary nestled amidst natural rock formations. Here, I indulged in rejuvenating hot tubs, soothing saunas, and a variety of body and facial treatments. The spa's tranquil ambiance and expert therapists left me feeling truly refreshed and renewed.
While the resort provided an exceptional experience overall, there were a few areas that could benefit from improvement. Some guests have reported additional charges for certain services, and occasional concerns regarding room cleanliness and service responsiveness. These factors, though not widespread, are worth considering for potential travelers.
Hotel Xcaret Arte is a haven for travelers seeking an immersive and culturally enriching experience. It is particularly suited for adults and young adults (16 years and older) who appreciate the beauty of Mexican art, gastronomy, and nature. Whether you're a lover of fine art, a food enthusiast, or simply seeking a serene retreat by the Caribbean Sea, Hotel Xcaret Arte promises a journey of discovery and inspiration.
Rating:
Location: 4/5
Accommodation: 4/5
Amenities: 4.5/5
Service: 3.5/5
Value for Money: 4/5
Find the best deal, compare prices, and read what other travelers have to say at Tripadvisor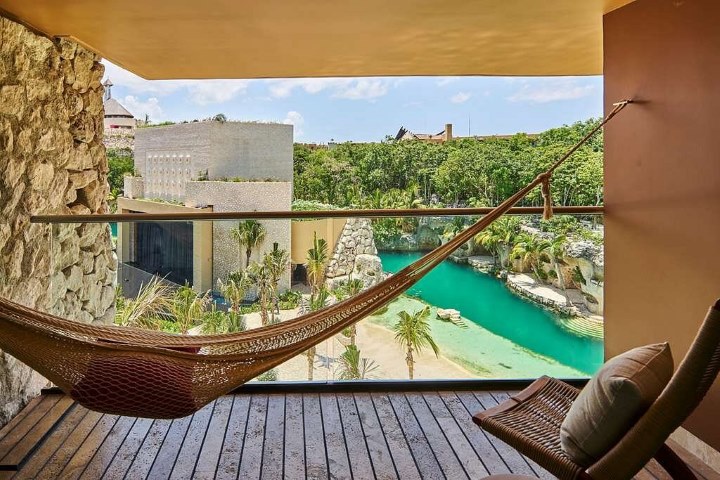 Occidental at Xcaret Destination, Riviera Maya, Mexico
Location: The Occidental at Xcaret Destination enjoys a prime location along the stunning Caribbean coast in Riviera Maya, Mexico. The resort's proximity to popular attractions such as the Xplor Adventure Park and Xcaret Park offers guests easy access to thrilling adventures and cultural experiences. Additionally, the resort is nestled amidst lush gardens, providing a serene and picturesque setting. While the location is convenient for exploring nearby attractions, it may be worth noting that the resort is a bit secluded from the hustle and bustle of major towns or cities.
Rating: 4/5
Occidental At Xcaret Destination
Accommodation: The resort offers cozy rooms and suites that provide a comfortable retreat for guests. The accommodations feature amenities such as free Wi-Fi, cable TV, and minibars, ensuring a pleasant stay. The private balconies or terraces offer lovely views of the resort's gardens or the Caribbean Sea. It's worth mentioning that some suites come with additional perks like whirlpool tubs and sea views, providing an extra touch of luxury. However, while the accommodations are comfortable, some guests have reported minor concerns about maintenance and room cleanliness.

Rating: 3.5/5
Amenities: The Occidental at Xcaret Destination boasts an impressive range of amenities that cater to guests' needs and desires. With 11 restaurants offering diverse dining options, guests can indulge in flavorsome culinary experiences. The five outdoor pools, including a saltwater pool exclusively for adults, provide ample opportunities for relaxation and rejuvenation. The resort's spa and wellness center offer a tranquil escape, with various treatments available to pamper guests. One unique aspect of the resort is its access to the Xcaret eco-archeological park, which allows guests to immerse themselves in the natural wonders of the region. However, it's worth noting that some guests have mentioned limitations or areas for improvement in terms of dining options and pool cleanliness.

Rating: 4/5
Service: The resort's service is generally commendable, with staff members known for their friendliness and willingness to assist guests. However, there have been occasional reports of service-related issues, such as delays in housekeeping or challenges in getting prompt assistance. While these instances are not widespread, they indicate room for improvement in ensuring consistent and efficient service throughout the resort.
Rating: 3.5/5

Value for Money: The Occidental at Xcaret Destination offers an all-inclusive experience, encompassing accommodations, dining, and access to various amenities. Considering the range of amenities, access to the Xcaret eco-archeological park, and the overall experience provided, the resort generally offers good value for the price it charges. However, it's essential to consider any additional charges for certain services and amenities, as well as the reported concerns regarding room cleanliness and service responsiveness.
Rating: 3.5/5
Overall, the Occidental at Xcaret Destination is best suited for travelers who appreciate a laid-back, all-inclusive beachfront resort experience. It is an excellent choice for families seeking a balance of relaxation and adventure, with its dedicated Kids Club, multiple pools, and proximity to popular attractions. Couples looking for a romantic getaway can also find solace in the resort's serene ambiance and access to the Xcaret Park. However, travelers who prioritize upbeat city life or desire a resort with flawless service and pristine accommodations may want to explore other options in the region.
Overall Rating: 3.7/5
Find the best deal, compare prices, and read what other travelers have to say at Tripadvisor
Arriving at Hotel Xcaret México, I felt an immediate sense of wonder and anticipation. Situated between the captivating Mayan rainforest and the mesmerizing Caribbean Sea, this resort truly embodied the essence of Mexico's natural beauty. The lush greenery and sensual flora surrounding the property created a serene and enchanting atmosphere that instantly transported me to a world of tranquility.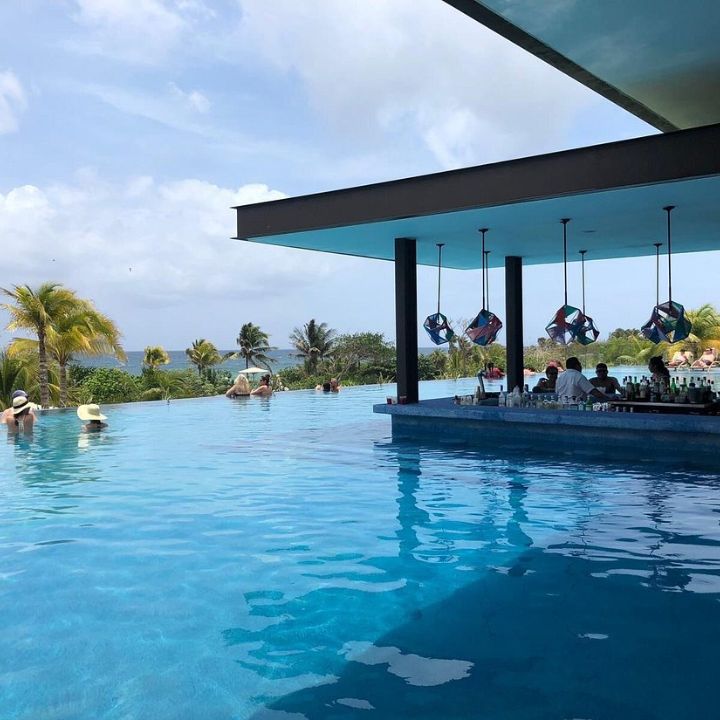 Hotel Xcaret Mexico
The allure of Hotel Xcaret México lies not only in its breathtaking location but also in its unique concept known as All-Fun Inclusive. This concept goes beyond the traditional all-inclusive experience, offering guests access to all the remarkable parks operated by Grupo Xcaret. It's like having a passport to adventure, allowing you to explore the wonders of the region at your leisure.
My first day began with a visit to the nearby Xcaret Park, where I immersed myself in the rich cultural heritage of Mexico. From awe-inspiring performances showcasing ancient traditions to exploring underground rivers and swimming in crystal-clear cenotes, every moment was a testament to the country's intense history and captivating folklore. The attention to detail and preservation of Mexican traditions at Xcaret Park left me in awe and deepened my appreciation for the country's rich cultural tapestry.

Returning to the resort, I found solace in the comfort of my suite within the Spiral Casa. The room embraced me with its elegant design and warm ambiance, complemented by stunning views of the Riviera Maya. As I relaxed on my private balcony, I couldn't help but feel a profound connection to nature, the soothing sounds of the nearby ocean lulling me into a state of blissful relaxation.
Days at Hotel Xcaret México unfolded with endless possibilities. I indulged in culinary delights at the resort's diverse dining venues, each offering a unique blend of traditional Mexican flavors and international cuisine. From mouthwatering street tacos bursting with authentic flavors to delectable seafood dishes prepared with the freshest ingredients, every bite was a symphony of taste that delighted my senses.
The Muluk Spa, nestled within natural caves, provided a sanctuary for rejuvenation and self-discovery. Surrendering to the skilled hands of the therapists, I experienced the transformative power of ancient healing techniques. The ethereal surroundings and the expert touch of the therapists transported me to a state of blissful serenity, melting away the stresses of everyday life.
Hotel Xcaret México is an ideal haven for nature enthusiasts, cultural explorers, and families seeking a truly immersive experience. Its commitment to sustainable tourism and the preservation of Mexico's natural wonders make it a resort that aligns with eco-conscious travelers. The All-Fun Inclusive concept ensures that every guest can fully immerse themselves in the magic of the region, exploring its breathtaking landscapes, traditions, and rich history.
For those seeking a more intimate and personalized experience, I would recommend considering La Casa de la Playa, a boutique hotel in Riviera Maya that offers tailor-made experiences and personalized service. This enchanting retreat embraces the Exclusively Your Way concept, promising an intimate escape tailored to individual preferences and desires.
In conclusion, Hotel Xcaret México is a gateway to the soul of Mexico, an immersive experience that captivates the senses and leaves a lasting impression. From the harmonious blend of nature and luxury to the enchanting cultural experiences and warm hospitality, this resort offers a true escape from the ordinary. Prepare to embark on a journey that will ignite your spirit, nourish your soul, and create memories that will last a lifetime.
Find the best deal, compare prices, and read what other travelers have to say at Tripadvisor
3. La Casa de la Playa
La Casa de la Playa: A Boutique Haven in Riviera Maya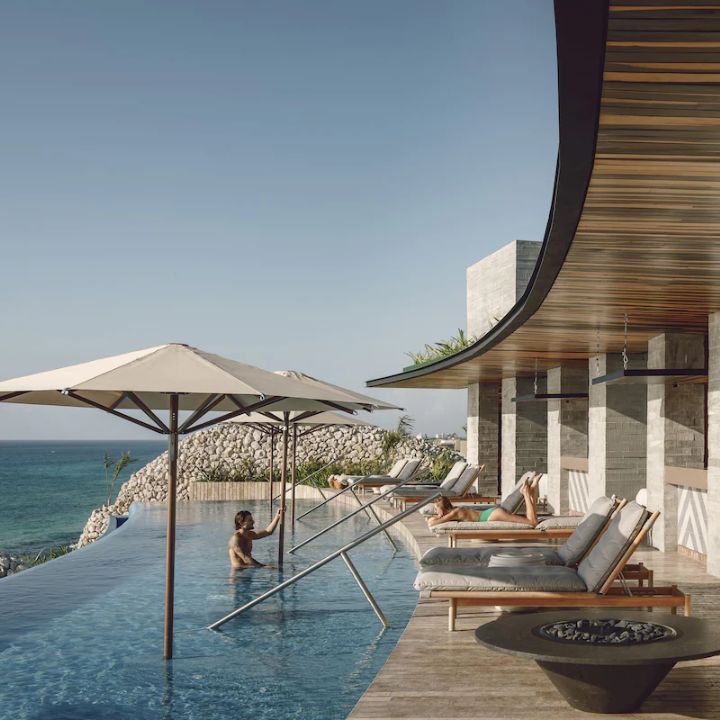 Immersed in the serene ambiance of the rainforest and caressed by the gentle waves of the Caribbean Sea, La Casa de la Playa is a new boutique hotel in Riviera Maya that captures the essence of joy, cultural heritage, and sustainable design. Created by renowned architect David Quintana, this exquisite property harmoniously blends with its natural surroundings, respecting and celebrating the beauty of nature. Since its inception in December 2021, La Casa de la Playa has welcomed guests with 63 oceanfront suites, exceptional wine and dining experiences curated by celebrity chefs, private luxury transportation, and exclusive access to Grupo Xcaret parks.
The 63 rooms at La Casa de la Playa boast a warm and inviting design that perfectly complements the breathtaking views of this Mayan paradise. Each suite provides a tranquil haven, allowing guests to immerse themselves in the serenity of their surroundings while enjoying the comforts of modern luxury.

At La Casa de la Playa, experiences are not just limited to the hotel premises. Guests have the opportunity to create memories that will last a lifetime through tailor-made activities that pamper the senses and foster a deeper connection with nature and loved ones. Whether it's exploring the nearby parks or indulging in unique on-site experiences, every moment is designed to be extraordinary.
The culinary offerings at La Casa de la Playa are a true delight for the palate. A Culinary Collective of world-renowned chefs brings their expertise and creativity to the flavors of the hotel, infusing each dish with a touch of spice and innovation. Dining here is not just a meal but a gastronomic journey that showcases the best of local and international cuisine.
Beyond the suites and dining experiences, La Casa de la Playa unveils surprising areas and passageways that hold intriguing tales waiting to be discovered. Every corner of the hotel is designed to inspire wonder and spark curiosity, creating a truly immersive and enchanting atmosphere.
For those seeking to celebrate special moments or host luxurious events, La Casa de la Playa offers exquisite venues and expert event planning services. Whether it's an intimate celebration or a grand occasion, the hotel's dedicated team ensures that every detail is meticulously taken care of, creating unforgettable experiences.
At Muluk Spa, an eco-integrating sanctuary inspired by ancestral Mayan wisdom, guests can indulge in rejuvenating treatments that harmonize body, mind, and spirit. Drawing on ancient traditions and natural elements, the spa offers a serene space for relaxation and renewal.
La Casa de la Playa is more than just a boutique hotel; it's a destination that invites you to immerse yourself in the rich culture and natural beauty of Riviera Maya. From its thoughtfully designed suites to its extraordinary culinary experiences and captivating spaces, this hotel offers a truly unique and unforgettable stay.
Rating:
Location: 4/5
Accommodation: 4.5/5
Amenities: 4/5
Service: 4.5/5
Value for Money: 4/5
La Casa de la Playa: A Boutique Haven in Riviera Maya on Expedia
La Casa de la Playa by Xcaret - All Inclusive Adults Only: A Tranquil Beachfront Retreat Review
Location: 4/5

Nestled along the pristine shores of Playa del Carmen in Riviera Maya, La Casa de la Playa enjoys a privileged beachfront location. Guests can soak up the sun and enjoy the breathtaking views of the Caribbean Sea right from their doorstep. The resort is also conveniently situated near popular attractions such as Xcaret Eco Theme Park and Xplor Theme Park, offering guests easy access to adventure and cultural experiences. However, it's important to note that the resort's secluded setting might require transportation for those looking to explore the wider area.
Accommodation: 4.5/5
La Casa de la Playa features 63 oceanfront suites that showcase a warm and natural design, perfectly complementing the stunning views of the surrounding paradise. Each individually furnished room offers comfort and tranquility, with thoughtful touches such as private pools and jetted bathtubs. The attention to detail and the blend of modern luxury with elements inspired by the Mayan culture create a captivating and cozy ambiance. However, some guests may prefer larger accommodations or additional room categories to choose from.
Amenities: 4/5
The resort offers an array of amenities to enhance guests' stay. The outdoor pool, complete with a lazy river and waterslide, provides a refreshing and enjoyable experience. Beach lovers will appreciate the white sand beach, where beach towels and yoga sessions are available. The onsite spa, Muluk Spa, offers a range of treatments inspired by Mayan wisdom, allowing guests to indulge in relaxation and rejuvenation. The four onsite restaurants provide diverse culinary experiences curated by renowned chefs, ensuring a delightful gastronomic journey. While the resort provides ample amenities, some guests may desire more variety in terms of dining options or additional recreational activities.
Service: 4.5/5
The staff at La Casa de la Playa is known for their attentive and friendly service, catering to guests' needs with responsiveness and warmth. From the moment of arrival to departure, guests can expect personalized care and assistance. The resort strives to provide a high level of service to ensure a memorable stay. However, occasional service-related issues may arise, as is common in any hospitality establishment.
Value for Money: 4/5
La Casa de la Playa offers an all-inclusive experience, providing guests with a range of amenities and services included in the room rate. The resort's commitment to delivering a luxury experience combined with its unique location and thoughtful design justifies the price it charges. However, some guests may find the rates to be on the higher side compared to other options in the area.
Recommended for: Couples and adults seeking a tranquil and luxurious beachfront getaway. This resort is ideal for those who appreciate personalized service, enjoy serene surroundings, and desire a blend of modern comforts with a touch of Mayan culture. It's perfect for romantic escapes, honeymoons, or special occasions where relaxation and rejuvenation are top priorities.
Overall Rating: 4.2/5
Exploring Xcaret
As I stepped out of my resort and ventured into the seemingly mystical world of Xcaret, I could feel the excitement and anticipation building within me. The sun kissed my skin as I made my way through the lush surroundings, eager to explore the wonders that awaited me.
Xcaret Natural Waterpark
Walking along the winding pathways, I was immediately captivated by the sights and sounds of nature enveloping me. The melodies of birds echoed through the air, blending harmoniously with the gentle rustling of leaves and the soothing flow of crystal-clear rivers. It was a symphony of natural beauty that seemed to whisper tales of ancient civilizations and untold secrets.

My first stop was the awe-inspiring Mayan ruins that stood proudly in the heart of Xcaret. As I wandered among the ancient structures, I couldn't help but marvel at the ingenuity and craftsmanship of the Mayan people. The intricate carvings and mystical aura that surrounded the ruins transported me back in time, allowing me to glimpse the rich history and cultural heritage of this remarkable civilization.
Leaving the ruins behind, I followed the sound of rushing water and soon found myself standing at the entrance of a mesmerizing underground river. The crystal-clear water beckoned me to dive in and embark on a thrilling journey through the mysterious caves. With each stroke, I felt a sense of exhilaration and wonder as I floated past stalactites and stalagmites, feeling as though I had entered an ethereal underworld.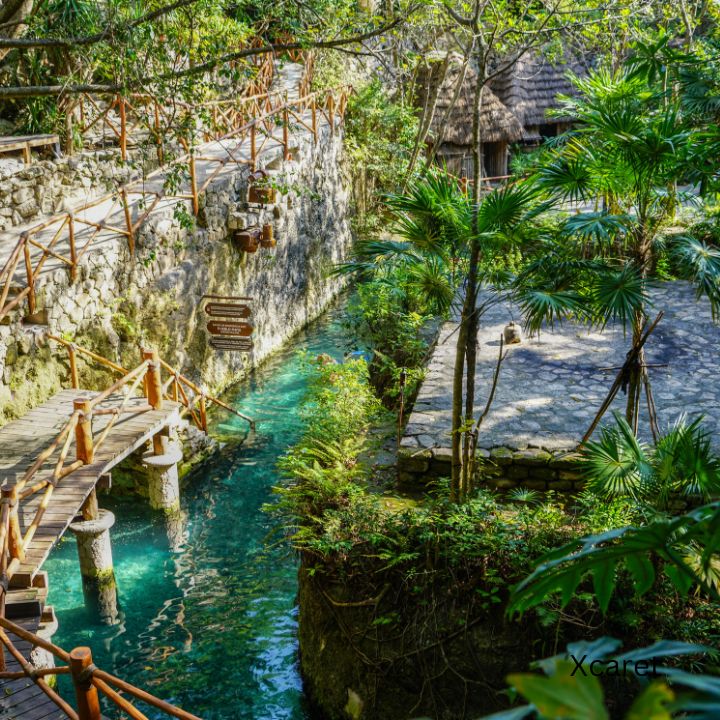 Xcaret Natural Waterpark
Emerging from the depths of the underground river, I found myself in a lush paradise teeming with  flora and fauna. Colorful butterflies danced around me, their delicate wings creating a kaleidoscope of beauty. Exotic birds perched on branches, their melodious songs filling the air with joy. It was a sanctuary of biodiversity, a testament to the importance of preserving and cherishing our natural world.

Xcaret Food for Butterflies
As the day turned to dusk, I made my way to the grand theater, where a captivating show awaited me. The stage came alive with a dazzling display of music, dance, and storytelling. Each performance showcased the rich cultural heritage of Mexico, with costumes, energetic choreography, and a deep sense of pride in their traditions. I was transported on a journey through time, immersing myself in the spirit of Mexico's diverse and rich culture.
Leaving Xcaret with a heart filled with unforgettable memories, I couldn't help but reflect on the profound connection between humanity and nature. Xcaret had not only provided me with an extraordinary adventure but had also instilled within me a deep appreciation for the beauty and wonder of our world.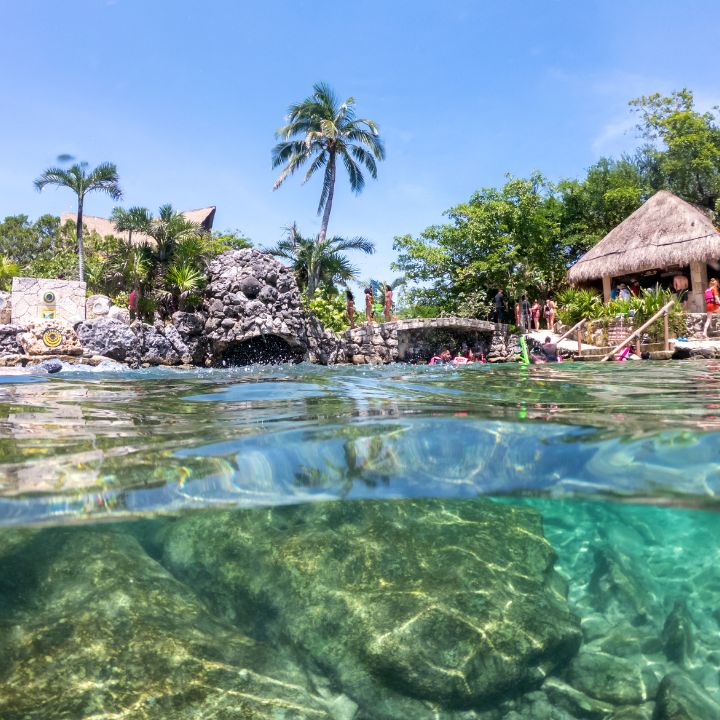 Xcaret Mexico All-Inclusive-Waterpark
For those seeking an immersive and enriching experience, Xcaret is a destination that will ignite your sense of adventure and leave you with a profound appreciation for the natural and cultural treasures of Mexico. Whether you're exploring ancient ruins, diving into underground rivers, or immersing yourself in stunning performances, Xcaret promises a journey of discovery and wonder that will stay with you long after you've left its enchanted embrace.
Xcaret also embraces Mexico's cultural heritage. Mayan Ruins dot the park, offering a glimpse into ancient civilization and its intricate craftsmanship. Traditional performances showcasing Mexican folklore and dances captivate audiences with colorful costumes and rhythmic beats.
Accommodations at Xcaret cater to various preferences, from luxurious suites with private plunge pools to eco-friendly bungalows nestled in the jungle. Each accommodation exudes elegance and tranquility, allowing guests to wake up to the sounds of nature and breathtaking views of the Caribbean Sea.
Culinary enthusiasts will delight in Xcaret's diverse flavors. From street food to gourmet dining experiences, the cuisine tells a story through authentic Mexican flavors. Indulging in freshly caught seafood, savoring spices, and toasting with mezcal at sunset create unforgettable dining moments.
Xcaret suits intrepid travelers seeking immersive cultural and nature experiences. Its sustainable practices, range of activities, and deep connection to local culture make it an ideal choice for adventure-seekers.
For an alternative experience, consider Nizuc Resort & Spa in Cancun. This secluded retreat offers tranquility, luxurious accommodations, world-class dining, pristine beaches, and rejuvenating spa treatments, perfect for those seeking relaxation.
In summary, Xcaret weaves together Mexico's natural wonders and cultural richness, offering an unparalleled experience for adventure, enlightenment, and connection to the natural world. Snorkeling, ancient ruins, and authentic cuisine awaken the senses, leaving an indelible mark of the beauty and magic that exists within our world.
💼 We cherish our independence! ✈️ Our travel recommendations are carefully researched, bias-free, and powered by human expertise by April and Ricky of LRB (we have personally researched and travelled to many of these destinations and researched others thoroughly through first-hand accounts). 🌍✨
We try to keep everything up to date, but please always do your own research and contact us if you know any issues for us to help others as best we can as a small but professionally focused team! 🧐📚⚠️