Grand Bahia Principe Tulum - Adult Only All Inclusive
Grand Bahia Principe Tulum Adult-only All-Inclusive Resort
Looking to stay at Grand Bahia Principe Tulum Adult Only All-Inclusive? The Bahia Principe Grand Tulum, a beloved resort in Mexico, has proudly reopened its doors after a comprehensive renovation centered on the innovative "Origin" concept. Rooted in the magic of Mayan culture and inspired by the natural world, the new design immerses guests in the history and beauty of the Tulum region. Nestled on the acclaimed Tulum beaches, the renewed resort offers a one-of-a-kind experience with its unique features and updated amenities.
See more Adult Only All-inclusive resorts in Tulum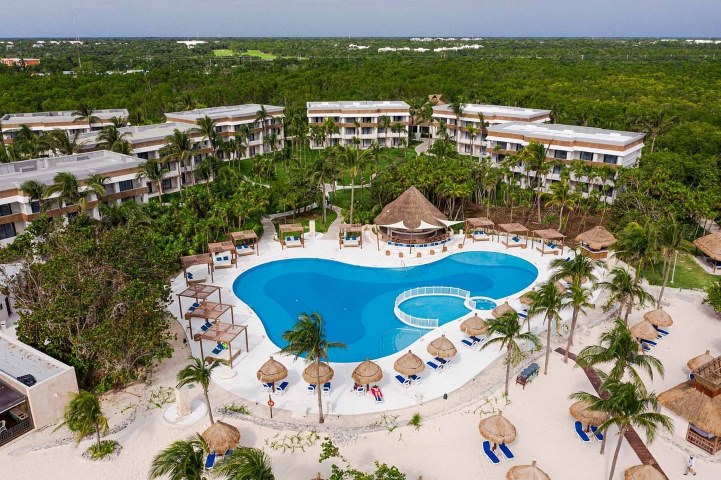 Grand Bahia Principe Tulum Adult Only All-Inclusive Pool
Features:
978 rooms available in four distinct types: Superior, Superior Junior Suite, Superior Club Hacienda, and Club Hacienda Junior Suite.
Dining options including a buffet restaurant, three a la carte restaurants, and a 24/7 snack bar.
Six bars for various moods and tastes.
Three swimming pools, two of which include Jacuzzis, and a large sun terrace furnished with loungers and sun umbrellas.
A fully-equipped Bahia Spa (services at an additional charge).
Sports facilities featuring a gym, five tennis courts, and a scuba diving center.
Convenient WiFi access in the lobby and the rooms (additional charge for room service).
On-site dolphinarium and golf club.
"Bahia Scouts" for kids, offering tailored facilities, activities, and a water park.
Miniature railway system for easy access to all facilities.
Wedding gazebo and a range of specialized services for organizing weddings and events.
Pros:
Comprehensive all-inclusive service that includes access to multiple dining options, international entertainment programs, children's activities, sports, and more.
The Origin concept provides an immersive cultural and natural experience.
Wide range of room options to cater to different needs and preferences.
Facilities and amenities for both relaxation (like pools and the spa) and activity (like sports facilities and the dolphinarium).
Free WiFi in the lobby and available in rooms at an additional charge.
Children-friendly with activities, a mini-club, and a water park specifically designed for young guests.
Cons:
Additional charges for several services, including spa treatments, room WiFi, laundry service, premium drinks, and themed dinners.
Motorized sports and vehicles, as well as certain water sports, come at an additional cost.
For guests with dietary restrictions, it's important to note that a personalized diet option is available but not specified under the "All-Inclusive" category.
Bahia Principe Grand Tulum is inviting guests to redefine their vacation perceptions, promising an unforgettable and perfectly curated experience. By blending the mystique of Mayan culture with nature and modern luxury, the "Origin" concept serves as a fresh, enriching take on a beachfront vacation. Remember to check for the latest ratings and reviews on popular travel websites to make an informed decision about your stay.
Find the best deal, compare prices, and read what other travelers have to say at Tripadvisor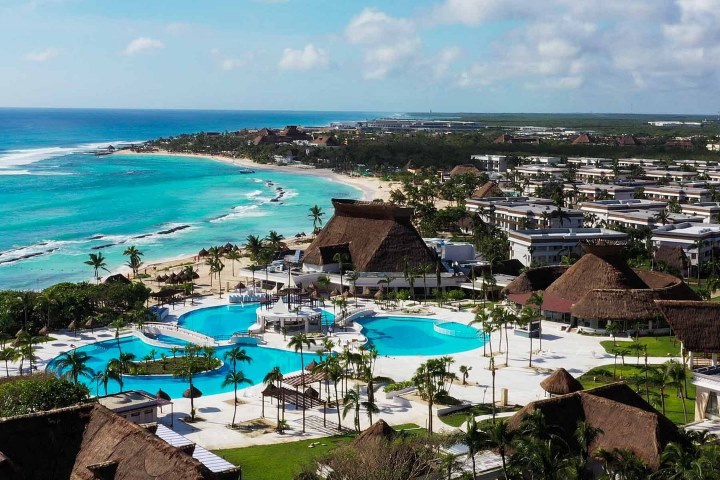 Review
There I was, standing on the shimmering shores of Tulum, Mexico. The Bahia Principe Grand Tulum, reborn and sparkling from its latest renovation, stood tall and inviting in the distance. My heart fluttered in my chest with anticipation. My name is Sarah, a travel writer hailing from the bustling city of New York, and I was here to experience the magic of this resort's new "Origin" concept - a homage to nature and Mayan culture.
The salty sea breeze teased my hair as I embarked on my adventure. Passing under the resort's grand archway, I felt as though I was stepping back in time, the echo of ancient Mayan chants still lingering in the air. My first impression was one of awe. Each corner of the resort seemed to whisper a different story, a tapestry of culture, nature, and luxury, woven together in harmony.

My room was a Superior Junior Suite, a cozy sanctuary with an inviting king-size bed and a spacious sitting area. The balcony offered breathtaking views of the azure sea meeting the sky, a sight that never got old. Each morning, I'd enjoy my coffee here, the aroma mingling with the scent of tropical blooms.
The resort was a gourmet's paradise. I lost myself in a myriad of flavors at the three à la carte restaurants. I remember one night at the Japanese restaurant, the sushi was so fresh, I could almost taste the ocean. Yet, the resort's crowning glory was the buffet restaurant. Picture a spread of local Mexican delights - spicy, colorful, aromatic, an absolute delight to the senses.

But it was more than just the taste, it was the feeling of inclusivity. Here I was, a stranger to this land, yet every smile, every "Hola," made me feel like a part of this vibrant community.
Adventure and relaxation found a beautiful balance at Bahia Principe. The three pools were my oasis in the Mexican heat, while the Bahia Spa transported me to a realm of tranquility, the skilled masseurs kneading away my city stresses. The gym and tennis courts were perfect for when I felt the need for a workout. And oh, the joy of cycling! I'd grab a bicycle and peddle away, exploring the picturesque corners of this sanctuary.
And then there was the dolphinarium. A magical place where I swam with dolphins, their playful antics bringing tears of joy to my eyes. In these moments, I felt a connection with these majestic creatures, a feeling too profound for words.
In the evenings, the entertainment amphitheater would come alive with music and performances. Yet, the best show was the one nature put up each night – a sky full of stars, a reminder of the grand scheme of things.
However, as much as I fell in love with Bahia Principe Grand Tulum, I realize it might not be everyone's cup of tea. It is a place deeply rooted in culture and nature. If you seek a more cosmopolitan experience, bustling with nightlife and modern architecture, you might want to consider the Kore All-Inclusive Adult-Only Tulum Wellness Resort.
In the end, it was not just a trip. It was an experience, a journey through the rich Mayan history, a communion with nature, a feast of Mexican cuisine, and an exploration of my own spirit. As I boarded my flight back to New York, I carried with me a piece of Tulum - its sun, its sea, and its soul. And oh, what a beautiful piece it was!
Ratings
Sarah's experiences, here are the scores for the Bahia Principe Grand Tulum:
Location: 9/10 The resort is situated in Tulum, one of Mexico's most culturally vibrant and naturally beautiful regions. It's a place where history, culture, and nature intertwine, offering a unique and immersive experience. However, it might be a bit isolated for those seeking a more urban experience.
Accommodation: 8.5/10 The Superior Junior Suite Sarah stayed in was comfortable and well-equipped, with a king-size bed, a sitting area, a fully-equipped bathroom, and a balcony offering magnificent views. However, the additional charge for WiFi and a safe was a minor drawback.
Dining: 9/10 The range of dining options was impressive, especially the à la carte restaurants and the local Mexican delights at the buffet. The food was fresh, delicious, and provided a culinary journey through Mexican cuisine.
Facilities and Services: 9/10 From the three pools and the Bahia Spa to the gym and tennis courts, the facilities were top-notch. The dolphinarium added a unique touch to the experience. The entertainment, both during the day and at night, was delightful.
Value for Money: 8.5/10 The resort provides an extensive range of services and activities as part of the all-inclusive package. However, certain services like motorized sports, beauty treatments at the Bahia Spa, and some other extras come with additional charges.
Overall: 8.9/10 The Bahia Principe Grand Tulum, with its focus on Mayan culture and nature, provides a unique, immersive, and authentic experience. It's a great choice for those seeking to connect with the history and culture of the region, and enjoy a relaxing and luxurious vacation.
Please note, these scores are based on Sarah's experiences and observations, and other visitors may have different opinions.
Bahia Principe Grand Tulum - All Inclusive on Expedia
💼 We cherish our independence! ✈️ Our travel recommendations are carefully researched, bias-free, and powered by human expertise by April and Ricky of LRB (we have personally researched and travelled to many of these destinations and researched others thoroughly through first-hand accounts). 🌍✨
We try to keep everything up to date, but please always do your own research and contact us if you know any issues for us to help others as best we can as a small but professionally focused team! 🧐📚⚠️