Rainbow Beach Resorts
Rainbow Beach Resorts
There has been an increasing demand  for us to do a review of the top Rainbow Beach Resorts. While Australia and Queensland in general experienced increased demand over COVID, this effect has made Rainbow Beach even more popular. Part of the attraction it seems is with getting away from it all. Considering that Rainbow beach is only 240 km from the Capital Brisbane, it seems worlds away. If you are visiting for the first time, it might even take you by surprise to realise how undeveloped it is. Alternatively if you haven't visited for a while it may take you by surprise at the relative proliferation of new resorts and places to stay. 

Visitors alike remain enthralled by the multicoloured sand cliffs. 
Rainbow Beach Resort
RAINBOW BEACH ACCOMMODATION
The Plantation Resort at Rainbow Beach occupies a key location and position in the Rainbow Beach resorts landscape. You are situated right by the beach access and the small shopping area where the few restaurants are.  The resort rooms comprise from one bedroom to three bedroom self-contained options. Some of these larger 'penthouses' have rooftop terraces!
Check out his video of this key Rainbow beach resort which features Foxtel, BBQ's and safety deposit boxes. There is a lift which makes checking in and out nice and easy from the secured car park.
Many guests stay at Rainbow beach as a departure point for a Fraser Island vacation  and this is ideal place to stopover on your way to that  World Heritage site. 
The friendly staff are on hand to book you in for any of the nearby activities and tours.
More information and Reviews on Plantation Resort at Rainbow Beach
Rainbow Sea Resort
This Rainbow Beach Resort features cut-above style with sweeping views over the stunning coastline. While not in the 'downtown area' this is more than compensated for with the spectacular hillside vistas. And if you do want to go down to the  cafés, restaurants and beach you don't need to walk far. 
Rainbow Sea Resort
3 Ocean View Pde,
Rainbow Beach
QLD 4581 Australia
There are a number of One Bedroom King Suites which offer unmistakable style, including great beach views. See location Info
Two Bedroom King Suites are more geared towards long and short stays and are quite spacious.
Three Bedroom King Suites are getting towards the more luxury end of the market, but essential if you are taking a larger family. Quite a luxurious holiday option.
 At the premium end of the market are the Ocean View Executive Suites and the Penthouse Suite (obviously on the rooftop)
More information on Rainbow Sea Resort

Rainbow Sands Resort
This Rainbow Beach resort combines  both motel  style and apartment accommodation styles. Also located half a kilometre from the patrolled surf beach, this is a more upscale option. More information
Facilities such as a luxurious pool, spa sauna area and  BBQ facilities set this apart from other options
More information on Rainbow Sands Resort
Things to do in Rainbow Beach
Tour activities might include:
Attending a surfing  school is one attraction that is popular from guests staying at Rainbow beach resorts. You can learn to surf at Double Island Point where instructors can teach you without the hoards of crowds you will find at other Australian locations.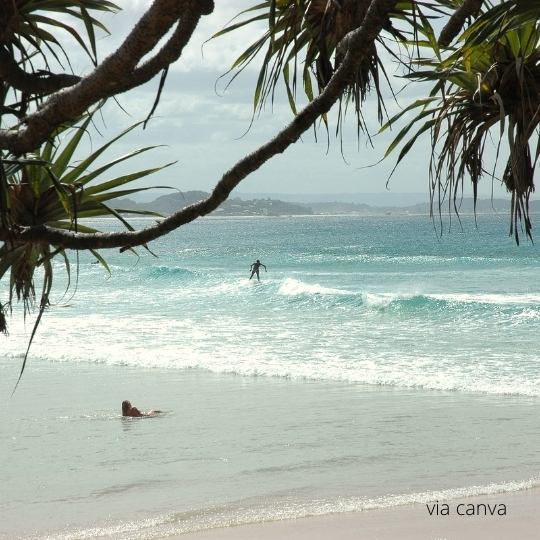 Surfing by Rainbow Beach Resort
Taking a horse riding tour as a unique and different way to experience the serenity of the coloured sands on a personalised picnic ride, swimming ride or for a celebration event. 

Scenic Helicopter Flights are flexible and allow you to choose from a number of different options.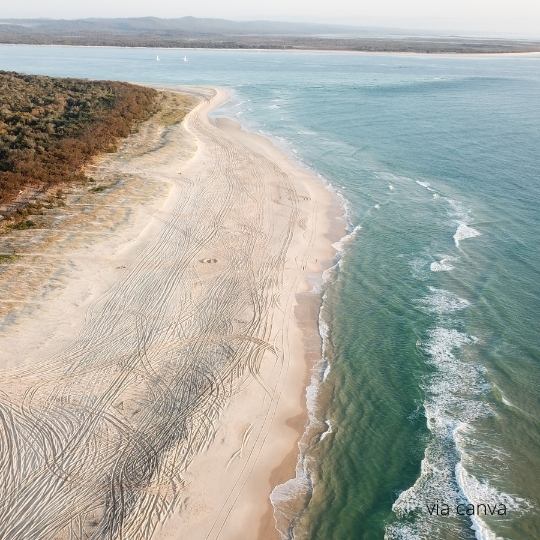 The point by Rainbow Beach Resorts
Kayaking starts off with a drive along the coloured sands to  Double Island Point Lighthouse, in the Great Sandy National Park. Once you are out there is always the chance you will spot a dolphin, whale or sea turtle depending on the season
For the divers Wolf Rock ranks among the best sites worldwide. 
Or You can always hire a 4-wheel drive and plot your own adventure.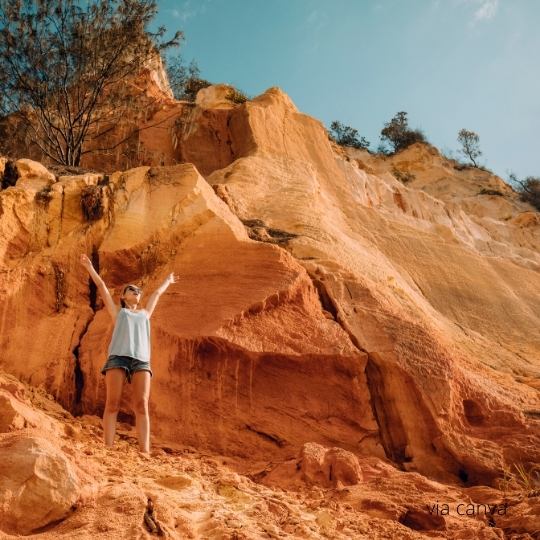 Coloured Sands of Rainbow Beach
The multicoloured sands  consisting of 70  shades are directly accessable from Rainbow Beach after about a ten-minute walk, or you can also drive to the car park.
Nearby Lake Poona is a  tea tree coloured freshwater lake which makes for a great  4WD routing which takes in  rainforest and national park..
 you visit Lake Poona also check out Searys Creek(8kms from Rainbow Beach). 
Rainbow Beach is not any longer the quiet fishing town it once was, but as an emerging 'eco-tourism' destination which is becoming trendy and upscale it retains much of its charm. The regular barge to the south side of Fraser island means it is certain to continue to get exposure and grow. Aboriginal population continue to talk of the spirit in the shape of  a rainbow formed in the fight for a beautiful woman, and what happened when this battle spilled onto the sandy cliffs.
💼 We cherish our independence! ✈️ Our travel recommendations are carefully researched, bias-free, and powered by human expertise by April and Ricky of LRB (we have personally researched and travelled to many of these destinations and researched others thoroughly through first-hand accounts). 🌍✨
We try to keep everything up to date, but please always do your own research and contact us if you know any issues for us to help others as best we can as a small but professionally focused team! 🧐📚⚠️