Best Mexico Adult Only All-Inclusive Resorts (2023)
Mexico Adult Only All-Inclusive Resorts
The best Mexican All-Inclusive resorts for adults only are located in the Riviera Maya and Cancun. These resorts offer a variety of amenities, from swimming pools to night clubs. But also the Pacific Coast around Cabo has some really great options.
The Best Mexican Adult only All-Inclusive Resorts

Mexico, and especially the Mexican Riviera is central to the Adult only all-inclusive concept. You can't go places like Playa del Carmen, Cancun, Cabo and Tulum as destinations to consider.  There are hundreds of adult all-inclusive resorts in Mexico including some absolute stand outs on the world stage. 
More than 230 out of about 3000 properties according to TripAdvisor are adult only and the majority of these are all-inclusive. 
Playa Del Carmen is a wonderful place to visit if you're looking for a romantic getaway. The landscape is amazing and the culture is incredibly vibrant. The beaches are pristine and the food is delicious. It's a fantastic destination for the adventurous traveler.
Video: Adults Only Luxury Resorts In Playa Del Carmen Mexico
The Playa Del Carmen All Inclusive Adult Resorts are perfect for adults who want to enjoy the sun and sand of Mexico without having to worry about their kids. There's plenty to do for adults at these resorts, beyond swimming in the ocean, enjoying a drink at one of the bars, or relaxing in one of the many pools.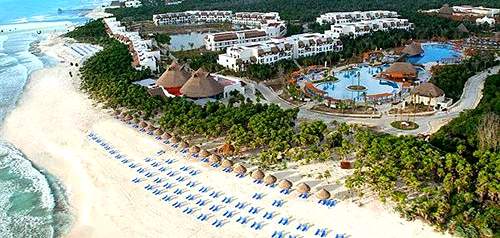 Valentin Imperial Maya All Inclusive
Playa Del Carmen and it's pristine white sandy shores has long been a happy, relaxed haven for couples on the Mexican Riviera. We have put together a review of the top adult resorts here from small little jungle hideaways to sexy upscale resorts with up to 13 restaurant choices for your all-inclusive vacation.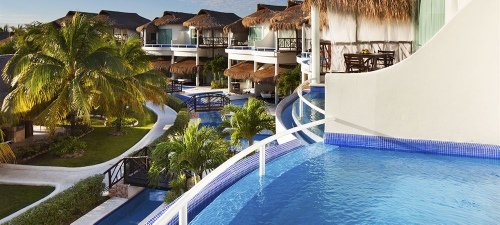 El Dorado Casitas Royale by Karisma All Inclusive
Tulum is a beach town in the Yucatan Peninsula, Mexico. It is a popular tourist destination and has been called "the next Riviera Maya". Tulum is a dream destination for many, with its endless beaches, turquoise water and white sand. With this in mind, Tulum is located on the Caribbean coast of Mexico's Yucatan Peninsula about 180 miles south of Cancún. 
Tulum Adult Only All Inclusive Resorts are easily some of the best you will find, and there is quite a big selection to choose from. This video reviews the 10 best and many have also earned a place on our Tulum All Inclusive review as well.
Video: Best Tulum All Inclusive Adult Only Resorts
Tulum is famous for the beaches which border the ocean, and a large archaeological site (with some of Mexico's best archeological treasures). This is a once in a lifetime destination. The town is full of colorful cafes, delicious restaurants and beautiful people.
This video points out some of the best Adult only all-inclusive resorts in Cancun and the Mexican Riviera
If you are looking for a vacation that will allow you to enjoy all the luxury and amenities of a first-class hotel, while also offering the benefits of an all-inclusive resort, then Puerto Vallarta, Mexico is the perfect destination.
The city is located on the Pacific coast in the state of Jalisco, and it offers an array of activities that include golfing, scuba diving, deep sea fishing, and much more. It's also home to one of Mexico's most popular beaches: Playa de los Muertos.
Puerto Vallarta is also known for its nightlife scene that features some of the best nightclubs in town like La Quebrada and El Buho. And if you're looking for something a little more low key than clubbing, there are plenty of bars with live music as well as restaurants serving up everything from traditional Mexican cuisine to sushi.

Puerto Vallarta is a popular destination for tourists from all over the world. It is a beautiful Mexican city that is known for its beaches, restaurants, and resorts.
Puerto Vallarta has dedicated of adults all-inclusive resorts as well as others with all-inclusive adult only vacation package that includes airfare, hotel stay, food, drinks, tours, activities, and more!
When we wrote our review on the Most Romantic Resorts in Mexico we had to include Puerto Vallarta. 
Cancun is a fantastic destination for an adult's only vacation. With more than 300 sunny days per year and beautiful seaside beaches, it provides you the perfect opportunity to take a break from the daily grind and spend some quality time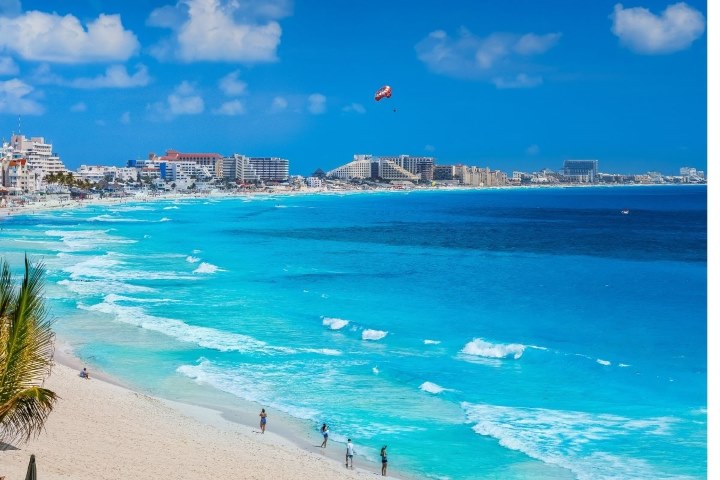 Cancun Top 10 Adult Only All Inclusive Resorts
Cancun is famous for its beaches and resorts. There are many all-inclusive resorts in Cancun that cater to adults only. Here is a list of the top adult only all-inclusive resorts in Cancun.
Cancun adults and couples resorts feature some outstanding properties and is now, along with Jamaica, one of our top destination choices. See all the reviews and video of the best Cancun adult resorts here.  
There are a lot of reasons why people visit Cabo San Lucas, Mexico. Some come for the beaches, some for the shopping, but many come for the party. Nightlife is huge in Cabo- you can get everything from a tent party to a yacht party- but it's not just about drinking and partying. . 
A trip to Los Cabos is a must. Not only does it offer excellent diving, but also some of the best resorts in Mexico. 
While the majority of the All inclusive Resorts in Mexico are on the Caribbean side, Cabo as one of a few top all-inclusive destination on the west coast of Mexico has a few quality options of its own. This review breaks it down for you. 
Video: Top 10 Cabo San Lucas All-Inclusive Resorts Adults Only

Best Mexican All Inclusive Resorts: 

The island has many amazing beaches, resorts and activities that are perfect for couples and singles looking to relax and have fun. Cozumel is one of the most popular dive sites in the world. Alongside the Yucatan Peninsula it offers divers the opportunity to explore some of the region's most idyllic dive sites, including Palancar Reef and Columbia Reef.
Cozumel is a wondrous place with all sorts of beautiful features. Couples will enjoy a vacation on the island, but sometimes you need some time away from the kids. Adults only vacations are an excellent opportunity to explore Cozumel to its full potential and get some much-needed rest.
One of the best things about Cozumel is that it has a large variety of resorts, hotels and other accommodations to choose from. Whether you prefer an all-inclusive resort or like to do some exploring on your own, there's something for everyone, especially adventurous couples.
Secrets Aura Cozumel 
Video Review: Secrets Aura Cozumel
Location: Cozumel jungle surrounded by Mayan Ceiba trees and gardens.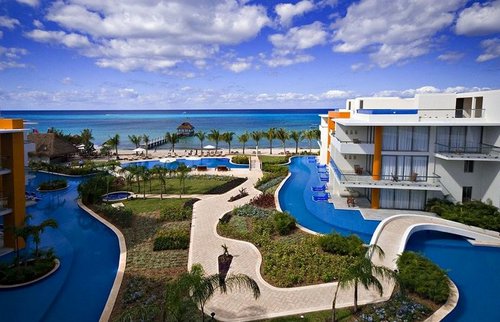 Secret Aura Cozumel
Amenities: All-inclusive means all meals, snacks, alcoholic beverages, soft drinks, Italian fusion cuisine restaurant, Sandy Terrace Lounge, Lobby Bar, and "Niki-Tiki" Beach Lounge.

Rooms: 96 rooms on three floors. They are all exclusive suites with views of the Caribbean Sea.
Reviews: Everyone who has stayed here has loved it as far as we can tell. You can assume from this that the food service is up to or above the standard of other resorts in the area. Having a brand-new resort is a clear advantage when it comes to room and facility satisfaction and this shows. Guests are equally impressed with the location and the service. Quick to give upgrades.
Go to Aura Cozumel Grand Bay

💼 We cherish our independence! ✈️ Our travel recommendations are carefully researched, bias-free, and powered by human expertise by April and Ricky of LRB (we have personally researched and travelled to many of these destinations and researched others thoroughly through first-hand accounts). 🌍✨
We try to keep everything up to date, but please always do your own research and contact us if you know any issues for us to help others as best we can as a small but professionally focused team! 🧐📚⚠️