Best Sri Lanka All-Inclusive Resorts
Best Sri Lanka All-Inclusive Resorts
Sri Lanka is an increasingly popular destination for tourists, and it's not hard to see why! It is a culturally rich and tropical location that has some of the most incredible and awe-inspiring natural beauty in the world. 
If you're considering a vacation in Sri Lanka, you've come to the right place! We know that booking a holiday to somewhere you've never traveled before can be a stressful experience. 
With a huge range of Sri Lankan resorts to choose from, it can be hard to know exactly what you need!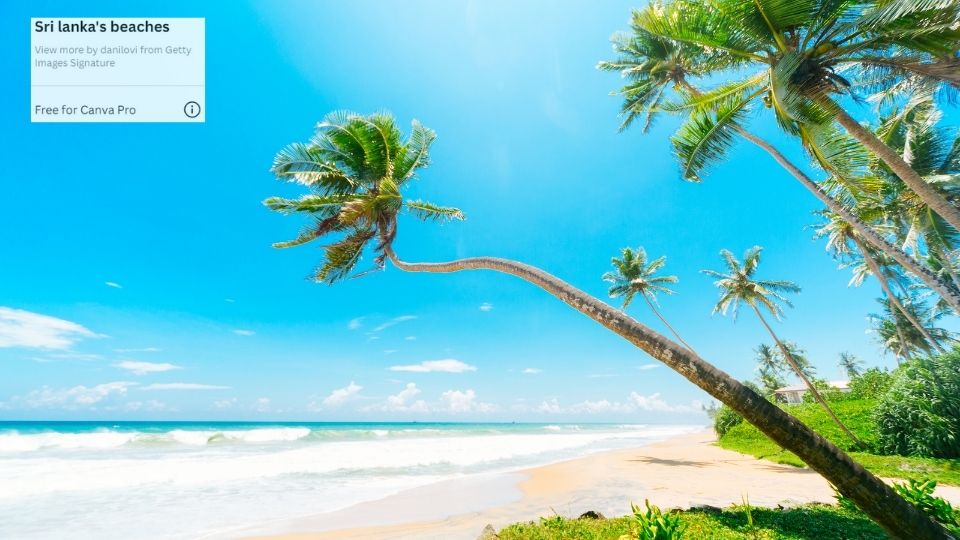 That's why we've created a list of the five best Sri Lankan all-inclusive resorts. Each one has been hand-selected according to the service, food, and experiences on offer. 
Whether you're looking for a 5* luxurious break, or you require a simple base from which to explore the local environment, we've got you covered. 
We've also included a handy travelers' guide to ensure you're as well-informed on Sri Lanka and its customs as possible. 
From religious traditions and ways to be respectful to practical issues concerning travel and exchange rates, we have covered everything. Check it all out below! 
Are there Sri Lanka All Inclusive Resorts?
TripAdvisor Lists over 50 all-inclusive properties in Sri Lanka. Not all of these are fully all-inclusive and not all of these are resorts, then let's unpack that a little.
You might also like to see Sri Lanka all-inclusive vacations with flights on Expedia. 
We had to kick things off with the Hotel Riu. If you're looking for accommodation that is situated against the most stunning backdrop, and will provide you with an authentic Sri Lankan vacation experience, you need to check this hotel out. 
Thanks to their all-inclusive, 24-hour policy, you'll be able to indulge in wonderful Sri Lankan cuisine whenever you please. However, if you're traveling with a rather picky eater, not to worry - whether you fancy pizza or noodles, this hotel has got you covered.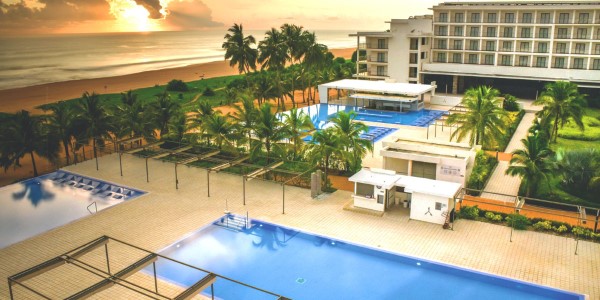 Riu Sri Lanka
This beachfront resort is particularly great if you plan on traveling with children. Their RiuLand Kids' Club provides a huge range of excellent activities that will keep the kids entertained whilst you lounge by the pool, enjoy a Riu Art Workshop, or use the free gym! 

The Hotel Riu Sri Lanka also has a huge range of rooms which vary considerably in price. As such, whether you're looking for a budget-friendly resort or fancy something a little bit more luxurious, this hotel can provide it for you.
Sri Lanka is a culturally rich, naturally gorgeous destination. This resort is the perfect base for exploring everything that the country has to offer. From thousand-year-old temples to untamed wilderness, you can experience it all! 
Pros
Beachfront - provides a gorgeous backdrop. 
Kids Club - ideal for families. 
Variety of rooms on offer - something for every budget. 
Versatile restaurant - provides high-quality dishes from a number of cuisines. 
Cons
Excursions - not included in price.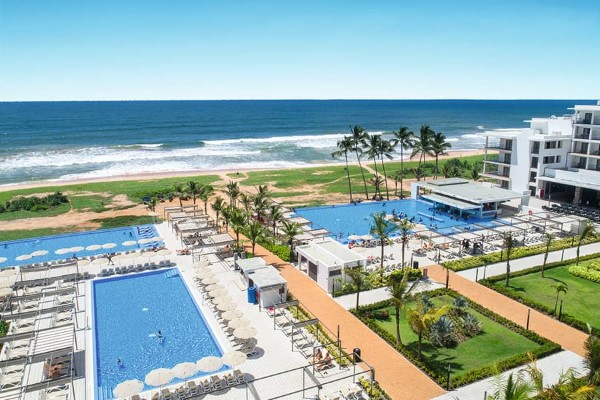 Hotel Riu Sri Lanka
If you're looking for a resort that will truly allow you to immerse yourself in the natural beauty of Sri Lanka, you need to take a look at the Chena Huts offered by Uga Escapes.
Situated amongst the golden dunes and lush greenery in Yala, you can't get much better than this! 
In fact, the Chena Huts are located on the border of the Yala National Park, the Indian Ocean, and a natural watering hole. If you're a fan of soaking up natural beauty as you relax on vacation, this resort couldn't be more perfect for you. 
The all-inclusive luxury cabins are the most wonderful place to relax after a day of exploring the local environment.
They have spacious living rooms, cozy bedrooms, en-suite bathrooms fitted with free-standing bathtubs, and shaded outdoor decks fitted with plunge pools. 
The on-site restaurant, Basses, gets its name from the nearby reef and lighthouse. It has a nautical-themed interior that creates the perfect ambiance.
The variety of the food on offer is quite notable in this resort, they give you more options than any other restaurant in the area. 
If you're someone who would love a bit of pampering whilst on vacation, you're in luck.
This resort also boasts a luxurious spa, set amidst the refuge of the Sri Lankan wilds, this spa offers a wide menu of relaxing treatments, from aromatherapy to beauty treatments.
Pros 
Located in Yala national park - a beautiful natural paradise. 
Luxurious cabins - ideal for people looking for a luxury holiday. 
Basses - on-site restaurant provides a huge amount of options. 
Spa - provides a range of treatments. 
Cons
Price - no budget-friendly options. 
If you associate Sri Lanka with images of gorgeous infinity pools, large hammocks, and bright and airy accommodation, you should definitely take a look at the Heritance Ahungalla resort. This is one of the best stays available on the coast of Sri Lanka. 
There are a variety of different rooms available at this resort. From luxury suites to simple deluxe rooms, this resort has an option for every type of guest and every budget.
Each room is spacious and is the perfect place to relax after a long day of exploring Sri Lanka. 
The dining options at this resort are plentiful (to say the least). The main restaurant, Jute, is a great restaurant that provides international cuisine and fun themed nights.
However, this resort also hosts fun BBQs by the ocean and has a great bar to kick back in!
If you're a fan of visiting the spa whilst on vacation, Heritance Ahungalla has got you covered.
From renewing Balinese or hot stone massages to refreshing facials and body wraps, there is a huge variety of treatments to choose from. 
People often say that Sri Lanka is best experienced in the coastal belt. The resort truly believes this and will direct you toward a range of activities that will keep you entertained.
From exploring the swampy rivers to going whale watching, there is a huge amount on offer.
Pros
Different rooms available - ideal for a range of different budgets and desires. 
Multiple dining options - there should be a restaurant and bar to suit every taste. 
Spa treatments - great for people who want a truly relaxing holiday. 
Extra activities - there is much available in the local area. 
Cons
Extra activities - not included in price. 
We know that some of you will be looking for a particularly luxurious experience.
Whether you're looking for a once-in-a-lifetime honeymoon experience, or you have a taste for the finer things in life, The Blue Water resort is a great option for you. 

This resort was designed by world-renowned architect Geoffrey Bawa. It provides 5* luxury accommodation that has breathtaking panoramic views of the Indian ocean.
It is also nestled amongst the wild coconut groves of Wadduwa, making this a truly beautiful and unique stay. 
If you're looking for a laid-back and calming vacation, The Blue Water resort has got you covered.
Whether you stay in the more budget-friendly deluxe room or the luxurious presidential suite, your accommodation will feel like a slice of paradise. 
The in-house restaurant provides a huge selection of local and international cuisines.You can dine by the pool in the evenings, enjoy a meal at The Nautilus restaurant, or take a trip to the 24-hour coffee shop for a late-night snack. 
The spa facilities at The Blue Water are unrivaled. They take a holistic approach to physical and spiritual wellbeing.
The architecture of the spa draws upon the local environment and the massage treatments and health remedies draw upon ancient Sri Lankan healing concepts. 
Pros
5* accommodation - ideal for people looking for a luxury vacation. 
Surrounded by natural beauty - makes for a relaxing backdrop. 
Range of rooms available - different budgets are catered to. 
Spa - provides holistic, traditional treatments. 
Range of restaurants - makes for a versatile resort. 
Cons
Spa treatments - not included in price. 
Finally, we couldn't finish this list without including the wonderful Turyaa Kalutara resort. 
Situated in Kalutara, an area rich in culture and natural beauty, this resort is conveniently located so that you have easy access to all of the wonderful activities and experiences that coastal Sri Lanka has to offer. 
The hotel is spread across six acres of ocean-front land. It features sea-view rooms, glorious dining spaces, a very large pool, a spa, a gym, and a nightclub!
As such, this resort is perfect for young people looking to soak up the culture, relax, and enjoy a party! 
This resort has two restaurants and two bars, each offering exclusive menus that will satisfy all tastes and culinary preferences. 
Whether you want to enjoy numerous cocktails overlooking the crisp blue ocean, or you want to indulge in a quality culinary experience, this resort has got you covered. 
In addition to the spa and gymnasium, Turyaa Kalutara also provides a comprehensive number of facilities, activities, and amenities to make your stay a memorable one. 
Whether you want to play water polo or need advice on local excursions, the staff at this resort will provide whatever they can. 
This resort also boasts a wide range of available rooms. From small cabanas to romantic suites to superior family rooms, there should be an option for every type of guest and every size budget. 
Pros
Sea-view rooms - make for a special experience. 
On-site club - ideal for young people. 
Comprehensive amount of activities and facilities - this resort is great for people looking to fill their time with fun activities. 
Range of rooms - something for every traveler and budget. 
Cons
Nightclub - not ideal for families. 
Traveler's Guide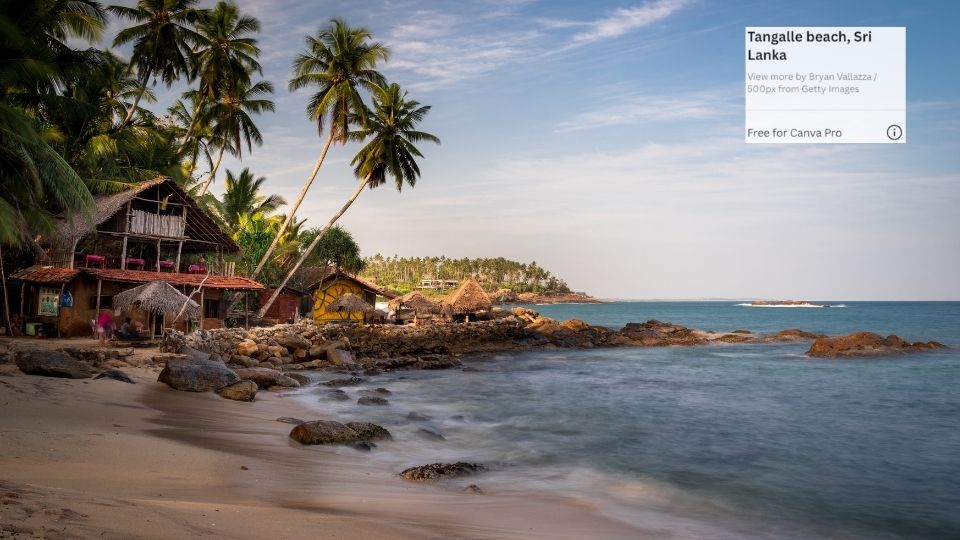 Before traveling anywhere, it is important to be as well-informed about that particular area as possible. That's why we've created this handy travelers' guide.
Below, you'll find everything you need to know before traveling to Sri Lanka. Check it out! 

Safety 
First, it is important to consider the safety of the country to plan on traveling to. You might have heard a few negative things about Sri Lanka over the past few years. 
Specifically, in 2018, a 10-day state of emergency was declared due to violent unrest between the Buddhist and Muslim communities in Kandy. 
However, this shouldn't put you off from going to Sri Lanka. Since then, security protocols have been heightened, and life around the country has returned to normal. 
As long as you remain as vigilant as you normally would whilst abroad, Sri Lanka is considered a safe holiday destination. 
In fact, Sri Lankan people have a global reputation for their incredible hospitality, particularly towards tourists. Violent crimes against tourists are very very rare in Sri Lanka. 
As such, if you're holidaying in Sri Lanka, you're likely to meet some wonderfully friendly and accommodating locals. 
Climate
Sri Lanka has a number of different climates that alter around the country. Generally, you can expect lots of sunshine and bright blue skies for most of the year. 
However, it is worth noting that the island has 2 monsoon seasons. The northeast monsoon takes place from December to March, and the southwest monsoon takes place from June to October.
Language
Sri Lanka has two primary languages: Sinhalese and Tamil. From experience, most locals working within the touristy areas are quite proficient in English. 
However, you should never assume that someone can speak English, and you should always try your best to communicate in Sri Lanka's native languages when possible. 
Here are some common phrases that you should learn before you travel: 
Istuti : Thank you
Kohomadha : How are you?
Hari : Okay
Kiyeda : How much? 
Ayubowan : May you live long (a formal way of saying hello). 
Food
Local Sri Lankan food really is a thing of beauty. You can expect flavorful curries, rice, roti, rice noodles, kottu, and a whole lot of super fresh fruit and seafood. 
Whilst most restaurants often serve Western dishes to cater to tourists, we highly recommend that you enjoy as much Sri Lankan cuisine as possible!
Getting Around
It is important to note that it can be quite time-consuming to travel around Sri Lanka. The roads along the coastal belts can be incredibly busy, and as such, it can take you quite a long time to get pretty much anywhere. 
However, if you're not in a rush, traveling by coach is a cheap and fun way to explore Sri Lanka. Similarly, tuk-tuks are cheap and are generally available for hire in abundance.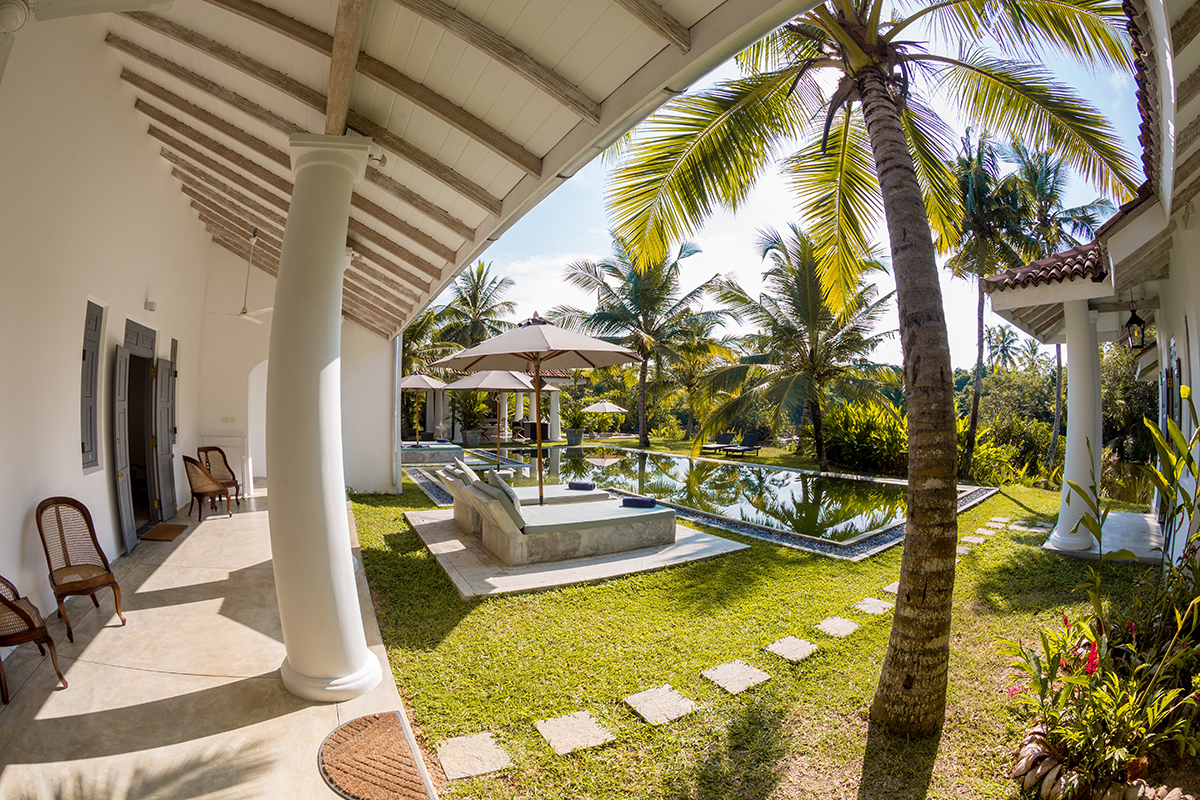 Money
The currency in Sri Lanka is the Sri Lankan Rupee (this is different from the Indian Rupee). There are a huge amount of places in Sri Lanka where you can exchange money at a decent exchange rate, so don't worry about this aspect of traveling too much! 
It is also worth noting that Sri Lanka is quite an affordable holiday destination, but it isn't quite as affordable as other South Asian destinations.
It is important to note that some items, such as sunscreen, are particularly expensive - so stock up before you travel! 
Visa
Unless you're a national of Singapore, the Maldives, or Seychelles, you will need a visa to travel to Sri Lanka. Be sure to apply with plenty of time, as it can take a few days for your visa approval to arrive. It is a very easy online process. 

Atmosphere 
Finally, it is worth mentioning that, if you're looking for a super rowdy, party holiday, Sri Lanka is probably not the place for you. 
If instead, you want to soak up a colorful and unique culture, have a relaxing vacation, and explore areas of incredible natural beauty, then Sri Lanka is the perfect destination for you. 
Frequently Asked Questions
If you still have some burning questions regarding Sri Lanka, check out our answers to the most frequently asked questions below. 

What Things Should You Never Do In Sri Lanka? 
To ensure that you are respecting the local culture and traditions and remaining safe, whilst in Sri Lanka, tourists should never: 
Disrespect religion or religious figures. 
Turn their backs on a Buddha statue. 
Engage in public displays of affection.
Take photos without first receiving permission. 
Dress inappropriately when attending religious sites. 
Assume that alcohol will be served on Full Moon Poya days. 
Compare Sri Lanka to India. 
Drink the tap water. 
Leave belongings unattended or flash money around. 
Assume that everyone will speak English. 
Can You Wear Shorts In Sri Lanka?
In the coastal areas and towns, it is common to see people wearing shorts or dresses. However, if you are planning on visiting a religious building, it is important that your shoulders and knees are covered. This is a sign of respect.

What Is The Religion Of Sri Lanka? 
Buddhism is the largest religion of Sri Lanka, with practicing Buddhists making up around 70.2% of the population. 
Hindus make up 12.6% of the population, Muslims make up 9.7% of the population, and Christians make up 7.4% of the population. Religion is very important in Sri Lanka, and tourists must respect this aspect of the culture. 
Conclusion
Sri Lanka is an awesome destination if you're looking for a relaxing, culturally-rich, and naturally beautiful place to vacate. We hope that this article inspires you to book the holiday of your dreams! 

Share Your All-Inclusive Adventures and Questions! 🌴 Have a memorable experience from a luxury all-inclusive vacation? We'd love to hear it at Luxury Resort Bliss. We're on the lookout for top-quality, insightful tales that'll inspire our community. Dive in and be a part of our sun-soaked stories! 🌊🍹✨
The story is a fictionalized account founded on travel expertise, research, and experience. Always refer to recent guest reviews and perform due diligence before booking.
💼 We cherish our independence! ✈️ Our travel recommendations are carefully researched, bias-free, and powered by human expertise by April and Ricky of LRB (we have personally researched and travelled to many of these destinations and researched others thoroughly through first-hand accounts). We also have put in the hard miles, and Ricky has worked for decades for resort and hotel chains  Hyatt, Hilton, Shangri-La and Radisson before starting Luxury Resort Bliss in 2007. 🌍✨ Unlike some other resort review websites we are concerned on the guest experience rather than mere corporate interest.