Best Koh Tao Luxury Resorts
Looking for some Koh Tao luxury resorts? Koh Tao is an island north of Koh Samui and Koh Phangan in Thailand. It's one of the best in the Gulf of Thailand and is often referred to as "Paradise Island."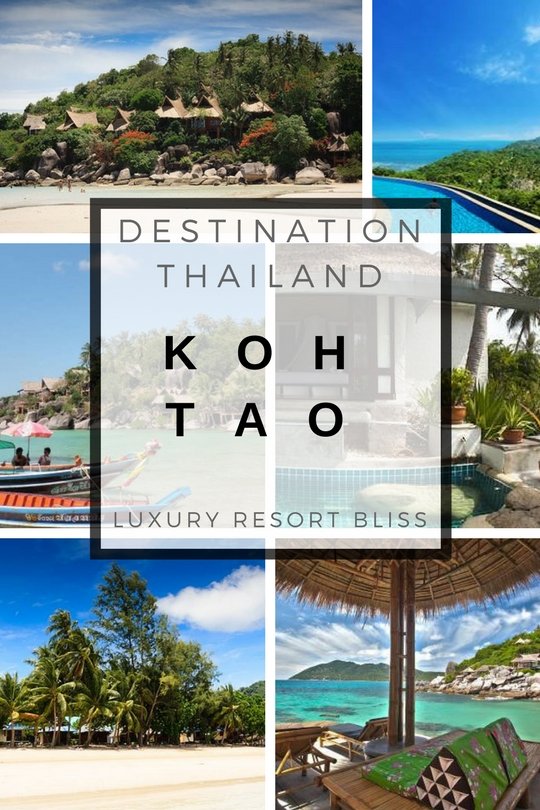 When to go to Koh Tao, Thailand?
Weather is warm and conditions are at least reasonable year round in sunny Koh Tao.  The month long monsoon can seem a bit daunting  but after the heavy downpours the sun can come out again. October and November are the hottest months. The dry cooler season in the middle of the year is great.
---
Asia /Thailand: Chiang Mai Resorts,  Phuket Resorts, Koh Phi Phi Resorts, Koh Toa Resorts, Thailand Adventures, Thailand All Inclusive

Jamahkiri Resort and Spa
The Top Koh Tao Luxury Resorts:
VIDEO: Each of the main beaches around Koh Tao
| | |
| --- | --- |
| Top Koh Tao Luxury Resorts on TripAdvisor | There are quite a few resorts here but it should be noted that most are not at the standard of other 5 star resorts around the world. They are still beautiful, in a great location and have great service.  |
---
Jamahkiri Resort & Spa

Jamahkiri is a highly rated 4 star resort on the south (and serene) side of the island and one of the best Koh Tao luxury resorts. It has wonderful views of the gulf of Thailand, a spa, pools, a privte PADI diving club, and lots of gardens.
Reviews of this resort are excellent with past guests loving the views, chefs cater to dietary needs (gluten free), and there are great comments about the diving club.
More on Jamahkiri Spa & Resort. Beautiful and extremely popular. Great reviews.

---
What TripAdvisor has to say about resorts in Koh Tao.

---
Koh Tao Anankhira Boutique Resort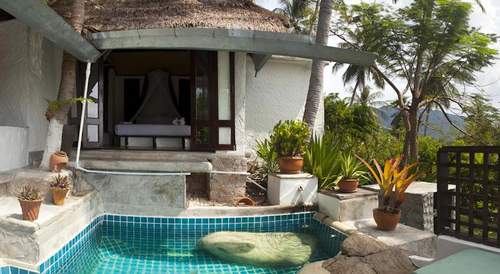 One of the villas at Anankhira
This private eco-conscious resort is not a typical resort. They let you know that if you're looking for the typical resort experience, you won't get it here. 
What you find here is more of a retreat among tropical gardens. It has a peaceful, earthy atmosphere where you have a lot of privacy.
It's located at the northern end of Sairee Beach. Close to restaurants and shopping in Sairee village.

There are 3 individual residences. They have great views of the gulf of Thailand, a small pool, each is unique and in its own space.
The villas have allowed for nature. They have boulders making up part of the living space and coconut palms growing through the thatched roofs. Complimentary wireless is available.

Reviewers say that the staff are very helpful in organizing meals (as there is no restaurant here), it's very secluded, fair price, some say it's better than staying on the beach. In general, this place gets excellent reviews but it does have it's flaws now and then. 
Special offers and reviews for Koh Tao Anankhira
---
Koh Tao Cabana Resort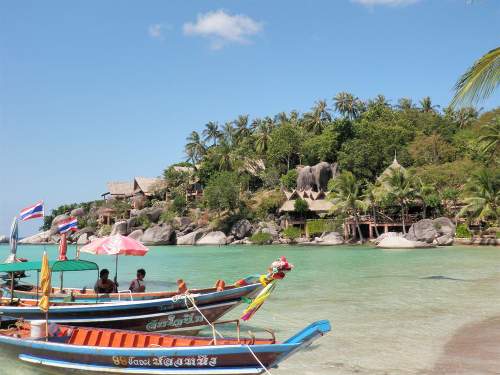 Beach at Koh Tao Cabana
Located on the secluded island of Koh Tao on Sai Ree Beach. This resort is luxury at shoestring prices. It emphasizes being an "escape resort" and it's natural tropical setting. Relaxing and the beach are the main activities here.
There are a number of different villas available - including one round one (30 in all). They have air conditioning, cable TV, king size beds and are set among tropical gardens. They look out onto the sea. 
The open air restaurant looks out onto the seashore. It has a large wine list and serves Thai-fusion dishes and seafood.
Reviewers say it's totally different from a normal hotel. It's a five minute walk to the main strip, there's a variety of food on the island, it's close to bars, it's a quiet setting and fantastic location.
Get more information and reviews for Koh Tao Cabana.
---
Charm Churee Village Rustic Dive Resort and Spa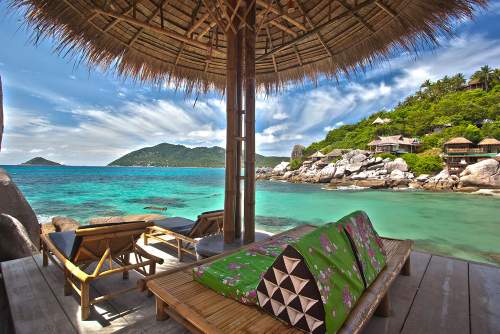 Koh Tao Luxury Resorts - Charm Churee Village
This resort is located in the southwest section of Koh Tao, on Jansom Bay. It's said to be one of Koh Tao's most beautiful and private beaches. The beach is lined with coconut trees, has soft sand and interesting rock formations. 
There are 2 restaurants that service Thai, Western and other tropical food. There are a number of different cocktails available here also. Thai massage is available to relieve sore muscles, relax and rejuvenate you.

Accommodations are decorated in Thai and Balinese style. They range from guest rooms to 3-bedroom villas.

Reviewers say the beach is nice but small. The resort is set on a steep hill and that means you will be climbing a lot of steps. One reviewer recommends you don't book the basic rooms as the superior ones are much better. There are quite a few mixed reviews and it would be best to take a look at what's being said at the time you are reading this.
Get more information and see the latest reviews for  Charm Churee Villa.
---
Ko Tao Resort, Koh Tao Luxury Resorts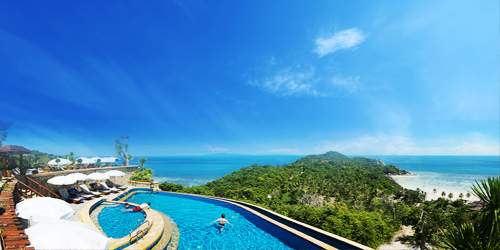 Picture thanks to www.kotaoresort.com
Ko Tao Resort is one of the Koh Tao luxury resorts and is located next to Chalok Baan Koa village. This resort has not been receiving great reviews lately. It is generally recommended for young single people and was one of the first resorts ever on the island.
It's got great sunset views, a range of accommodation and a great pool. It has air conditioning but it doesn't have a safe in the room. Be aware that you may need to be careful with your valuables.
Special offers and reviews for Ko Tao Resort

---
---
More Options in Koh Tao
There are numerous other Koh Toa luxury resorts worth a mention. 
Koh Tao Thipwimarn Resort is another crazily inexpensive resort also which some consider a hidden gem.
VIDEO: Koh Tao Thailand - Thipwimarn Resort

Thipwimarn Resort, Ban Ko Tao is another of the Koh Tao luxury resorts worth a look. 
There are more resorts in Koh Tao, slightly less luxurious but still great. To take a look, click the links below.

The Haad Tien Beach Resort
The Haad Tien Beach Resort - 4 star resort with good reviews.

VIDEO: The Haad Tien Beach Resort, Koh Tao - Thailand (official video)
---
Chintakiri Resort
Chintakiri Resort - Top rated 3 star, gets fantastic reviews.

---
Koh Tao Simple Life Resort
Koh Tao Simple Life Resort - Great value
VIDEO: simple life resort koh tao
---
No Listed Star Rating:

New Heaven Resort - Gets fantastic reviews.
Silver Sands Beach Resort

Buddha View Dive Resort

For more in Thailand, see the menu to the right or visit Thailand Luxury Resorts.

---