Top All Inclusive Resorts in Belize
There are a some great all-inclusive resorts in Belize and in recent years they have grown in number and quality. We've listed the best of the bunch below including some great Resorts in Belize for adults. If you are looking for the best all-inclusive resorts for adults we have listed these at the bottom of the page.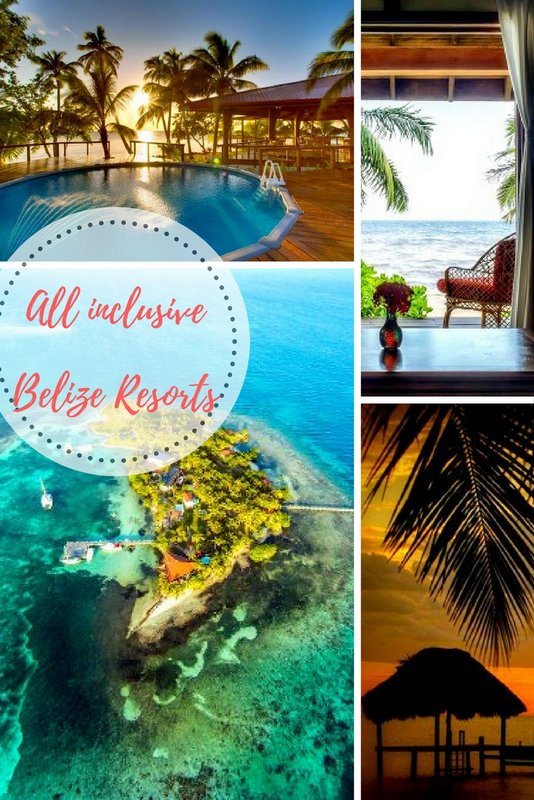 Belize is actually not that far south of the Mexican Riviera Maya on the Yucatán Peninsula. The coastal area spans over 280 km of the Caribbean Sea and is well known for having the second-largest reef system in the world. The best Belize resort options are located either in the jungle to the west, or close by the reef area along the coast.
Best all-inclusive resorts in Belize
There are about 45 all-inclusive resorts in Belize out of 3000 properties in general. Here are some of the best:
Sleeping Giant Rainforest Lodge: Best Jungle All-Inclusive Resort in Belize
Coco Plum Island Resort: Best Adult Only All-Inclusive Resort in Belize
Cayo Espanto: Best 5-star All-Inclusive Resort in Belize
Laru Beya Resort & Villas: Best Family Friendly All-Inclusive Resort in Belize
All-inclusive Belize: find the best deal, compare prices, and read what other travelers have to say at Tripadvisor
When to Go to Belize
Many say it is worth fighting the peak season crowds to take advantage of the dry sunny weather. This season from  November to April is also the time when you can expect all the top attractions and facilities are open. If there are not any Hurricanes around in the fall this is a time to pick up a good deal, although the rainfall levels also increase during this period with some heavy showers expected to cool things off.

---
You'll also find the video on most resorts and be sure to look at the Travelers Top 25 Belize resort deals.

El Pescador Resort: Fishing All Inclusive
This resort is a Tripadvisor award winner on the reef in San Pedro. If you want to fish, especially fly-fish, this is the place for you. Snorkeling and diving are great here, kayaks, bikes and paddle boards are all included.
El Pescador Resort: Fishing All Inclusive

El Pescador Resort
The villas have direct access to the beach and look stunning. Reviewers of this resort almost always mention the great fishing. The food has also been described as great by reviewers and is generally Caribbean food. 
See the latest reviews, prices and get more information on El Pescador Resort.
Resort video:
---
Ray Caye Resort: Private Island
Nestled in the cerulean waters of the Caribbean Sea, Ray Caye Resort offers the ultimate private island experience for discerning travelers. As I stepped foot on this idyllic slice of paradise, I was greeted by the island's caretakers, who treated me like a long-lost friend. With only a limited number of oceanfront cabanas and villas, the resort exudes an air of exclusivity and serenity.
At Hatchet Caye, I immersed myself in the island's natural beauty, taking leisurely strolls along the pristine white sand beaches, where the only footprints were my own. The resort's eco-conscious philosophy ensures that the surrounding marine environment remains unspoiled, allowing me to snorkel in the crystal-clear waters and marvel at the vibrant coral gardens teeming with aquatic life.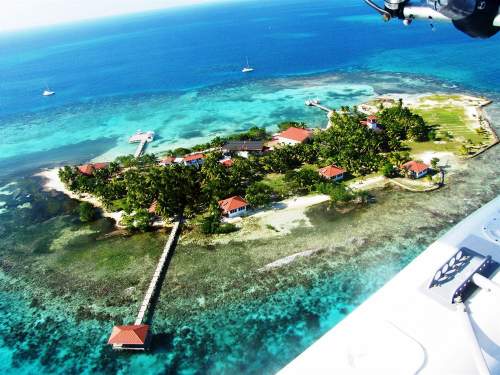 Ray Caye Resort: Private Island
The culinary experience at Hatchet Caye's Lionfish Grill was nothing short of spectacular. The talented chefs crafted exquisite dishes using fresh, locally-sourced ingredients, including the invasive lionfish, which they have turned into a delectable culinary experience while contributing to the preservation of the delicate marine ecosystem.
Hatchet Caye Resort provides a luxurious and intimate haven for travelers seeking privacy, personalized service, and an escape from the stresses of everyday life. In this secluded sanctuary, I discovered the true essence of tranquility and left feeling rejuvenated and inspired.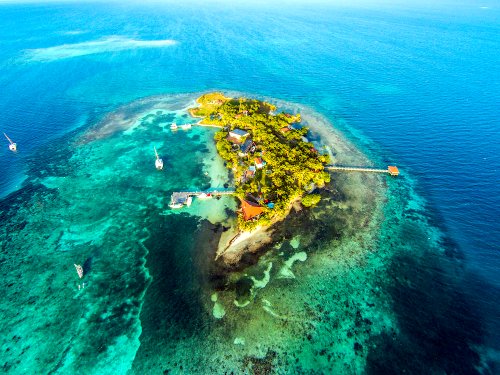 All Inclusive Resorts in Belize
If the words secluded, fishing, diving, reef, private, few guests and unspoiled appeal to you, definitely give this all inclusive resort a look. 
They have quite a number of packages available: honeymoon, family, wedding and inclusive package deals. 
More on Hatchet Caye/ Ray Caye Resort. 
---
As well as all these great all inclusive resorts, you may also like to find out what the best resorts in Belize are. See all the top Belize hotels with special offers here. 
---
Almond Beach Resort: Tranquility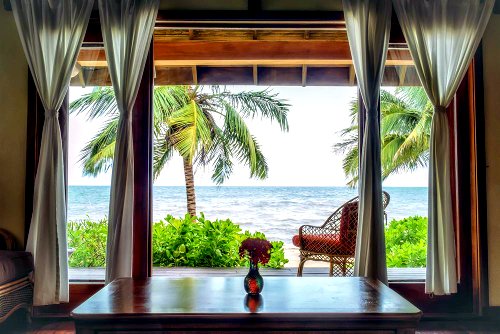 Almond Beach is another of the all-inclusive resorts in Belize that has found its way onto our list. Past guests all seem to mention how peaceful and tranquil it is. The staff are reported to be great also.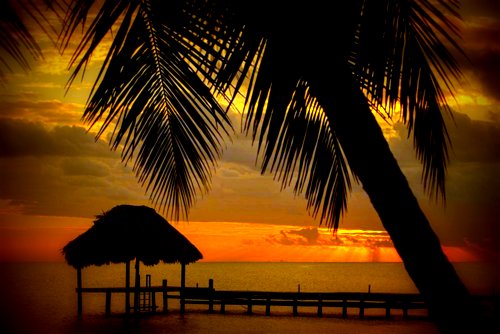 All Inclusive Resorts in Belize
This resort has won a number of awards, is close to Mayan ruins, a number of Belize national parks and of course has great fishing and diving. 
More on Almond Beach Resort here.
---
Royal Palm Island Resort
This great Belize resort is located only a mile from the reef, and really quite close to the capital (less than 10 miles).  They have some pretty impressive all-inclusive packages available. The food is "not fancy" but instead caters to local ingredients with an emphasis on fresh and uncluttered palates. Around the resort there is also enough to do with water-skiing and the beach activities popular.
The resort has a quality spa, and they can also arrange your tours into the nearby Maya sites, enjoy cave tubing, cave experiences, horse riding, or the butterfly farm.
This resort also lets you enjoy their sister resort in the Cayo district.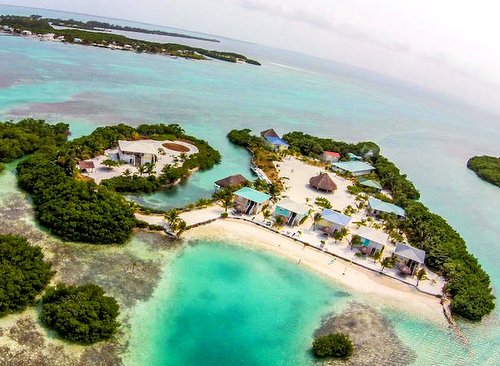 Royal Palm Island Resort
This resort is getting great reviews from guest who are loving this private island paradise. It's noted for it's hospitality, being a private island and has bungalows right on the water. See more information and reviews on Royal Palm Island Resort.
---
Belize Vacation Packages
So, there I was, Sarah, the travel-junkie from the Big Apple, prepped to dive into the heart of Central America - Belize. I'd snagged an all-inclusive vacation package, airfare and all, that was just too good to resist. Imagining myself snorkeling alongside curious marine life in the Barrier Reef, and soaking up the sun on a picture-perfect beach was already giving me thrills. As
---
St. George's Caye - Belize Reef Resort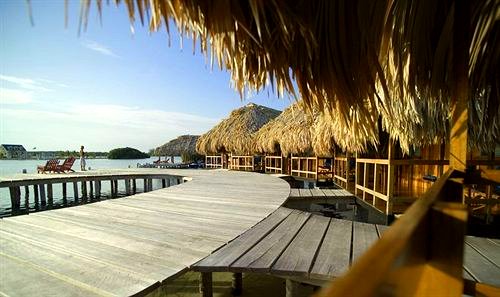 Belize Reef Resort
Great meals, and supportive and wonderful dive masters in a relaxed entertaining location make this one of our top inclusive choices for Belize.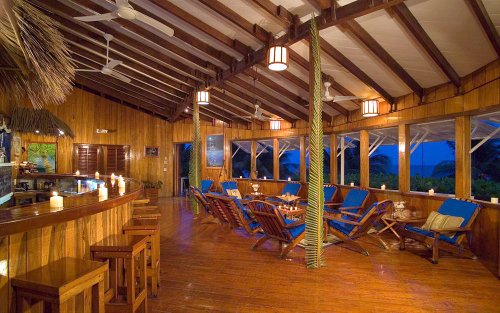 St. George's Caye
Special offers and reviews for  St. George's Caye Resort
---
Something Different: Kayak Belize
Desert islands, crystal-clear waters, will make this a kayaking holiday in Belize to remember. Enjoy a week of island-hopping  and explore the second-largest barrier reef in the world. After 4 hours paddling you have plenty of time to relax and do other activities, such as snorkelling. 
---
Hamanasi Belize Reef Resort: Eco Friendly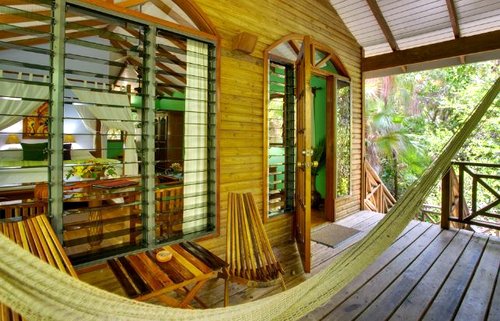 Hamanasi Belize Reef Resort
This all inclusive resort is nestled in 21 acres of rare coastal forest. A day trip away from Mayan ruins, caves, jungle rivers, birding, horseback riding, rainforest trekking, snorkeling, diving and fishing. Lots to do!
The Hamanasi folks specialize in guided reef and rainforest adventures while maintaining a luxury resort atmosphere and facilities. 
Rooms: Tree houses, beachfront rooms or honeymoon suites with handcrafted furnishings, AC and private porches. A perfect adults only retreat. 
This resort has gotten excellent (nearly perfect) reviews for years and years. It must be good as that is unusual! Guests like the romantic private cruise along the beautiful Belize coastline while sipping wine, knowledgeable guides, and reef diving.
Special offers and reviews for Hamanasi - at TripAdvisor
Kanantik Reef & Jungle Belize Resort
Nestled between the sparkling Caribbean waters and the enchanting Belizean rainforest, Kanantik Reef and Jungle Resort offers an all-inclusive, eco-conscious retreat for travelers seeking an unforgettable fusion of natural beauty and luxury. This palm-thatched oasis, surrounded by 300 acres of pristine jungle, is the perfect sanctuary for those looking to escape the mundane and experience the extraordinary.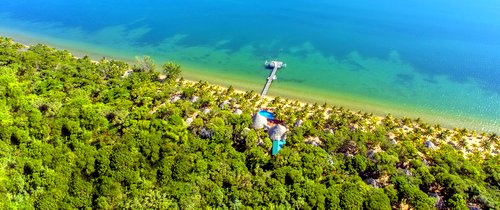 Kanantik Reef & Jungle Belize Resort
This outstanding eco-friendly all inclusive resort is in southern Belize on 1,300 feet of private beach. It was recently voted one of the top 100 in the world (Conde Nast)!
Amenities include water sports, eco adventures, Mayan tours, canoeing in rivers, and waterfalls. Guestrooms are 25 separate, individual air-conditioned cabanas.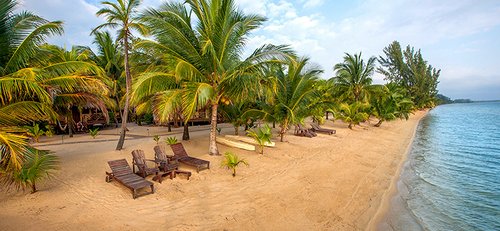 Kanantik Reef & Jungle Belize Resort
For a mid-range price you can stay at a resort that receives over the top praise. Reviewers love the clean beaches, great diving and snorkeling. Honeymooners really loved the quiet romantic setting. It has real jungle and some say the nicest beaches.

Sarah's Review
As I arrived at Kanantik, which means "to take care" in Mayan Mopan, I was immediately captivated by its harmonious blend of opulence and sustainability. Established in 2002 by an Italian visionary, the resort is just a stone's throw away from the Cockscomb Basin Wildlife Sanctuary - home to elusive jaguars - and a leisurely boat ride to the world's second-largest barrier reef.
The resort's 25 luxurious cabanas, adorned with traditional Mayan thatched roofs, effortlessly showcase the dual beauty of both the emerald Caribbean Sea and the exotic Belizean jungle. Each cabana boasts a wraparound deck, a sumptuous canopy bed, and rich wooden floors that whispered stories of a land steeped in history and culture.
Dining at Kanantik was a gastronomic journey like no other. The restaurant prided itself on using fresh seafood and organic produce harvested from the resort's own gardens, and the talented culinary team lovingly crafted exquisite dishes that tantalized my taste buds. From freshly baked bread and crispy tortilla chips to house-made jams, every meal was a celebration of Belizean flavors and ingenuity.
All Inclusive Specials and Deals 
The resort's warm, polished staff welcomed me like family, ensuring that my every need was catered to throughout my stay. In the heart of Kanantik Reef and Jungle Resort, I discovered a blissful, eco-sensitive escape where the spirit of the Caribbean and the magic of the rainforest intertwined to create an experience that will linger in my soul for a lifetime.
Kanantik Reef & Jungle Resort - Latest reviews and at TripAdvisor

St. George's Caye - Belize All Inclusive Reef Resort: A Tranquil Island Haven
Just a short boat ride from Belize City, St. George's Caye - Belize Reef Resort transports you to a serene and secluded island retreat. This intimate resort, steeped in history and surrounded by the enchanting waters of the Caribbean Sea, is the ideal destination for travelers seeking a blissful escape from the hustle and bustle of everyday life.
As I arrived at St. George's Caye, I was greeted by the gentle rustling of palm trees and the soothing rhythm of the waves lapping against the shore. The resort's charming, thatch-roofed cabanas were nestled amongst lush, tropical foliage, creating a sense of seclusion and privacy. Each cabana boasted modern amenities, comfortable furnishings, and a private porch that offered breathtaking views of the sparkling sea.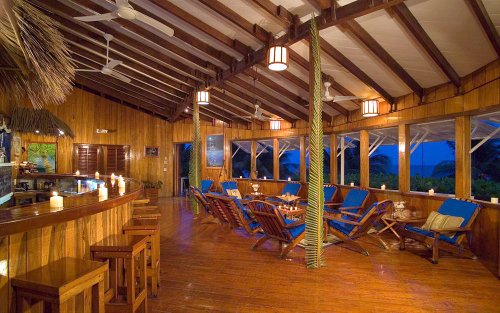 St. George's Caye - Belize Reef Resort is a true haven for water enthusiasts. The resort's close proximity to the Belize Barrier Reef provides unrivaled opportunities for snorkeling, scuba diving, and even fishing. With the guidance of the resort's expert staff, I was able to explore the vibrant underwater world and marvel at the astounding diversity of marine life that calls the reef home.

Beyond its aquatic adventures, St. George's Caye offers a variety of activities for guests to enjoy. From indulging in rejuvenating spa treatments to partaking in a friendly game of beach volleyball, there's no shortage of ways to unwind and connect with fellow travelers.
At St. George's Caye - Belize Reef Resort, I found a peaceful sanctuary where the beauty of nature and the warm hospitality of the staff combined to create an unforgettable island experience.
Deals, reviews and more information
---
Imagine a tropical sanctuary, where the warm Belizean sun dances on the turquoise waves, and the rustle of palm leaves whispers tales of romance and tranquility. In Belize, adults-only all-inclusive resorts are the perfect settings to indulge in a luxurious getaway, where couples and solo travelers alike can escape the ordinary and embrace the extraordinary.
These idyllic havens, carefully tucked away along pristine beaches or nestled within lush rainforests, offer an intimate atmosphere that fosters connection, relaxation, and rejuvenation. As I wandered through the immaculate grounds of such a resort, the scent of exotic flowers and the soothing melodies of local birdsong enveloped me in a warm embrace.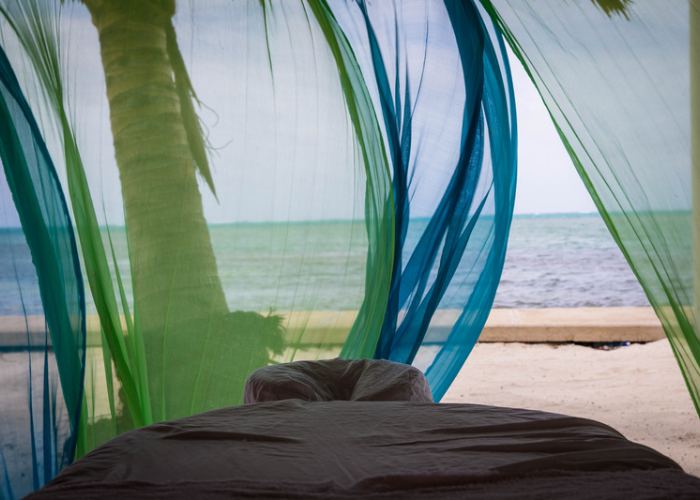 The adults-only all-inclusive experience in Belize is all about indulgence. From the moment I set foot in my elegantly appointed suite, complete with modern amenities and breathtaking views, I felt pampered and catered to in every way. Culinary delights awaited me at every meal, as talented chefs artfully crafted exquisite dishes that tantalized my taste buds and celebrated Belize's rich cultural heritage.
Whether lounging by the pool with a handcrafted cocktail, exploring the kaleidoscopic underwater world of the Belize Barrier Reef, or enjoying a soothing couple's massage at the spa, these adults-only all-inclusive resorts have mastered the art of providing a truly unforgettable experience. The warm and attentive staff, ever-present with genuine smiles, went above and beyond to ensure that my stay was nothing short of perfection.
Belize's adults-only all-inclusive resorts are symphonies of romance and serenity, where the harmonious blend of luxury and natural beauty creates an irresistible allure. Escape to this tropical paradise and let the enchanting spirit of Belize sweep you off your feet.
---
One more resort we should mention is Jaguar Reef Lodge. It was formerly on our list, but it is no longer all-inclusive. It is still a fantastic resort and gets really great reviews. Furthermore, it has a whole 7 miles (ca. 11 km) of white sandy beach!
---
Deals and Vacation Packages for All Inclusive Resorts in Belize:
Find the best deal for your dates (or flexible dates) here with Belize Accommodation Deals.
Also, take a look at the different resort spots to the top right. Some are all-inclusive and some are in the Central American region and offer similar experiences to Belize. 

Still stuck? Take a look at Traveler's Top 25 Belize resort deals.
Share Your All-Inclusive Adventures and Questions! 🌴 Have a memorable experience from a luxury all-inclusive vacation? We'd love to hear it at Luxury Resort Bliss. We're on the lookout for top-quality, insightful tales that'll inspire our community. Dive in and be a part of our sun-soaked stories! 🌊🍹✨
The story is a fictionalized account founded on travel expertise, research, and experience. Always refer to recent guest reviews and perform due diligence before booking.
💼 We cherish our independence! ✈️ Our travel recommendations are carefully researched, bias-free, and powered by human expertise by April and Ricky of LRB (we have personally researched and travelled to many of these destinations and researched others thoroughly through first-hand accounts). We also have put in the hard miles, and Ricky has worked for decades for resort and hotel chains  Hyatt, Hilton, Shangri-La and Radisson before starting Luxury Resort Bliss in 2007. 🌍✨ Unlike some other resort review websites we are concerned on the guest experience rather than mere corporate interest.