Top Puerto Rico All Inclusive Resorts (2023)
Looking for some great Puerto Rico all-inclusive resorts? Like all US territories, All Inclusive resorts are a bit thin on the ground in this part of the world. And while it is tempting to recommend exclusively supporting  local restaurants we wanted to include a few all-inclusive packages available in Puerto Rico that get something close to what's offered in other parts of the Caribbean, Mexico and Europe. There aren't too many, but there are a number of good ones. We've searched them out and listed them below.
VIDEO: Stunning 4K Drone Footage of Puerto Rico 

---
Puerto Rico all-inclusive resorts
We have been asked by more than a few readers about the availability of all-inclusive resorts in Puerto Rico. Then we will try to include in this review what is available by means of all-inclusive packages because legitimate all-inclusive resorts in the style you might expect to find in places like Mexico and the Dominican Republic are a little thin on the ground.   
---
Best Puerto Rico Resorts:
Copamarina Beach Resort and Spa – Guanica, Puerto Rico
I've seen this resort  touted for its all-inclusive credentials, but there are more than a few exceptions to the formula - notably not everything is included! What it does offer however are meal plans and vacation packages that help you organise a lot of your expenses in advance and allow you to focus on enjoying your vacation without having to constantly racking up credit. 
A lot of what you will find at the Nautical Sports Center, on half-mile beach, is not always included in packages. You generally need to rent a kayak and  paddleboarding, or a  hobby cat if you are looking to enjoy these activities. 

The current (at time of writing) Wine & Dine Package for example promises "a gastronomical journey where yo ucan enjoy  Ocean Views, Accommodation, Daily Breakfast Credit, Five-Course Tasting Menu with Wine Pairingand a Customized Massage with Copa Signature Cocktail. Sounds great. With  farm-to-table dining wand a charming authentic setting on the  southwestern coast this is one resort you might not otherwise discover and a bit of a hidden gen we thought worth sharing.
https://www.copamarina.com/specials

Puerto Rico resorts all-inclusive packages
While there are not any quality resorts that offer complete all-inclusive packages, some try hard
La Concha Resort in San Juan has a number of all inclusive like packages' available which allow guest to enjoy things like credit at restaurants & bars, and wine tastings. Granted these offerings a long way of a fully immersive all-inclusive experience but better than other in Puerto Rico offer.
La Concha is the type of experience as a beachfront playground many conjure up in their mind of sitting around enjoying island cocktails, by a  lively pool or partying into the night. 
https://www.laconcharesort.com/specials-packages/

Las Casitas Village, A Waldorf Astoria Resort, Fajardo
Hurricane Maria did quite a bit of damage in September 2017 and this resort is currently set aside to accommodate relief workers. When they reopen in 2022 around May let's see if they come up with some all-inclusive packages fitting of such an awesome location. 

Las Casitas Village
This 5 star resort is located in Fajardo, Puerto Rico. Activities include wave running, horseback riding, wind surfing, diving, fishing, golfing, and there's also a spa and casino. There are 21 restaurants and a swim-up bar at the pool.

Las Casitas Village
There are 155 casistas with private balconies and tropical decor. They have 24-hour butler service.
Reviewers say: great for families, great service, great food, staff are really friendly, expensive, stunning location.
Las Casitas Village, A Waldorf Astoria Resort, Fajardo
---
Puerto Rico honeymoon packages
Restaurants  here are about 'highlighting our local farmers and showcasing the true flavors of Puerto Rico '– and this includes fish caught fresh and local.
The resort like all resorts in Puerto Rico is not fully all-inclusive but does offer romance packages which offer quite a bit including really romantic dinners. Some with Bonfire included! 
https://villamontana.com/package/

Villa Montana Beach Resort

This resort is sure to get those romantic flames blazing.  Situated on  35  acres and including miles of  secluded beaches, this is really a great option for the romantics out there. 
Video: Wedding Day - Villa Montana Beach Resort - Puerto Rico
The St. Regis Bahia Puerto Rico Beach Resort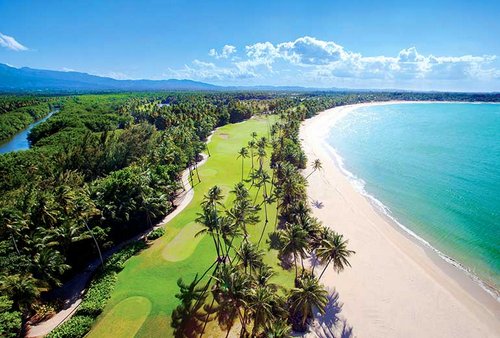 The St. Regis Bahia Puerto Rico Beach Resort
This really is one of the top resorts in the Caribbean with immense, huge sized rooms and suites.  While in a large part a golf and spa resort there are opportunities for all sorts of luxury vacations. 
The resort was sculpted out of a former coconut farm nesteled in a parcel of land between El Yunque National Forest and Espíritu Santo River State Preserve. Then there are miles of secluded beach to explore. The attractions are the cuisine, explore the forrest and for some - golf. But there is also a quality spa plenty of  water sports.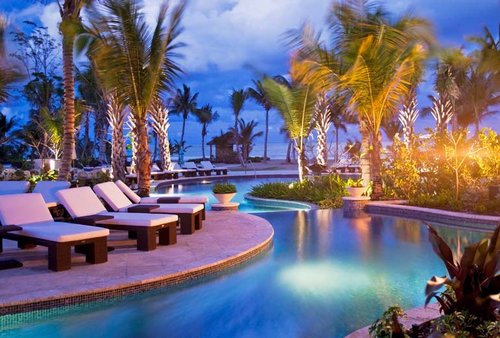 Puerto Rico Beach Resort
The 480 acre resort is styled with the family in mind, to take advantage of the great beach location. The Kids Club is available for kids from 5 to 12 years old.
Enjoy lakes, trails, an Athletic Club, swimming pools, and watersports around the resort and down along the two mile beach.
Golf is by way of a  Robert Trent Jones Jr. course and down the beach there are all the recreational activities you could imagine.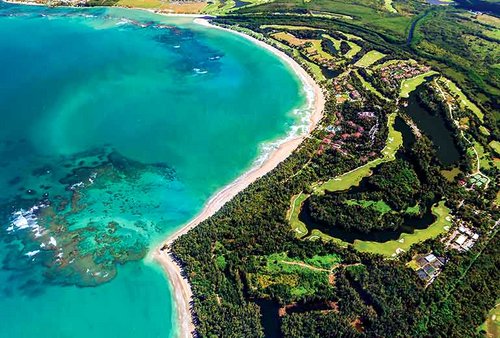 Puerto Rico Beach Resort
Click here for more information on The St. Regis Bahia Beach Resort, Rio Grande.

---
---
El Conquistador Resort, A Waldorf Astoria Resort, Fajardo
Many of the all-inclusive packages that were offered as apart or reopening from  El Conquistador Resort have now ended, but this remains one of those huge resorts that have everything. All we can do to prompt resorts like this to offer all-inclusive options is to keep asking, and this is one resort that is really primed to transition over to the all-inclusive format.
There really are a lot of activities to enjoy from water sports and to horseback riding as well as a wide array of restaurants, pools and bars from beachside to rooftop.  El Conquistador Resort, is promoted as one of the most iconic beachfront resorts in the Caribbean and that is a fair call.
El Conquistador Resort, A Waldorf Astoria Resort
Perched on a cliff, this 5 star resort is located in Fajardo, Puerto Rico. It is in the same location as Las Casistas Village and offers many of the same things. Differences include a water park and the accommodations.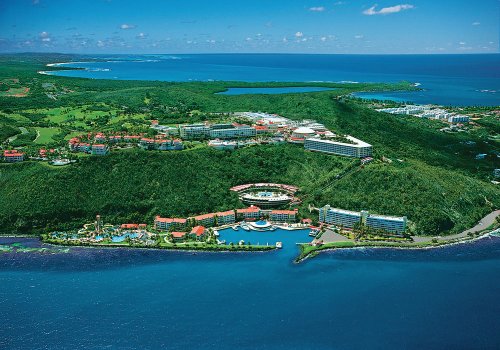 El Conquistador Resort
There are 918 guest rooms and suites in this massive resorts and so this resort is much larger than Las Casistas.

Reviews are slightly lower for this resort. Reviewers say: great butler, rooms are nice but not well-maintained, great location.
Click here for more information on El Conquistador Resort, A Waldorf Astoria Resort, Fajardo.
---
---
Vacation Packages to Puerto Rico
Sometimes when people are thinking about all-inclusive, they are looking for a vacation package that takes care of everything. We have gone ahead and created a review of the best place to find or create these types of packages, and we are keeping up with the latest offers. Then if you are happy to create your own vacation package to Puerto Rico using and would like to see the latest specials and discounts visit our package and travels deals page. 
Embassy Suites Hotel Dorado Del Mar Beach And Golf Resort, Dorado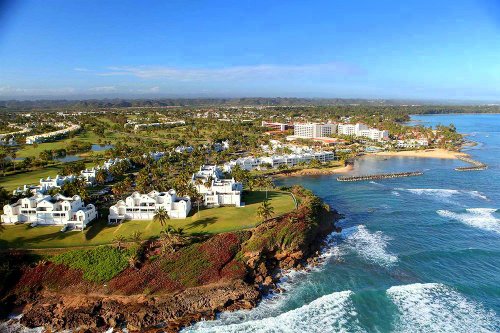 Embassy Suites Hotel Dorado
This family friendly 3 star resort is located 25 miles from San Juan in Northern Puerto Rico. There's an 18-hole, par-72 golf course, a beach, lagoon pool, tennis courts, water sports and 4 restaurants. There is a spa and fitness center.
There are 174 rooms and suites with private balconies and yellow and mauve decor.
Reviewers say: good family value, beach has a protected bay that keep waves small, friendly staff, pool is great for kids. 
Click here for more information on Embassy Suites Hotel Dorado.
---
Top 25 Puerto Rico Resort Deals

San Juan All Inclusive Resort
Of course, we are talking about packages and not legitimate Puerto all-inclusive resorts (because they don't exist at this stage) but San Juan is a bit of a hot spot for these. 
San Juan, is also a vibrant and upbeat major city of  Puerto Rico, complete with great restaurants, nightlife, museums and great beaches. Packed with history as one of the oldest cities in the Caribbean, you can think of it as kind of all-inclusive destination. 

 Some larger hotel chains which have resorts in San Juan  tend to not vary from their tried formulas too much and all-inclusive options are not on the table. The Marriott San Juan for example will often have seasonal packages with promotional codes to get a night off here and there but will not offer all-inclusive food and drinks. This means you sometimes need to look to more unconventional routes to find all-inclusive packages. 
All Inclusive San Juan
These are some resorts and hotels that are offering some inclusion in the San Juan are which are also among the best rated and loved properties. 
The Ritz-Carlton, San Juan

The vacation packages offered from The Ritz-Carlton, San Juan give you the opportunity to include things like a family trips to explore Old San Juan, hotel credits, spa treatments and complimentary nights.

Ritz San Juan, Puerto Rico Resorts
The Ritz gets good reviews but not excellent - and you would want excellent for the price you pay here. It is a luxury, beachfront resort with a casino. Many love all the luxury perks and this is known to be a great spot for a group getaway.
It should be noted, reviews have been great lately, check them out to see what people are saying now.
Click here for more on The Ritz, San Juan.

Discovering the Rhythms of San Juan with The Ritz-Carlton, San Juan

---
All-inclusive beach resorts in Puerto Rico
Don't go looking for authentically all-inclusive beach resorts in Puerto Rico, as you won't find any. But you can settle for some really outstanding beach resorts, many of which have some outstanding packages:
San Juan Marriott Resort & Stellaris Casino

This is a resort that has a lot to offer but not in the all-inclusive space. But is you are looking for a great luxury resort with a few extra facilities like a quality spa, this is an excellent choice for the area. Many past guests point out the great views here and like the location as there is a lot within walking distance. It's beachfront and close to the old city and convention centre.
Click here for more information and the latest reviews for Marriott San Juan.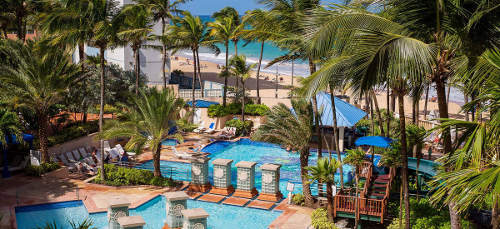 Marriott San Juan, Puerto Rico Resorts
Also, to take a look at the Puerto Rico luxury resorts, click here. They receive excellent reviews and we love to recommend them because of their outstanding quality.

Puerto Rico Adults Only Resorts
More and more many of our visitors are asking us to include small boutique adult only resorts. If you are looking for an adult only resort in Purto Rico there is a good chance that one of the resorts below will fit the bill. 
Puerto Rico resorts all-inclusive adults only
You are not going to find any all-inclusive adult only resorts in Puerto Rico, and if you do, we would love to know. But for now can we direct you towards the best adult only all include resorts review 
Puerto Rico all-inclusive family resorts
There are not any all-inclusive family resorts in Puerto Rico, but we have put together a list of family vacation packages from all the top providers. With these cheap family vacation deals you are able to match flights and accommodation options and save hundreds of dollars of Puerto Rico vacation packages as well as other destinations.   
But you may also like to check out all-inclusive family resorts from the nearby Caribbean Islands.
Sandals Resort, Puerto Rico
Funny enough, we get requests about the Sandals resort sin Puerto Rico. The Sandals Resort chain doesn't operate resorts in this part of the world. We not in Puerto Rico anyway. 
But there are lots of Sandals all-inclusive resorts on nearby Caribbean Islands. There are also lots of Adult all-inclusive and all-inclusive family resorts on these.  Here are a few ideas to get you started exploring these:
All inclusive trips to Puerto Rico
Sometimes you are looking for a little more than an all-inclusive resort. You want flights, accommodation, and sometimes tours included. If you are looking for an all-inclusive trip to Puerto Rico why not check out our travel deals page which puts together all the latest cheap travel deals and build yourself a great package.  See travel deals