Best Ski Resorts in Austria
Best Ski Resorts in Austria
Looking for a great Austria ski resort? We've listed the great places to ski along with the best ski resort to stay at in that spot. There is definitely some great skiing and great resorts here.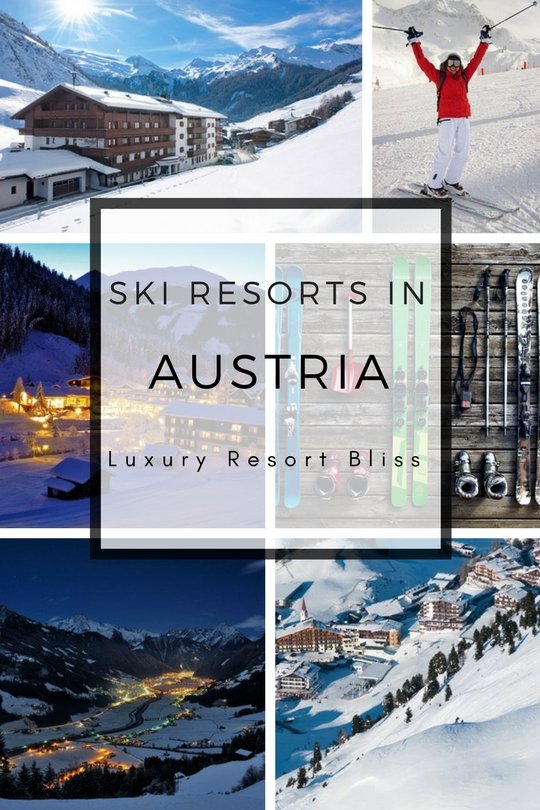 Best Ski Resorts In Austria with Map
This video shows the top ski resorts in Austria with a map. 
Söll is known for its lively nightlife and excellent ski schools, making it an excellent choice for young adults and beginners learning the ropes of skiing.
Kitzbühel, with its picturesque landscape and world-renowned Hahnenkamm downhill race, is a haven for intermediate and advanced skiers seeking a thrilling skiing experience mixed with a dash of glamour.
Mayrhofen is home to the steepest ski piste in Austria, the Harakiri. It is a paradise for adrenaline junkies and experienced skiers. The resort also caters well to families with its well-maintained nursery slopes and cool town.

Saalbach is a great choice for intermediate skiers who like variety. With over 270 km of runs, it boasts one of the most extensive ski circuits in the Austrian Alps. Its lively village atmosphere makes it an ideal choice for groups of friends.

Obergurgl, known for its high-altitude skiing and family-friendly atmosphere, is an ideal resort for families and beginner to intermediate skiers. The resort offers a peaceful and relaxed ski holiday experience.

Alpbach is perfect for those seeking a quieter, more traditional Austrian ski experience. Its uncrowded slopes are great for beginners, and its charming village life offers a peaceful retreat.

St Anton is famed for its challenging off-piste terrain and lively après-ski, making it best suited for experienced skiers looking for a high-energy ski experience both on and off the slopes.

Ellmau, part of the SkiWelt area, is a fantastic choice for families with children. It boasts a well-established ski school and numerous family-friendly activities.

Lech exudes luxury and charm. It offers high-quality skiing, with a range of blue and red runs, making it suitable for intermediate skiers. The resort is also known for its luxury accommodation and fine dining.

Zell am See suits those who love a blend of activities. In addition to its varied ski terrain, it offers snowshoeing, tobogganing, and scenic winter walking trails. It's ideal for active families and couples who want a mix of skiing and non-skiing activities.
Ischgl is known for its high-quality, snow-sure slopes and dynamic après-ski scene. It is a great choice for intermediate to advanced skiers who also appreciate a lively nightlife.
Austrian Luxury Ski Hotels
More information on Austrian Ski Resorts: 
---
Here are our top recommendations for skiing in Austria:

scorecard for Austrian ski resorts
Before we get to the reviews let's create a scorecard for Austrian ski resorts and compare them to other popular ski destinations around the world, such as France, Italy, Switzerland, and the United States (particularly Colorado). I'll rank them out of 10 in several categories:
Ski Conditions (quality of snow, variety of slopes, snow reliability): Austria scores a 9, France scores a 9, Italy scores an 8, Switzerland scores a 9, and the United States (specifically Colorado) scores a 10.
Affordability (value for money): In terms of affordability, Austria scores an 8, France scores a 7, Italy scores a 7, Switzerland scores a 6, and the United States (Colorado) scores a 7.
Apres-Ski (social scene, restaurants, entertainment): For apres-ski, Austria is at the top with a score of 10, France scores an 8, Italy scores an 8, Switzerland scores a 7, and the United States (Colorado) scores an 8.
Ease of Access (transportation to/from resorts, within resort areas): Austria scores a 9 for ease of access, France scores an 8, Italy scores a 7, Switzerland scores an 8, and the United States (Colorado) scores a 7.
Family-Friendliness (facilities for children, ski schools): In terms of family-friendliness, Austria and France both score a 9, Italy scores an 8, Switzerland scores an 8, and the United States (Colorado) scores a 9.
Availability of Other Activities (non-ski activities): Austria scores a 9 for availability of other activities, France scores an 8, Italy scores an 8, Switzerland scores an 8, and the United States (Colorado) scores a 9.
These scores reflect a general comparison and may vary by specific resort within each country. Keep in mind that this is a rough guide and personal preferences might shift these scores depending on what you value the most in a ski vacation.
Salzburg, Austria Ski Vacations
Near the Austrian Alps, the enchanting city of Salzburg serves as a gateway to a plethora of ski resorts, making it a prime choice for winter sport enthusiasts. Just a mere hour away, one finds the vast Saalbach Hinterglemm Leogang Fieberbrunn ski area, often dubbed as the Ski Circus, one of the largest interconnected ski regions in Austria. Other notable ski resorts, such as Dachstein, Filzmoos, or Seefeld, lie within a convenient 1-2 hours' drive, each offering distinct terrains and breathtaking views. Although Salzburg might not have ski resorts within the city boundaries, its excellent location near the Alps makes it an indisputable hub for accessing some of Austria's finest skiing destinations. Like all other countries the best time to Ski in Austria depends on the conditions that year. While there is often more snow later in the season. 
Official travel website: https://www.salzburg.info/en
---
Zell am See Austria Ski Resort
Zell am See-Kaprun is a skiing paradise nestled in Austria, offering a staggering 408 kilometres of pistes spread across three impressive ski resorts, all accessible via a single Ski ALPIN CARD. The Schmittenhöhe resort is known for its family-friendly slopes and sun-soaked panorama, while the Kitzsteinhorn glacier resort provides an exceptional high-alpine experience with diverse pistes. The Skicircus Saalbach Hinterglemm Leogang Fieberbrunn completes the trio, extending the skiing possibilities even further.
From Zell am See-Kaprun, you can gaze upon the majesty of 30 three-thousand-metre-high peaks, challenge your skiing prowess on the Kitzsteinhorn's 63% gradient Black Mamba piste, or indulge in the freeride adventure with five unique routes. The Funslope XXL on the Schmittenhöhe stands as a fun challenge for the adventurous.
The Kitzsteinhorn ski resort in particular commences its ski season as early as October, offering 61 kilometres of pistes, five snow parks, and five freeride lines. It even caters to families with its engaging offerings on the Maiskogel. The cable car connection brings you directly from Kaprun to the midst of the high alpine nature of the Kitzsteinhorn.
Zell's local mountain, the Schmittenhöhe, provides a scenic and family-oriented ski experience with its wide, perfectly groomed pistes. It even features a run with a steepness of up to 70% for the daring. The Schmittenhöhe is also dotted with cozy huts and gourmet stations to recharge during your ski day, offering unparalleled views of the surrounding peaks and Lake Zell. With three access points in Zell am See and one in Glemmtal valley, reaching Schmittenhöhe is a breeze. The zellamseeXpress takes you directly from the Skicircus to the Schmittenhöhe ski resort, encapsulating the seamless integration of the Zell am See-Kaprun ski resorts.
Zell em See is in Salzburg and has lots of ski area - it's great for both professional level and beginner level skiers.
Recommended place to stay here: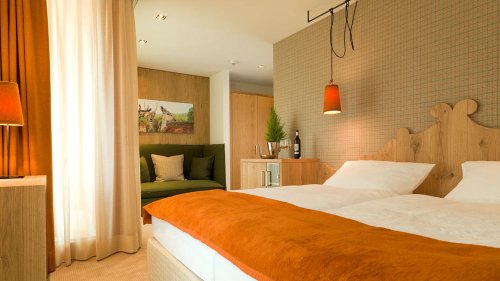 Guestrooms at Hotel Tirolerhof
A luxury resort with full-service spa, indoor pool, free ski shuttle, ski storage, health club, airport shuttle and more. Excellent reviews for this spot with many many return visitors.
---
Bad Gastein Austria Ski Vacations 
Visiting Bad Gastein has been an incredible experience. This old spa town, situated at a soaring height of 1080m, offers not only therapeutic hot springs but also a sprawling ski area, Stubnerkogel, and the scenic Gasteiner Valley. The resort boasts over 200km of diverse pistes, welcoming skiers of all proficiency levels with 16 runs for beginners, 38 for intermediates, and 6 for advanced skiers.
The ski lifts here reach impressive heights of up to 2686m, offering magnificent views of the surroundings. The ski resort stands out for its extensive range of facilities, including an outdoor heated pool, an ice rink, a nightclub, an indoor pool, a health spa, and even a supermarket. Despite its fragmented structure, the efficient resort bus service ensures smooth transportation around the resort.
For the adventurous, there are thrilling off-piste runs and a World Cup downhill, not to mention 90km of cross-country skiing trails. The snow conditions in Bad Gastein are consistently excellent, thanks to its altitude and the 800 snow-making machines that cover 85% of the slopes.
Off the slopes, there's an array of activities to engage in, like tobogganing, horse riding, ice skating, and curling, or you can unwind at the thermal spas. The après ski scene is more on the relaxed side with a few lively bars like the Silver Bullet and a grand casino for entertainment. Accessibility is also a strong point for Bad Gastein, with Salzburg Airport just a 1hr 40 min drive away.
All in all, the combination of extensive ski runs, a range of facilities, varied off-slope activities, and high-quality snow conditions makes Bad Gastein an excellent choice for a ski holiday.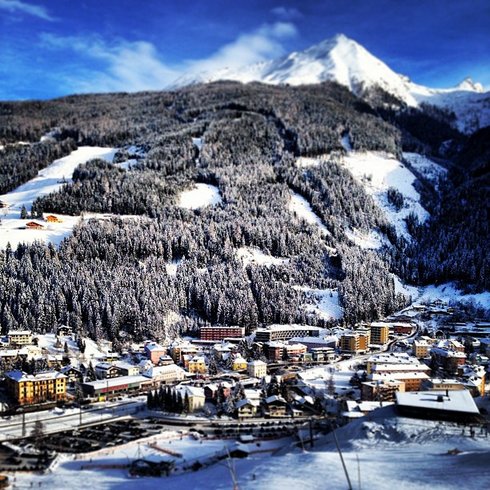 Located in Salzburg, Bad Gastein has great skiing for families, all levels and is a good spot for beginners to practice. There is also an area that is great for free riders and off-piste skiers. You'll also find challenging runs here.
Read all about Bad Gastein, Austria here.
Recommended resort in Bad Gastein:
Hoteldorf Gruner Baum, nestled in the enchanting town of Bad Gastein, is a true haven for ski lovers and nature enthusiasts alike. Known for its warm hospitality and traditional Austrian charm, this hotel offers comfortable accommodation options and a range of amenities. From its doorstep, guests can access the extensive ski trails of Bad Gastein, perfect for beginners to advanced skiers. After a day on the slopes, unwind at the hotel's wellness area or indulge in a delightful meal at the on-site restaurant.
Hoteldorf Grüner Baum
Hotel Village Gruner Baum is indicative of many ski resorts in Austria. Made of five houses with a total of 80 pleasant rooms, in the amazing surroundings of the Gastein Mountains. The Hotel Village is spread over an area of 70 acres, and is located in between the pure nature and car-free environment of the Kotschach Valley. 

---
---
Ischgl Austria Ski Packages
Ischgl, nestled within the Tyrolean Alps, transforms into a veritable paradise for winter sports aficionados each year. This small town in Paznaun morphs into a pulsating alpine metropolis, attracting all types of winter athletes from the casual to the hardcore, the weekend vacationers to the long-haul tourists. When it comes to experiencing the unique splendor of skiing in Tyrol, Ischgl is the destination of choice.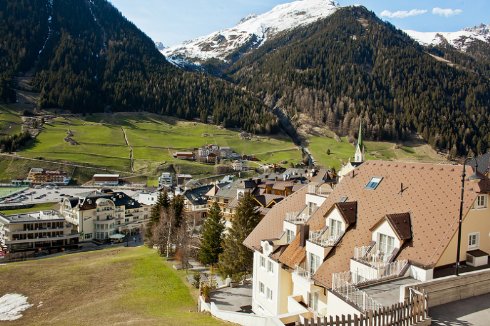 FLickr cc
Situated at a towering altitude of 2,872 meters, the ski resort of Ischgl offers awe-inspiring views of the surrounding landscapes. Along with the Swiss town of Samnaun in the Canton of Grisons, Ischgl forms the majestic Silvretta Arena, the third largest ski resort in Tyrol, Austria.

Ischgl's ski pass prices and operating hours cater to a wide range of visitor preferences, ensuring an unforgettable ski holiday for all. The resort boasts a plethora of slopes and facilities that cater to every skill level, while the interactive piste map ensures visitors can navigate the sprawling ski area with ease.
Dining on the mountain is an experience in itself. The Alpenhaus restaurant, popular among holidaymakers, offers a tantalizing culinary retreat in between runs. Other mountain restaurants offer a unique mix of traditional and contemporary fare, providing nourishment in a setting that's as breathtaking as the food is delicious.
With its world-class ski amenities, vibrant lifestyle, and stunning natural beauty, Ischgl is indeed the epitome of a winter sports paradise in Tyrol.
Ischgl, together with adjoining Swiss ski resorts in the Alps, have some of the largest ski resorts in the Alps. It's a huge ski area with lots of great winter events.
Read all about Ischgl, Austria.
Recommended resort in this spot: 
Hotel Fliana
VIDEO: Hotel Fliana Urlaub mit Hund in Ischgl
This is a luxury ski-in/ski-out resort with really excellent reviews from past guests. Besides the great ski hill access, this resort features a full-service spa, indoor and outdoor pool, nightclub, sauna and more.
Get more information and see the latest reviews for Hotel Fliana.
More great accommodation options in Ishgl.
---
Mayrhofen Ski Resort
With a sweeping expanse of 142 kilometers of meticulously groomed slopes and an impressive network of 60 modern cable cars and lift systems, the ski areas of Ahorn, Penken, and Horberg in Zillertal are a dream come true for winter sports enthusiasts. Mayrhofen-Hippach in Tyrol is a destination that guarantees an exhilarating ski holiday, replete with an endless array of opportunities to embrace the joy of winter.
Ahorn and Penken offer distinct ski experiences to cater to various types of skiers. Mount Ahorn, with its expansive, sunlit slopes and the entertaining FunRide Ahorn, is an ideal playground for leisure skiers, beginners, and families. Mount Penken, on the other hand, promises an adrenaline rush for thrill-seekers, featuring attractions such as the formidable Harakiri slope, Austria's steepest groomed run with a vertigo-inducing gradient of 78%, and the dynamic PenkenPark.
The vast Penken ski area, which includes Finkenberg, Rastkogel, and Eggalm, ranks as one of Austria's largest and most varied ski regions. PenkenPark caters impeccably to boarders and freeskiers across skill levels with its five areas, from rookies to seasoned pros. The park's dedicated SunJet chairlift maximizes the number of runs for snowboarders and freeskiers, and the Kids Park is a fantastic venue for budding freestyle acrobats to polish their tricks. Speedsters can feel their pulse race at the RacingParadise Unterberg, with its three permanent giant slalom courses.
Off the slopes, Mayrhofen boasts a lively après ski scene and invigorating nightlife, enriching the overall ski resort experience. While the resort's slightly higher day pass rates and the absence of a valley run from Penken to Mayrhofen might be points to consider, the town's modern lift system, diverse trails, and off-piste opportunities, not to mention its superior on-mountain dining and overall ambiance, more than compensate for any perceived shortcomings. With the option to explore three other ski areas on a multi-day lift pass and easy access from Innsbruck via the Zillertalbahn, Mayrhofen in Zillertal is a skier's and snowboarder's haven that delivers an unforgettable winter sports experience on many levels.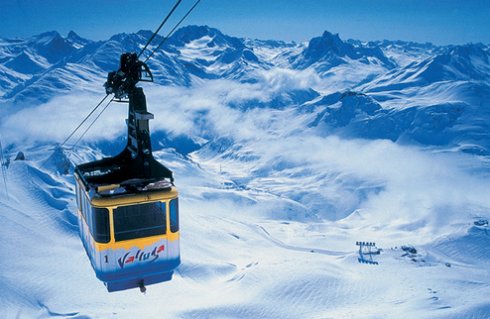 St Anton Ski Resort FLICKRCC
Challenging, diverse wit a pass covering the whole Ziller Valley by the Hintertux glacier to Kaltenbach. Mayrhofen is the in the Ziller Valley has 625kms of diverse ski terrain is a nightlife central.
It's about an hour from the capital city of Tryol, Innsbruck and a diverse skiing spot. There are 2 ski mountains, steep slopes, a number of ski schools and more. 
Sporthotel Strass
At the heart of the Tyrolean Alps, the Sport & Spa Hotel Strass in Mayrhofen creates the perfect blend of relaxation and activity for an unparalleled holiday experience. This top-notch hotel offers a range of immaculate rooms and spacious suites, making it the ideal destination for any summer or winter holiday in Zillertal, Tyrol. Situated right next to the Penkenbahn cable car in the center of Mayrhofen, guests can easily access a wide range of sports and leisure activities.
In the summer, Mayrhofen offers a wealth of activities for adventure lovers. Hiking enthusiasts, cyclists, and climbers alike can immerse themselves in the stunning Tyrolean landscape. The area boasts leisurely family-friendly tours and challenging routes for ambitious adventurers alike, with the unique charm of the High Alps Nature Park Zillertaler Alps waiting to captivate every visitor.
In winter, the hotel's location beside the Penkenbahn cable car is a gateway to skiing bliss on 142 kilometers of pistes. For a more relaxed pace, guests can traverse the winter wonderland on a snowshoe walk or explore the immaculate cross-country skiing trails, which offer an almost infinite and breathtakingly beautiful experience.
For those in pursuit of tranquility, the hotel's expansive 3,000 square meter spa offers an oasis of calm and relaxation. The spacious pool area complete with loungers and whirlpools serves as a sanctuary for rest and rejuvenation.
Sport & Spa Hotel Strass encapsulates everything one could desire for an unforgettable holiday experience – delightful stays, an extensive spa and fitness center, and a location that opens the door to a diverse array of outdoor adventures. Here, every day is a unique journey of indulgence and rest.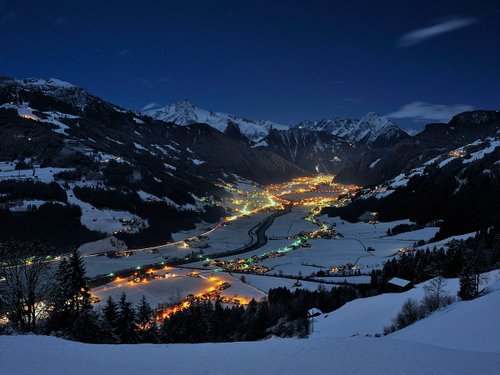 Winter in Mayrhofen, Sporthotel Strass
A 4 star, luxury resort with lots to offer - especially skiing! Get more information on Sporthotel Strass.

---
Obergurgl, Austria skiing
Situated at the end of the Ötztal and surrounded by the snow-capped peaks of the 3000-meter high mountains, the tranquil mountain village of Obergurgl-Hochgurgl offers winter holidays in Austria at the highest level. Known as "Gurgl, The Diamond of the Alps," this resort is nestled at almost 2000 meters, making it one of the Alps' most snow-reliable ski areas.
In Gurgl, you'll find upscale hotels and restaurants directly on the slopes, ready to cater to discerning sports enthusiasts who appreciate top-quality skiing. The area boasts 112 kilometers of excellently groomed pistes, available for skiers of all skill levels. You'll also have access to 25 modern mountain lifts and a snow guarantee from mid-November to the end of April for top-notch skiing enjoyment. The ski area also features fun facilities for the whole family, delightful refreshment stops, and a wide range of freeride options.
Obergurgl is another great ski village in Tryol. Read all bout Obergurgl, Austria here.
To get the most out of your skiing experience, Gurgl also offers an online Ski Ticket Shop, where you can purchase your Obergurgl-Hochgurgl skipass. Booking in advance can save both time and money.
But the offerings in Gurgl extend beyond the slopes. Cross-country skiing enthusiasts can enjoy 12 km of high-altitude trails. There are also countless opportunities for ski touring, which can lead you into the untouched natural beauty of the rear Ötztal. A toboggan run and winter hiking trails offer additional fun, and a range of wellness offerings and excursion destinations ensure there's no chance of boredom.
When you stay in Gurgl, you also get to experience Ötztal Inside. With this free guest card including digital travel companion, you'll have access to exclusive deals and the latest information about events in the valley or on the mountain.
Recommended Austria ski resort here:
Hotel Edelweiss & Gurgl
An excellent ski-in/ski-out resort in Obergurgl. Reviews from past guests are outstanding. Highlights include a beautiful spa, 21 peaks at over 3000m, lifts next to the hotel and more. 
Get more information and see the latest reviews for Hotel Edelweiss & Gurgl.
---
Hochgurgl Austria Ski Vacations
Hochgurgl, also known as the Diamond of the Alps, is a superb choice for a ski vacation in Austria. Located at the end of the Ötztal valley and perched at an elevation of nearly 2000 meters, it boasts reliable snowfall and offers some of the highest quality skiing in Austria. With 112 kilometers of well-groomed slopes, 25 modern mountain lifts, and a snow guarantee from mid-November to the end of April, Hochgurgl offers a premium ski experience for beginners and seasoned skiers alike. The village is also renowned for its luxury accommodations and fine dining options, many of which are conveniently located right on the slopes. Off the slopes, guests can enjoy winter hiking trails, wellness offerings, and a variety of excursion destinations. All of these features make a ski vacation in Hochgurgl a truly unforgettable experience. Similar area to that above. All about Hochgurgl, Austria.

---
Hintertux Austri Ski Resort
At 3250 meters Hintertux Glacier is open all year. A great spot for year-round skiing in Tryol with altitudes up to 3250 m. It's a spot that works for beginners, experienced skiers and a good spot for snowboarding as well. 
Read all about Hintertux here.
Hintertux Glacier Ski:

Recommended Hintertux, Austria ski resort:
Hotel Alpenhof Hintertux
This resort has a variety of suites, breakfast buffet, 6 saunas, gym and more. It gets excellent reviews from past guests. 
Get more information and see the latest reviews for Hotel Alpenhof Hintertux. 
Best accommodation options in Hintertux.
---
Also you may like to see

Reith bei Seefeld, Austria

St Johann, Austria

Scheffau, Austria

Capella Hotels and Resorts is reopening the legendary Schloss Velden, a historic lake-side hotel, located in the breathtaking Alpine basin  of southern Austria in the town on Velden. Poised gracefully above the blue-green waters of the stunning Lake.

---
We hope you've found a great Austria ski resort. For more, see our ski resort menu. 
---
FAQ for Austrian SKi Resorts
The ski season in Austria generally runs from late November to early April, depending on snow conditions. The busiest times are during the Christmas and New Year holidays and the February school holiday periods.
t's generally not necessary to pre-book ski passes as they can be bought directly at the ski resort. However, some resorts offer online booking with possible discounts for early bookings.
Absolutely. Austrian ski resorts cater to all levels of skiers, from beginners to experts. Most resorts offer ski schools with English-speaking instructors.
Apart from skiing and snowboarding, many resorts offer additional activities such as tobogganing, ice skating, cross-country skiing, snowshoe hiking, and wellness centers.
The cost of a ski vacation in Austria can vary widely depending on factors such as the time of season, accommodation standard, location of the resort, and whether ski passes and equipment rental are included. As a rough guide, you might expect to pay anywhere from 100 to 500 Euros per person per night.
It's highly recommended to get travel insurance that covers winter sports when going on a ski holiday. This can cover potential issues such as ski equipment theft, accident or injury, and piste closure.
he Sölden Ski Resort in Tyrol is particularly renowned for its night skiing facilities, with floodlit slopes providing an exceptional skiing experience after sundown.
There are many excellent ski resorts in Austria, some of the most popular include St. Anton am Arlberg, Ischgl, Sölden, Saalbach-Hinterglemm, and Kitzbühel.
Some smaller, less crowded resorts that offer a charming experience include Alpbach, Lech, and Zauchensee.
Affordable ski resorts in Austria with good facilities include Schladming, Zell am See, and Kaprun.
Obertauern, Schladming-Dachstein, and Saalbach-Hinterglemm are all excellent ski resorts that are relatively near to the city of Salzburg.
The Ski Arlberg resort is the largest in Austria, offering over 300 kilometers of marked ski slopes.
There are more than 400 ski resorts in Austria, ranging from small local hills to large resort areas.
💼 We cherish our independence! ✈️ Our travel recommendations are carefully researched, bias-free, and powered by human expertise by April and Ricky of LRB (we have personally researched and travelled to many of these destinations and researched others thoroughly through first-hand accounts). 🌍✨
We try to keep everything up to date, but please always do your own research and contact us if you know any issues for us to help others as best we can as a small but professionally focused team! 🧐📚⚠️