Best Maine Ski Resorts
Looking for the top Maine ski resorts? Main ski resorts pride themselves on their fast lifts, deep snow and short lines. Here are our hand-picked resorts to set you up for a great vacation.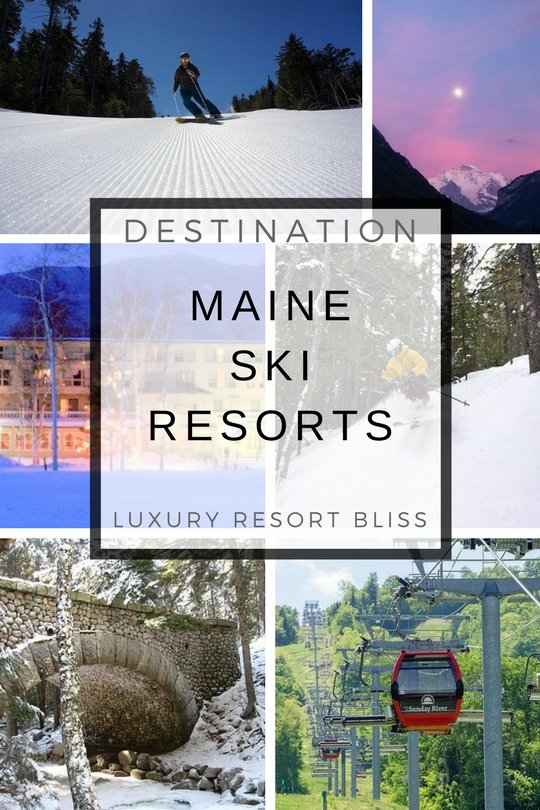 See also New England Family Ski Resorts.
Some of the best ski resorts on the East Coast. See more on our Vermont ski resorts, New Hampshire Ski Resorts and Shawnee Ski Resorts.
Mountains range from 2,000-foot drops, snowboarding parks, and terrific accommodation options.

See also Maine Vacation Rentals
---
Sugarloaf Maine Ski Resort
There are 3 places to stay here.
Check out the latest reviews of the lodging at Sugarloaf to see what people have said most recently. It has a high rating generally.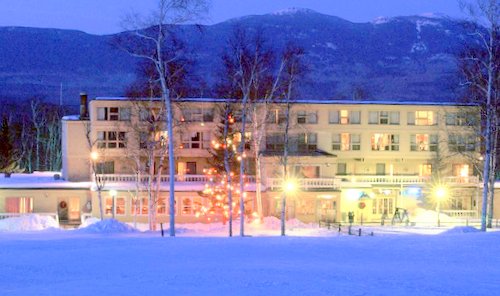 Sugarloaf Inn
Another place to stay is the Sugarloaf Inn. It's noted as being a good spot for families, ski-in ski-out, and warm and cozy.

Known for its good value and location, there is also the Sugarloaf Mountain Hotel. Many people note the beautiful views at this spot.

---
---
Carrabassett Valley

A very high resort in the wilderness and close to Quebec, New Hampshire and Vermont. One special thing they do is offer lift-serviced skiing about the tree line. Because it's a little farther away, it's less busy and less crowded than other resorts in Maine.
This resort has a 2.600ft drop, 280 inches of snow and 111 trails. See more on this resort on our Vermont Ski Resorts page.

---
Sunday River Ski Resort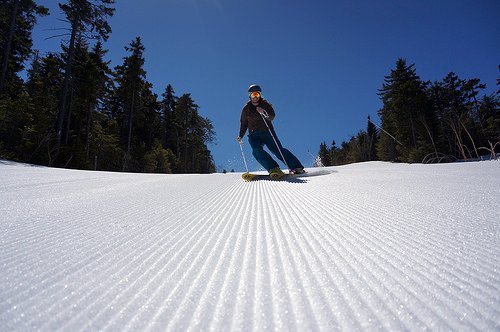 Sunday River Maine Ski Resort
Located in the Mahoosuc Mountains close to White Mountain National Forest. They have at least 128 runs and it's known as a fun place to go skiing and snowboarding. Most of the snow here comes out of machines. For the freestylers there are more than enough acres to move and comparatively little competition for space.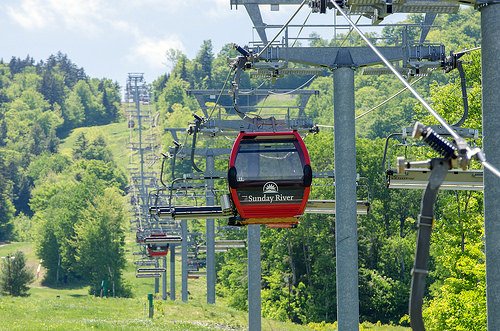 Sunday River Ski Resort
From the resort you can reach over 870 acres which include Barker Mountain, Locke, Barker Mountain, Spruce Peak, North Peak, South Ridge, Aurora Peak and White Cap. More on Sunday River Ski Resort
This is a video of a run down the Jordon Bowl at Sunday River on a fine March day shows what this area is all about. Many consider this the signature peak. 

Jordan Grand Resort and Conference Center is the best hotel in the area with quite a few luxury amenities. The beds are noted as being especially comfy and past guests rate it highly.

Ski-in ski-out condos and hotels are at the White Cap and Locke Mountain base area.

More in the places to stay in the mountain village of Bethel.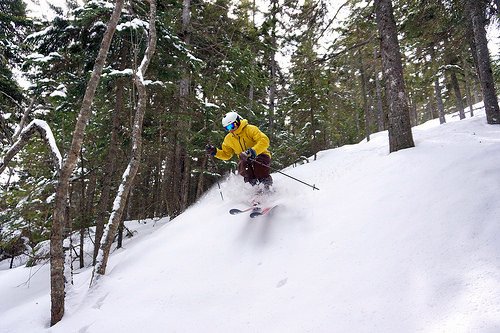 Sunday River Ski Resort
---
Mt. Abram Maine Ski Resort
Five great lifts at Mt. Abram Maine Ski Resort are only the beginning of family entertainment. Enjoy a vertical drop of more than 1,100 feet and over 40 trails.
More Mt. Abram Greenwood, Maine information and accommodation options.
---
Saddleback Ski Area
Saddleback is one of the original ski areas in Maine and has been in operation for more than 50 years. Enjoy miles of trails which head out from the resort area down rather gentle slopes. One of the key attractions at this Maine ski resort is the quality ski school which makes it easy for beginners to learn to ski.
More information and accommodation offers at Saddleback Ski Area
---
Bangor Maine Ski Area
Some of the best day and night snow opportunities is at the new Hermon Mountain. With 60 acres and 100 percent snow making and a 350 feet drop there are lots of good times to have. Mt. Jefferson is also within easy reach of Bangor.
Special offers and reviews for in Bangor Maine
---
Big Squaw Maine Mountain Ski Resort
Apart from the great views down to Moosehead Lake this not for profit resort is one you really can put on your itinerary. Enjoy more than 20 trails and all the facilities you need for a good snow trip. 
More information and reviews of Big Squaw Maine Mountain Ski Resort
---
Lost Valley Maine Ski Resort
Lost Valley is one of the top ski schools on the east coast and long days of skiing.
---
Camden Snow Bowl Maine
Camden Snow Bowl, is another pioneer ski location with a relatively large 1,100 + drop. Camden also hosts the national Toboggan trials.

---
Shawnee Peak
Shawnee Peak is THE original ski resort in Maine. 

---
Ski Package Deals
World's Top 50 Most Popular Ski Destinations on TripAdvisor
Top 25 Most Popular Canada and United States Ski Destinations

Think Snow! Great Ski Deals. Book now on Expedia!
VIDEO: Top 10 Ski Resorts In North America
More Ski Resorts: 

| | |
| --- | --- |
| Popular USA Ski Resorts | International Ski Resorts |