Best Cancun Adult Resorts
Welcome to the best Cancun adult resorts review. This page lists the top Cancun adult all inclusive, Cancun couples and spa resorts. If you are interested in adult and couples resorts, it's also a good idea to take a look at the Playa del Carmen Adults and Couples resorts to see the best of the best in this category.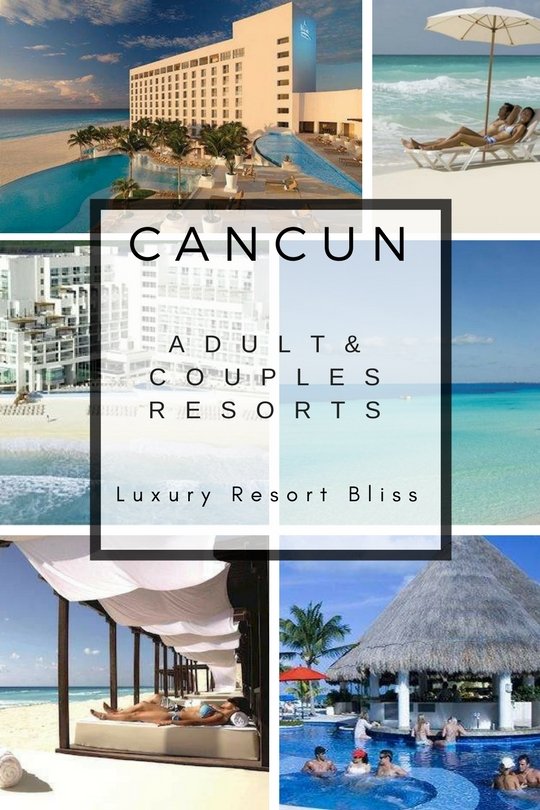 Video: Some good options in the Cancun Area. Follow the links below for special offers.
Le Blanc Cancun All Inclusive Adults Only Spa Resort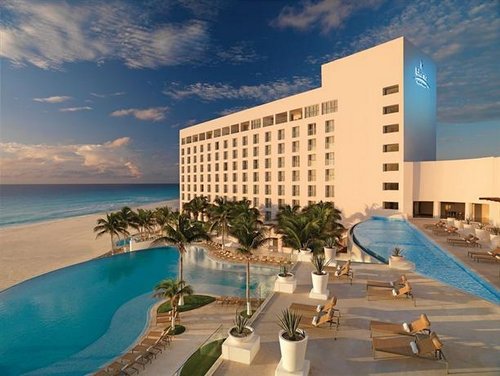 Le Blanc Cancun All Inclusive Adults Only Spa Resort
An Adult all inclusive luxury resort which continuously get raving reviews.  Guest love the  "sophisticated style, lavish personal attention, and uncompromising attention to detail". We are constantly impressed with this resort which  is competitive with the best resorts in the world. Le Blanc has around 260 rooms and is definitely and impeccably 5 star.

Location:
On the beach near the marina.
5 minutes from downtown Cancun
25 minutes from the airport.
in a prime position on the Cancun east coastline with its white sand beach with lots of attractions within an easy stroll.

Amenities: Two awesome golf courses, 8 pools, 2 Infinity pools, butler service. More than a handful of outstanding restaurants for with diverse cuisine options, Haute cuisine, premium drinks, 24-hour room service, non-motorized water sports, entertainment, all taxes & gratuities, wireless Internet. 

Restaurants include French, Mediterranean, Asian and you will find poolside or swim-up service in the pools. Around the resort you can catch a circus or magic performance or enjoy one of scores of included activities or shows.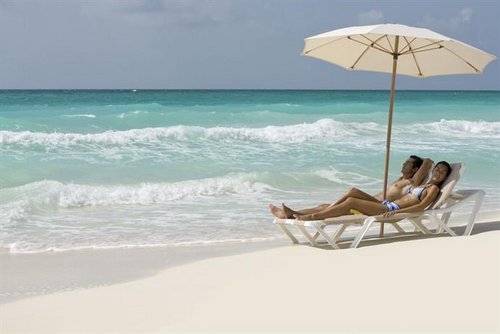 Of course this is only a preview of what this resort has to offer and there is not room here to mention the variety of dance activities, yoga and Tia chi classes and the like that are on offer. These even extend to many beach and resort activities that are on offer at some of their partner resorts (mostly palace resorts) located on the Cancun strip.

In the spa, you will find a number of personal sanctuaries including scores of treatment rooms, master suites with hydro tubs, indoor couples suites and other luxury suites. Experience Greco-Roman rituals, a deluxe beauty salon, and massage.
Rooms: 260 rooms, air-conditioning, ocean or lagoon views, a balcony, double jacuzzi, flat screen LCD TV and satellite.
Reviews: Rarely does a resort receive such praise. You can sense the positive vibe that radiates from this resort. The honeymooners will love this one. All class all inclusive which rates a perfect score for cleanliness and almost every other factor scouring outstanding. In all the years we have been following this resort it has always maintained the highest standards and the five star butler service has never wavered. You get such a lot more here for a little extra cost. 

More information and Special offers on Le Blanc Cancun All Inclusive Adults Only Spa Resort.
260 rooms / 5-Star Adults Only All Inclusive / 96/100
---
Hyatt Zilara Cancun Adult Only All Inclusive Spa Resort
The classy all-suite Hyatt Zilara Cancun Adults All Inclusive Resort was formerly The Royal (which was also reserved for guests over 18 years). It is located right down in the beach hotel zone, has 85 rooms and is 4/5 star (depends who's asking). One of the outstanding features is the atrium entertainment experience right by the sandy beach. This makes for a stunning location for a full entertainment experience at the weekly pool parties with live DJs.
Around the resort there's an abundance of foodie /entertainment experience which could mean anything from fondue and Caribbean jazz sessions to tequila tastings.
You can get active with a top class gym, morning  yoga classes, aerobics ,volleyball or seek out the large range of beach activities and local tours available.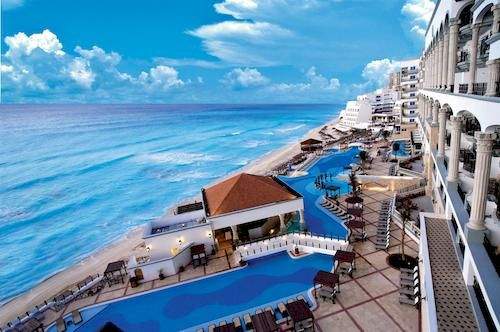 Hyatt Zilara Cancun Adult Only All Inclusive Spa Resort
Included in the complex are six quality restaurants, a full service spa and butler service around the pools and beaches.
In the reviews you will find this resort has continued to enjoy and and give exceptional satisfaction ratings even after the change of management. Past guests really adore this resort if they have chosen it for a honeymoon and tend to come back for repeat experiences again and again.
On our most recent review of this resort we found the level of service has continued to improve. Really it's one of the best spectacular Adults only all inclusive resorts in Cancun.  
See special offers and more information on the Hyatt Zilara Cancun
---
The AAA Five Diamond Zoëtry Paraiso de la Bonita is an outstanding Resort for those seeking seeking, luxury, privacy and seclusion. The focus here is on holistic "wellness, tranquility, and romance". 
Location: On a private beach, in an "intimate, elegant destination" close to Cancun on the Riviera - Puerto Morelos.

Amenities: Fine dining. The 22,000-square-foot European style Thalasso Center & Spa. La Bonita is the resorts own 48 ft luxury catamaran that runs tours. 14 acres of landscaped gardens. The Mayan influence.
In addition to the above amenities, your experience at Zoëtry Paraiso de la Bonita also includes:
Amazing Suites, all with Caribbean vistas and personal access to the white sands.
Gourmet organic food options and a good drinks menu including top shelf options.
Temazcal ceremony
Catamaran Excursions.
Complimentary greens fees at a nearby golf course
Thalassotherapy Sp.
Mayan architecture, antiques, marble and luxurious fabrics. Two TVs. A welcome bottle of tequila. Private terraces. DVD player. Beach bag.
Mexico resorts Reviews: Receives praise for beauty, relaxation, serenity, dining and spa treatments. Some prefer this hotel over the Ritz because of the room quality alone. What some find boring others love as peace. If you don't think twice about parting with a wad of cash this one won't disappoint for tranquility and beauty book here. The private airport transfers receive praise.
More information on Zoetry Paraiso de la Bonita

---
Sun Palace Cancun Couples Only Resort
Sun Palace is promoted as a "couples-only playground" and has begun to string a series of awards from TripAdvisor and others awards for romance. It's a 4/5 star resort with 252 rooms and is one of the great Cancun adult resorts.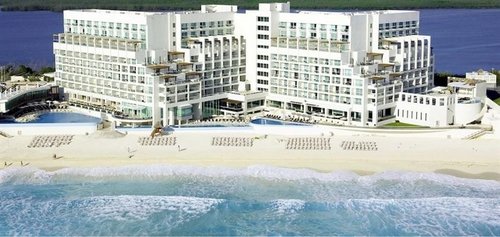 Sun Palace Cancun Couples Only Resort
All attempts are made to make each day different and ignite the romance. Whirlpools and private balconies in each room, complete with a welcome bottle of wine. The resort is also big on giving out resort credits which you can use on spa treatments, golf, and tours. Apart from the restaurants, meals are also available through in-room dining.
Reviews and guest satisfaction ratings are clearly exceptional, having received a number of awards for a resort in the romance class.
More information and offers on Sun Palace Cancun Couples Only Resort
---
Excellence Playa Mujeres All Inclusive Cancun Adult Only Resort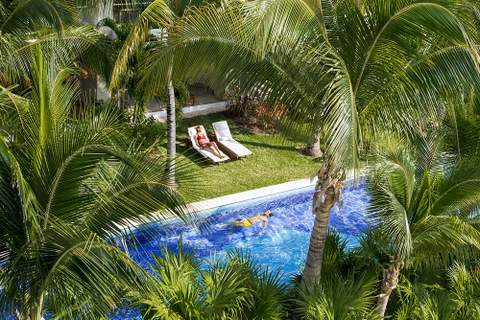 Excellence Playa Mujeres Adult Only All Inclusive Resort
This all inclusive Cancun adults resort is situated a little out of the tourist zone at Playa Mujeres in Cancun. You get the stunning white sands but not all the busy busy which makes it a little easier for the romance to flow. You are still less than half an hour from the airport and amenities and there is a Greg Norman inspired golf course at the resort.
A top class spa, nine gourmet restaurants. stacks of included land and water activities, make sure there is more than enough to do to fill your days and nights.
See special offers and reviews for Excellence Playa Mujeres Adult Only All Inclusive Resort.
---
Temptation Cancun Adult Only Resort
Temptation Resort as not your average Cancun adult only all inclusive resort. The hotel itself describes it self as provocative and the description as a temptation resort is not by accident.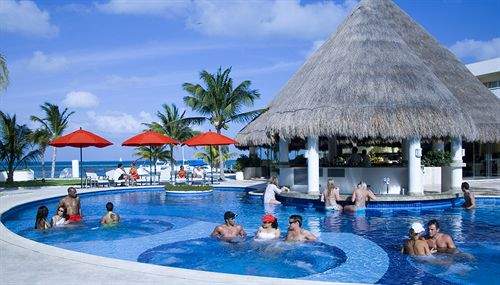 Temptation Cancun Adult Only Resort
This 3/4 star resort has 334 rooms. Many reviews describe the resort as frequented by open minded and hip 35 to 45 with varying body shapes. In promotional material you will see descriptions like "vibrating, sexy and adults only atmosphere gets you totally invigorated and relaxed". These promotions are desingned to seek out a certain type of clientele which is the concept of the resort.
Fittingly, guests looking for this type of resort are the ones who give this resort the higher satisfaction ratings. Generally the ratings are high and comparable to the other resorts on this page while the facilities and service are almost at the same level.
See special offers and reviews for Temptation Adult Only Cancun Resort
---
Excellence Riviera Cancun Luxury Adults Only All Inclusive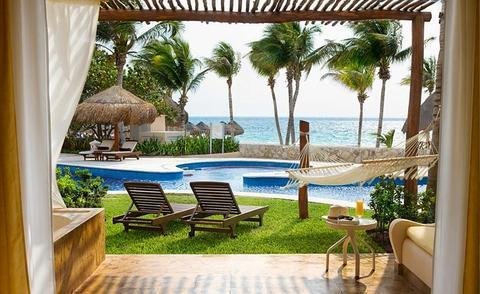 Excellence Riviera Cancun
440 rooms / 98/100 / Service Value Great Pool. Dining options  include a restaurant and a coffee shop/cafe.
Excellence Riviera Cancun Luxury Adults Only All Inclusive deals @ expedia

---
Also check out our top Riviera Maya and Playa del Carmen adult only Resorts

---
The Bel Air Collection 5 STARS Cancun Adult Hotel Resort
89/100 Spa Resort
Special offers and reviews for the
The Bel Air Collection 5 STARS

See more from Bel Air Collection reviews

---
To learn more about Mexico and where you want to visit, check out Mexico's official tourism website.
---
Florida Adult Only All-inclusive Resorts