All Inclusive Los Cabos Vacation
Best Cabo All Inclusive Resorts (2023)
Looking for the best Cabo All Inclusive Resorts (2023) and deals.  A Los Cabos / Cabo San Lucas vacation is certainly a great choice if you are looking to enjoy the Baha California peninsular and all the rich beauty of the Sea of Cortez. While not having the same number of all-inclusive resorts as the Riviera Maya on the Caribbean side of Mexico, there are some great options for big and small budgets.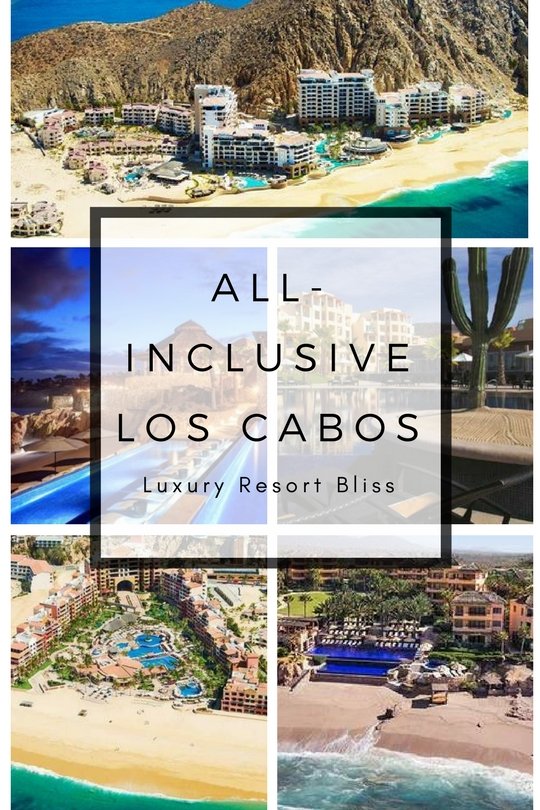 Best Cabo All Inclusive
At the southern end of Baja is Los Cabos or the capes. Consisting of the towns of the traditional San José del Cabo and up to the more western and ritzy Cabo San Lucas. 
24 of 205 properties in Cabo San Lucas are listed as all inclusive on Tripadvisor: TA Cabo San Lucas Hotels: All Inclusive and Places to Stay
Esperanza Resort, All Inclusive Los Cabos Vacation
Top Choices for an All Inclusive Cabo San Lucas Vacation:
Cabo San Lucas All Inclusive Resorts
VIDEO: Los Cabos Destination Video
Hyatt Ziva Los Cabos 
This is a new resort that is doing as well as some of the more established luxury all inclusive vacation resorts in Los Cabos. Billed as a resort of sophistication the Hyatt Ziva is close to San Jose and offers some classy options. 
Fine dining options happen around six a la carte restaurants and a couple of traditional all inclusive buffets. Although pretty stylish and lavish, the children are not left out and there is a full program to complement the other entertainment and shows that are occurring routinely around the resort.
All Inclusive Los Cabos Vacation
Whether at one of a handful of pools, the spa, taking advantage of the top golf, fishing or nearby scuba, you are sure to find quality service and helpful attendants not too far away. 

The all-inclusive plans (at the time of writing) include ocean view accommodations, fine dining and gourmet buffet meals, room service, live performances, all drinks, activities, a kid's water park, and more. There are options to upgrade to the premium service as well.
Click here for more about Hyatt Ziva Los Cabos All Inclusive Resort

---
Hotel Riu Palace All Inclusive Cabo San Lucas Resort

This all inclusive resort at Cabo San Lucas is the best of the Rio properties in Los Cabos. A couple of big resort pools and the Spa / wellness centre which has a good range of options. Riu offer a range of entertainment including live shows and generally a hip vibe. 
Mexican style dishes are available in the restaurants where Mesoamerican and European styles compliment each other and then there is the buffet restaurant.

For the kids there is the Riu Land where the kids will have their own staff to entertain them with crafts and outdoor activities.
Location: Southern part of the Baja California peninsula, 2.8 miles from Cabo San Lucas. Looks out toward Médano Beach on the Sea of Cortez.
Amenities: Gym, table tennis, tennis courts, volleyball courts, sauna and jacuzzi, entertainment, children's program, night club.
Additional charge for: windsurfing, sailing, water skiing, scuba diving school, kayaking, jet ski, parasailing, golf, horseback riding.
Dining types: American, Buffet, Japanese à la carte, Grill and Steakhouse à la carte, Mexicanà la carte and buffet, Gourmet à la carte.
Rooms: 642 deluxe guest-rooms. Interconnecting and sea view rooms upon request.
Suites are available with hydro-massage bathtubs, shower cabins, bathrobes and Jacuzzis on the terrace.
Reviews: Guests are having an exceptional experience. The big sense you get from reading the reviews is of an immaculately groomed blissful place of smiling faces. Nice achievement for an all inclusive. Some are more happy than others when the pool closes early in the evening.
Click here for more on Hotel Riu Palace Cabo San Lucas

---
cabo all inclusive resorts adults only
Cabo certainly is a hotspot for all-inclusive resorts adults only resorts and vacations. This goes well beyond the spring break times of the year into some extremely sophisticated options.
Expedia has a list of Adult only resorts in Cabo San Lucas. Cabo Adult Only Resorts on Expedia
Video Review: 3 BEST ADULT ONLY ALL-INCLUSIVE RESORTS - Cabo San Lucas
Secrets Puerto Los Cabos Golf & Spa Resort
A new, luxurious Puerto Los Cabos Adult All Inclusive Resort by one of the best known Adult resort brands. Set on an ideal Pacific coast beach location and with a fine array of five local and internationally styled restaurants as well as a lavish gourmet buffet. Wash it all down with quality wine and top shelf spirits. Or if you prefer take in a meal in your room or in a romantic beach setting.

All Inclusive Los Cabos Vacation
There are other things to but stare romantically into your partners dreamy eyes like yoga, Pilates, golf, a well planned activities list, pool and cocktail parties and more provide these opportunities. 
More on Secrets Puerto Los Cabos Golf & Spa Resort

Official website for Secrets Puerto Los Cabos.
---
Barcelo Grand Faro Los Cabos All Inclusive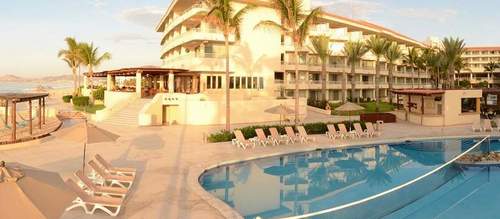 All Inclusive Los Cabos Vacation
A reasonable size luxurious five star all inclusive Los Cabos resort on the Sea of Cortez with 350 rooms and six restaurants to choose from. Located close to San José del Cabo. As well as a top quality spa and lots of beach club activities.  The resort has managed to hold a AAA 3 Diamond award since 2010. Kids are well catered for with club Barcy.

There are 3 a-la-carte restaurants including a n Italian, Mexican and a seafood restaurant. Some require reservations. You will find attentive waiters in the swimming pool as part of the all inclusive experience as well as things like cappuccino and cakes in the lobby.
Enjoy a Mexican night a good live entertainment program which varies over the seasons. The daily activities program is really complete and does cater to everyone. Nice to know your gratuities are also taken care of before arrival (at time of writing).
Click for more on Barcelo Grand Faro Los Cabos

Official website for Barcelo Grand Faro Los Cabos
---
Hotel Riu Santa Fe Los Cabos All Inclusive Vacation Resort

An upbeat all inclusive beach resort close to Cabo San Lucas. The resort is often favored for beach and water sports lovers. 
The all inclusive packages generally include all meals, which include cooking stations where meals are prepared in front of you. Commonly you can find hot breakfasts, pizza, salads, desserts, international buffets. There are also a couple of international style restaurants where you can make a reservation.
There is enough going on around the resort to keep everyone entertained with things like tennis, table tennis, steam baths and whirlpools and daily live entertainment.
Kids club is tailored to two separate age groups 4 to 7 and ages 8 to 12 year olds. 
Click here for more on Rui Hotel Santa Fe

---
Fiesta Americana Grand Los Cabos All Inclusive Golf & Spa
The 250 room Grand Fiesta Americana Los Cabos All Inclusive Golf & Spa is exceptionally well regarded by previous guests and is a step up from many of the other Los Cabos all inclusive vacation resorts.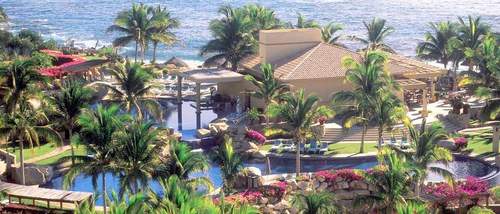 All Inclusive Los Cabos Vacation
Activities around the resort include both cultural and artistic but also recreational. The good thing about this resort is that once you select from the wide range you will find that it's almost always included in the all inclusive rate. The SOMMA Spa offers wine and there are activities like diving, tennis, or horseback riding on hand.
Inspiration for meals come from across different regions of Mexico of which you can take your choice. Other international dishes complete the culinary adventure which operates around the clock.
More information and special offers on Fiesta Americana Grand Los Cabos All Inclusive Golf & Spa
---
Solmar All Inclusive Resort & Beach Club
Solmar Hotels & Resorts have five resorts at the end of the Baja Peninsula. These resorts are known for their Premier concierge service, spa treatments, activities, access to great golf. 
If the particular resort you choose is not an all inclusive resort you can upgrade to a meal plan. For example, at the Hotel Grand Solmar & Playa Grande this upgrade will include (at the time of writing as always) breakfast, lunch and dinner at all restaurants and bars, Snacks & Sushi, cocktails, beers, sodas & wine. Discounts on dinner in your room, premium drinks and other includes. There are however some items not included including some gratuities some spa services. 
Check out the Solmar All Inclusive Resort & Beach Club
---
---
Grand Solmar Land's End Resort & Spa
Grand Solmar Land's End Resort & Spa
---
Pueblo Bonito Sunset Beach Resort & Spa All Inclusive Option
All Inclusive Los Cabos Vacation
Pueblo Bonito Sunset Beach on the western side of the tip of Baja is away on a bluff fringed private beach with lots of space and privacy not far from Cabo San Lucas. This location while secluded also offers an easy access hop on and off shuttle to Cabo.
There are a large swathe of swimming pools and restaurants, an outstanding spa and is both couples and family friendly.
Click for more on Pueblo Bonito Sunset Beach Resort & Spa All Inclusive

---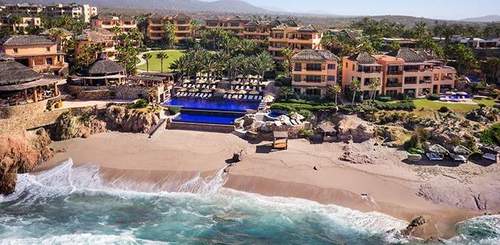 Esperanza resort has had a recent transformation which has enhanced it's already outstanding reputation. 

---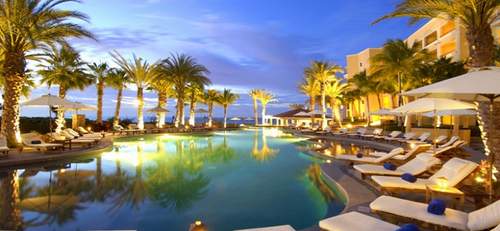 ---
Holiday Inn - Formerly the Presidente InterContinental All Inclusive Los Cabos Resort
Great for Service / Value / Great Location / 390 Rooms
The Holiday in seems to have gotten better and better reviews over the years and really is an option to consider these days.
More information on the Holiday Inn Los Cabos ALL Inclusive
---
Royal Solaris Los Cabos Hotel
A final option for the family. It's all inclusive and has a good pool. 
Royal Solaris Los Cabos & Spa - All Inclusive

For more in Mexico, check out the menu on the right. 
Sarah loves to check out all-inclusive resorts and find great packages and report about what real travelers are saying, Sarah is an indicative character created for the purpose of providing insights uncovered during our research.  These reviews are indicative of others first-hand experiences using our research methodology designed to uncover the best  (as opposed to those that are simply marketed as the best).

While our reviews are founded on real accounts and stories and thoroughly researched do your own research and exercise your best judgment when making travel decisions. And keep in mind all-inclusive packages are always changing.