Key West Luxury Resort Vacations
Top All Inclusive Resorts In Key West (2022) And Alternatives
Key West Luxury Resort Vacations
Looking for a great Key West all-inclusive resort or a  Key West luxury resort? While there are not many 5-star resorts in Key West, you will find some great 4-star luxury resorts.
Here are some of our top resort ideas to make for a great vacation or honeymoon in Key West, Florida. You may think of Key West as a bit of a party destination and there is that aspect, but in the bigger picture Key West is simply a great laid back vacation island.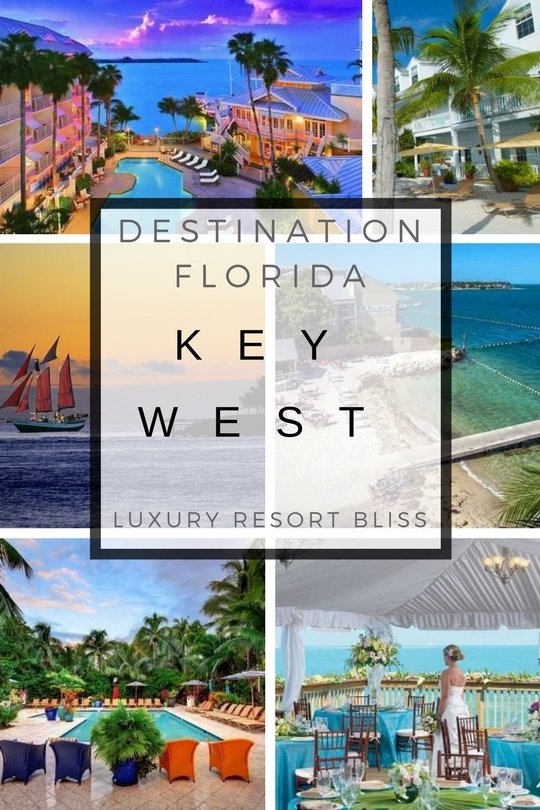 Key West is one of the most chill places in Florida. While a little more developed these days, you are sure to notice the wind down once you arrive in this seriously relaxed destination.
Hemingway loved it and you will too. Sure there are lots of condo developments and cruise ship visitors but a lot of active participation by the locals - often referred to as conks, has helped maintain that special quality that defines this unique and different location.
About Key West: Attractions and Things to Do
Enjoy a rickshaw ride, plenty of drink bars and lively street scene missing from such a lot of tourist destinations these days. The food is really fresh and worthy of making this a travel destination in it's own right. Also check out the Top 25 Key West Resort Deals reviews.
---
Key West Luxury Resort Top Picks:
We begin with the top Key West luxury vacation resorts that get excellent reviews. You should be able to find a great place to stay and relax below.

---
All Inclusive Resorts in Key West
If you are looking for All inclusive resorts in Key West you may find it disappointing that there are not really any options that reproduce the type of Experience you would expect in Mexico or the Dominican Republic.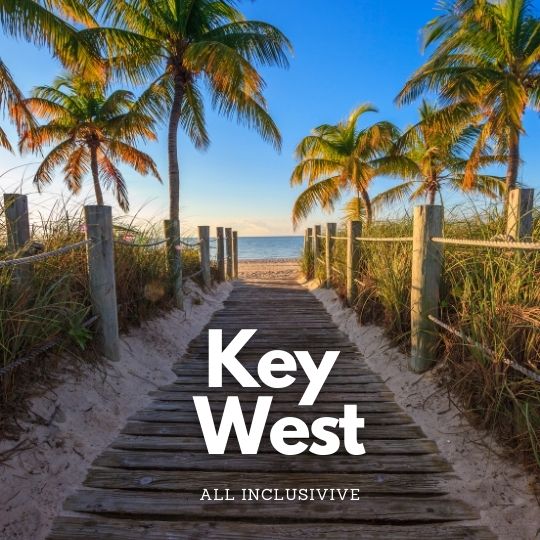 All Inclusive Resorts in Key West
Parrot Key Hotel & Key West Resort

Parrot Key has all-inclusive Culinary Escape packages where guest can choose from a 'Full Culinary Key package' for three meals or 'Parrot Taste' package'. Other features of some of these inclusive packages  are a complimentary drink on arrival and more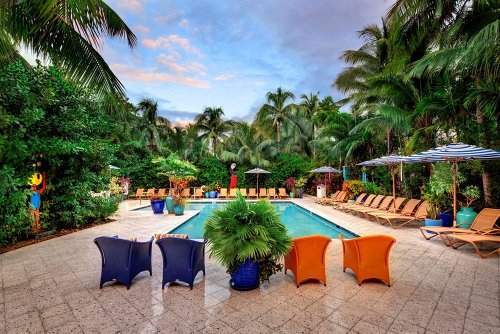 Parrot Key Hotel & Resort, Key West
One resort which really captures the essence of Key West is the Parrot Key Hotel & Key West Resort. 
With only about 150 rooms this Waterfront resort with a marvelous pool and tiki bar is only a few minutes from Duval Street nightlife. 
A nice feature of this resort is the Café Blue and the meals by the pools.
More on Parrot Key Hotel & Resort, Key West.

---
Orchid Key Inn: Key West Luxury Resort
Orchard Key is not a Key West all-inclusive resort, but we have included it here because of the excellent feedback we get and its location which provides immediate access to a whole range of amenities and activities vie Duval Street and the beach. 
Located right by the old town, Orchid Key Inn has been named one of the most romantic hotels in the United States and is an outstanding small resort choice.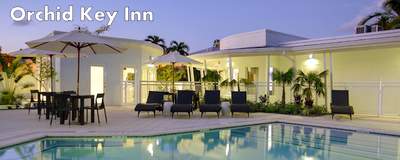 orchidkeyinn.com
Learn more on Orchid Key Inn.
---
With packages like the Romance in Paradise guests can indulge in an all-inclusive like experience. This starts with lux  oceanfront accommodations  but also includes spa and restaurant and restaurant credit, couples massage and a gorgeous waterfront dinner for two. 
This about the closest you are going to get to an All inclusive resort in Key West.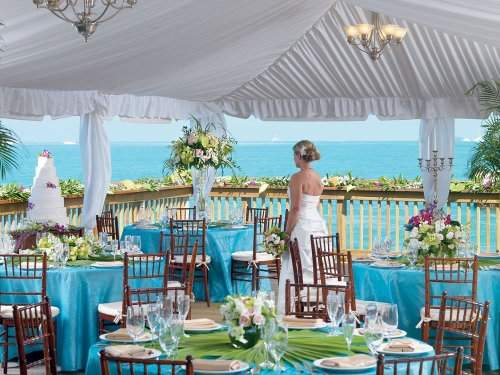 Ocean Key Resort And Spa
---
Key West All Inclusive Packages
Although there is a shortage of All Inclusive resorts in Key West there is not any shortage of great packages available. At the time of writing  Santa Maria Suites are offering 15 % off when you book three nights. 
Santa Maria Suites Key West Resort


Located one block from the Atlantic Ocean and Duval Street. While only 4.0 star this Key West Luxury Resort has 35 guestrooms and gets amazing reviews. Guests really seem to love the free smoothies, ice cream, big flat screens, happy hour and Duval Street.
Guestrooms have kitchens with microwaves, refrigerators, coffee makers, and cookware and dishes you are covered if you eat in or out. There are no room charges for children 13 years old and younger who occupy the same room as their parents or guardians, using existing bedding. There is a small resort fee for the pool gym, parking and the like. 

Decorated in Art Deco style, the 35 suites and villas have private balconies, 2 baths, and kitchens with wine cellars.
Visit Key West's Old Town, go swimming, and check out all the entertainment hot spots.
Reviewers say the location is great, nice and small, clean, friendly and courteous staff, everything is very new and modern.
Recent Reviews: for this place have gone from perfect to better. Lots of mentions of the free smoothies, ice cream, big flat screens, happy hour and Duval Street. Impossible not to like this resort.

More on Santa Maria Suites.
---
Margaritaville in Key West

If you are wondering what happened to the Margaritaville in Key West it has had a name change and has been rebranded. 

The Westin Key West Resort & Marina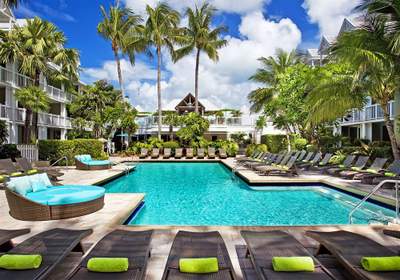 This 4 star resort overlooks the Atlantic and is across a wooden bridge from Mallory Square. Two low-rise buildings hold the 188 guestrooms. Furniture is a rustic style. The bed is a "Heavenly Bed". You'll find a 36-slip marina, an 8-person spa tub, great sunbathing spots, and a fitness center.
Reviewers say: pleasant reception, great location, great cruise ship before and after option, also a great spot to catch some views of ships and friendly staff.

More on The Westin Key West Resort & Marina
---
Hyatt Key West Resort and Spa
Although Hyatt does not have any all-inclusive resorts and packages in Key West if you are thinking of staying at one of their properties at is worth checking out their loyalty program which offers discounts and inclusions.
Located in Key West on the eastern edge of the Florida Keys on a channel connecting the Atlantic to the Gulf of Mexico.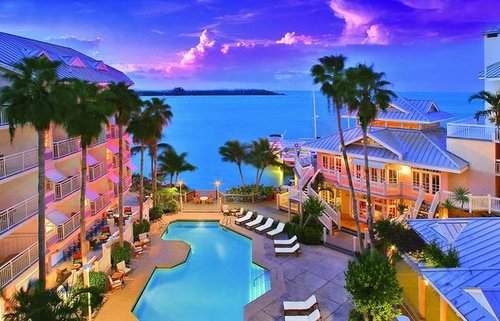 Hyatt Key West
Not a mega resort by any standards with only 118 rooms, but it does occupy a prime piece of waterfront on the water's edge. Excellent waterfront location in Key West. Since the recent upgrades, the resort has improved it's ranking further as well. iPods all round and the new renovated bathrooms look great. Here you also get good access to the many higher opportunities of the area, marina and the nice but modestly sized beach.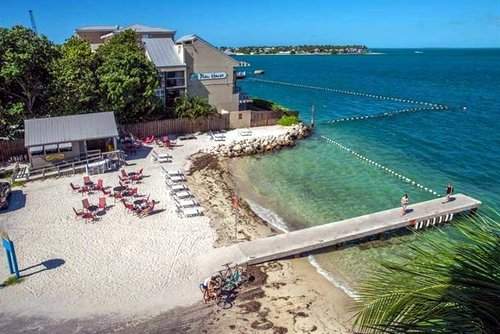 Hyatt Key West Florida Resort
Overall this is a good choice and facilities are kept well maintained from the poolside waterfall to the well serviced restaurants.
Guestrooms are spacious, tropical themed guest houses that feature wicker furnishings. They are in two-bedroom condos that have kitchens and jetted tubs. Screened balconies overlook either the Gulf or the gardens. 
Reviewers note that there are not a lot of sport activities available here (ex. volleyball, basketball) but the grounds are kept beautifully, it's a great "home away from home" and good value.
Hyatt Key West Resort and Spa - Click to see the latest reviews and get more information.

Key West Resorts on the Beach
Pier House Resort & Caribbean Spa

Another great resort worth a mention is the Pier House Resort. The reviews for this resorts have become very very good. It's located close to Duval street.
For more visit Pier House Resort & Caribbean Spa

---
More in Florida: 
Have a Key West luxury resort to recommend? Let others know below!
---
---
Sarah loves to check out all-inclusive resorts and find great packages and report about what real travelers are saying, Sarah is an indicative character created for the purpose of providing insights uncovered during our research.  These reviews are indicative of others first-hand experiences using our research methodology designed to uncover the best  (as opposed to those that are simply marketed as the best).

While our reviews are founded on real accounts and stories and thoroughly researched do your own research and exercise your best judgment when making travel decisions. And keep in mind all-inclusive packages are always changing.
For more on the Florida Keys, visit (what I think is) the official Florida Keys tourism site.