sandpearl resort Clearwater Beach
Amidst the bustling heart of Clearwater Beach, the Sandpearl Resort stands as a serene retreat, reminiscent of old-Florida elegance yet brimming with modern-day luxuries. Perched on the pristine white sands of Florida's Gulf Coast, the resort exudes a calming aura that cradles its guests from the moment they step into its grand lobby till the night falls, and they gather around the beachfront fire pit under a starlit sky.
Sandpearl-Resort
Review
Once every summer, the call of the distant waves entices us to escape the routine, to feel the sand squish gently between our toes as we chase the horizon where the sky kisses the ocean. This year, our compass pointed us to the Sandpearl Resort on the Gulf Coast's Clearwater Beach, where the sun wears a golden halo and the sea cradles the shore tenderly.
Location: 4/5
Sandpearl Resort enjoys a prime location on Clearwater Beach, FL, providing easy access to a pristine private beach. Nearby attractions include Suncoast Star Playhouse Dinner Theatre and Ruth Eckerd Hall for cultural aficionados, while shopping enthusiasts can venture to Clearwater Mall and Largo Mall. The resort's proximity to Jack Russell Stadium and Dunedin Stadium also makes it a fine choice for sports fans. The accessibility to various attractions enhances the appeal of its location, though the high traffic in peak seasons could be a drawback.
Accommodation: 4/5
The resort offers oversized guest rooms and vacation suites equipped with modern conveniences. Most rooms boast balconies with stunning Gulf views, creating a serene ambiance. The suites with full kitchens and a washer/dryer are a notable perk for extended stays. The classic orchids-and-palms decor evokes a sense of elegance without being pretentious. However, the lack of diversity in room styles may not cater to all aesthetic tastes.
Amenities: 4.5/5
Sandpearl Resort prides itself on a range of amenities aimed at ensuring a luxurious stay. The full-service spa, the only 4-Diamond restaurant in the area, and a variety of water sports keep guests entertained. Fitness enthusiasts will appreciate the health club and yoga classes, while the private beach and poolside bar provide perfect spots for relaxation. The resort could improve by extending spa operating hours and diversifying restaurant menu options.
Service: 4.5/5
The resort staff exhibits a high level of professionalism, courtesy, and responsiveness. From the welcome champagne at check-in to the daily housekeeping service, the attention to detail is commendable. Some guests have highlighted the friendly and helpful nature of the staff, which significantly enhances the resort experience.
Value for Money: 4/5
With room rates starting from $260 in low season, the resort offers a luxury experience at a relatively competitive price point. The daily resort fee includes several valuable additions like Wi-Fi, bike rental, and beach chairs, which enhances the value proposition. However, breakfast being excluded and a surcharge on valet parking may deter some guests seeking an all-inclusive experience.
Recommended for: Sandpearl Resort is particularly suited for travelers seeking a luxury beachfront experience with a touch of cultural and sporting activities. It's an excellent choice for romantic getaways, family vacations, or solo travelers wanting a peaceful retreat. For those seeking a more vibrant nightlife or a budget-friendly option, considering resorts in the downtown Clearwater area might be advisable.
Find the best deal, compare prices, and read what other travelers have to say at Tripadvisor
Family Vacations
Sandpearl
As a family of four, with two little adventurers aged 6 and 9, our checklist twinkled with wishes of sandcastles, sunset stories, and seashell treasures. Sandpearl, with its promises of a private white sand beach and a horizon painted with sunsets, seemed like the compass to our adventure map.
Our journey commenced with a warm welcome. The check-in was accompanied by glasses of chilled champagne for us and citrus-infused water for the kids, a refreshing start to the coastal escapade awaiting us.
The next morning, with a map of the resort in one hand and an adventurous spirit in the other, we set out to explore. The kids were drawn to the beach like magnets, racing towards the shoreline, leaving behind a trail of giggles. The beach was our canvas, and we painted it with sandcastles and seashell trails. Sandpearl's private beach was a soft, sandy playground where the waves hummed lullabies and the breeze whispered tales of the ocean.

Afternoons were reserved for family contests by the pool. The resort's expansive zero-entry pool was where we raced, splashed, and laughed under the warm Floridian sun. The poolside cabanas were our lazy retreats, where ice-creams melted slower, and time took a leisurely pace.
The days flowed seamlessly into nights. Each evening, the sky pulled down its curtains with a spectacular show of colors as the sun dipped into the Gulf. The fire pits on the beach were where we roasted marshmallows, shared stories, and let the gentle tides serenade us under a starlit sky.
On the third day, we decided to venture out, exploring the local sights. The Clearwater Marine Aquarium was a short drive away, and the kids were thrilled to meet Winter, the tail-less dolphin. The nearby Pier 60 Park was a carnival of fun, filled with playgrounds, fishing, and local performers that had the kids dancing with joy.
Dining at Sandpearl was a celebration of flavors. Our taste buds danced to the culinary tunes of the 4-Diamond restaurant, Caretta on the Gulf. The kids discovered a new love for sushi, while we savored the fresh catch of the day, as the ocean played the backdrop to our dining tales.
The Sandpearl Resort was not just a stay but an album of memories, each page scented with the salty kiss of the ocean and the sweet notes of family laughter. As we packed our bags, we left behind tiny footprints on the sands but took along a treasure trove of memories, sealed with sunsets and bound by the gentle whispers of the Gulf waves.
Each moment at Sandpearl was a story, a melody that now plays in our hearts, reminding us of the summer where the ocean breeze carried away our worries, and the horizon beckoned with promises of endless adventures.
Pros, Cons, and Features of Sandpearl Resort:
Here's a breakdown of the Pros, Cons, and Features of Sandpearl Resort:
Pros:
Prime beachfront location on the pristine white sands of Clearwater Beach.
A blend of old-Florida charm with modern luxury amenities.
Varied dining options including a Four-Diamond restaurant.
Extensive range of activities and programs for both adults and children.
Full-service spa offering a variety of relaxing treatments.
Cons:
Resort fee and valet parking come at an additional cost.
Some guests have desired a keener attention to detail from the service staff.
Features:
253 guest rooms and suites, each with private balconies.
Full-service spa with a serene, grotto-like setting.
Family-friendly activities including Camp Ridley for children.
Multiple dining venues, from fine dining at Caretta on the Gulf to casual fare at the poolside grill.
Fitness center, business center, and other modern amenities for a comfortable stay.
A Gem On The Gulf: The Sandpearl Resort's Old-Florida Charm Meets Modern Luxury"
The Sandpearl Resort, a proud custodian of a Four-Diamond restaurant, the only one in the area, is more than just a stay; it's a delightful experience that starts with a warm welcome and a glass of champagne at check-in. The rooms and suites are meticulously designed, resonating with a blend of rich yellows and browns, adorned with dark-wood furnishings, and boasting balconies that open to the tranquil vistas of Clearwater, Mandalay Bay, or the expansive Gulf of Mexico.
The culinary journey at the Sandpearl is a narrative in itself. The Carretta on the Gulf, not only tantalizes the taste buds with its fresh seafood and hand-rolled sushi but encapsulates the serene beachside view, making each meal a picturesque memory. For a casual rendezvous, the poolside grill and coffee shop offer a laid-back ambiance amidst the gentle sea breeze.

As the sun casts a golden glow on the sandy shores, the activities at Sandpearl are abuzz. From a restorative session of yoga at the crack of dawn to the heartwarming nightly campfire Family S'mores Night, every day is a medley of tranquil and thrilling moments. The Camp Ridley, specifically curated for young minds aged five to ten, is an educational escapade that unfolds the ecological wonders of the Gulf Coast.
The Sandpearl Spa is where time slows down. Each stroke of the hot stone massage delves deeper into relaxation, while the steam room and sauna wait to engulf guests in a warm embrace. The spa's grotto-like setting is a haven of peace amidst the lively beach ambiance.
Yet, every rose has its thorns. The resort's nightly fee could be a hurdle for some, as it doesn't cover the use of beach chairs and umbrellas. The valet-only parking comes with a fee, and some guests have voiced a desire for a keener attention to detail from the service staff​1​.
Sandpearl Resort is not just a vacation spot; it's where the sun, sand, and sea narrate tales of timeless memories against a backdrop of old-world charm and contemporary comfort. It's a place where every sunset is a promise of an unforgettable dawn.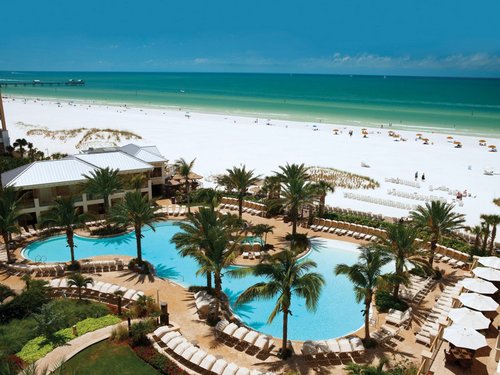 Sandpearl All Inclusive Packages
The Sandpearl Resort offers a variety of package deals to enhance your stay, although it doesn't provide an all-inclusive option as typically seen in other resorts. Here's an overview of some packages available:
Sunshine State Staycation Package:

Exclusive to Florida residents, offering up to 15% off on room rates and includes daily breakfast for two.
Must present a valid Florida state ID at check-in.
The discount applies to room rates only, not on taxes, resort fees, or incidental charges.
Not applicable to groups of 10 or more, and can't be combined with other offers​​.
Other packages on the official site, like the "Opal Moment Savings" which provides an opportunity to save up to 30% off, the "Book Early & Save" deal, and the "Another Day in Paradise" package which extends your stay with a complimentary night. There was also a "Bed & Breakfast" package offering breakfast for two. However, the specifics of these packages were not detailed on the website.
Offers from third-party booking sites:
Packages may also be available through third-party sites like Kayak, Expedia, or Priceline, which might offer bundled deals of flights and hotel bookings.
For instance, Kayak had a deal where the average nightly rate dropped by 14% when booking through them​2​.
Resort features:
Offers an array of amenities including a private beach, wellness centers, pools, and dining options among others.
Provides oversized guest rooms and vacation suites equipped with full kitchens and washer/dryer, most of which have balconies with gulf views.
In summary, while Sandpearl Resort offers various packages to enhance the guest experience, there doesn't appear to be a traditional all-inclusive package. For the most accurate and updated information, it would be advisable to contact the resort directly or check their official website for current offers and packages.
For alternative options, you might consider resorts known for their all-inclusive packages in the Florida area, or explore bundled deals through third-party booking platforms.
Exploring from sandpearl
The area surrounding Sandpearl Resort in Clearwater Beach offers a wide range of exploration opportunities for guests. Here are some of the things you can explore and do around the Sandpearl Resort:
Local Attractions and Activities:Just a short walk away from Sandpearl Resort is Pier 60, the heart of tourist activities in the area. Pier 60 hosts nightly sunset celebrations featuring music, activities, and some rides for kids​.Various establishments near the resort cater to different interests. For instance, Fusion Cigar Lounge, Hogan's Beach Shop, and Frenchy's Off the Hook are all located within a 2-minute walk from the Sandpearl Resort​​.
Share Your All-Inclusive Adventures and Questions! 🌴 Have a memorable experience from a luxury all-inclusive vacation? We'd love to hear it at Luxury Resort Bliss. We're on the lookout for top-quality, insightful tales that'll inspire our community. Dive in and be a part of our sun-soaked stories! 🌊🍹✨
The story is a fictionalized account founded on travel expertise, research, and experience. Always refer to recent guest reviews and perform due diligence before booking.
💼 We cherish our independence! ✈️ Our travel recommendations are carefully researched, bias-free, and powered by human expertise by April and Ricky of LRB (we have personally researched and travelled to many of these destinations and researched others thoroughly through first-hand accounts). We also have put in the hard miles, and Ricky has worked for decades for resort and hotel chains  Hyatt, Hilton, Shangri-La and Radisson before starting Luxury Resort Bliss in 2007. 🌍✨ Unlike some other resort review websites we are concerned on the guest experience rather than mere corporate interest.