Palm Cove Queensland Resorts
Looking for the best Palm Cove Queensland resorts? We have put together the best resorts in the area north of Cairns which is an established spa and wedding / honeymoon destination.
Beach weddings are a specialty in the area as are family holidays which take advantage of the village atmosphere. Palm cove is also a prime location to take advantage of the Great Barrier Reef.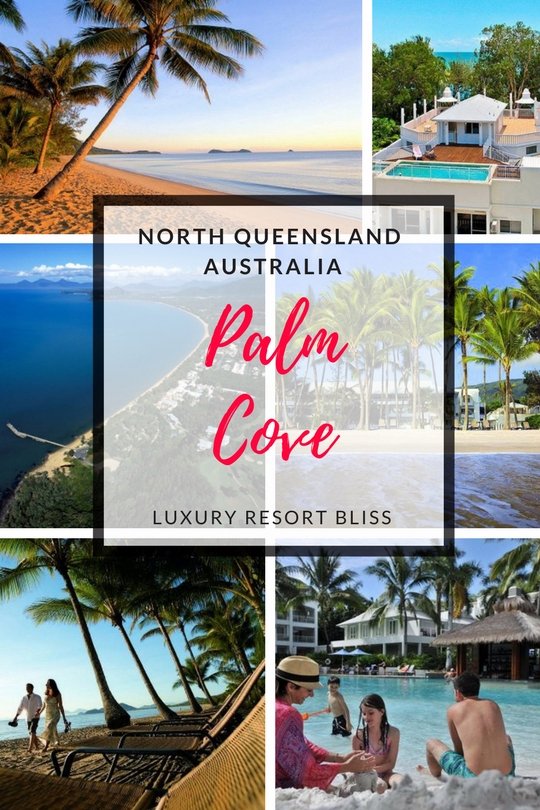 Palm Cove is only 25 minutes north of Cairns, Tropical North Queensland Australia and 45 minutes south of Port Douglas, Queensland Australia. This means you are perfectly positioned in the middle of all the Cairns attractions giving you easy access to everything on offer north and south of Palm Cove.

VIDEO: Palm Cove - The Ultimate Tropical Paradise
Special Hotel Deals in Palm Cove, Australia
I have rarely encountered a more inviting resort location in all my travels. Although it does have a bit of a glitzy sophisticated look with the fancy resorts you meet lots of friendly people in the area. Taking a stroll along the long pier you are sure to see many friendly faces and get a sense of the relaxed vibe. 

You are such a long way from it all up here (almost 1700km from the next capital city, Brisbane).
Best Palm Cove, Queensland Resorts
Palm Cove is the perfect destination for those looking for a beach vacation. It is situated on the northern coast of Queensland, Australia. The town has a population of around 3000 people and it's one of the most popular destinations in the country.
There are many things to do in Palm Cove, from hiking to diving and snorkeling. The reef just off shore is one of its main attractions as it offers some of the best diving in Queensland.
Alamanda Palm Cove Resort by Lancemore
Alamanda Palm Cove Resort is a luxury resort located in the heart of Palm Cove, Queensland. The resort offers guests an exclusive and private experience with the most spectacular views of the Great Barrier Reef.
Guests can enjoy traditional dining in the restaurant or indulge in a gourmet feast at one of three other restaurants on or near site.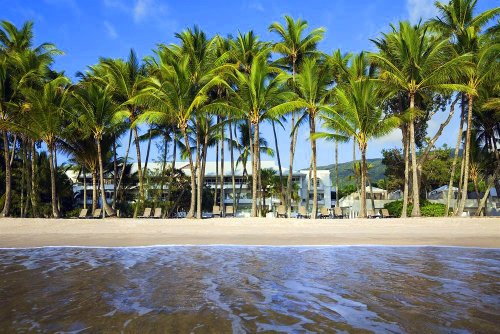 Alamanda Palm Cove Resort
Alamanda Palm Cove has 69 rooms in one, two and three bedroom arrangements. Good use is made of the spectacular location with great views through big glass windows which open to let in the tropical breeze when it warms up.
Wonderful swimming pools, and outstanding access to the beach. This is an ideal resort for a barefoot family vacation or romantic getaway where you can easily slip onto the golden sands of Palm Cove on 25 meters away.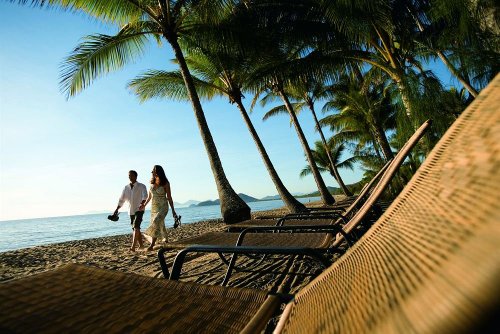 Alamanda Palm Cove Resort, Best Palm Cove Queensland Resorts
This is a classy property and for Australians you will have likely seen the award winning  Nu Nu Restaurant on one of many celebrity chef TV shows or the equally good spa.

Click here for more information and reviews on Almanda
---
Peppers Beach Club and Spa Palm Cove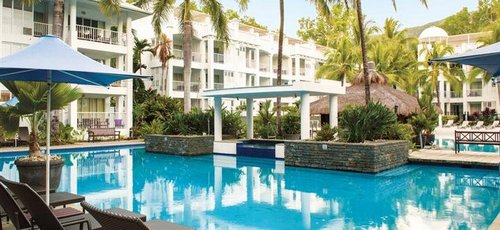 Peppers Beach Club and Spa Palm Cove
This Palm Cove resort has magnificent gardens and is directly across from the sandy beach. Peppers Beach Club & Spa looks a treat with its big rainforest rock pool and lagoon pool which you will surely use given the warm sunny and sometimes humid weather.
There is a well known luxurious day spa right on your doorstep.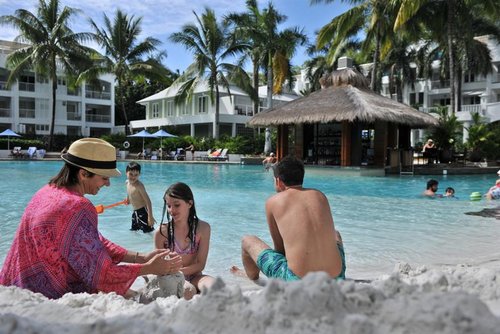 Best Palm Cove Queensland Resorts
Click for special offers and reviews for Peppers Beach Club

Peppers Palm Cove is among the best. You can read the reviews and get special offers on the resorts on our top Palm Cove Resorts video playlist on the Top 25 Palm Cove  @ TripAdvisor

---
The Port Douglas, Palm Cove and Cairns Region is a top location for exploring the far north or enjoying a relaxed vacation. I lived in this area for a number of years and was always quick to visit this wonderfully natural beach with great big paper bark trees making for a wonderfully shady resort strip, which lines an impeccable beach.

---
Sea Temple Resort and Spa Palm Cove
Sea Temple Resort And Spa is a luxury resort situated on the beautiful shores of Palm Cove, Queensland, Australia. The resort is located in a tropical rainforest with views of the Coral Sea.
The resort offers an array of facilities and amenities including a swimming pool with waterfalls, spa centre, fitness centre and tennis courts.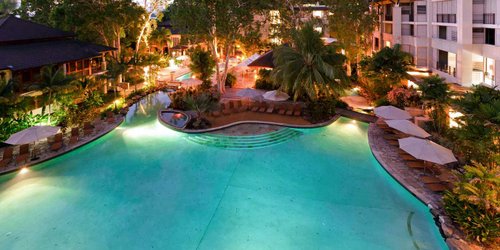 Sea Temple Resort and Spa Palm Cove
Palm Cove is the insiders secret with resorts like this top 5 star resort with about 120 rooms.
Pullman Palm Cove Sea Temple Resort & Spa is an classy, 5-star AAA rated resort, and has everything you would expect of a AAA rated property. 
Special offers and reviews for Sea Temple Resort and Spa Palm Cove

---
---
Sarayi Palm Cove Boutique Hotel
The Sarayi Palm Cove Boutique Hotel is a beautiful hotel that has been designed with tropical gardens and an outdoor pool. The hotel has a restaurant on site, as well as a bar and lounge area. It also offers free Wi-Fi in all areas of the property, including the rooms.
This is a great place to stay for those who want to explore the beauty of Queensland's Palm Cove.
The Sarayi Palm Cove Boutique Hotel is a popular destination for travellers looking to explore the natural beauty of Queensland. The hotel has been in operation since 1985 and is located just a short walk from the beautiful Palm Cove beach.
This is an excellent choice for those looking to explore the natural beauty of Queensland.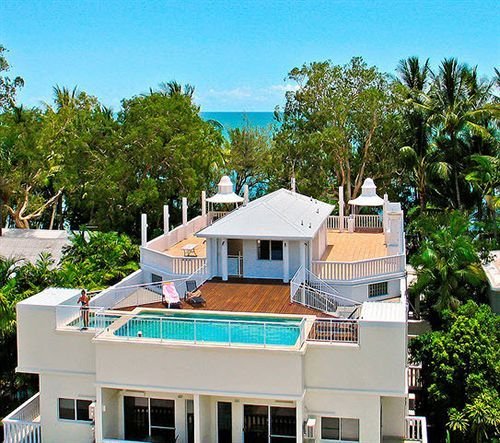 Best Palm Cove Queensland Resorts
A great little beach resort in the prime position where all the restaurants and little shops are down by the jetty. A great little four star property which has everything at it's door step. Within the resort there is a restaurant, café, bars and an outdoor pool and more.
With only 26 air-conditioned rooms this is another quality small option.

More on Sarayi Palm Cove Boutique Hotel
---
Kewarra Beach Resort & Spa
Kewarra Beach Resort & Spa is a resort located in Queensland, Australia. It is situated on the Coral Sea coast and provides an array of accommodation options and facilities for guests to enjoy.
The resort features a restaurant, bar, pools and spa. There are also plenty of activities to enjoy such as snorkelling, kayaking and beach walks.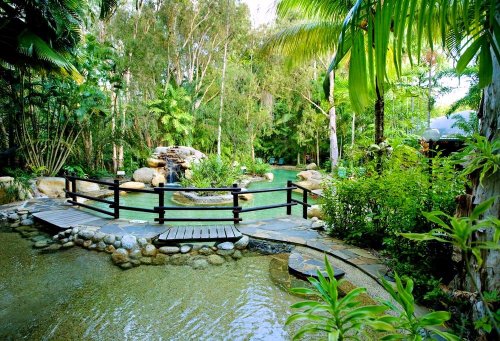 Best Palm Cove Queensland Resorts
Kewarra Beach is the next beach over from Palm Cove, is quieter and more residential than resort town, and has an equally wonderful beach. Only about 10 minutes from the airport.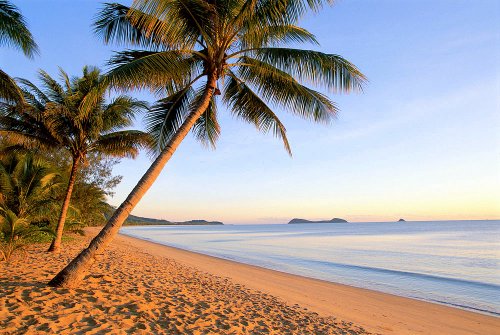 Kewarra Beach Resort & Spa
This resort has amazing beachside access and has a good many facilities including a restaurant, café, children's pool. There are 44 air-conditioned guestrooms.
More on Kewarra Beach Resort & Spa
---
Sanctuary Palm Cove Resort
Sanctuary is a master planned community located in Palm Cove, Queensland, Australia. It is situated on the shores of the Coral Sea and has been designed to be eco-friendly.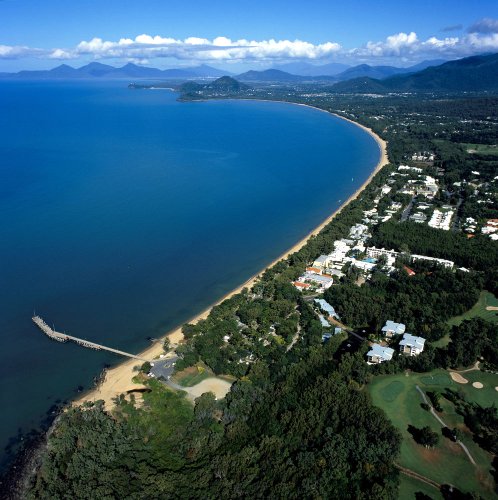 Sanctuary Palm Cove
Sanctuary Palm Cove Resort has huge apartments set in a rainforest gardens set around a lagoon. If you are looking for a quality Palm Cove holiday and like the idea of apartments than this is a great choice. Rooms have luxury kitchens with stove tops, full-sized refrigerators, and dishwashers. 
There is a tropical outdoor pool and spa with an additional child friendly area. With only 23 rooms you are sure to find a little space for yourself. 
---
Palm Cove Holidays
Palm Cove is well known for for some restaurants known throughout Australia, cafes, boutiques, art galleries and amazing day spas.

---
Video of Palm Cove village exploring the  "paperbark" Melaleuca trees along the esplanade and some of the holiday attractions.
Thala Beach Lodge
The Thala Beach Lodge is situated on the edge of the Coral Sea and offers guests spectacular views of the ocean, rainforest and mountains. The Lodge was built in 2007 and has been renovated with an Asian influence. Each of the rooms is designed with a private deck and is air-conditioned, decorated with beautiful furnishings and has a telephone, radio alarm clock, TV/DVD player.They include an en-suite bathroom, hairdryer, tea and coffee making facilities.
Thala Beach is a little North of Palm Cove on the incredibly scenic and world heritage road to Port Douglas. We added this classic resort as it regularly features in Australia Best Resort lists. You will also look kind of hard to find anyone who has a bad word to say about this one on the review pages.
Click for more Thala Beach Lodge information.

See Also - Port Douglas Resorts

There is a sophisticated charm and quality to the Palm Cove holiday experience despite its kind of remote North Queensland location. It can seem sometimes like you have stepped back into another era before mass market tourism and you could enjoy quality time with family without all the bells and whistles.
That is not to say there is not access with well constructed tours to some of the greatest natural wonders on the planet in the wet tropics rain forest and the Great Barrier Reef at your doorstep.
For more resorts in the area see Port Douglas Resorts or Cairns Resorts. 
Share Your All-Inclusive Adventures and Questions! 🌴 Have a memorable experience from a luxury all-inclusive vacation? We'd love to hear it at Luxury Resort Bliss. We're on the lookout for top-quality, insightful tales that'll inspire our community. Dive in and be a part of our sun-soaked stories! 🌊🍹✨
The story is a fictionalized account founded on travel expertise, research, and experience. Always refer to recent guest reviews and perform due diligence before booking.
💼 We cherish our independence! ✈️ Our travel recommendations are carefully researched, bias-free, and powered by human expertise by April and Ricky of LRB (we have personally researched and travelled to many of these destinations and researched others thoroughly through first-hand accounts). We also have put in the hard miles, and Ricky has worked for decades for resort and hotel chains  Hyatt, Hilton, Shangri-La and Radisson before starting Luxury Resort Bliss in 2007. 🌍✨ Unlike some other resort review websites we are concerned on the guest experience rather than mere corporate interest.