Best Beaches in Australia
These are the best beaches in Australia reviewed as we see it. We are not trying to ignite debate yet only put forward some ideas on a highly subjective topic. You are welcome to share your ideas too on our Facebook page.
Of course other people will have different opinions but we think we research a bit more carefully than many. Here's why: we give you enough video and great images form the Best Australian beaches that often come up in conversation to make up your own mind.

Find the best flight deals to your luxury resort with Kayak Flights
Whitehaven Beach, Whitsundays, QLD
Despite the fact it will most likely cost more than $100 to get to from the mainland Whitsunday Coast, this one tops the list for Queensland.

You don't need not to seek out this beach specifically. It is more symbolic of the thousands of other crystal clear water white sand beaches on the Great Barrier Reef.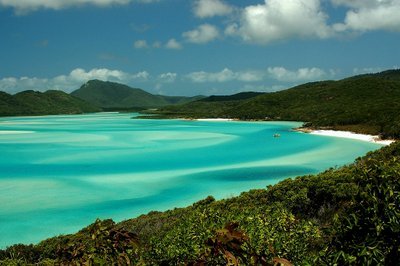 Whithaven
Not an easy task to choose the best beach in Queensland because not only do you have the great Barrier Reef but the Sand islands like Fraser and Moreton which have hundreds of KM of the best beaches in the world and all those other little unamed beaches on the Sunshine Coast which are outstanding.
See the Whitsunday Islands Australia.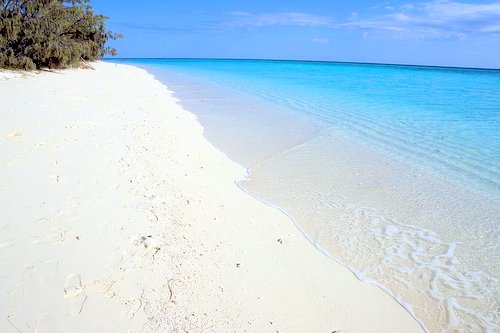 Heron Island
My Wife and I on beautiful Fitzroy Island Beach, Far North Queensland (near Cairns).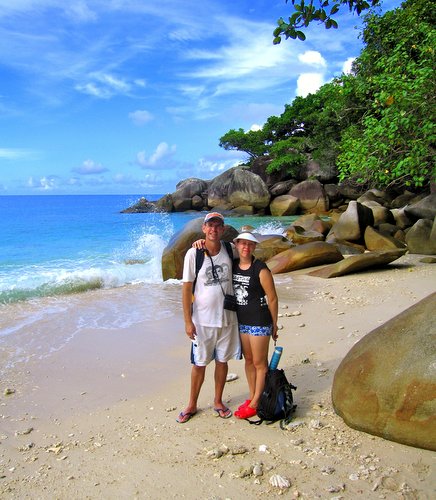 Fitzroy Island Beach
Best Beaches on Queensland Island Resorts
---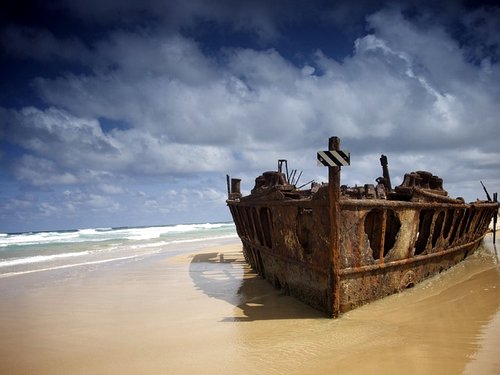 Fraser island
The beaches on Fraser island surely would have to also feature on any best beaches list. Located on the worlds largest sand island complete with it's own unique sand island rainforest habitat and crystal clear lakes. The beach on the Eastern coast stretches for more than 100 km and is the highway and the airfield for the island.
---
Surfers Paradise Beach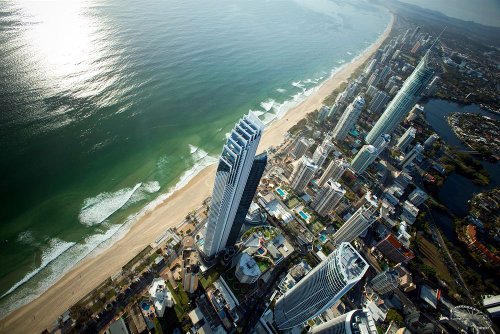 Peppers Soul Surfers Paradise
Sure it may not have the natural beauty of all the other beaches on this list, but without it's ability to keep millions of other holidaymakers occupied and away, the other beaches could not enjoy their exclusiveness.

---
Wineglass Bay Best Australian Beach in Tasmania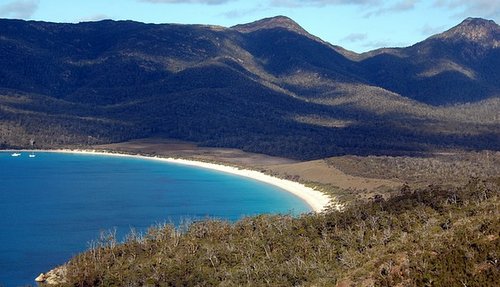 Wineglass Bay
Often regarded as one of the world's best beaches and perhaps also the best beach in Tasmania. Shaped like a wineglass and reportedly in pristine condition.

---
Best Beaches in Western Australia
Cable Beach
This may be an unusual pick for the best beach in Western Australia but I have been there and it is an oasis to find after crossing the Kimberly. Broome is an interesting place.
By the way, Tourism Western Australia lists Turquoise Bay as the best beach in WA. Cottesloe Beach is a good beach in Perth City.
---
ESPERENCE
---
Margaret River
Also in Western Australia, this region has magnificent white sand beaches that are refreshing to say the least. Huge wave often make it daunting and dangerous to swim.
---
Best Beaches in  New South Wales
The best beach in NSW is either Hyams Beach or the Coffs Harbour beaches. Byron Beach makes the list because it is one of the few places calm enough for my wife ( who likes to float around like a tea bag) to swim. Then this beach is kind of a symbolic of all those beautiful calm, safe beaches. Noosa beach is another good example.
Coffs Harbour beaches are surrounded by green hills (with kangaroos on top) making them very interesting to look at.
VIDEO: BYRYON BAY
New South Wales has so many fantastic beaches that you can nearly show up anywhere and have it be beautiful. They are spoiled for choice down that way for sure!
---
Victoria has a few nice beaches like at Lakes Entrance. We haven't seen any beaches that compare to NSW in either Victoria or South Australia.
For some holiday ideas around all these great beaches check out Australia Resorts.
Transparency Disclosure: We are an independent professional review site and we receive compensation from affiliate links to only the highest quality resorts, properties and destinations. See More