Best Beaches in Australia
These are the best beaches in Australia reviewed as we see it. We are not trying to ignite debate yet only put forward some ideas on a highly subjective topic. You are welcome to share your ideas too on our Facebook page.
Of course other people will have different opinions but we think we research a bit more carefully than many. Here's why: we give you enough video and great images form the Best Australian beaches that often come up in conversation to make up your own mind.

Whitehaven Beach, Whitsundays, QLD
Despite the fact it will most likely cost more than $100 to get to from the mainland Whitsunday Coast, this one tops the list for Queensland.

You don't need not to seek out this beach specifically. It is more symbolic of the thousands of other crystal clear water white sand beaches on the Great Barrier Reef.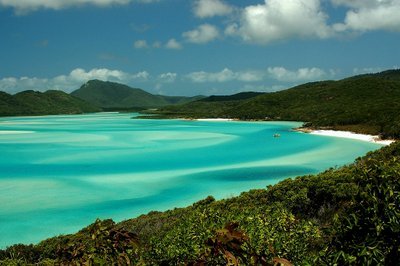 Whithaven
Not an easy task to choose the best beach in Queensland because not only do you have the great Barrier Reef but the Sand islands like Fraser and Moreton which have hundreds of KM of the best beaches in the world and all those other little unamed beaches on the Sunshine Coast which are outstanding.
See the Whitsunday Islands Australia.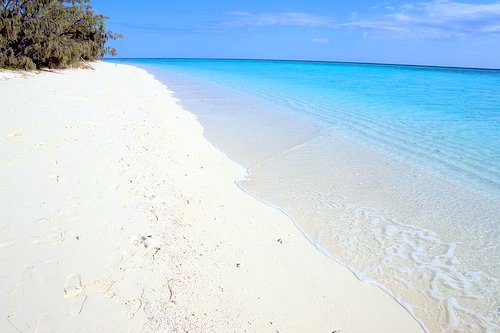 Heron Island
My Wife and I on beautiful Fitzroy Island Beach, Far North Queensland (near Cairns).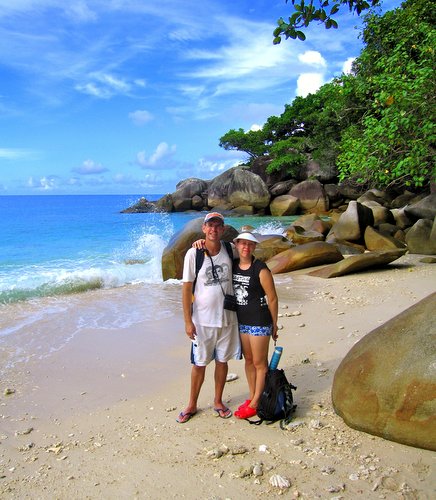 Fitzroy Island Beach
Best Beaches on Queensland Island Resorts
---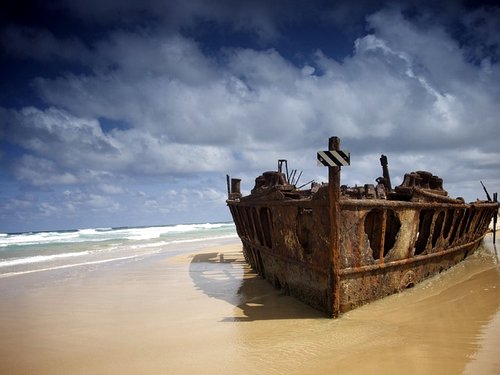 Fraser island
The beaches on Fraser island surely would have to also feature on any best beaches list. Located on the worlds largest sand island complete with it's own unique sand island rainforest habitat and crystal clear lakes. The beach on the Eastern coast stretches for more than 100 km and is the highway and the airfield for the island.
---
Surfers Paradise Beach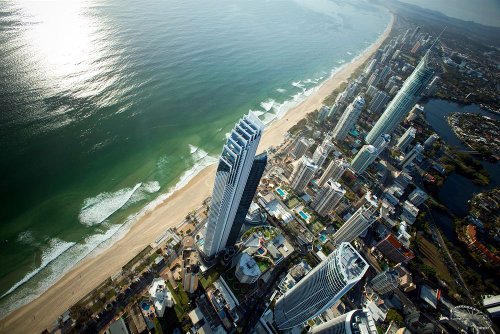 Peppers Soul Surfers Paradise
Sure it may not have the natural beauty of all the other beaches on this list, but without it's ability to keep millions of other holidaymakers occupied and away, the other beaches could not enjoy their exclusiveness.

---
Wineglass Bay Best Australian Beach in Tasmania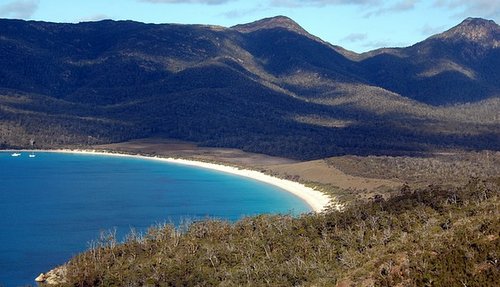 Wineglass Bay
Often regarded as one of the world's best beaches and perhaps also the best beach in Tasmania. Shaped like a wineglass and reportedly in pristine condition.

---
Best Beaches in Western Australia
Cable Beach
This may be an unusual pick for the best beach in Western Australia but I have been there and it is an oasis to find after crossing the Kimberly. Broome is an interesting place.
By the way, Tourism Western Australia lists Turquoise Bay as the best beach in WA. Cottesloe Beach is a good beach in Perth City.
---
ESPERENCE
---
Margaret River
Also in Western Australia, this region has magnificent white sand beaches that are refreshing to say the least. Huge wave often make it daunting and dangerous to swim.
---
Best Beaches in  New South Wales
The best beach in NSW is either Hyams Beach or the Coffs Harbour beaches. Byron Beach makes the list because it is one of the few places calm enough for my wife ( who likes to float around like a tea bag) to swim. Then this beach is kind of a symbolic of all those beautiful calm, safe beaches. Noosa beach is another good example.
Coffs Harbour beaches are surrounded by green hills (with kangaroos on top) making them very interesting to look at.
VIDEO: BYRYON BAY
New South Wales has so many fantastic beaches that you can nearly show up anywhere and have it be beautiful. They are spoiled for choice down that way for sure!
Booderee Camping Holiday
Our Booderee Camping Holiday Review:
Pulling into Booderee  National Park Green Patch camp ground we were not sure what to expect. Sure we had heard that nearby Hyams Beach had the whitest sands in the world and had some high expectations, but this was one of the first camp set ups we had done in in the wilderness – even if that wilderness was a pristine coastal woodland next to a navy base.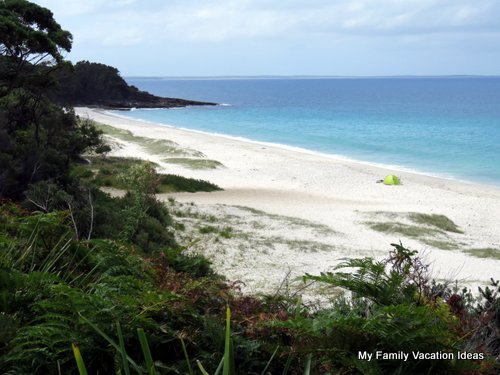 Booderee Camping Holiday
Driving up the peninsular we were measuring how far it was to nearby Nora with all it's shopping for the area in case we needed to make the trip up to get supplies. Thankfully this proved a waste of time as there was ample food shopping available in the townships before you enter the aboriginal run national park - including a Coles and Woolworths you will drive almost right past. 

The visitor centre at the gates to Booderee are one of the more friendly ones you will find and we learned stories of the traditional ways the aboriginal people of this land lived in a place of natural abundance. We were given a good map which indicated how to get to some of the more secluded beaches in the park, and other features like the  botanical gardens – which made for a reasonable half day trip as well.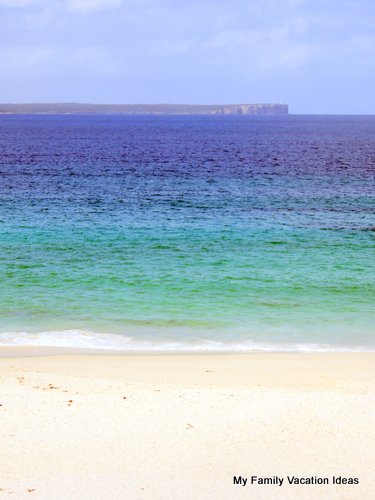 Green Patch Camping Trip
To get to our camp-site we had to cross a running stream over flat rock. This seemed almost like a right of passage to reach the pristine wilderness beyond. I wondered for a moment if our medium sized car and trailer was up to the challenge and eventually gathered up the fortitude to make the journey. Later I watched little box cars half the size of our scoot across without a worry – better safe than sorry though. And you had better keep in mind that if there are heavy rains you may get cut off for about an hour. Inside I was rewarded for my bravery with a good sized camp ground with plenty of greenery around to shield us off from other campers.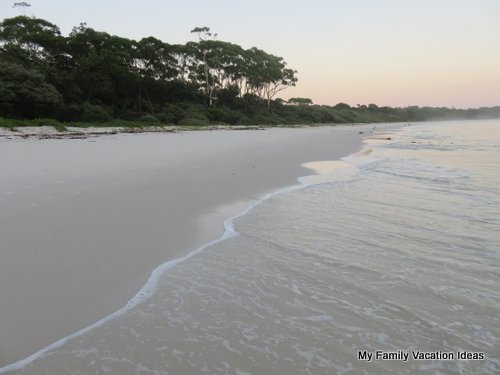 Beach vacations in Australia Post COVID
King Parrots, Lorakeets , Kookaburras and plenty of other bird species seemed ignorant of the signs requesting not to feed them and plenty of families were surrounded by big schools of birds which were standing on their heads and arms. Apparently its alright for some people to feed the birds or at least attract them by holding fruit out in their hands. The wallabies also seemed willing to approach to a fairly close distance.

We found the beaches were  mostly were all uninhabited. The beaches on the the bay facing shore were calm and enjoyed views across the bay to the lighthouse which sat upon a long extended cliff face on the horizon. The Jervis Bay was almost entirely closed in and calm because of this geological feature on one side and Booderee  National Park on the southern end .  
We opted to explore some of the isolated beaches, and even the beach at the camp ground which was as good as you could ask for a family adventure.

We met a family who took the time to take their little girl this far side of the bay and reported it was well worth the effort to enjoy the lighthouses and spectacular views. The report included a recommendation for Honeymoon Bay which apparently is as spectacular in real life as it looks in all the advertisements that take advantage of it's stunning beauty. We opted for the families advice to visit a family friendly lake near Ulladulla to the south  instead.  
Booti Booti National Park
Review and video on Booti Booti National Park and Tiona Camp. 
Booti Booti National Park sits in between Wallis Lake and the Pacific Ocean only a few hours north of Sydney by the seaside town of Forster. I have to say I was bit reluctant to come here given the relatively unknown status of the national park as one you simply hardly ever ear about. Now that I've been there I can attest this is not due to a lack of natural beauty but rather to not having many accommodation houses available and an abundance of other really spectacular places to stay on the New South Wales coastline. Of course the flip side of that is you get the place almost entirely to yourself.
Video: Camping at Tiona Waters, Booti Booti
After comparing the nearby camping options in nearby Forster Tuncurry it seemed an obvious choice for our family to stay out of town rather than in one of the few good tourist parks which are crowded around the Stockland Shopping centre area.  With only an added drive of about 10 minutes we had the advantage of being sandwiched between the beach and Wallis Lake.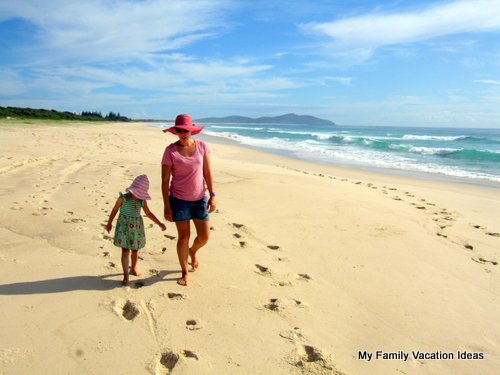 The ocean side of the camp at Booti Booti / Tiona Sundowner
After comparing the nearby camping options in nearby Forster Tuncurry it seemed an obvious choice for our family to stay out of town rather than in one of the few good tourist parks which are crowded around the Stockland Shopping centre area.  With only an added drive of about 10 minutes we had the advantage of being sandwiched between the beach and Wallis Lake.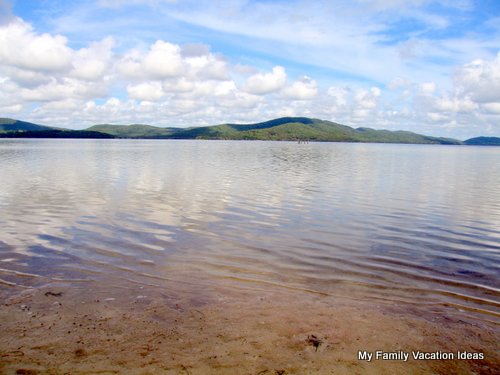 The Lake side of the camp
We do have a NSW National Parks card and could have stayed at the camp ground which has good access to both beach and lake but opted instead for the neighboring Tiona Sundowner Tourist Park.  This was one of the rare occasions we had made a late minute change to our plans, and the shocking reviews this place gets were not known to us at the time. 
Despite the obvious issues with the tourist park we had access to and were able  to enjoy the miles of white sandy beaches and the palm fringed lake, complete with black swans frolicking in the sunset in the evenings and catching the Pacific sunrise on the beach side in the morning. As an added bonus the lake has shaded trees, and shallow water which allowed us to swim with our toddler during the day.
Anywhere you stay in the National Park will allow you quite a few different options for Day trips including the beaches and attractions of Forster, easy access the the Great Lakes, And an easy day trip down to spectacular Seal Rocks and the nearby lighthouse.
If you are looking for a great place to stay here check out reviews of accommodation in the Forster area.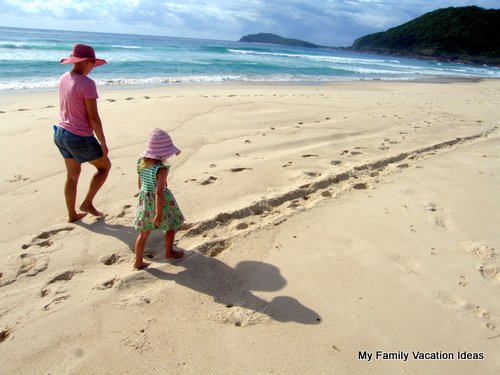 Forster NSW
Victoria has a few nice beaches like at Lakes Entrance. We haven't seen any beaches that compare to NSW in either Victoria or South Australia.
For some holiday ideas around all these great beaches check out Australia Resorts.