Wellness Retreats in Tasmania
Wellness Retreats in Tasmania
Looking for a Wellness Retreats In Tasmania? Traveling for wellness has become my latest passion. Exploring the world, not just for sightseeing but also to discover the methods and traditions different cultures use to cultivate a sense of wellbeing, has brought a deeper meaning to my journeys. Tasmania, Australia's rugged island state, was my most recent destination in this quest. The pure air, stunning landscapes, and thriving local food culture, I felt, were promising ingredients for a remarkable wellness retreat.
Also see Australia's top Wellness Retreats
Peppers Cradle Mountain Lodge
Peppers Cradle Mountain Lodge stands as a splendid retreat in the heart of Tasmania's Cradle Mountain-Lake St Clair National Park. Bathed in serene wilderness, it's just 2 hours from Launceston and 1.5 hours from Devonport. As a wellness retreat, it provides a seamless blend of relaxation and outdoor adventure, marking it as an exceptional choice for nature lovers seeking tranquillity and revitalization.
Location: Nestled in the pristine World Heritage-listed national park, the lodge's location offers breath-taking landscapes and an abundance of flora and fauna. Guests can immerse themselves in the untouched beauty of Tasmania's premier wilderness region, although it might be isolated for those looking for urban experiences. Score: 5/5
Accommodation: The lodge comprises 86 rooms, each offering the comfort of fireplaces, premium bedding, and thoughtful amenities like separate sitting areas and minibars. Some guests might desire more contemporary decor, but the rustic charm is part of the appeal here. Score: 4.5/5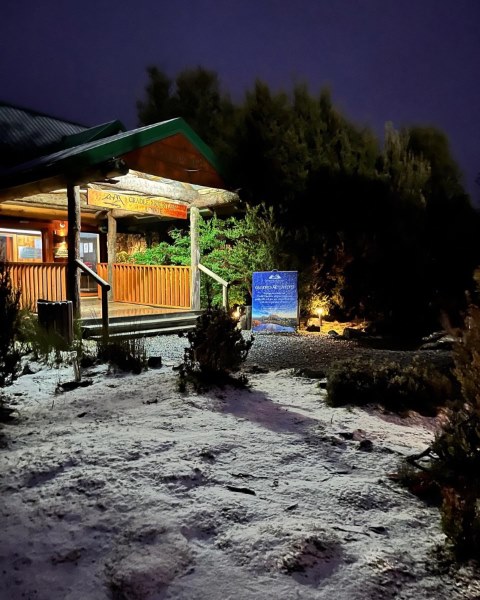 Amenities: The lodge provides a wealth of activities from horseback riding to hiking and biking, catering to those with an adventurous spirit. Moreover, it offers excellent dining experiences at its two on-site restaurants, with a focus on local Tasmanian food and wine. The Waldheim Alpine Spa is the jewel in the crown, providing a range of treatments that mirror the balanced beauty of Cradle Mountain. However, those seeking a broad range of fitness facilities might find options limited. Score: 4.5/5
Service: Peppers Cradle Mountain Lodge prides itself on its staff, who are frequently praised for their helpfulness. From tour/ticket assistance to the expertise of the spa therapists, the service here is marked by attentiveness and professionalism. Score: 5/5

Value for Money: With a multitude of experiences, beautiful accommodations, and exceptional service, the lodge offers good value for money. However, those seeking a budget-friendly wellness retreat might find it a tad pricey. Score: 4/5
In summary, Peppers Cradle Mountain Lodge is an excellent choice for those seeking a rejuvenating escape amidst the splendor of Tasmania's wilderness. Its emphasis on nature-infused wellness makes it ideal for eco-conscious guests seeking a respite from the everyday grind. The unique blend of relaxation and adventure ensures that every moment spent here enriches the body, mind, and spirit.
Find the best deal, compare prices, and read what other travelers have to say at Tripadvisor
Harmony Hill Wellness and Organic Spa Retreat
As I landed in Launceston, Tasmania's second-largest city, the serene beauty of the Tamar Valley unfolded before me. Lush vineyards stretched out under a pristine, azure sky, and the sparkle of the Tamar River beckoned enticingly. But I was bound for a destination tucked deep in the heart of the island - the Harmony Hill Wellness and Organic Spa Retreat.
Perched atop a hill and surrounded by acres of unspoilt Tasmanian wilderness, Harmony Hill, I found, was at least some tranquility even if it was not overwhelmingly complete. At least the retreat was constructed entirely from locally sourced materials, creating a space that blended seamlessly with the surrounding landscape. A blend of Eastern healing practices and Western luxury, it promised a holistic wellness experience.

My days at Harmony Hill unfolded like a dream. Each morning began with a meditation session as the sunrise bathed the surrounding wilderness in a soft, golden glow. The day progressed with sessions of yoga and sound healing that worked in harmony to rejuvenate my body and mind. My city-born senses marveled at the symphony of birdsong that served as a background score for these sessions.
The retreat's spa was a revelation. Specializing in Ayurvedic treatments, it offered an array of therapies that promised detoxification and rejuvenation. The signature Panchakarma treatment, a multi-day detox process, was a deeply transformative experience. Expert therapists guided me through the treatments, each one more invigorating than the last.
Harmony Hill has an emphasis on organic, locally sourced food. A few meals were a veritable feast, filled with fresh fruits, vegetables, and locally sourced meat and seafood. Prepared with minimal intervention, the food burst with authentic flavors that I savored amidst the stunning views from the retreat's dining area.
Each night, I retired to my wellness suite, an architectural marvel with stunning views of the wilderness. Waking up to the breathtaking vista of the wild Tasmanian landscape and falling asleep under the southern hemisphere's star-studded sky was a humbling experience.
As my stay came to an end, I realized that Harmony Hill was not just a wellness retreat. It was a sanctuary that allowed me to connect with nature and myself, to experience the profound tranquility of the Tasmanian wilderness, and to discover the healing power of wholesome food and ancient Ayurvedic practices. While not our top choice in Tasmainia it is an option. 
Find the best deal, compare prices, and read what other travelers have to say at Tripadvisor
Bay of Fires
For those who seek to explore the transformative power of wellness, I can't recommend Harmony Hill enough. However, for travelers looking for a coastal experience, I suggest the Bay of Fires Lodge Spa. Offering similar wellness activities but located along the stunning east coast, this resort provides a contrasting beach and ocean experience, setting the stage for a different, yet equally compelling, wellness journey.
Find the best deal, compare prices, and read what other travelers have to say at Tripadvisor
Here are some top wellness retreats in Tasmania: You may also like to check out the hundreds of properties with spas in Tasmainia on TripAdvisor. Including these.
Find the best deal, compare prices, and read what other travelers have to say at Tripadvisor properties with Spas in Tasmania
Harmony Hill Wellness and Organic Spa Retreat: Situated near Hobart, this retreat combines Eastern healing methods with Western luxury. They offer a range of treatments, including Ayurvedic therapies, detox programs, sound healing, and yoga. The retreat emphasizes organic, locally sourced food and tranquil natural surroundings.
Hawley House Health Retreat: Set in a historic house in Hawley Beach, this retreat offers various wellness packages that include yoga, massage, guided meditation, and healthy eating. They also have adventure activities like bushwalking and horse-riding.
Huon Bush Retreats: Located in an extensive private habitat reserve, Huon Bush Retreats offers cabin and treetop studio accommodation with an emphasis on sustainability. They also offer yoga, massage, and easy access to walking tracks, making it ideal for nature lovers.
Shambhala Retreat: Shambhala offers a tranquil retreat where guests can participate in yoga classes, meditation sessions, and indulge in organic vegetarian meals. It is located at the foot of Mount Wellington, providing a peaceful environment for self-discovery and relaxation.
Cradle Mountain Lodge Waldheim Alpine Spa: For a unique wellness retreat experience, try the Waldheim Alpine Spa at Cradle Mountain Lodge. Surrounded by wilderness, the spa offers treatments designed to rejuvenate the body and mind, while the lodge provides activities such as guided walks and wildlife viewing.
Bay of Fires Lodge Spa: This coastal wellness retreat offers a range of relaxation and spa treatments, as well as yoga and other wellness activities. The location offers stunning ocean views, providing a different setting for a wellness retreat.
Remember that each retreat has its unique focus and activities, so it's essential to choose one that aligns with your wellness goals and interests. Whether you're looking for physical rejuvenation, mental relaxation, or a deeper spiritual connection, Tasmania has a retreat to suit your needs.
💼 We cherish our independence! ✈️ Our travel recommendations are carefully researched, bias-free, and powered by human expertise by April and Ricky of LRB (we have personally researched and travelled to many of these destinations and researched others thoroughly through first-hand accounts). 🌍✨
We try to keep everything up to date, but please always do your own research and contact us if you know any issues for us to help others as best we can as a small but professionally focused team! 🧐📚⚠️