Cairns Resorts and Holidays
Looking to stay at one of the best Cairns Resorts? Cairns is the perfect place to enjoy the best of the reef and the rain forest. But you know perhaps I am a little partial. Having lived in Cairns, I found a lot of great things to do.
About Cairns
When to go to Cairns, Australia?
If you are planning a trip to Australia, keep in mind that it offers a wide variety of climates. The high tourist season in Cairns is during the Australian winter. Cairns is dryer this time of the year and the summer wet season has subsided. There is also less of a problem with  stingers (problem jellyfish) inn the cooler months.
Average Temperatures in Cairns, Australia
One thing that does catch some travelers by surprise is that Cairns itself does not have it's own beach. Not to worry because the northern beaches including Palm Cove and Port Douglas are also within easy reach of the reef and rain forest attractions as well.

VIDEO: Cairns Area and Tropical North Queensland
---
Top Cairns Resorts: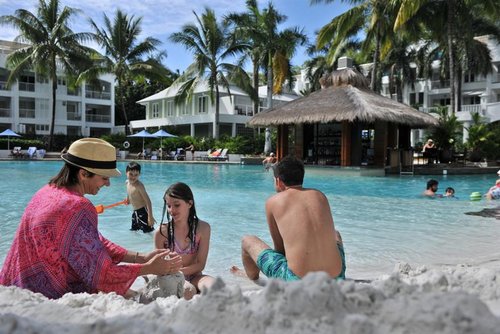 Palm Cove Resorts
Kewarra Beach Resort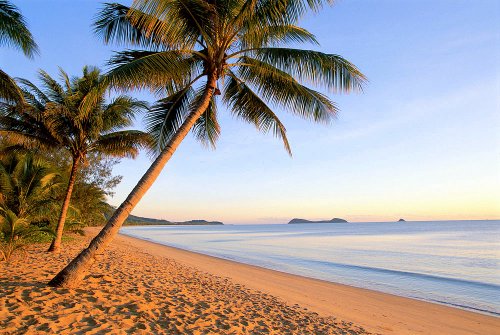 Kewarra Beach Resort
Beachfront setting nestled between the Great Barrier Reef and lush tropical rainforest.

More on Kewarra Beach Resort Cairns

---
Hilton Cairns
Quality 5 star hotel on the waterfront right at the Reef Fleet terminal - where the boats go to the Great Barrier Reef from. A great option to enjoy the local restaurants and city attractions.
More on the Hilton Cairns

---
Fitzroy Island Cairns Australia Resort
Adored by the locals and international travelers alike, this immaculate resort has gotten even better since it's recent refurbishment. There are fewer value for money luxury resorts which offer such great value in an ideal pristine location as Fitzroy Island.

The island itself Is a short 50 minute trip from Cairns and a classic spot to enjoy the best of the reef's coral, white sands and clear waters.
Reviews and Special offers for Fitzroy Island

---
Sebel Cairns Resort Hotel
Special offers and reviews for The Sebel Cairns.

Right in the heart of Cairns and easy walk down to the Reef Fleet Terminal and reef trips is the Sebel. This hotel has a colonial look and more than a few good restaurants surrounding it.

---
Often it comes as a surprise to many travelers to Cairns that the city itself is not set on the beach. Reluctance by travel agents to mention this and images doctored to make the local mud flat look like a white sandy beach don't help either. Although the main city Esplanade is pretty and offers magnificent views some travelers do like to stay on a nice sandy beach.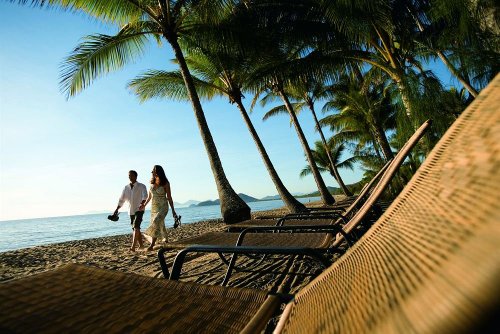 Cairns Beach Resorts
Thankfully some of the best tropical beaches you will find anywhere in the world are only about 20 minutes away. Keep in mind that there are stingers around and it's sometimes not worth chancing the swimming enclosures. All the resorts have pools for this reason.

See the Palm Cove Resorts for more Cairns Beach Resort options.

---
Green Island Resort Cairns
Green Island Resort Cairns

Green Island Resort is one of the most unique and romantic destinations in Tropical North Queensland. Enjoy white sandy beaches, crystal clear waters and great snorkeling right off the beach.

Compare prices in Cairns

---
---
Shangri-La Cairns Resort Hotel
Occupying the prime Cairns location nearby the Marina and Esplanade park is the Shangri-La. While not up to the standard of some hotels of the same brand this deserves it's place the list thanks to it's convenience and an excellent Horizons executive level. 
Shangri-La Hotel, The Marina more Information.

---
The Lakes Resort Cairns
Experience the charms and convenience of 4.5 star resort life. Great location near the magnificent Cairns botanical gardens and only a short walk to the main Esplanade. The grounds and facilities are new and in great condition. An esteemed resort close to the City area.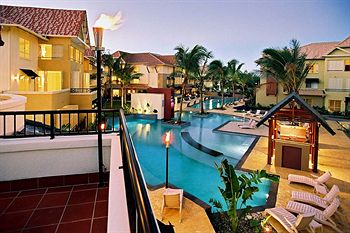 Special offers and reviews for The Lakes Resort Cairns

---
Mantra Trilogy Cairns Resort
Top location right next to the big public lagoon pool where everything happens in Cairns. You are also likely to get a great view over the bay and Esplanade parks.


Special offers and reviews for Mantra Trilogy Resort Cairns

---
Cairns Budget Resorts
If you have a good location and a nice room in Cairns then it's easy to take advantage of lots of attractions downtown. And you may even spend most of your time out on the reef. Here is are the best  of those.


---
Discovery Resort Cairns

Comfortable and in a good location close to the Esplanade and reef Fleet terminal.

Top 25 Cairns Resort Deals with Reviews on TripAdvisor

Cairns Day Trips
This is also a great place to go to get ideas on things to do in Cairns and makes for an excellent travel guide You can also find best deal, compare prices, and read what other travelers have to say about Cairns attractions and accommodation.

Things to do in Cairns at TripAdvisor : Here you can find more information on the Cairns District Cairns District Hotels, Vacation Rentals, Flights to Cairns cruise deals in cairns and a whole lot more more on the Cairns district.

Paronella Park Day Trip
Paronella Park

Stunningly magnificent insight into North Queensland culture at the beginning of the 20th century to now.

National Heritage and National Trust listed Paronella Park has received many Queensland tourism award, and Eco accredited.
(First privately owned hydro electric plant in the state, 1933)

---
Hartley's Crocodile Adventures
Quality crocodile farm adventure in exotic savana location and another one of the great and excellent day trip. An ironically relaxing day.

Hartley's Crocodile Adventures

---
If you are staying near the city, the Cairns Wildlife Dome at the top of the Reef Casino complex is a good place to catch some of the local wildlife in an intimate atmosphere where you can get one on one attention with the keepers.
Heading out to the reef. There are a few good options for day trips including a Green Island Trip, Fitzroy Island Trip, or a more intimate cruise to a beautiful reef fringed cay abroad Ocean Spirit. 

Kuranda Rain Forest Resorts
Kuranda up the range about 20 minutes from Cairns is the top spot in the area to enjoy the world heritage wet tropics rain forest.

Tranquil surroundings, rejuvenate your body with luxurious spa treatments and enjoy the tropical ambiance.

Cedar Park Rainforest Resort Kuranda

Sarah loves to check out all-inclusive resorts and find great packages and report about what real travelers are saying, Sarah is an indicative character created for the purpose of providing insights uncovered during our research.  These reviews are indicative of others first-hand experiences using our research methodology designed to uncover the best  (as opposed to those that are simply marketed as the best).

While our reviews are founded on real accounts and stories and thoroughly researched do your own research and exercise your best judgment when making travel decisions. And keep in mind all-inclusive packages are always changing.