Cairns Resorts and Holidays
Cairns Resorts and Holidays
Looking to stay at one of the best Cairns Resorts? Cairns is the perfect place to enjoy the best of the reef and the rain forest. But you know perhaps I am a little partial. Having lived in Cairns, I found a lot of great things to do.
Journey to Cairns: An Unforgettable Trip to Australia's Tropical Gem
It was the dawn of a new adventure, the kind that makes your heart flutter in anticipation. I was boarding my flight to Cairns, the tropical gem in Australia's Far North Queensland. As the plane took off, I looked out the window, a tangle of anticipation and excitement swelling inside me.
When to go to Cairns, Australia?
If you are planning a trip to Australia, keep in mind that it offers a wide variety of climates. The high tourist season in Cairns is during the Australian winter. Cairns is dryer this time of the year and the summer wet season has subsided. There is also less of a problem with  stingers (problem jellyfish) inn the cooler months.
Average Temperatures in Cairns, Australia
One thing that does catch some travelers by surprise is that Cairns itself does not have it's own beach. Not to worry because the northern beaches including Palm Cove and Port Douglas are also within easy reach of the reef and rain forest attractions as well.

VIDEO: Cairns Area and Tropical North Queensland
---
Top Cairns Resorts:
After a long journey, I finally landed in Cairns. Stepping out of the airport, I was immediately greeted by the warm tropical air. Palm trees swayed in the light breeze, and the sky was a clear, brilliant blue. I had arrived in paradise.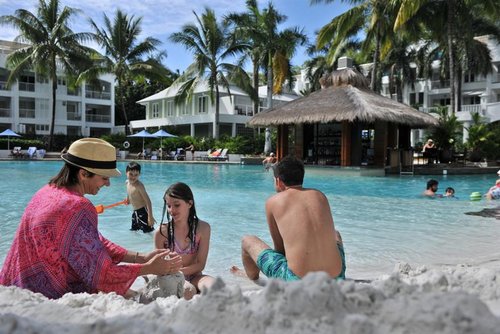 Palm Cove Resorts
My first day in Cairns was spent acclimating to the city's laid-back lifestyle. The Cairns Esplanade quickly became my favorite spot in the city. I spent hours strolling along the lagoon, its clear blue water glistening in the sun, and walking down the bustling boardwalk. I watched families picnicking, kids playing in the playgrounds, and backpackers sunbathing on the grass. There was a sense of relaxation and serenity that I hadn't felt in a long time.
Kewarra Beach Resort
In between the rainforests and the azure waters of the Coral Sea, Kewarra Beach Resort is a luxury retreat that marries natural beauty with indulgent comforts.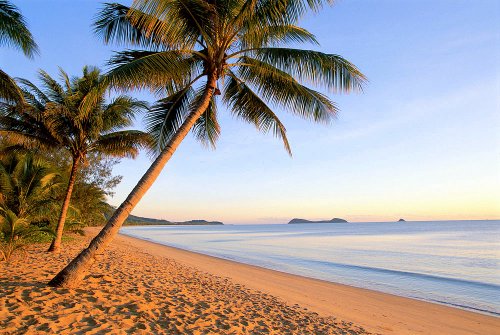 Kewarra Beach Resort
Just 20 minutes from Cairns, this private boutique beachfront property spans 30 acres of lush, landscaped rainforest gardens. The resort delivers an unrivaled Australian vacation experience, complete with detached secluded suites, spacious private bungalows, and a firm commitment to environmental sensitivity. Add to this mix, a private beach, superb cuisine, world-class service, and it's clear why this romantic hideaway has become a favorite amongst honeymooners and nature lovers worldwide.
Beachfront setting set between the Great Barrier Reef and lush tropical rainforest.

More on Kewarra Beach Resort Cairns

---
Hilton Cairns
Hilton Cairns: A Harbor Haven in Tropical North Queensland
Positioned on the iconic waterfront of Trinity Inlet, Hilton Cairns stands as a beacon of luxury amidst the tropical city's vibrancy. Boasting an array of modern accommodations, from guest rooms with stunning views to plush suites fitted with the finest amenities, this hotel offers a respite from the bustling cityscape.
One of its crowning glories is its award-winning dining options. Mondo Café Bar and Grill, set along the waterfront, lets you savor a variety of culinary delights as you take in the serene views of the inlet. For a more eclectic palate, the Six Degrees Bar and Lounge offer a myriad of beverages and light meals in an intimate setting.

Hilton Cairns also recognizes the importance of relaxation and rejuvenation, hosting a stunning outdoor swimming pool and a well-equipped fitness center. For those wanting to explore, the hotel's location offers proximity to both the Great Barrier Reef and the Daintree Rainforest, two of Australia's natural World Heritage sites.
But what sets Hilton Cairns apart is its commitment to delivering Hilton's signature world-class service. From arranging unique local experiences to attending to the minute details of your comfort, the staff here strive to ensure that your stay is as memorable as the picturesque surroundings.
However, while the central location is fantastic for city exploration, it could feel less tranquil compared to more secluded resorts. Similarly, while the hotel does offer a luxurious stay, it might not provide as unique or local an experience as some boutique properties. That said, for a blend of luxury, accessibility, and dependable service, Hilton Cairns is a compelling choice.
Score: 8.5/10
Quality 5 star hotel on the waterfront right at the Reef Fleet terminal - where the boats go to the Great Barrier Reef from. A great option to enjoy the local restaurants and city attractions.
More on the Hilton Cairns

---
Fitzroy Island Cairns Australia Resort
Fitzroy Island Resort: Your Island Escape Near Cairns
Located a 45-minute ferry ride from Cairns, Fitzroy Island Resort is a tropical paradise amidst the coral reefs of the Great Barrier Reef. The island's lush rainforest, azure waters, and white coral beaches provide a stunning backdrop to a resort that is just as captivating.
The accommodations at Fitzroy Island Resort cater to a range of preferences. Guests can choose from Suites, Studio rooms, or even Beach Cabins that blend modern comforts with an island aesthetic. The rooms are spacious and thoughtfully designed, offering breath-taking views of the rainforest or the Coral Sea.
One of the resort's highlights is its proximity to the Great Barrier Reef, making it a dream location for snorkeling, diving, and sea kayaking. Guests can also explore the island's scenic walking tracks or unwind at the resort's oceanfront swimming pool.
The dining experience here is delightful, with Zephyr Restaurant offering panoramic sea views and a menu filled with fresh and locally sourced ingredients. Meanwhile, Foxy's Bar, with its laid-back ambiance, is ideal for a casual meal or a sundowner.
Adored by the locals and international travelers alike, this immaculate resort has gotten even better since it's recent refurbishment. There are fewer value for money luxury resorts which offer such great value in an ideal pristine location as Fitzroy Island.

However, despite its idyllic setting and fantastic facilities, Fitzroy Island Resort has a few points that could be potential drawbacks for some. The island's seclusion might not be to everyone's liking, especially those who enjoy the buzz of city life. Also, the absence of certain amenities, like a full-service spa, could be a disappointment for guests seeking a comprehensive luxury resort experience.
Overall, Fitzroy Island Resort offers an immersive island experience with ample opportunities for adventure and relaxation, but with a few limitations to keep in mind.
Score: 9.0/10
For those who prefer a mainland resort experience: The Hilton Cairns, positioned on the iconic waterfront of Trinity Inlet, offers a combination of modern luxury, award-winning dining, and easy access to city attractions. Its proximity to the Great Barrier Reef and the Daintree Rainforest make it a compelling choice for those who want a mix of city exploration and natural wonders.
The island itself Is a short 50 minute trip from Cairns and a classic spot to enjoy the best of the reef's coral, white sands and clear waters.
Reviews and Special offers for Fitzroy Island

---
Pullman Cairns Resort Hotel
A Luxurious Urban Refuge: Pullman Cairns International Hotel
Situated in the upbeat heart of Cairns, Pullman Cairns International offers guests a perfect blend of comfort, convenience, and luxury. With the fleet terminal nearby, the hotel serves as an excellent base for exploring the World famous Great Barrier Reef and other fascinating local attractions. Its location, just 8 kilometers from both domestic and international airports and a stone's throw away from the Cairns Convention Centre, make it an ideal choice for both leisure and business travelers.
The hotel architecture reflects the spirit of Far North Queensland, exuding an elegance reminiscent of the city center's grand past. Each room is thoughtfully designed, offering the perfect balance between luxury and comfort. The accommodations range from superior city mountain view rooms to deluxe harbor view rooms and suites, providing guests with varied options to suit their preferences.
Pullman Cairns International showcases a series of desirable features, including a concierge, 24-hour reception, a gymnasium, in-room dining, and a swimming pool complete with a sizeable sundeck and Jacuzzi. The hotel's underground parking caters to guests who choose to drive.
Guests seeking culinary delights would find themselves spoilt for choice with Coco's Kitchen + Bar, known for its exquisite local seafood. For those looking to unwind and rejuvenate, the hotel's Vie Spa offers a range of relaxing treatments designed to harmonize your soul.
One aspect that stands out at Pullman Cairns International is their commitment to safety and cleanliness. The implementation of the #ALLSAFE cleanliness & prevention standards, vetted by Bureau Veritas, ensures guests' health and well-being during their stay.
However, with its urban location, those seeking a nature-immersive experience may find it lacking. Also, while the hotel boasts a range of features, the absence of specific leisure facilities, such as tennis courts or private beach access, may be a disadvantage for some guests.
In conclusion, Pullman Cairns International presents a luxurious urban refuge for those who love the city's hustle and bustle and the convenience it offers. However, for travelers seeking a closer-to-nature experience, they might consider alternatives like the Kewarra Beach Resort, known for its intimate setting and environmental sensitivity.
Score: 8.5/10
Special offers and reviews for The Pullman Cairns.


---
Often it comes as a surprise to many travelers to Cairns that the city itself is not set on the beach. Reluctance by travel agents to mention this and images doctored to make the local mud flat look like a white sandy beach don't help either. Although the main city Esplanade is pretty and offers magnificent views some travelers do like to stay on a nice sandy beach.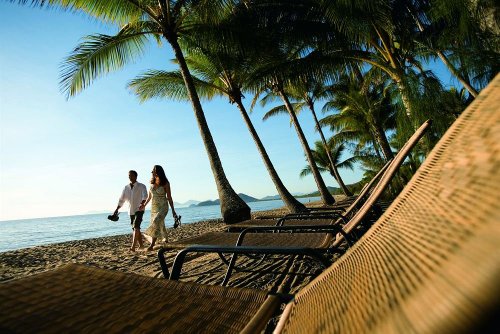 Cairns Beach Resorts
Thankfully some of the best tropical beaches you will find anywhere in the world are only about 20 minutes away. Keep in mind that there are stingers around and it's sometimes not worth chancing the swimming enclosures. All the resorts have pools for this reason.

See the Palm Cove Resorts for more Cairns Beach Resort options.

---
Green Island Resort Cairns
Green Island Resort, Cairns: Tropical Island Paradise
Imagine a sanctuary,  amidst a coral cay, surrounded by the spectacular beauty of the Great Barrier Reef. Welcome to Green Island Resort, a world-class, eco-sensitive resort that offers an ethereal experience in the heart of Australia's Tropical North Queensland.
Green Island Resort strikes a brilliant balance between luxury and care for the environment. The resort is fully committed to preserving the island's biodiversity, resulting in a stay that not only pampers you but also lets you witness and partake in crucial conservation efforts.
Arriving on Green Island is an adventure in itself, with a 45-minute scenic boat ride from Cairns. Once there, the resort's elegantly appointed Reef Suites and luxurious Island Suites are inviting retreats, providing a restful environment. Each suite reflects the tranquility and charm of the island, with soothing décor, inviting furnishings, and private balconies offering stunning views.
Dining at Green Island Resort is a culinary adventure. The Emeralds Restaurant & Bar offers delectable al fresco dining with views over the pool and the Coral Sea, serving a fine selection of Australian cuisine with an emphasis on local, fresh seafood and produce.
The unique Great Adventures activities program allows guests to explore the coral reef, either by snorkeling, scuba diving, or via a semi-submarine or glass-bottom boat. Alternatively, nature enthusiasts can embark on a guided rainforest walk to experience the island's rich flora and fauna.
However, its remote location might be a downside for those who prefer to be closer to the hustle and bustle of city life, with the need to schedule boat trips to and from the mainland. Additionally, while the resort's commitment to preserving the natural environment is commendable, it might not offer the same range of amenities and services as other more conventional luxury resorts.
Nonetheless, if you are an eco-conscious traveler looking for a unique and intimate island experience, Green Island Resort could be your dream destination. On the flip side, if you fancy more urban luxury with easy access to city amenities, Pullman Cairns International might suit you better.
Score: 8.7/10
Green Island Resort Cairns

Green Island Resort is one of the unique and romantic destinations in Tropical North Queensland. Enjoy white sandy beaches, crystal clear waters and great snorkeling right off the beach.


---
---
Shangri-La Cairns Resort Hotel
Shangri-La Hotel, Cairns: Your Gateway to Tropical Opulence
The Shangri-La Hotel in Cairns enjoys an enviable reputation for its brilliant location and commitment to comfort. Its proximity to the Marina and the picturesque Esplanade Park makes it an ideal choice for those who want to experience the best of Cairns without straying too far from the city's pulse.
Though Shangri-La Cairns might not compete with some of its counterparts in opulence, it certainly holds its own in the city with its warm hospitality, splendid views, and attractive amenities.
Every room in Shangri-La Cairns is designed to reflect a sense of modern luxury, with spacious layouts, plush bedding, and serene views of the marina, the city, or the hotel's lush gardens. However, it's the Horizon Club Rooms that take luxury a notch higher. They provide an enhanced level of service, comfort, and convenience, with exclusive Horizon Club privileges such as a dedicated Club Concierge, and access to the private Horizon Club Lounge, where guests can enjoy complimentary breakfast, evening cocktails, and more.
The hotel's dining scene is equally enticing, with the North Bar and Kitchen restaurant offering an innovative menu that features the best local produce and views of the waterfront. Not to forget the North Bar, a place where you can relax and unwind with a cocktail or two while watching the sunset.
For the wellness-focused traveler, the hotel features a fully-equipped gym and a sparkling pool for a refreshing dip. Besides, the Shangri-La's Marine Operation, the 'Spirit of Freedom', offers scuba diving and snorkeling adventures on the Great Barrier Reef.
While the Shangri-La Hotel in Cairns is an impressive property, it does have its cons. Some guests might find it lacking in terms of up-to-date décor, and the in-room amenities might not be as luxurious as those found in other Shangri-La properties.
Score: 8.5/10
Nevertheless, if your idea of an ideal vacation includes a blend of natural beauty, local attractions, and a touch of luxury, Shangri-La Hotel, Cairns could be a strong contender. For those who prioritize eco-luxury and seclusion, the Green Island Resort might be a more suitable alternative.
Shangri-La Hotel, The Marina more Information.

---
Experience the charms and convenience of 4.5-star resort life. Great location near the magnificent Cairns botanical gardens and only a short walk to the main Esplanade. The grounds and facilities are new and in great condition. An esteemed resort close to the City area.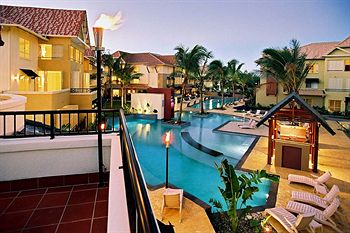 Special offers and reviews for The Lakes Resort Cairns

---
Mantra Trilogy Cairns Resort
Mantra Trilogy: Comfortable Stay, But Room for Improvement
Situated right by the ocean, Mantra Trilogy boasts a desirable location in the Cairns Central Business District. Its close proximity to the beach, shopping areas, and the Cairns Esplanade makes it an attractive option for those seeking a convenient base for their Cairns adventure. 
Top location right next to the big public lagoon pool where everything happens in Cairns. You are also likely to get a great view over the bay and Esplanade parks.
One of the resort's redeeming features is the outdoor swimming pool and children's pool. These amenities, along with the on-site barbecue grills, offer some fun and relaxation for guests.


Special offers and reviews for Mantra Trilogy Resort Cairns

---
Cairns Resorts Scorecard
When considering Cairns as a holiday destination, similar places that come to mind include The Gold Coast, Queensland; Byron Bay, New South Wales; and Bali, Indonesia. Let's compare them based on some key aspects:
Natural Attractions:
Cairns: Home to the Great Barrier Reef and Daintree Rainforest, Cairns scores high in terms of natural attractions. It's one of the few places in the world where two UNESCO World Heritage Sites meet. Score: 10/10
Gold Coast: Known for its beautiful beaches and surf spots. The hinterland contains rainforest, waterfalls and wildlife reserves. Score: 9/10
Byron Bay: Famous for its beaches, surfing and scuba diving sites, as well as its wildlife, with whales often spotted from the headland. Score: 8/10
Bali: Renowned for its beaches, rice terraces, and temples, Bali has a diverse range of natural attractions. Score: 9/10
Resorts:
Cairns: Offers a wide range of resorts from luxury to budget-friendly. Many resorts offer views of the rainforest or sea, and have a strong focus on eco-conscious practices. Score: 8/10
Gold Coast: Known for its high-end resorts, many of which are located near the beach. There is also a variety of mid-range and budget options. Score: 9/10
Byron Bay: Has a mix of luxury resorts, boutique hotels, and budget accommodations. The focus here is on wellness and relaxation. Score: 8/10
Bali: Known for its luxury villas and resorts, many with private pools. Also offers budget and mid-range options. Score: 10/10
Activities:
Cairns: Ideal for adventure and nature lovers, with activities like snorkeling, diving, rainforest tours, and hiking. Score: 9/10
Gold Coast: A haven for surfers and beach lovers. Also home to several theme parks. Score: 9/10
Byron Bay: Known for surfing, scuba diving, and whale watching. Also, a great place for relaxation and wellness activities like yoga. Score: 8/10
Bali: Offers a wide range of activities from beach and water sports to cultural tours, yoga retreats and cooking classes. Score: 10/10
Accessibility:
Cairns: Cairns has an international airport and is well-connected to major Australian cities. Score: 9/10
Gold Coast: Easily accessible with its own international airport and good road connections. Score: 10/10
Byron Bay: No direct flights, usually requires a drive from Gold Coast or Brisbane airports. Score: 7/10
Bali: Denpasar International Airport is well-served by many international airlines. Score: 9/10
Overall Scores:
Cairns: 9/10
Gold Coast: 9.25/10
Byron Bay: 7.75/10
Bali: 9.5/10
These scores are subjective and will depend on individual preferences. All these destinations have their unique offerings, and the best choice will depend on what kind of holiday experience you're seeking.
Cairns Budget Resorts
If you have a good location and a nice room in Cairns then it's easy to take advantage of lots of attractions downtown. And you may even spend most of your time out on the reef. Here is are the best  of those.


---
Discovery Resort Cairns

Comfortable and in a good location close to the Esplanade and reef Fleet terminal.

Top 25 Cairns Resort Deals with Reviews on TripAdvisor

Exploring Cairns
Exploring the Tropical Paradise from Cairns: A Story of Adventure and Discovery
Cairns, the coastal city in Australia's tropical Far North Queensland, is a paradise for nature lovers and adventure seekers. Known for its warm, tropical climate and its proximity to two of the world's most famous natural wonders, the Great Barrier Reef and the Daintree Rainforest, Cairns offers a multitude of experiences for everyone. Here's a story of one memorable journey that started in this tropical wonderland.
Our journey began in the heart of Cairns. We spent the first day exploring the energetic city. The Cairns Esplanade, with its saltwater swimming lagoon and sandy beaches, was a particular delight. We walked along the boardwalk, breathing in the salty sea air and enjoying the stunning views of the Coral Sea. We spent the evening exploring the night markets, tasting the local cuisine, and marveling at the local art and craft stalls.
The following day, we embarked on our first major excursion - a trip to the Great Barrier Reef. We boarded a high-speed catamaran that took us to an outer reef pontoon. Here, we donned our snorkeling gear and dove into the turquoise waters. The sight that greeted us was nothing short of magical - an underwater world teeming with colourful coral and exotic marine life. We also took a semi-submersible coral viewing tour, giving us a closer look at this underwater paradise.
Day three took us north of Cairns to the Daintree Rainforest, the oldest continuously surviving tropical rainforest in the world. We went on a guided tour, walking along the elevated boardwalks under the lush canopy. We saw a variety of wildlife, including the elusive cassowary and the unique tree kangaroo. The highlight was a serene river cruise where we spotted crocodiles lazing on the banks. That night, we stayed in an eco-lodge, falling asleep to the soothing sounds of the rainforest.
For the next leg of our journey, we headed to the Atherton Tablelands, a fertile plateau with rolling hills, crystal clear waters, and cascading waterfalls. We swam in the cool waters of Lake Eacham, trekked to the stunning Millaa Millaa Falls, and toured a local coffee plantation. We also visited the historic village of Herberton and its fascinating Heritage Museum.
On our last day in Cairns, we took the scenic Kuranda Skyrail Rainforest Cableway. It offered panoramic views of the rainforest, Cairns city, and the Coral Sea. In Kuranda, we explored the village's markets and wildlife parks before taking the historic Kuranda Scenic Railway back to Cairns. It was a fitting end to our remarkable journey.
In the end, our trip to Cairns was more than just a holiday. It was an adventure, a chance to explore the extraordinary beauty and biodiversity of Tropical North Queensland. From the coral reefs to the ancient rainforest, Cairns opened a door to a world we never knew existed, and we can't wait to return to continue our exploration.
This is also a great place to go to get ideas on things to do in Cairns and makes for an excellent travel guide You can also find best deal, compare prices, and read what other travelers have to say about Cairns attractions and accommodation.

Things to do in Cairns at TripAdvisor : Here you can find more information on the Cairns District Cairns District Hotels, Vacation Rentals, Flights to Cairns cruise deals in cairns and a whole lot more more on the Cairns district.

Paronella Park Day Trip
Paronella Park

Stunningly magnificent insight into North Queensland culture at the beginning of the 20th century to now.

National Heritage and National Trust listed Paronella Park has received many Queensland tourism award, and Eco accredited.
(First privately owned hydro electric plant in the state, 1933)

---
Hartley's Crocodile Adventures
Quality crocodile farm adventure in exotic savana location and another one of the great and excellent day trip. An ironically relaxing day.

Hartley's Crocodile Adventures

---
If you are staying near the city, the Cairns Wildlife Dome at the top of the Reef Casino complex is a good place to catch some of the local wildlife in an intimate atmosphere where you can get one on one attention with the keepers.
Heading out to the reef. There are a few good options for day trips including a Green Island Trip, Fitzroy Island Trip, or a more intimate cruise to a beautiful reef fringed cay abroad Ocean Spirit. 

Kuranda Rain Forest Resorts
Kuranda up the range about 20 minutes from Cairns is the top spot in the area to enjoy the world heritage wet tropics rain forest.

Tranquil surroundings, rejuvenate your body with luxurious spa treatments and enjoy the tropical ambiance.

Cedar Park Rainforest Resort Kuranda

Over the next few days, I ventured out of the city. I embarked on a day trip to the Great Barrier Reef, where I snorkelled amongst colourful coral and curious marine life. The underwater world was unlike anything I had ever seen before – a vast, colourful landscape filled with life. It was surreal and utterly captivating.
The Daintree Rainforest, too, was a highlight. During a guided tour, I marveled at the lush greenery, the cascading waterfalls, and the abundant wildlife. The highlight was cruising down the Daintree River, spotting crocodiles basking on the banks.
I also explored the Atherton Tablelands, a picturesque region known for its stunning landscapes. I swam in the clear crater lakes, hiked to beautiful waterfalls, and savored locally grown coffee.
My journey to Cairns was a whirlwind of unforgettable experiences. I was charmed by the city's laid-back atmosphere and awed by the stunning natural beauty that surrounded it. It was a journey that truly captured my heart, leaving me with memories I'll cherish forever. And even as I boarded my flight back home, I knew that a part of me would always stay behind, lost in the tropical paradise of Cairns.
The best time to visit Cairns is from June to October. These are the winter and spring months in Australia, offering mild temperatures and less rainfall. This is also a great time for outdoor activities such as snorkelling, hiking, and sightseeing.
Yes, many resorts in Cairns offer family-friendly amenities such as kids' clubs, family rooms, children's pools, and activities suitable for all ages. Some resorts may even offer babysitting services.
Yes, Cairns is a major gateway to the Great Barrier Reef. Many resorts offer or can arrange day trips, snorkelling and diving excursions to the reef.
Many resorts in Cairns do offer airport transfers, though this may involve additional charges. It's best to inquire directly with the resort at the time of booking.
Yes, numerous resorts in Cairns feature full-service spas offering a variety of treatments and therapies. Some also have wellness facilities like saunas, steam rooms, and fitness centres.
Yes, most resorts in Cairns have one or more restaurants on-site, offering a range of dining options. Some also provide room service for added convenience.
Cairns is known for its access to natural wonders, including the Great Barrier Reef and the Daintree Rainforest. Other activities include visiting the Tjapukai Aboriginal Cultural Park, exploring the Atherton Tablelands, hiking in the Barron Gorge National Park, and swimming in the Cairns Esplanade Lagoon.
While all-inclusive resorts aren't as common in Australia as in some other destinations, you can find resorts offering packages that include meals and some activities.
While most Cairns resorts welcome families, there are a few adult-only properties for those seeking a quieter, more romantic setting. It's best to check with the resort directly.
💼 We cherish our independence! ✈️ Our travel recommendations are carefully researched, bias-free, and powered by human expertise by April and Ricky of LRB (we have personally researched and travelled to many of these destinations and researched others thoroughly through first-hand accounts). 🌍✨
We try to keep everything up to date, but please always do your own research and contact us if you know any issues for us to help others as best we can as a small but professionally focused team! 🧐📚⚠️