Overwater Bungalows in Fiji
Overwater Bungalows in Fiji
As a traveler seeking the ultimate island experience, I set out to explore Fiji's three renowned resorts with over-the-water bungalows: Likuliku Lagoon Resort, Fiji Marriott Resort Momi Bay, and Koro Sun Resort & Rainforest Spa. Each of these resorts offers a unique atmosphere, catering to different types of travelers while still maintaining the essence of Fijian culture and hospitality.
Likuliku Lagoon Resort (Rating: 9.2/10)
Adult Only All Inclusive Fiji Resort
Likuliku Lagoon Resort
For those seeking an Adult Only exclusive, luxurious experience with a strong connection to Fijian culture, Likuliku Lagoon Resort is the ideal destination. The resort's 10 overwater bungalows, or "bures," seamlessly blend traditional Fijian design and modern luxury. From the intricate woodwork and "magi magi" designs to the elegant fabrics, attention to detail is evident throughout. Guests can enjoy daily canapés with champagne as they admire the vibrant marine life beneath their bungalow. The resort's location on a marine sanctuary further enhances the feeling of serenity and connection to nature.
Guest Review
oin Brodie Harper as she explores the enchanting Likuliku Lagoon Resort in Fiji, a place she describes as "paradise on earth." Situated on Malolo Island in the Mamanuca group of islands, this adults-only oasis offers a unique and tranquil experience combining traditional Fijian elements and modern lifestyle touches. Accessible by helicopter, private water taxi, seaplane, or South Sea cruisers, this breathtaking resort features 45 luxury bures, including Fiji's first overwater bungalows.
The resort offers a range of bure styles, from garden and beachfront to deluxe beachfront options, all designed with authentic Fijian architecture and featuring natural materials and traditional hand-carved elements. Each bure has direct beach and lagoon access, private daybed retreats, and secluded outdoor showers. Deluxe beachfront bures even boast private plunge pools.
Indulge in five-star dining at the Fijiana Restaurant, where fresh, creative dishes are served in a stylish, romantic setting. For relaxation, unwind at the Tatadra Spa, which means "house of dreams," set amongst lush green gardens. Enjoy a variety of water sports, or simply lounge by the resort's infinity pool, taking in the stunning ocean views.
As the day draws to a close, head to Masima Bar, located on its own island in the central lagoon, to sip Fiji-inspired cocktails and watch the sunset. 
Adults-only resort, ensuring a serene and tranquil environment.
The first and only resort in Fiji with authentic overwater bures, offering a unique and exclusive experience.
Located in a natural ocean lagoon and surrounded by a protected marine sanctuary, providing pristine surroundings for guests to enjoy.
Designed with integrity to Fijian cultural values, traditional designs, and architecture, creating an authentic and rich atmosphere.
Exceptional warmth and hospitality from the Fijian people, enhancing the overall experience.
The resort's main building is designed like a traditional Fijian canoe house, adding to the cultural authenticity.
A perfect blend of ancient culture and modern lifestyle touches for a luxurious escape.
Cons:
Exclusivity may result in limited availability, especially during peak travel seasons.
The adults-only policy may not be suitable for families with children.
The remote location may make it difficult for some travelers to access.
As a luxury resort, it may be out of budget for some travelers.
Features:
An untouched paradise with a turquoise lagoon and calm waters.
A wilderness island retreat for guests seeking an immersive and luxurious experience.
Traditional Fijian architecture and hand-woven thatch, combined with modern elements.
Emphasis on the richness of an ancient culture with vibrant present-day lifestyle touches.
Warm Fijian hospitality, ensuring a memorable and enjoyable stay.
Likuliku Lagoon Resort is a unique, adults-only luxury escape in Fiji, offering authentic overwater bures, pristine surroundings, and a perfect blend of ancient Fijian culture and modern lifestyle touches. The resort provides a serene and tranquil environment for guests looking for an exclusive and immersive experience. However, it may not be suitable for families with children or those on a limited budget
Find the best deal, compare prices, and read what other travelers have to say at Tripadvisor
Fiji Marriott Resort Momi Bay (Rating: 8.7/10)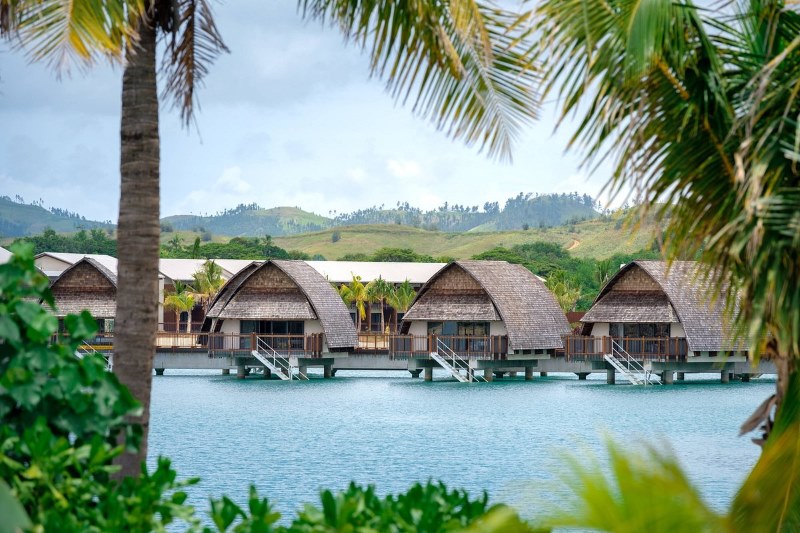 Travelers looking for a blend of luxury, family-friendly amenities, and a more contemporary atmosphere will appreciate the Fiji Marriott Resort Momi Bay. With 22 unique overwater bure villas and a man-made lagoon, this 5-star resort offers a range of options for all types of guests. The resort features three large swimming pools, a swim-up bar, and a variety of dining options, including the stunning Fish Bar, Grill & Bar with its breathtaking sunset views. Located on the secluded western coast of Viti Levu, Momi Bay is just a 45-minute drive from Nadi International Airport, making it easily accessible for travelers.
Situated on the western coast of Viti Levu in Momi Bay, this 5-star resort provides everything you need for an unforgettable Fiji vacation.
Spend your days lounging on the pristine lagoon beaches or take a dip in one of the three inviting pools at the resort. For a more indulgent experience, unwind with a soothing massage at the rejuvenating spa. While your children explore the Turtles Kids Club or splash around in the dedicated children's pool, treat yourself to an exquisite evening of oceanfront dining at one of the resort's exceptional restaurants.
Venture beyond the resort to discover a multitude of exotic natural attractions, including world-class diving and surfing spots, all within minutes of the hotel. For those planning business or social events near Nadi, Fiji Marriott Resort Momi Bay offers stylish indoor venues and picturesque outdoor locations to create unforgettable experiences.
At the end of an adventure-filled day, retreat to one of the resort's romantic overwater bures or well-appointed guest rooms. Each accommodation boasts captivating views of the ocean or lagoon from every window, ensuring you are continually immersed in the beauty of Fiji.
Find the best deal, compare prices, and read what other travelers have to say at Tripadvisor
Koro Sun Resort & Rainforest Spa (Rating: 8.5/10)
For those who crave a more immersive, nature-oriented experience, the Koro Sun Resort & Rainforest Spa is an ideal choice. This 160-acre sanctuary in Fiji's Northern region offers a genuine Fijian experience with lush rainforest surroundings and clear, warm waters. Guests can partake in a variety of water sports, explore world-class dive sites, or unwind at the iconic rainforest spa. The warm and friendly staff at Koro Sun will make you feel like family, ensuring a memorable stay in this tropical paradise.
Find the best deal, compare prices, and read what other travelers have to say at Tripadvisor
Review
Discover the enchanting Koro Sun Resort in Fiji, a paradise where the rainforest meets the sea, perfect for families and honeymooners. Immerse yourself in the lush, beautifully landscaped surroundings, enjoy a wide array of dining options, and take advantage of the resort's numerous amenities, including an active kids club, water sports, and a relaxing Rainforest Spa. Experience the best of Fiji at this stunning oasis.
Share Your All-Inclusive Adventures and Questions! 🌴 Have a memorable experience from a luxury all-inclusive vacation? We'd love to hear it at Luxury Resort Bliss. We're on the lookout for top-quality, insightful tales that'll inspire our community. Dive in and be a part of our sun-soaked stories! 🌊🍹✨
The story is a fictionalized account founded on travel expertise, research, and experience. Always refer to recent guest reviews and perform due diligence before booking.
💼 We cherish our independence! ✈️ Our travel recommendations are carefully researched, bias-free, and powered by human expertise by April and Ricky of LRB (we have personally researched and travelled to many of these destinations and researched others thoroughly through first-hand accounts). We also have put in the hard miles, and Ricky has worked for decades for resort and hotel chains  Hyatt, Hilton, Shangri-La and Radisson before starting Luxury Resort Bliss in 2007. 🌍✨ Unlike some other resort review websites we are concerned on the guest experience rather than mere corporate interest.