Adult Only Resorts to Visit in 2023
Welcome to our world's best adult only resorts review. While it's easy to believe that resorts that exclude children are limited to the Riviera Maya in Mexico and the Dominican Republic, here you'll find there are quality adults only resorts scattered throughout many exciting and exotic locations.
What does Adult Only Resort mean?
See also: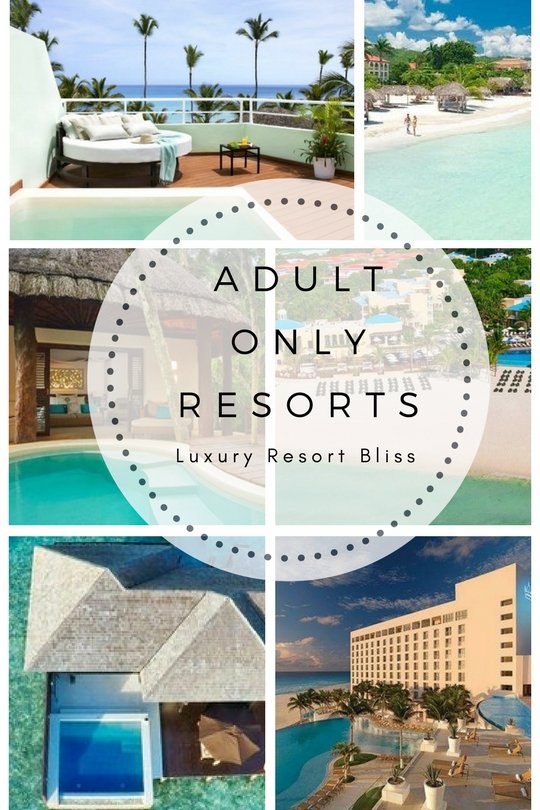 What are Adult Only Resorts
Adults only resorts are hotels where the focus is on adults only. These resorts provide couples and singles with a safe and fun environment to relax and enjoy themselves without any children.
Adult only resorts usually offer different types of accommodations for people to stay at. These accommodations range from your standard hotel rooms to more extravagant suites with hot tubs and other luxury amenities.
Adults only is the term often used for hotels and resorts that have an age restriction. Most of these resorts have a cutoff of 18 years old (sometimes 16), which means that anyone of age passes the limit can enter. Children are not allowed in the hotel or resort.
A number of hotels in the Caribbean and Mexico offer adults-only resorts but also in Europe. These resorts are sometimes for couples only, and can have clothing-optional beaches or pools, but this is not a prerequisite by any means.
Mexico is a popular destination for travelers seeking a romantic or relaxing escape, and there are several adult-only hotels throughout the country that offer unique personalities and experiences. Here are a few destinations in Mexico that are known for their adult-only hotels with personality:
Tulum: Tulum is a trendy beach town on the Caribbean coast of Mexico that is known for its bohemian vibe and stunning beaches. The town is home to several adult-only hotels that offer a laid-back and rustic ambiance, perfect for those seeking a more authentic and down-to-earth experience.
Puerto Vallarta: Puerto Vallarta is a picturesque beach town on the Pacific coast of Mexico that offers a perfect blend of traditional Mexican charm and modern amenities. The town's adult-only hotels are known for their unique personalities and range from luxurious and sophisticated to rustic and bohemian.
Los Cabos: Los Cabos is a popular destination for travelers seeking a luxurious and upscale vacation. The area is home to several adult-only hotels that offer a sophisticated and glamorous ambiance, perfect for couples seeking a romantic and indulgent escape.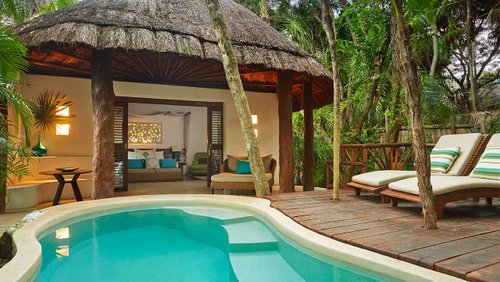 Viceroy Riviera Maya Beach Couples Jungle Retreat
The Mexican Playa Del Carmen Adult & Couples Resorts are exceptional and give extra layers of luxury not available in many other locations. From classy and sexy little jungle retreats for couples to more upscale versions this part of the European inspired Mexican Riviera has it all.
The Viceroy - Playa Del Carmen Adult & Couples Resorts
While Adult only resorts in Cancun and the Riviera Maya are some of the best in the world, there are also more great Mexican adult resorts around the countries best beaches.


Secrets Silver Sands Upscale Adults Only Resort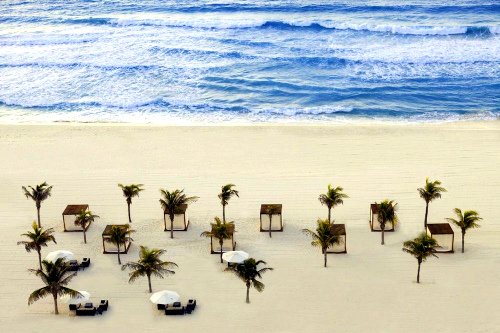 An all inclusive luxury resort with "sophisticated style, lavish personal attention, and uncompromising attention to detail".

Location: On the beach near the marina. 5 minutes from downtown Cancun and 25 minutes from the airport.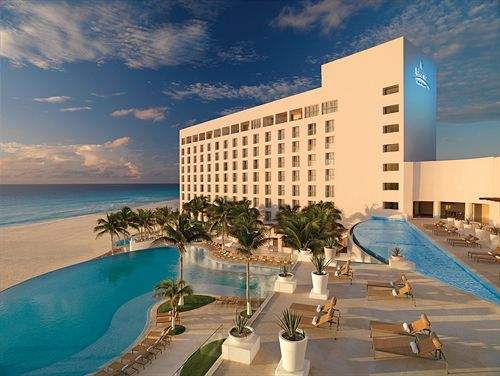 Le Blanc Adults Only Cancun All Inclusive
Amenities: Two awesome golf courses, 8 pools, 2 Infinity pools, butler service. More than a handful of outstanding restaurants for outstanding and diverse cuisine options, Haute cuisine, premium drinks, 24-hour room service, non-motorized water sports, entertainment, all taxes & gratuities, wireless Internet. I would like to go myself.
Reviews: Rarely does a resort receive such praise. You can sense the positive beam of a great holiday radiating from the reviews. The honeymooners will love this one. All class, all inclusive which rates a perfect score for cleanliness and almost every other factor scouring outstanding.
Le Blanc Spa Resort All Inclusive deals @ Expedia

More All Inclusive Resorts in Mexico

---
---
Royal Hideaway Playacar Adult Only All Inclusive in Mexico
A "AAA 5-Diamond Award" all inclusive hotel and resort. 

Location: On the great beaches of Mexico's Riviera Maya.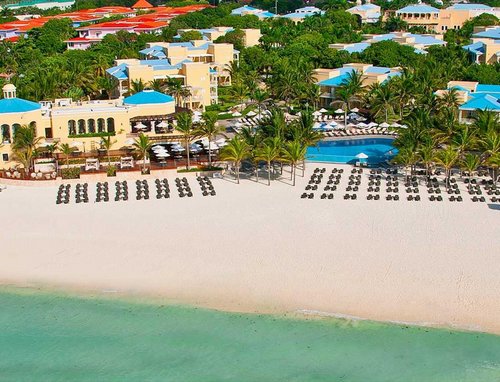 Royal Hideaway Playacar Adult Only All Inclusive in Mexico
Amenities: All Inclusive means: sports - basketball, bocce ball, tennis, SCUBA lessons, kayaking, sailing, windsurfing, aqua aerobics and boogie boards, welcome champagne, 6 a la carte specialty restaurants, meals and snacks, unlimited premium alcoholic beverages, natural juices & soft drinks, two lighted tennis courts, 3 pools including an infinity pool, fitness center, daily activities program, evening entertainment, DVD library, and complimentary Internet access in the Business Center.

Rooms: 200 guest rooms including 6 junior suites and 2 presidential suites. All rooms have a  balcony or terrace, private villa concierge, candles, pillow menu, air conditioning, a ceiling fan, hydro massage bathtub &shower, bathrobes & slippers, satellite TV, a safety deposit box, DVD player, high-speed wireless Internet access, CD stereo system, and coffee maker. 
Reviews: You will get a little more pampering here than you may elsewhere.

Royal Hideaway Playacar All Inclusive deals @ expedia

---
Europe Adult Only Resorts
Europe offers a wide range of destinations for travelers seeking adult-only resorts: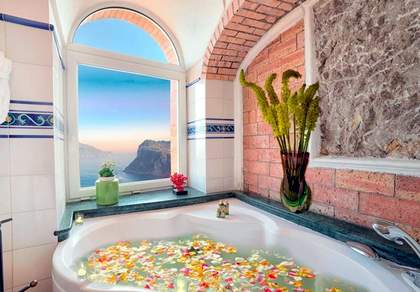 Albergo Hotel Caesar Augustus
We tracked down a couple of the the best adult only villa resorts in Europe. Included is the Albergo Hotel Caesar Augustus - Capri (video below).
You can see them on our All Inclusive Adult Only Resorts in Europe.

---

Maldives Resorts
Other top destinations like the Maldives and Tahiti offer something relaxed and special to the Adult only resort seeker. You can see a good many of the best locations like this on our Luxury Island Resorts Page.
---
The Dominican Republic is a popular destination for adults seeking a romantic or relaxing getaway. Here are a few adult-only all-inclusive resorts in the Dominican Republic that are worth considering:
Excellence Punta Cana: This luxurious resort is located on the east coast of the Dominican Republic and offers guests a serene and sophisticated ambiance. The resort features spacious suites, several swimming pools, a spa, and a variety of dining options.
Secrets Cap Cana Resort & Spa: This resort is located in Punta Cana and offers guests an unparalleled level of luxury and relaxation. The resort features spacious suites, several swimming pools, a spa, and a variety of dining options.
Zoetry Agua Punta Cana: This resort is located on the north coast of the Dominican Republic and offers guests a more laid-back and secluded experience. The resort features luxurious suites, a private beach, a spa, and a variety of dining options.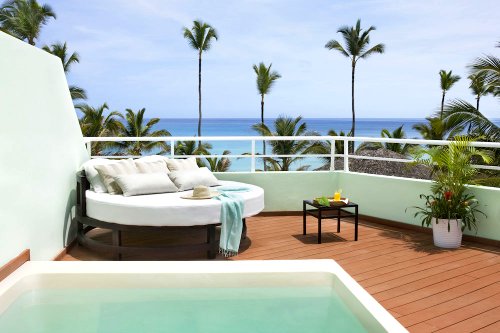 Dominican Republic Adult Resorts
One of the top destinations for adult only resorts with quite a few quality beach options at good prices. Some of the standout romantic resorts include the smaller boutique Casa Colonial which does weddings and honeymoons with more class than the bigger players. 
Se the top Dominican Republic Adult Resorts
---
Barbados is a stunning Caribbean island that offers a unique blend of British charm and Caribbean culture. For couples seeking a romantic and sophisticated escape, adult-only resorts on the island offer a serene and luxurious ambiance that is perfect for relaxation and romance. With its pristine beaches, crystal-clear waters, and tropical gardens, Barbados is the perfect backdrop for a romantic getaway.
The The Club & Spa - Adult Only All Inclusive is one of the best of this type in Barbados. (Previously called Almond Beach Club)
Website for The Club & Spa Barbados
Located in St. James and a great romantic getaway for singles and couples. Guests must be over 16. Enjoy the spa, watersports and amenities at the Beach Village.
See more like this from Barbados.
---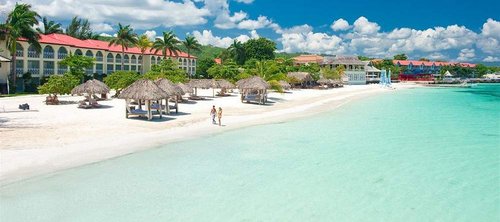 Sandals Montego Bay Adult All Inclusive
There are more than a few world class adult only resorts in Jamaica. Many of the best are situated in Negril and you can find out more about them on our Jamaica Adult and Couples Resorts pages. You can also see more links to Jamaica adult resorts below.

---
With only 10 rooms this is an outstanding bite of luxury located close to Seven Mile Beach. This resort does both all inclusive and room rate only. If you'd like a small resort, this is the place to go.

Website for The Caves All Inclusive
Jamaica: Adult Only Resorts
---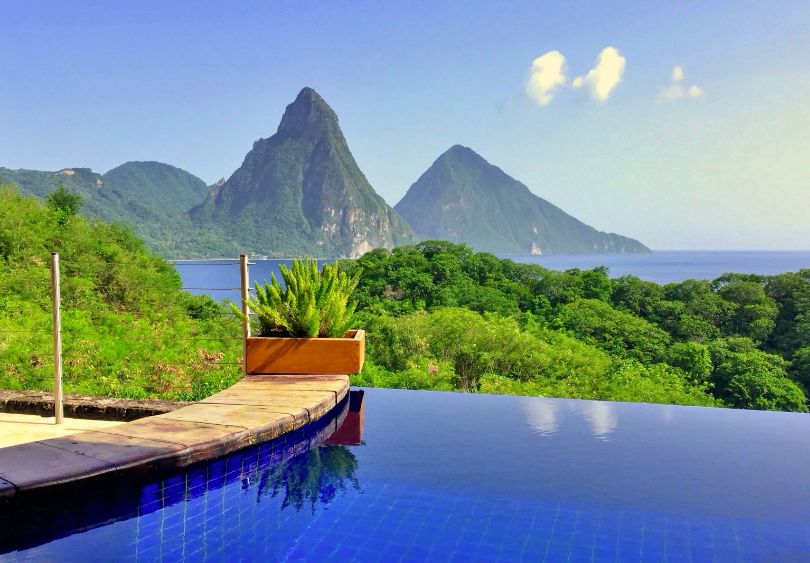 St. Lucia Adult Only Resorts
The BodyHoliday LeSport: Adult All Inclusive 
This award-winning resort specializes in giving you the opportunity to gain new skills and insights that will "enhance the rest of your life". They include things like your golf swing, scuba, dancing and yoga.
Most things are all inclusive including some spa treatments. There are water sports, land sports, live music and 4 restaurants.
There are 154 guestrooms with 4 poster beds. There are no TVs or elevators (you'll only have to walk one story). Guests over 16 are welcome (or age 12 from July to September).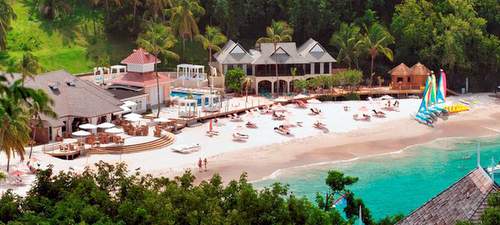 St. Lucia Adult Resort
Reviewers say: recommend the helicopter transfer, great spa, unique resort with unique experiences. 
The BodyHoliday All Inclusive deals @ expedia

See more of the best all inclusive resorts in St. Lucia
Website for The BodyHoliday All Inclusive
---
Florida Adult Only on a private island at Little Torch Key near Key West.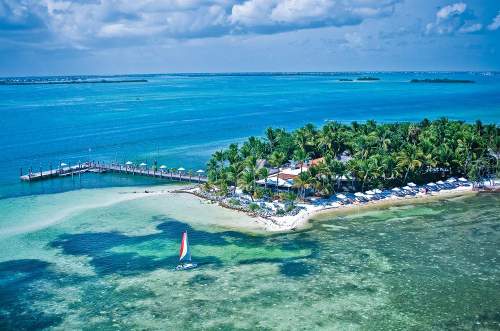 Florida Keys Adult Only
Reviewers have said: best 5 star resort ever for relaxation, great service, very romantic and secluded, swim in the pool rather than beach, pricey but worth every penny.
Now the reviews are even better. See the latest reviews.

On the island resort there are 30 thatch-wood bungalows with private verandas and ocean views. The good part is the resort is adults only and technology free. But you can find a spa, lagoon style pool, meditative Zen garden, private outdoor showers. 
Prices, pictures and more information for Little Palm Island Resort.

More in Florida

Adults only all Inclusive resorts

Couples resorts

Couples Only All Inclusive Resorts
Fiji Adult only overwater bungalow
Fiji is a stunning South Pacific destination that is known for its turquoise waters, white sandy beaches, and vibrant culture. For couples seeking a romantic and secluded escape, Fiji's adult-only resorts offer the perfect setting to unwind and create unforgettable memories. From private overwater bungalows to secluded villas surrounded by lush tropical gardens, Fiji's adult-only resorts offer luxurious accommodations and a serene ambiance that is perfect for romance and relaxation. The resorts' all-inclusive packages include gourmet dining, premium drinks, and a range of activities, from snorkeling to spa treatments. With its warm hospitality, stunning natural beauty, and unique culture, Fiji's adult-only resorts offer a truly memorable and unforgettable experience for couples seeking a luxurious and romantic getaway.
---
Authors Unleashed: Unveiling the Ultimate Travel Experience through Expert Reviews, Ratings, and Research
💼 We cherish our independence! ✈️ Our travel recommendations are carefully researched, bias-free, and powered by human expertise. We use AI sparingly for editing purposes, ensuring an authentic and reliable experience. Join us on our unbiased journey! 🌍✨
Always do your own research! 🧐📚⚠️