Adult Only Resort in Hawaii: Volcano Eco Retreat
Embracing Nature at the Volcano Eco Retreat by Heart Core Hotels
My Hawaiian adventure began at a remarkable adults-only eco-retreat that spoke to both my wanderlust and eco-conscious values. Nestled into four acres of secluded native Hawaiian ʻōhiʻa tree forest, the Volcano Eco Retreat by Heart Core Hotels was my haven.
This serene retreat resides halfway between Hilo and Volcano National Park, making it an idyllic base for exploring the magical island of Hawai'i. As I drove into the retreat, the blend of Polynesian and bamboo-infused style of architecture immediately caught my eye. This retreat's eco-credentials were evident in its LEED-certified construction materials, which expertly minimized its impact on Hawaii's delicate environment.
Volcano Eco Retreat by Heart Core Hotels
Upon arrival, I was greeted by the comforting warmth of a fireplace in my room, a cozy sitting area, and an attached dining area. I immediately melted into the memory foam bed enveloped in Egyptian cotton sheets. The luxury extended to the bathroom where a hydromassage shower and designer toiletries waited.

The highlight of my accommodation was the lanai, a veranda offering a sweeping view of the verdant forest. I remember one evening, draped in a bathrobe, sipping tea, and being mesmerized by the dance of the fireflies against the backdrop of the forest's mysterious silhouette.
The retreat's dedication to sustainability echoed in their gastronomical offerings as well. Every morning, I looked forward to the wholesome, freshly cooked breakfast. The entirely plant-based meal was not just sumptuous but also sourced as locally as possible. Whether it was sipping Kona coffee or relishing the immunity-boosting ginger turmeric shot, each bite felt like a celebration of sustainable luxury.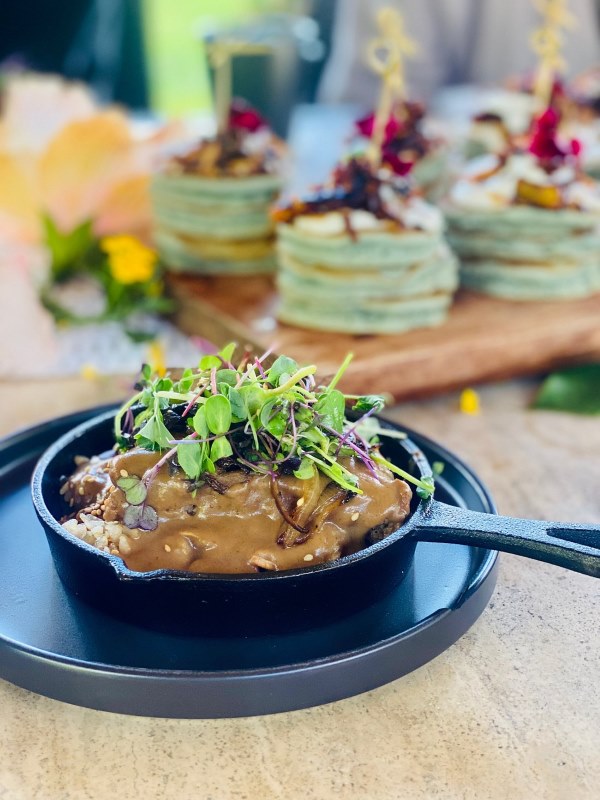 Volcano Eco Retreat by Heart Core Hotels Breakfast
Even the downtime at the retreat was an experience in itself. I spent languid afternoons unwinding in the outdoor spa, letting the gentle hum of the forest lull me into tranquility. The retreat also offered yoga classes, and there was nothing quite like meditating amidst the soothing rustle of the Hawaiian forest.
The Volcano Eco Retreat was not just about providing an indulgent vacation. It was about embracing a new era of travel, one that intertwined luxury with sustainability. The retreat's commitment to being a zero-waste property and collaborating with local food banks demonstrated this ethos beautifully.
Exploring Hawaii from the retreat was convenient. The property was within easy reach of Hilo, Kona, Mauna Kea, and the mesmerizing black and green sand beaches. However, what truly set this experience apart was the retreat's atmosphere. The seclusion, the whispers of the forest, and the remarkable dedication to eco-conscious luxury made my stay unforgettable.
In a nutshell, if you're seeking an intimate escape into nature, where luxury meets sustainability, the Volcano Eco Retreat by Heart Core Hotels could be your next romantic getaway. It provides not just an escape, but also a perspective that will change how you view travel. In the words of the retreat, it's time for travel 2.0, a kinder, more inclusive, and sustainable way to explore the world.
Volcano Eco Retreat by Heart Core Hotels - Adults Only
Features:
Nestled within 4 acres of secluded native Hawaiian ʻōhiʻa tree forest.
LEED-certified construction materials for minimized environmental impact.
Accommodations include a fireplace, memory foam bed, hydromassage shower, and private lanai.
Hearty, locally-sourced plant-based breakfast served daily.
Outdoor spa, yoga classes, and wellness facilities.
Commitment to sustainability including zero-waste policies and local food sourcing.
Proximity to various attractions such as Hilo, Kona, Mauna Kea, and black and green sand beaches.
Free use of bicycles for guests.
On-site dining areas and common lounge area.
Pros:
Ideal for eco-conscious travelers seeking sustainable luxury.
Tranquil adults-only retreat, perfect for a peaceful getaway.
Plush accommodation with quality in-room amenities.
Delicious and wholesome breakfast featuring local produce.
Wellness facilities like an outdoor spa and yoga classes add to the relaxation.
Excellent base for exploring the Island of Hawai'i.
Collaboration with local food banks and commitment to social responsibility.
All areas of the hotel, including the rooms, are smoke-free.
Cons:
The secluded location might not be suitable for those seeking a vibrant nightlife or immediate access to city amenities.
As a fully plant-based retreat, it may not cater to everyone's dietary preferences.
There are no fitness facilities, which might be a disadvantage for some fitness-conscious guests.
Some guests may prefer a beachfront location, which this retreat does not offer.
The retreat does not offer in-room TV services, which could be a downside for some guests.
The hotel doesn't offer a pool or direct beach access, which are commonly sought-after features in Hawaiian accommodations.
It's an adults-only property, so families with children cannot be accommodated.
Overall Score: 8.5/10
With its strong commitment to eco-conscious luxury, the Volcano Eco Retreat by Heart Core Hotels provides a serene and intimate escape for couples or solo travelers. Its unique features and services create a memorable stay for guests. However, it's worth noting that its secluded location and fully plant-based food offerings might not be for everyone.
Exploring
The Volcano Eco Retreat by Heart Core Hotels is strategically located halfway between Hilo and Volcano National Park, positioning it as an ideal base for exploring the magical island of Hawai'i. Here are some exciting activities and sightseeing opportunities to consider during your stay:
1. Visit the Volcano National Park: Just a short drive from the retreat, the Volcano National Park is a must-visit for every nature enthusiast. Here, you can observe active volcanoes, hike through lava tubes, and explore unique geological formations.
2. Explore the city of Hilo: Immerse yourself in the local Hawaiian culture by spending a day in Hilo, Hawai'i's second-largest city. Visit the bustling farmer's markets, explore the Pacific Tsunami Museum, or take a walk in Liliʻuokalani Park and Gardens, a beautifully landscaped Japanese garden.
3. Black and Green Sand Beaches: Hawai'i is renowned for its unique colored beaches. A trip to Punalu'u Black Sand Beach could offer a chance to spot endangered Hawksbill turtles. On the other hand, a visit to Papakōlea Green Sand Beach, one of the only four green sand beaches globally, is an adventure in itself.
4. Stargazing at Mauna Kea: If you're up for a drive, visit the Mauna Kea Observatories. Standing at over 13,000 feet above sea level, Mauna Kea offers some of the world's best conditions for viewing the night sky. Note that it's a challenging drive and may require a 4x4 vehicle.
5. Experience the Local Cuisine in Kona: Drive over to Kona and try out local Hawaiian cuisine in its numerous restaurants and cafés. Don't miss the chance to taste the world-renowned Kona coffee.
6. Explore Local Art: Hawai'i is known for its vibrant art scene. Visit the Volcano Art Center, just minutes away from the national park, showcasing the work of local artists and artisans.
7. Waterfalls and Valleys: Hawai'i is home to some breathtaking waterfalls and lush valleys. Take a drive along the scenic Hamakua Coast to the Waipio Valley, also known as the 'Valley of the Kings', and marvel at the dramatic landscapes and cascading waterfalls.
8. Relax and Unwind: After days full of exploration and adventure, don't forget to take advantage of the amenities provided at the Volcano Eco Retreat. Rejuvenate with a yoga class, unwind at the outdoor spa, or simply relax in the tranquility of the retreat's surroundings.
Remember, the island of Hawai'i, or the Big Island as it's often called, is quite large. When planning your explorations, take into account the driving distances and times. Now, get ready to soak up the natural beauty, rich culture, and incredible diversity that Hawai'i has to offer.
Find the best deal, compare prices, and read what other travelers have to say at Tripadvisor
💼 We cherish our independence! ✈️ Our travel recommendations are carefully researched, bias-free, and powered by human expertise by April and Ricky of LRB (we have personally researched and travelled to many of these destinations and researched others thoroughly through first-hand accounts). 🌍✨
We try to keep everything up to date, but please always do your own research and contact us if you know any issues for us to help others as best we can as a small but professionally focused team! 🧐📚⚠️