Forster Accommodation Review

Welcome to our Forster Accommodation review we completed after our recent tour of the Area staying at some of the wonderful beaches in the area. While the accommodation here wasn't quite up to the standard of some other parts of Australia there were some outstanding natural highlights. We will give you the good the bad and the ugly and honest about what we found with the Forster accommodation options.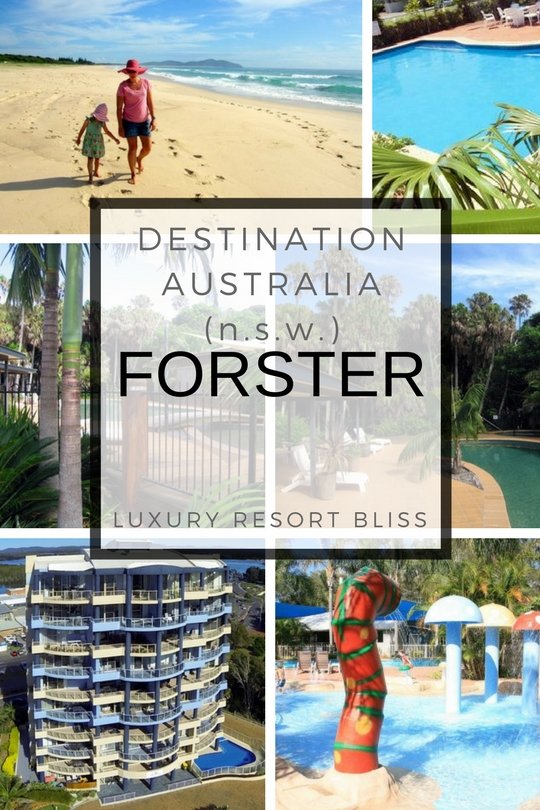 At the bottom end of the scale we camped at by Booti Booti National park at Tiona only a 10 minute drive south of Forster when we were on our Australian Road trip and stopped by Forster to check out the Accommodation options.

The campground we stayed at was nice, and had good facilities but seems to has lost its way a little due to a lack of maintenance. Than rather than recommend this resort we can suggest some of the more highly rated resorts listed below.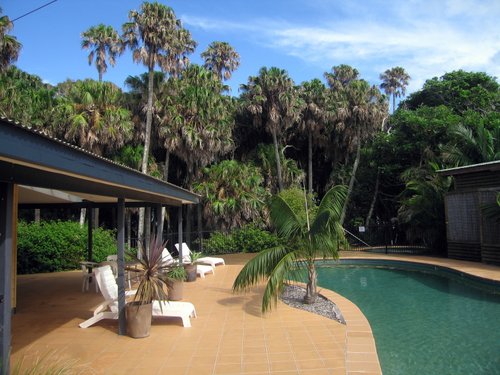 Sundowner Tiona Tourist Park FOrster
Our last minute decision to stay here was an impulse as we were driving past, but we were disappointed the rest of the resort did not live up to the quality of the nice pool area pictured here. While the resort matched our desire for a nice shady campsite the resorts and accommodation options below off far better quality, and will offer a much wider range of enjoyable experiences for your Forster NSW holiday.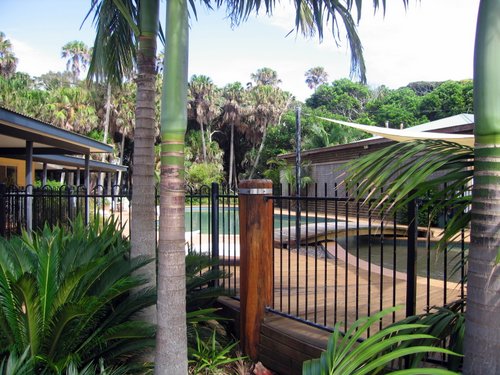 Appearances are deceiving - Looks nice but this very run down establishment.
---
---
Forster Beaches International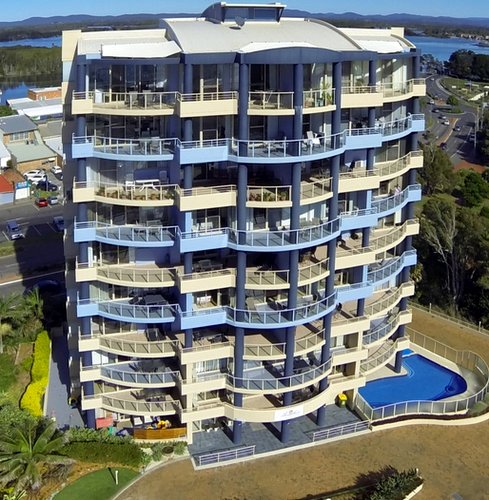 Forster Beaches International
If you are looking for the top rated luxury 4.5 star apartments in downtown Forster then check out Beaches International. Located by the Main Beach with every room enjoying some type of ocean view it's little wonder that this place enjoys near perfect reviews every time. Here you have the option of relaxing in a spa after a busy day relaxing by the nearby beach close by the enclosed shelter.
More information and Reviews on Forster Beaches International

---
Forster Tourist and Holiday Parks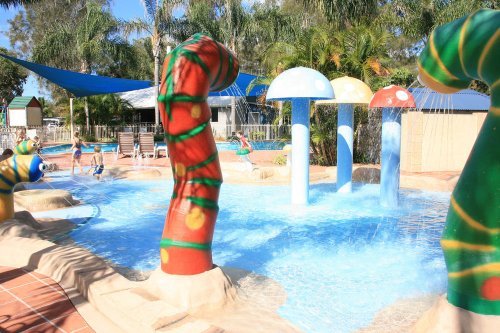 Great Lakes Holiday Park
There are a number of tourist and holiday Parks from chains which target family friendly travelers. Check out the reviews of these as they are a step up in quality in comparison to some of the motels on offer in Forster.
See the Forster Accommodation reviews on TripAdvisor

VIDEO: Smugglers Cove Holiday Park - Forster NSW

VIDEO: Lani's Holiday Village - Top Tourist Parks

---
Island Palms Forster Motor Inn
The top rated accommodation in Forster is located right by Wallis Lake. This is quite a handy location which is also close to where all the shops you are going to need are situated by the Stockland shopping centre. As well as a good range of room types including suites with spas there are also good facilities at the motel. These include: A great saltwater pool, Internet, Restaurant and staff willing to help with all your needs.
More information on the Island Palms Forster Holiday Accommodation.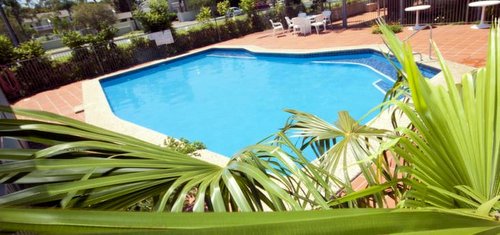 ---
Forster NSW Camping
Forster NSW photos and review. Within a few hours drive of Newcastle and a half days drive (5 hours) from Sydney, Forster is a family holiday destination which offers some space for kids to move. We found this especially true in the area around Booti Booti National Park (See more on our best Australian beaches review )which seemed as if it could have easily been a secluded tropical island, on the summer days we stayed there. 

In this episode the family is stalked by a giant goanna and we check out the Myall lakes district through day trips to Seal Rocks and see the lighthouse. Check out our campsite at Tiona in the Booti Booti National Park.  This is part of our Sydney to Brisbane road trip.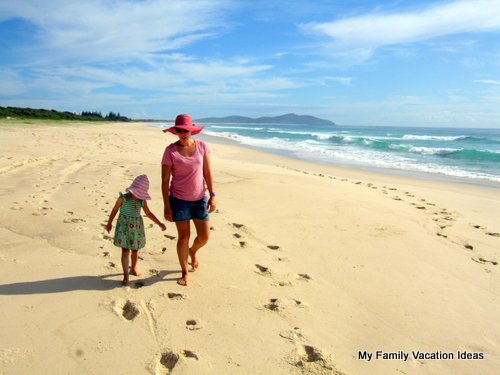 We stayed at Tiona Beach right by the National Park. We had planned to stay at the National Park but found it was not really what our family was looking for when we arrived. To much sunshine was the major problem cased by the lack of trees and a lack of any real evidence of value for money in the sparse looking camp ground. 

The camp we chose at Tiona by Booti Booti National Park was a spectacular location with the largest of the Great Lakes and a spectacular surf beach with miles and miles of unspoiled beach and hardly any signs of civilization. It was pure bliss. There are also a good few tourist Parks  in Forster itself which  are also highly rated but in less spectacular locations closer to shopping.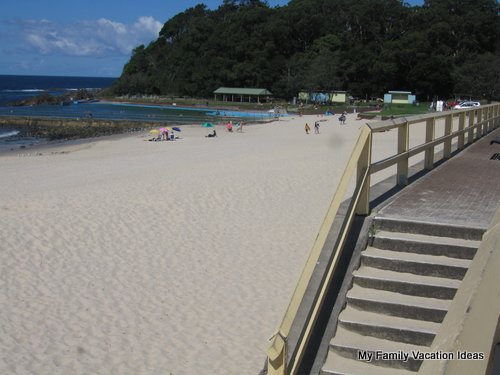 Tuncurry
While the location we chose would have provided enough serenity for a destination style vacation we did enjoy the little day trips we bothered to make out of our rain forest like camp-site setting.  
There are more than enough beaches to cater for every taste, but we opted for a visit to Tuncurry beach which was ideal for our three year old. This is safely located within the seclusion of the river mouth, with rock walls and is surf-less, pristine clear, and has a nice sandy beach.  The tans of the retired locals on the beach here suggested this as a popular place for locals to hang out and enjoy the summer sun. Seagulls were also present to steal your lunch if you were not fast enough as well as  pelicans. This was my first encounter with these huge birds following people around and it sure was something surreal to see 4 foot high birds walking around like they owned the place.
Forster  Toncurry NSW Climate
The weather around Forster makes for pretty ideal summer  beach holidays.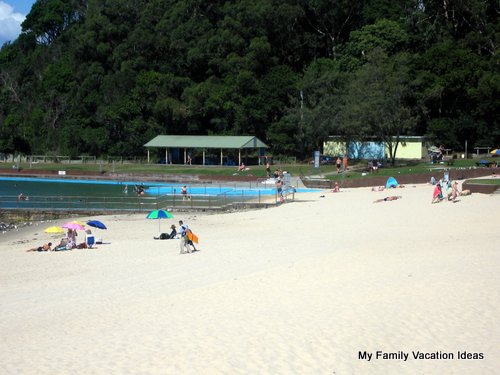 Forster Beach and Beach Pool
💼 We cherish our independence! ✈️ Our travel recommendations are carefully researched, bias-free, and powered by human expertise by April and Ricky of LRB (we have personally researched and travelled to many of these destinations and researched others thoroughly through first-hand accounts). 🌍✨
We try to keep everything up to date, but please always do your own research and contact us if you know any issues for us to help others as best we can as a small but professionally focused team! 🧐📚⚠️