Maldives underwater hotel
Looking for the best Maldives underwater hotel? The Maldives, a true paradise for luxury travelers, offers a selection of resorts that embrace the enchanting underwater world in extraordinary ways. Conrad Maldives, Huvafen Fushi, and Anantara Kihavah stand out with their captivating underwater features, redefining the concept of indulgence and immersing guests in aquatic wonder.
Maldives Underwater Hotel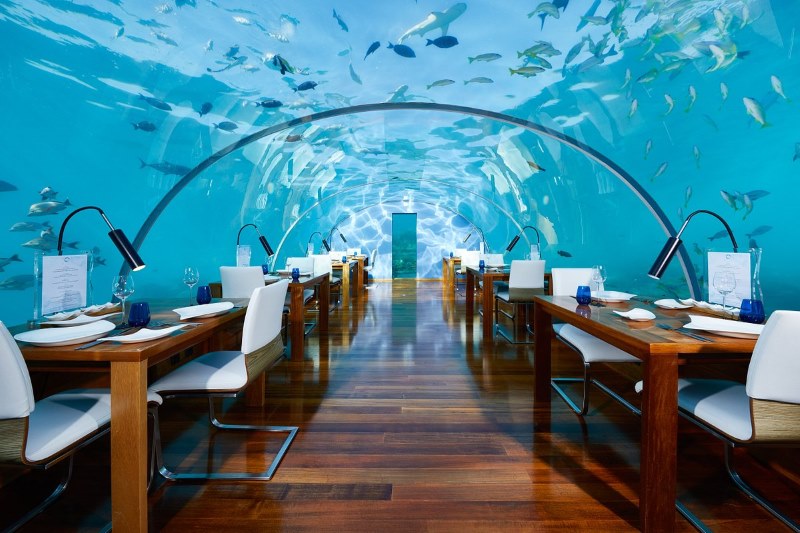 Maldives Underwater Hotel - Conrad
Sublime turquoise waters, a collection of coralline islands, and the gentle sway of coconut palms—this is the splendor of this amazing Maldives Underwater Hotel. Amongst the glittering jewels of this archipelago, and underwater hotels worldwide one gem stands out: the Conrad Maldives on Rangali Island. A testament to luxury and tranquility, this resort, nestled within the famed South Ari Atoll, offers a unique blend of laid-back island life infused with a dash of opulence.  
Conrad Underwater Room Reviews
Conrad Maldives showcases "The Muraka," an architectural marvel that hosts an underwater bedroom, living area, and bathroom. Immerse yourself in the tranquil depths of the ocean, surrounded by vibrant marine life, and awaken to a breathtaking underwater panorama.
As your seaplane descends, the first thing you'll notice is the ethereal beauty of the surrounding lagoon, and the resort's thatched-roof villas, appearing like lily pads over the cerulean waters. Whether it's the exhilaration of spotting a whale shark during your dive or the magic of dining beneath the ocean at Ithaa, the world's first underwater restaurant, Conrad Maldives is a destination that doesn't just provide a place to stay—it promises experiences that etch their way into your heart.

But, as with any jewel, the resort comes with its facets of brilliance as well as its flaws. This review aims to provide an authentic perspective, taking you on a journey through the sumptuous world of Conrad Maldives on Rangali Island, spotlighting its breathtaking features, distinctive pros, and potential cons.
Conrad Maldives Rangali Island at Expedia
5.0 star property
9.2 out of 10 Wonderful
9.2/10 Wonderful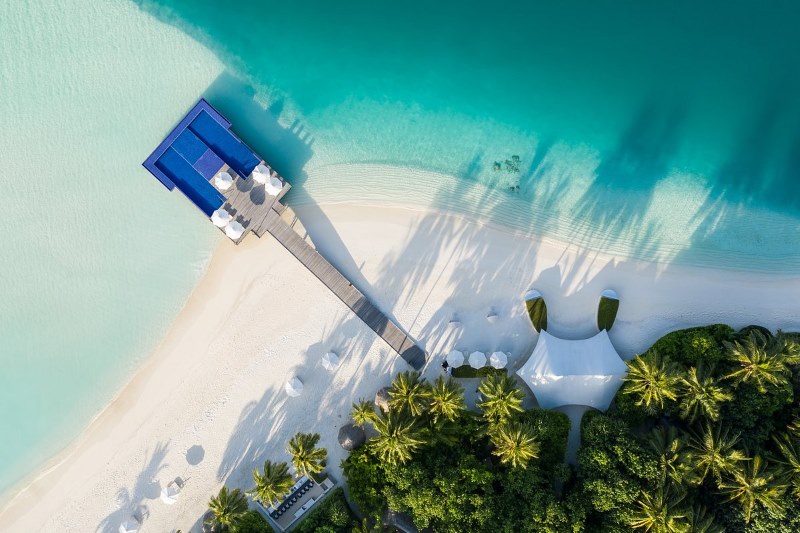 Underwater Room
Conrad Maldives offers an extraordinary and unforgettable experience with its unique underwater room, known as "The Muraka." Here are some key features and details about this remarkable accommodation:
Underwater Luxury: The Muraka is a one-of-a-kind villa that allows guests to sleep beneath the ocean's surface, providing unparalleled views of the marine life surrounding the resort. The underwater room features a spacious bedroom, living area, and bathroom, all submerged below the waterline.
Panoramic Views: The Muraka is designed with floor-to-ceiling windows that offer mesmerizing views of the vibrant underwater world. Guests can marvel at the colorful coral reefs, tropical fish, and other marine creatures as they glide by, creating an immersive and awe-inspiring experience.
Above-Water Comfort: In addition to the underwater bedroom, The Muraka also includes separate above-water living quarters. These luxurious spaces provide ample room for relaxation, with a private infinity pool, sun deck, jacuzzi, and stunning views of the surrounding ocean.
Personalized Service: Guests staying at The Muraka receive dedicated 24/7 assistance from a team of personal butlers, ensuring that every aspect of their stay is catered to with meticulous attention to detail.
Exclusive Experiences: In addition to the remarkable accommodations, guests of The Muraka can enjoy exclusive experiences tailored to their preferences. This may include private dining under the stars, sunset cruises, personalized spa treatments, and more.
It's worth noting that The Muraka is an extraordinary and highly sought-after accommodation option, and availability may be limited. It's recommended to contact Conrad Maldives directly for specific details, pricing, and booking information for The Muraka.
Conrad Maldives on Rangali Island: An Unforgettable Island Retreat
Welcome, luxury seekers, to an island experience that will leave you breathless. The Conrad Maldives on Rangali Island is not just a destination, but a journey to the epitome of luxury and comfort, nestled amidst the ethereal beauty of the South Ari Atoll.
Location & Arrival (9/10):
Whisked away by a scenic 30-minute seaplane ride, you find yourself amidst the emerald green and azure blue of the South Ari Atoll, known for its vibrant diving sites and year-round whale shark sightings. The journey is part of the appeal, as the seaplane ride provides panoramic views of the Maldives' stunning atolls.
Style & Character (10/10):
Embrace the charm of barefoot luxury at Conrad Maldives. The resort exudes an aura of tranquillity with its Indian Ocean-inspired palette of turquoise, seafoam green, and white. The reception area, along with several restaurants and lounges, offers the delightful sensation of sand beneath your toes. Thatched roofs and teak interiors add a touch of Maldivian tradition to the otherwise modern design.
Rooms (9/10):
This luxury resort offers a selection of redesigned thatched-roof villas, either poised on stilts over the lagoon or situated beachfront with private gardens. Each villa is a sanctuary of comfort, boasting floor-to-ceiling windows, cosy seating areas, and large bathrooms outfitted with Aromatherapy Associates amenities. For families or groups, Deluxe Beach Villas and Grand Water Villas offer additional space with second bedrooms. And for those seeking the utmost luxury, the unique Muraka residence presents an unforgettable stay both above and below the ocean.
Food & Drink (10/10):
Culinary enthusiasts, rejoice! With 12 restaurants and lounges, your taste buds are in for a global adventure. Start your day with a hearty breakfast at the relaxed Atoll Market or the beachfront Vilu. For an unparalleled dining experience, descend five meters below the ocean's surface to Ithaa, the resort's fine-dining restaurant. Wine connoisseurs will appreciate the degustation menu at the Maldives' first underground wine cellar.
Comparison with Competitors:
Comparing Conrad Maldives on Rangali Island to a similar resort such as the Four Seasons Resort Maldives at Landaa Giraavaru, both offer an exquisite luxury experience. While Four Seasons may score higher on the aspects of natural environment and seclusion, Conrad outshines with its diverse food options and unique underwater dining experience. It also offers a greater variety of accommodation options, including the one-of-a-kind Muraka residence.
Suitable for:
This destination will particularly appeal to luxury-seeking couples and families who desire a perfect blend of serene beauty, modern comfort, and diverse culinary experiences.
Alternate Resort:
For those who desire a more secluded experience, closer to nature, consider the Four Seasons Resort Maldives at Landaa Giraavaru, which offers a rich natural environment and excellent opportunities for marine life encounters.
In the end, it's not just the luxury that makes Conrad Maldives on Rangali Island stand out—it's the magical experiences and memories it creates. Whether it's diving into the azure waters, dining beneath the ocean, or simply basking in the unparalleled comfort of your villa, every moment spent here is a luxury in itself.
Conrad Maldives on Rangali Island
This Maldives honeymoon resort has won the Conde Nast Gold List award is a quite comprehensive property with 8 restaurants, and a  a full-service spa.
The 150 rooms are decked out as you would expect in the luxury line of the Hilton brand WiFi, patios, iPods.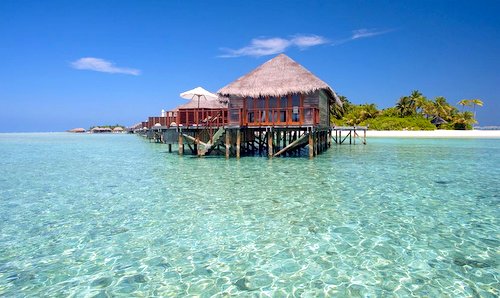 Conrad Maldives Luxury Resort
This award-winning 5 star resort is on 2 islands connected by a bridge. It's surrounded by lagoon and reached by seaplane from Male.
There's an amazing underwater restaurant as well as other restaurants, a private beach, a dive centre, 2 spas and water sports available.

You can choose to stay in the water villas, beach villas or spa villas (which have treatment rooms). All rooms have high-speed Internet.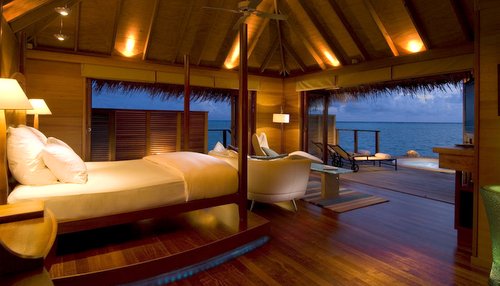 Conrad Maldives Room
Reviewers say: good for it's quiet side and proximity to a more active and busy island, water villa island is very secluded, beach villas are not separate buildings, beautiful and luxurious, beach villas is more spacious, great for a honeymoon! 
Conrad Maldives Rangali Island - Click for more images, deals reviews and pictures on Expedia.

Conrad Maldives special offers and reviews at TA

---
Conrad Maldives on Rangali Island: Features, Pros, and Cons
Features:

Exceptional Location: Located in the South Ari Atoll, renowned for its diving sites and year-round whale shark spotting.
Luxury Accommodations: The resort offers a variety of luxury villas, from those perched on stilts over the lagoon to beachfront villas with private gardens. The Muraka residence offers an unforgettable stay both above and below the ocean.
Diverse Dining Options: The resort boasts 12 restaurants and lounges, featuring a range of international cuisines and unique dining experiences like the underwater restaurant, Ithaa.
Luxury Amenities: Each villa includes amenities like comfy king-sized beds, cosy seating areas, and large bathrooms with Aromatherapy Associates products.
Pros:
Close to Nature: The resort's location offers easy access to numerous diving sites and opportunities for wildlife encounters, such as whale shark sightings.
Diverse Accommodations: The variety of villines caters to different needs, including families or groups with the two-bedroom villas.
Gourmet Dining Experiences: The 12 dining options ensure a unique gastronomic experience for every meal.
Barefoot Luxury: The resort offers a perfect blend of luxury and comfort in a laid-back, beachfront setting.
Cons:
Expensive: As a luxury resort, a vacation here can be quite costly, especially when factoring in extras like the seaplane transfer or dining at the underwater restaurant.
Less Privacy: Some guests may feel the resort isn't as secluded or private as some other Maldives resorts due to the two island concept.
Limited Late Night Arrivals: Guests arriving after 4pm have to take a domestic flight to a nearby airport followed by a speedboat ride, which can be less convenient than the direct seaplane transfer.
Environment Impact: The unique underwater residence, The Muraka, while an engineering marvel, raises questions about its environmental impact on the surrounding marine life.
In conclusion, Conrad Maldives on Rangali Island is a dreamy resort that delivers luxury and comfort in abundance. The cons are worth considering, but the pros, from the variety in dining experiences to the range of accommodations, make it a destination to cherish.
More Maldives Hotels with Underwater Features
Pullman All-Inclusive Underwater Villas
The Aqua Villa experience by Pullman Maldives is a mesmerizing encounter that transcends imagination. This luxury two-level villa boasts a submerged master bedroom, allowing you to witness the wonders of marine life right from your bed. With an overwater bedroom and ample space to unwind, this is where play and rejuvenation harmoniously coexist.
Pullman Maldives believes in finding the perfect balance between work and play, and this ethos shines through in The Aqua Villa Experience. It's a playground for your childhood curiosities, where moments are meant to be shared with loved ones and the world. Dive into tranquility without the need for scuba tanks, and create memories as secrets are exchanged in your private underwater aquarium.
Notably, Pullman Maldives takes pride in being the first luxury resort in the Maldives to feature two underwater bedrooms. Immerse yourself in the extraordinary and embark on an unforgettable journey where dreams become reality. The Aqua Villa Experience is a testament to Pullman's commitment to pushing boundaries and creating extraordinary moments that will stay with you forever.
Huvafen Fushi
Huvafen Fushi Flight and Hotel Deals at Expedia
Huvafen Fushi takes underwater luxury to new heights with its innovative "LIME Spa." Delight in revitalizing spa treatments in glass-bottom treatment rooms, allowing you to observe the captivating marine life while being pampered in utmost serenity. A truly surreal and rejuvenating experience awaits.
Anantara Kihavah
Anantara Kihavah Maldives Villas at Expedia 
5.0 star property
9.6 out of 10 Exceptional
9.6/10 Exceptional
Anantara Kihavah mesmerizes guests with its awe-inspiring "SEA Restaurant." Situated beneath the ocean's surface, this culinary gem offers a unique dining adventure. Indulge in a gastronomic journey as you savor delectable cuisine while being enchanted by the ever-changing marine tableau.
These resorts' underwater features present a harmonious fusion of luxury, innovation, and natural beauty. Whether you choose to slumber beneath the waves, rejuvenate in an underwater spa, or dine surrounded by marine wonders, these enchanting experiences will leave an indelible mark on your journey through the Maldives.
Anantara Kihavah Maldives Villas is a luxurious 5-star resort that offers a remarkable oceanfront experience. From the moment you arrive, you'll be treated to a range of exceptional amenities and services. Start your day with a delicious complimentary full breakfast before taking advantage of the resort's roundtrip airport shuttle. The pristine white sand beach, beach bar, and free beach cabanas create an idyllic setting for relaxation and sun-soaked bliss.
Indulge in ultimate pampering at the Anantara Spa, where you can enjoy rejuvenating treatments like deep-tissue massages, aromatherapy, and body scrubs. Delight your taste buds at any of the resort's four onsite restaurants, boasting international cuisine and stunning ocean views. Stay active with yoga and aerobics classes at the gym, or explore thrilling activities such as scuba diving, beach yoga, and parasailing.
The resort offers free in-room WiFi, ensuring you stay connected during your stay. Relax by the outdoor pool or let your children splash in the dedicated children's pool. Enjoy the convenience of free cabanas, sun loungers, and pool umbrellas. Engage in friendly competition with a game of billiards or take advantage of the 24-hour front desk for any assistance you may need. Water sports equipment, barbecue grills, surf lessons, and laundry services are among the additional perks provided.
Each of the 80 individually furnished rooms exudes comfort and elegance. You'll find private plunge pools, premium bedding, and thoughtful touches like iPads and children's amenities such as slippers and books. Guests appreciate the spaciousness of the rooms, making for a comfortable and enjoyable stay.
Frequently Asked Questions (FAQ) about Conrad Maldives Underwater Hotel:
Conrad Maldives offers a luxurious and idyllic escape in the Maldives, known for its stunning natural beauty and world-class service. The resort's private villas, exquisite dining options, extensive spa facilities, and breathtaking views make it a sought-after destination for travelers seeking an unforgettable experience.
Conrad Maldives is located on the Rangali Island in the South Ari Atoll. The most common way to reach the resort is by taking a seaplane transfer from Velana International Airport in Male. The scenic seaplane journey provides an opportunity to enjoy aerial views of the Maldives' mesmerizing islands.
Conrad Maldives offers a range of luxurious accommodations, including beach villas, water villas, and retreats. The resort's iconic feature is its unique underwater villa, The Muraka, which allows guests to stay beneath the ocean's surface and marvel at the marine life.
Conrad Maldives is known for its exceptional culinary offerings. The resort boasts multiple restaurants and bars, each with its own unique ambiance and cuisine. From gourmet fine dining to casual beachfront meals, guests can savor a diverse array of flavors and culinary experiences.
Conrad Maldives offers a wealth of activities and experiences for guests to enjoy. These include snorkeling or diving in the vibrant coral reefs, indulging in spa treatments at the over-water spa, embarking on sunset cruises, taking part in cooking classes, or simply unwinding on the pristine beaches.
Yes, Conrad Maldives is a family-friendly resort that offers a variety of amenities and activities for guests of all ages. The resort provides a kids' club with supervised activities and entertainment, ensuring that young guests have an enjoyable and memorable stay.
Yes, Conrad Maldives offers personalized services for special occasions such as weddings, anniversaries, and celebrations. The resort's dedicated events team can assist in planning and organizing memorable experiences tailored to guests' preferences and requirements.
The Maldives enjoys a tropical climate with warm temperatures throughout the year. The dry season, from November to April, is considered the peak tourist season, with generally clear skies and calm seas. However, Conrad Maldives welcomes guests year-round, offering a memorable experience irrespective of the weather conditions.
An underwater hotel is a unique type of accommodation that allows guests to stay below the water's surface, providing a surreal and immersive experience of being surrounded by marine life. These hotels typically have underwater suites or villas with large windows or glass walls that offer stunning views of the underwater world.
Yes, there are underwater hotels in the Maldives. One notable example is "The Muraka" at Conrad Maldives Rangali Island. This extraordinary accommodation features an underwater bedroom, living area, and bathroom, providing an unparalleled opportunity to sleep and live beneath the ocean's surface.
The depth of the underwater hotel rooms can vary depending on the specific hotel and its design. In the case of The Muraka, the underwater suite is located around 5 meters (16 feet) below the ocean's surface.
Underwater hotel rooms are built using advanced engineering and construction techniques to ensure safety and durability. They are typically constructed with strong materials such as reinforced glass or acrylic to withstand the pressure of the surrounding water.
Yes, staying in an underwater hotel is generally safe. Extensive safety measures and regulations are in place to ensure the structural integrity and the well-being of guests. These measures include thorough inspections, adherence to building codes, and the presence of emergency protocols.
From an underwater hotel room, you can typically observe a stunning underwater world teeming with marine life. Depending on the location and surrounding environment, you may see colorful coral reefs, tropical fish, sea turtles, and other fascinating creatures that inhabit the ocean.
Staying in an underwater hotel is usually available to anyone who meets the specific requirements and can afford the associated costs. However, due to limited availability and high demand, it's recommended to book well in advance and check with the specific hotel for any additional eligibility criteria.
If staying in an underwater hotel is not feasible or available, there are alternative options to experience the underwater world in the Maldives. These may include snorkeling, scuba diving, or taking underwater excursions in submarines or semi-submersibles to explore the marine life and coral reefs.
Please note that these FAQs are meant to provide general information, and it's advisable to contact Conrad Maldives directly or visit their official website for the most up-to-date and accurate details regarding accommodations, amenities, and services.
Share Your All-Inclusive Adventures and Questions! 🌴 Have a memorable experience from a luxury all-inclusive vacation? We'd love to hear it at Luxury Resort Bliss. We're on the lookout for top-quality, insightful tales that'll inspire our community. Dive in and be a part of our sun-soaked stories! 🌊🍹✨
The story is a fictionalized account founded on travel expertise, research, and experience. Always refer to recent guest reviews and perform due diligence before booking.
💼 We cherish our independence! ✈️ Our travel recommendations are carefully researched, bias-free, and powered by human expertise by April and Ricky of LRB (we have personally researched and travelled to many of these destinations and researched others thoroughly through first-hand accounts). We also have put in the hard miles, and Ricky has worked for decades for resort and hotel chains  Hyatt, Hilton, Shangri-La and Radisson before starting Luxury Resort Bliss in 2007. 🌍✨ Unlike some other resort review websites we are concerned on the guest experience rather than mere corporate interest.