Best Bora Bora Resorts on the water & all Inclusive
Looking for the best Bora Bora resorts including all-inclusive options? We have reviewed the best Bora Bora luxury and family resorts, which sit on the most wonderful lagoon at the base of tropical Mount Otemanu.
Bora Bora resorts on the water are world renowned. The island is one of the most sought after destinations in the world. It is home to white sand beaches and turquoise waters. Bora Bora offers a variety of accommodations, from villas to bungalows. Families with children are also well served.
Bora Bora All Inclusive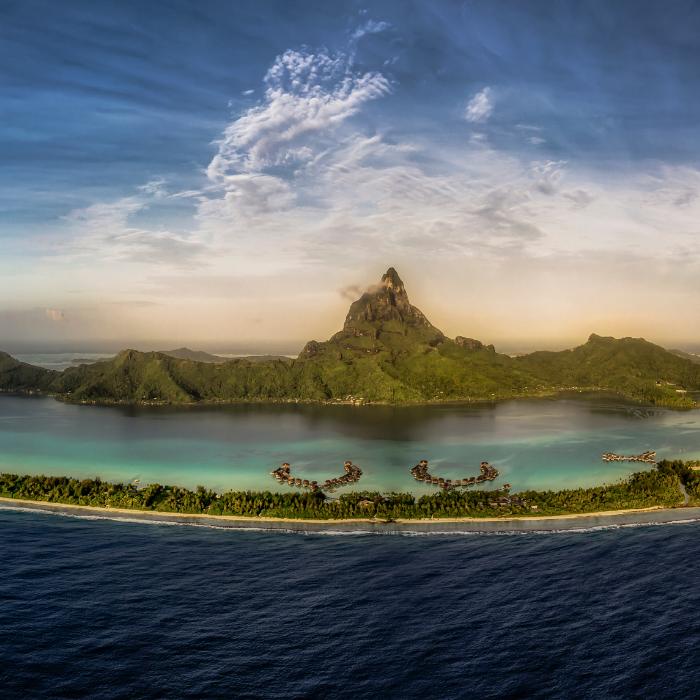 I boarded my flight from Los Angeles to Papeete, Tahiti, filled with anticipation for the Bora Bora adventure that awaited me. As my plane descended into Papeete, I marveled at the surrounding cerulean waters and lush green islands. After a brief layover, I hopped onto a small propeller plane to Bora Bora. The short 50-minute flight was filled with stunning aerial views of the islands, and I couldn't wait to set foot on this tropical paradise.
When it comes to all-inclusive resorts Bora Bora ranks about a 3 out of 10.  This is understandable given the high price of produce and the remote location in the middle of the Pacific Ocean.
There aren't hat many properties in Bora Bora either: only 42. We have created an alternate award for the best Bora Bora all inclusive vacation packages.
There are also some good all-inclusive resorts in Tahiti.
Best Bora Bora Resorts
These Bora Bora resorts are often located on the islets that surround the lagoon and shield it from the vast Pacific Ocean which sprawls out for thousands of kilometres in each direction uninterrupted.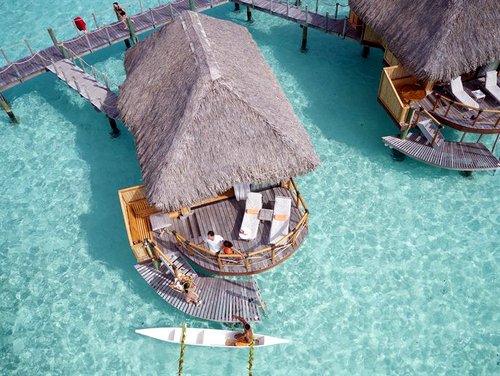 Beach Pearl Bora Bora Resort
You may also want to see:
St. Regis Bora Bora Resort
Upon arrival, I checked into the St. Regis Bora Bora Resort, one of the most luxurious hotels in the area. The resort's overwater bungalows were a dream come true, with their glass floor panels offering a mesmerizing view of the fish swimming below. As an alternative, the Four Seasons Resort Bora Bora is another excellent choice, boasting equally stunning overwater bungalows and a more family-friendly atmosphere.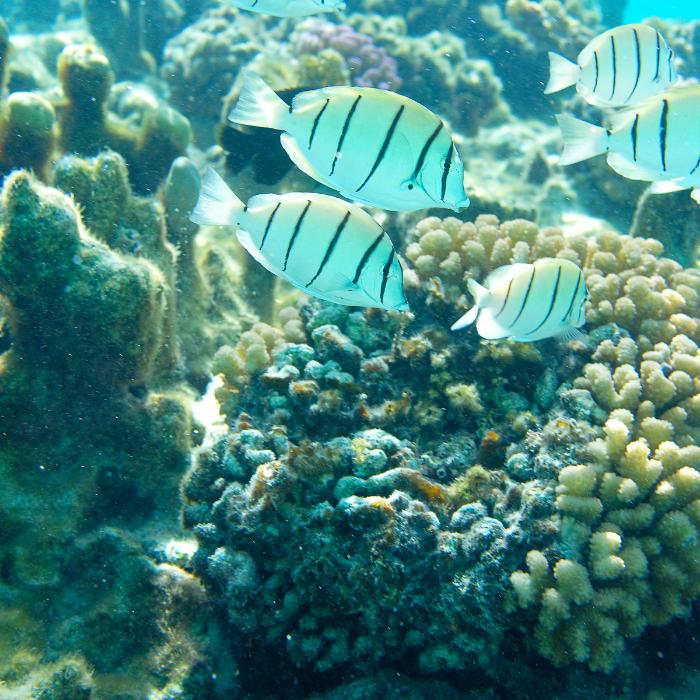 Top 5-Star Borra Bora Resort on the Water
Bora Bora, French Polynesia Hotel Deals 


St. Regis Bora Bora
The St. Regis Bora Bora Resort is located along a powder-fine beach on a private island in Bora Bora. It's 5 km from the town of Vaitape, and the imposing sight of Mt. Otemanu is only 2 km away. This is quite a resort and covers 44 acres on it's own prime islet - a little island on the lagoon that surrounds the main island.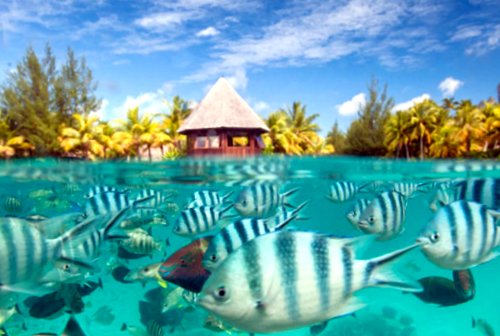 There are a number of dining option including the poolside Aparima that offers in-water seating for 10 people. Mediterranean and Japanese cuisine is available. You may also want to keep an eye out for the meal packages which appear at this resort from time to time. Savings of up to 30% percent are possible.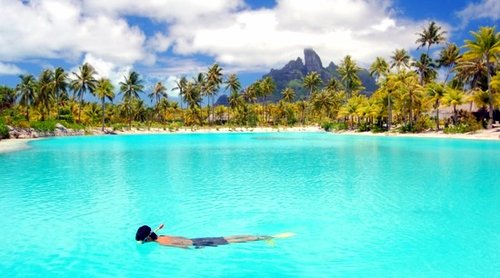 Activities wise there is an adults-only pool, a private lagoon (great for snorkeling), fitness room, the Miri Miri Spa with 7 treatment rooms and supervised activities for kids ages 5-12.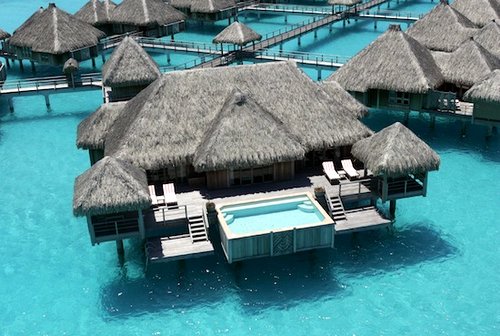 There are 100 over-water villas with lagoon views from furnished balconies. Décor includes hand-woven fabrics, regional artwork and wood floors. Satellite TV and wireless Internet are available.
Reviewers generally give this resort a great review. Most say the service is excellent. They say the bungalows are huge, the butlers are great and the location is unbeatable.
Travel + Leisure call it one of the best resorts of the decade.
More on the St. Regis Bora Bora Resort 

Four Seasons Bora Bora Resort
Five-Star Four Seasons Bora Bora Resort on the island of Bora Bora is a luxury resort that offers an unforgettable experience for all its visitors.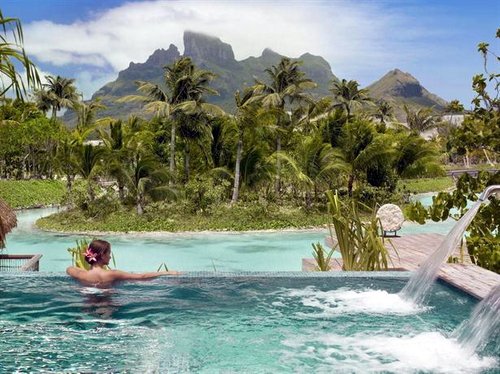 Four Seasons Bora Bora Resort Spa
When you are ready to become kings and queens of the world head here. You will love the dream bungalow suites hovering on turquoise waters, in a pristine environment. 
Sit back in a thatched bar looking out to paradise and enjoy cocktail, some fine Polynesian and French cooking, and know you are the envy of all your friends for a while. If you combined the average of the bucket lists made of all the people on earth this resort may well feature near the top of that list.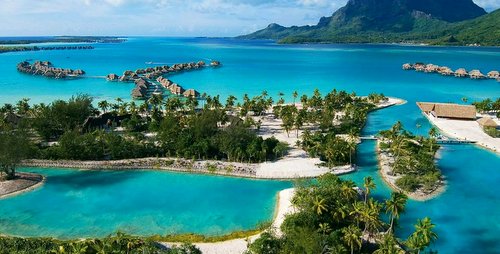 Four Seasons Resort, Bora Bora
This classic Bora Bora resort sits on a wonderful lagoon and is really what it is all about. What an amazing place! This really is another of the world's most amazing resorts. You can even have your breakfast brought to your bungalow in a ceremonial Polynesian canoe.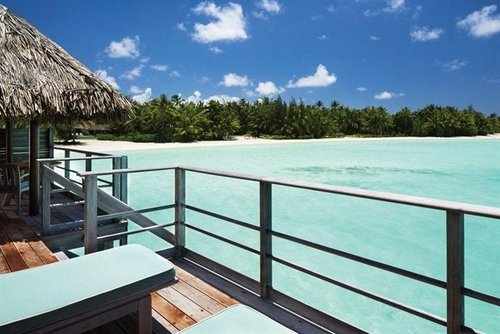 Four Seasons Bora Bora
Definitely one of the top few in Bora Bora, with  2 quality restaurants a outdoor pool, a health club, a steam room, a children's club, and tennis courts. 

Click here for more on Four Seasons Bora Bora
Video: Four Seasons Bora Bora - The Pearl of the Pacific
---
Bora Bora Pearl Beach Resort and Spa
Bora Bora, French Polynesia Hotel Deals 

The Bora Bora Pearl is on the biggest islet that surrounds the main Island called Motu Tevairoa. The traditionally styled rooms and its position 20 minutes from the main township, make it a convenient choice for exploring.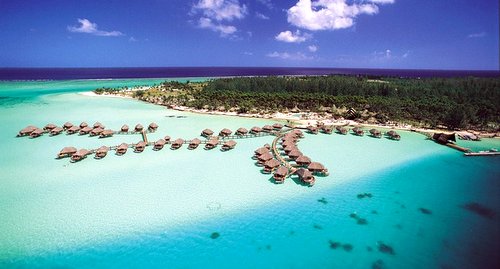 Bora Bora Pearl Beach Resort and Spa
This is a good sized quality 5 5tar spa resort, on the beach, with 99 guestrooms.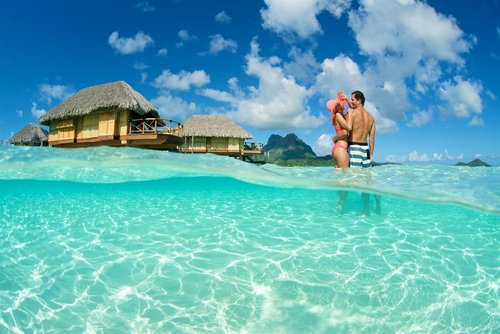 Beach Pearl Bora Bora Resort
Like many of the other great beach resorts in Bora Bora, you have amazing access to the lagoons, and coral reefs from your room. The location also makes it ideal for kayaking, canoeing and or taking a catamaran cruise.
The resort's spa, offers some original practices, like volcanic stone healing.
More on Bora Bora Pearl Beach Resort and Spa
Video Review: Le Bora Bora by Pearl Resorts Hotel Review & Room Tour!
---
Intercontinental Bora Bora Resort & Thalasso Spa
Bora Bora, French Polynesia Hotel Deals 

Located between the "two hearts" of Motu Piti Aau, a coral island on the barrier reef. There are a number of cultural and recreational activities offered here.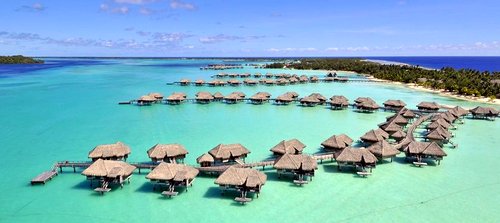 Activities include: canoeing, kayaking, snorkeling, stargazing and handicraft demonstrations. There are also 2 restaurants, an outdoor pool, sauna and fitness room.
The spa offers the unique balneotherapy and thalassotherapy center. Treatments use deep sea water to replenish and restore.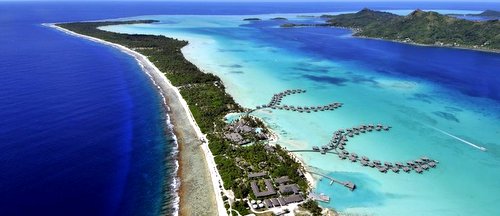 The guestrooms and suites are spacious and elegant. Thatched over-water rooms offer fantastic views of the ocean and nearby islands. 
Reviewers are raving about this resort. Many say it is the best ever! The spa is noted as being "a perfect 10" and it's noted as being a great spot for romance.
More information on Intercontinental Bora Bora Resort & Thalasso Spa
Video Review: Best Over the Water Bungalow Stay at The Intercontinental Thalasso in Bora Bora, Room & Hotel Tour
---
Also Check out our our all inclusive resorts in Tahiti page and the Top 25 French Polynesia & Tahiti Resort Deals
from $63.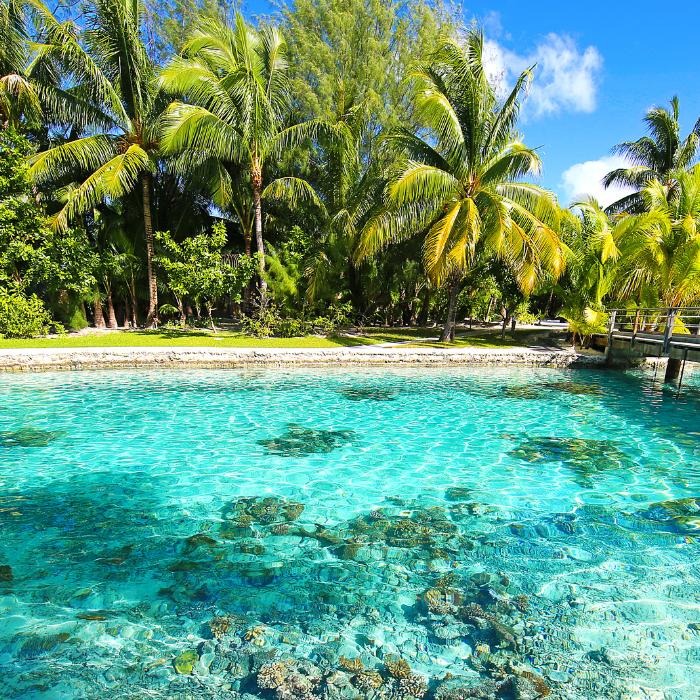 Along with the Maldives, Bora Bora is one of the best places to stay in the over-water villas and bungalows.

You'll also find the great luxury resorts in Bora Bora included on this page.

Bora Bora All Inclusive Resorts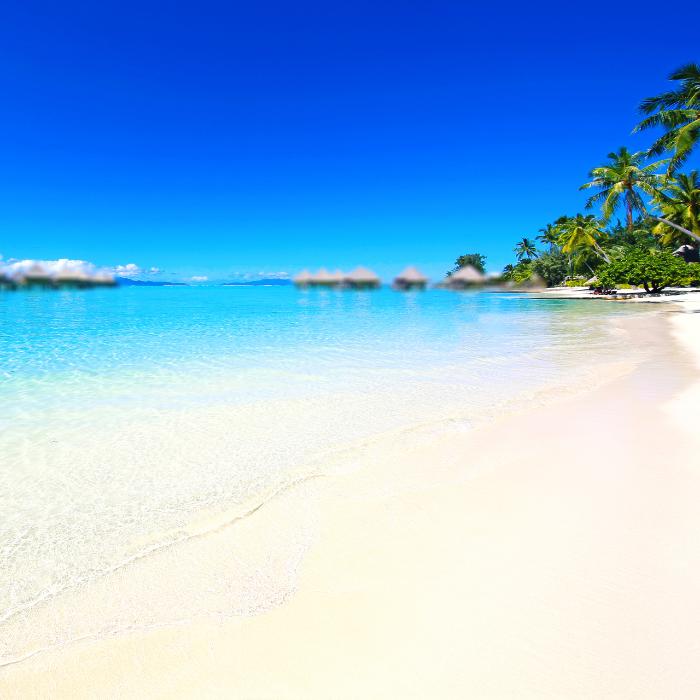 While there is a lack of all-inclusive resorts in Bora Bora (as explored) there are some all-inclusive Resorts in Tahiti. As an alternative however my resorts are starting to offer part board (review below) which includes some meals and some big providers supply last minute all-inclusive packages and cheap all-inclusive options. 
Best Bora Bora All Inclusive Packages
Best Bora Bora All Inclusive Packages Awards
Award for Best Bora Bora All Inclusive Packages: Expedia
Expedia has some of the best all-inclusive packages to Bora Bora. These include 5* All inclusive vacations in Bora Bora and other variations depending on the number of nights you would like to stay. 
According to their website you can also book a Bora Bora vacation with airfare and meals.
"Pay one simple price when you bundle your accommodation and airfare, and you avoid all those yucky bills after conversation-starting cocktails or decadent dinners".
We rate these all-inclusive packages as the best because they really fulfil the intention of what visitors are looking for when they research all-inclusive resorts.
Also check out the travel deals and all-inclusive deals and discounts. 
Best Family All Inclusive Resort
Best Family All Inclusive Resort in Bora Bora Award: Maitai Polynesia Bora Bora
Best Family All Inclusive Resort in Bora Bora
While the all-inclusive concept has been slow to reach the middle of the Pacific some are starting to catch on. We are not expecting to see any fully fledged all-inclusive resorts in Bora Bora soon, but some like the Maitai Polynesia Bora Bora are starting to offer part and half board packages. 
For those looking for a family-friendly resort in Bora Bora yet enjoy the Bungalow experience the Maitai Polynesia Bora Bora has proven a bit of a find. While there are more affordable resorts in Bora Bora this one provides the pizas you would want to experience after such a big flight. 
Maitai Polynesia Bora Bora puts the best of Bora Bora at your fingertips, making your stay both relaxing and enjoyable.
Half Board is available from 3 nights booking in Beach Bungalows and Overwater Bungalows and includes American buffet breakfast and a 2-course buffet dinner. 
Also see the Bora Bora all inclusive packages above or more of the world's best all-inclusive resorts. 
Video: Most Affordable Overwater Bungalow in Bora Bora? French Polynesia Travel Vlog
Gastronomical Delights - Where to Eat in Bora Bora
I quickly discovered that Bora Bora's culinary scene was as vibrant as its landscapes. I savored mouthwatering seafood dishes at the iconic Bloody Mary's, a laid-back, sandy-floored restaurant frequented by celebrities. For a more upscale dining experience, I headed to the Lagoon Restaurant by Jean-Georges at the St. Regis Bora Bora Resort. The seared tuna and coconut-infused ceviche were to die for!
Tip: Don't miss the local food trucks, or "roulottes," for a taste of authentic Polynesian cuisine at wallet-friendly prices.
Unforgettable Island Activities
Bora Bora's crystal-clear waters and vibrant marine life beckoned me to explore. I joined a shark and ray feeding excursion, which brought me up close and personal with these fascinating creatures. My heart raced with adrenaline as I swam alongside blacktip reef sharks, and I couldn't help but laugh as the friendly stingrays nuzzled against me like underwater puppies.
For a more leisurely experience, I rented a kayak and paddled around the island, taking in the breathtaking views of Mount Otemanu. Finally, I treated myself to a relaxing massage at the Miri Miri Spa by Clarins, with the soothing sounds of the ocean as my backdrop.
Bora Bora: The Ultimate Island Breakdown
After experiencing the best of Bora Bora, I've come up with a realistic scorecard for various aspects of the island to help you make an informed decision for your next getaway. Here are my honest ratings:
Scenery and Natural Beauty: 9.5/10
Bora Bora's lush landscapes, crystal-clear waters, and stunning Mount Otemanu are simply breathtaking. The island's natural beauty is tough to beat, but I'm taking off half a point for occasional overcast days that could slightly dampen the experience.
Accommodation Options: 8/10
While the island offers luxurious overwater bungalows and high-end resorts, the options for budget travelers are somewhat limited. Nonetheless, with some research, you can find more affordable lodgings on the main island.
Food and Dining: 7.5/10
Bora Bora's culinary scene is a delightful mix of high-end dining experiences and casual, local eateries. However, the island's remote location can mean a limited variety of cuisine, and prices can be steep at times.
Activities and Excursions: 8.5/10
There's no shortage of exciting water-based activities in Bora Bora, from shark and ray feeding excursions to snorkeling and diving. However, land-based activities are limited, and the island's small size can mean less variety compared to other destinations.
Affordability: 6/10
Bora Bora is known for its luxury, and that comes with a price. From accommodations to dining, expect to spend a pretty penny on this island paradise. However, budget-conscious travelers can still find ways to enjoy Bora Bora without breaking the bank.
Accessibility: 7/10
Reaching Bora Bora can be a bit of a journey, with flights typically connecting through Papeete, Tahiti. The remoteness adds to the island's allure, but it may not be the most convenient destination for those with limited time or resources.
Overall Score: 7.75/10
Bora Bora is a stunning destination that offers an unforgettable experience, but its luxury and remoteness come with a higher price tag and a few limitations. If you're willing to splurge and embrace the island's unique charm, Bora Bora is definitely worth considering for your next tropical escape.
Bora Bora Resort Lagoon and Spa
If you were looking for the Bora Bora Resort Lagoon And Spa unfortunately this great little hotel was closed in the aftermath of a cyclone and the Financial Crisis. We look forward to its reopening which is as yet unannounced. 
It was located on Motu Toopua in Bora Bora's lagoon.
At the time :
There's diving and snorkeling in the lagoon, free form pool in the middle of a garden, tennis courts, game room, fitness room and a spa.  
Dine in one of the 4 restaurants.
Accommodations are in over-water bungalows and villas. They are furnished in authentic local style and have thatched roofs.
Note that they have special honeymoon and wedding packages.

Reviewers note this resort as a perfect place for a honeymoon. It's not the ideal location for a family vacation. Past guests liked the free boat ride to town, the pool and the best views around. Some said the service was a little slow, not many choices for breakfast and the AC doesn't cool the room enough. 
---
💼 We cherish our independence! ✈️ Our travel recommendations are carefully researched, bias-free, and powered by human expertise by April and Ricky of LRB (we have personally researched and travelled to many of these destinations and researched others thoroughly through first-hand accounts). 🌍✨
We try to keep everything up to date, but please always do your own research and contact us if you know any issues for us to help others as best we can as a small but professionally focused team! 🧐📚⚠️