Ski Resort in Australia
Looking for a great ski resort in Australia? Australian ski resorts have copped a little criticism over the years for being overpriced, but in comparison to travelling overseas they are very competitive. Sure you won't get the same size mountains or amount of snow as in New Zealand but there are definite advantages to being able to drive to your ski resort fairly easily from Australia's biggest cities.
Most ski resorts in Australia are located in New South Wales and Victoria, but there are also a few in Tasmania.
VIDEO: Snow Australia NSW Resorts
---
Top Spots
Ski Resort in Australia
Thredbo Ski Resort, NSW
VIDEO: Thredbo, Australia's Best Ski Resort
From resort ski holidays to backcountry adventures Thredbo is certainly one of the top ski destinations in Australia. This is also one of the most popular places to ski and fresh tracks are only available for the earliest of birds.
Special Hotel Deals in Thredbo, Australia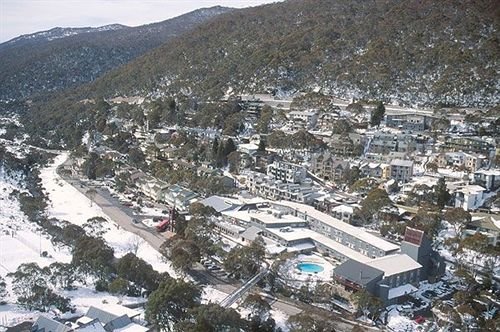 Thredbo Alpine Hotel, Ski Resort in Australia
Located in the spectacular Mt. Kosciuszko National Park, NSW, between Sydney and Melbourne.
As for skiing & snowboarding, you will find the runs here about as long as you will find anywhere in the country. One run is 6 km long. There are four parks and you change to a higher level as your skills improve.
It's family friendly as well. That means even if your kids are not yet ready to hit the slopes, there are lots of other activities around that help them enjoy the snow and ice. It has an elevation of about 2000 metres and two metres of snow per season.
If you drive here there is the added expense of the Park entry fee which is about $30.
Recommended Place To Stay:
| | |
| --- | --- |
| The Alpine Hotel Thredbo is at the centre of things. Close to the village and just metres from the Kosciuszko chairlift. You can enjoy an open fireplace or unwind with a massage, spa or sauna or visit The Pub Bistro for a meal. | |
Thredbo Ski Accommodation at TripAdvisor for reviews and deals.

Top 25 Kosciuszko National Park Resort Deals with Reviews on TripAdvisor

This link will show the deals in quite a lot of the New South Wales ski resorts.
See the Thredbo Ski Cam for snow conditions, road conditions and weather and lifts operating.

---
Perisher Ski Resort and Accommodation
VIDEO: Skiing & Boarding at Perisher Ski Resort

Perisher is one of the few ski resorts in size that is comparable to the bigger ski resorts worldwide. This is where the elite in the sport in Australia go to hang out, ski and snow-board. Perisher is set at about 2500 M and has great runs which make it the outstanding alpine ski resort in this part of the world.
Special Hotel Deals in Perisher Valley, Australia

Take a drive of about 2 to 3 hours from Canberra or fly directly in from Sydney or Melbourne. You can take a snow tube from the Snowy Mountains Airport to the slopes.
See Perisher Ski Accommodation and information on TripAdvisor
---
---
Charlotte Pass Ski Resort Australia
Keep going past Perisher and further into the wilderness and you will come to a place which has the most plentiful regular snow at Charlotte Pass, which is well known for it's freestyle activities.
You can't drive here and will need to use special transport transfers which will set you back about $80 for a return ticket across the snow.
---
Best Victoria Ski Resort in Australia Options:
Ski resorts in Victoria, Australia review video:
---
Mt Buller Ski Resort Victoria
Close enough from Melbourne to have you on the slopes the same day you set out (3 hours), Mt. Buller in the Alpine National Park, Victoria is one of the best and most popular in the country for it's downhill runs. 

This series of videos looks at Ski & Snowboard School, lift tickets information and accommodation. 

Simply park up, pay for parking, then catch the bus the extra km or two to the ski field. Buller also has great packages for beginners which include lessons and lift passes for a really reasonable price.
Cross country skiers are equally well catered for and can enjoy about 10km of trails.
If you prefer not to drive, you can catch a flight.
Mount Buller is one of Australia's most impressive ski areas and home to some of the country's most challenging runs.
Some of the best accommodation here is at Hotel Pension Grimus, which is renowned for more than its guest rooms, facilities and great location by the ski trails.

---
Selwyn Snowfields Family Skiing in Australia
At 1600 M, The Selwyn Snowfields in Kosciuszko National Park are a great location for a family ski trip, and only a couple of hours from Canberra.
VIDEO: Snow Australia - Selwyn Snowfields

This resort really is geared towards beginners and children and markets itself as such. For cross country skiers there is also an impressive 45km to enjoy. The other impressive aspect of this resort is the highly competitive rates offered in comparison to other resorts in the area.

Mt Baw Baw Ski Resort in Victoria Australia
Mt Baw Baw is another family friendly resort and is situates a couple of hours east of Melbourne. 

---
Mt Hotham Ski Resort Australia
At 1860 M, the steep valley runs of Mt Hotham make it the first choice for many. Hotham Ski Resort in Australia is also the resort most associated with the term "powder". With easy runs, halfpipes and tree runs there is something here for everyone.

Both this resort and Dinner Plain are serviced by a local area airport. Although these resorts are a little more out of the way the value for money especially in regard to lift prices are excellent.

---
Falls Creek Ski Resort
If you love cross country skiing this is one of the first destination you may like to check out.
More information and reviews on Falls Creek.
---
Australian Ski Resorts Snow Cams
Special Hotel Deals in Hotham Heights, Australia


See the Threadbo , Perisher,  Mt Buller , Falls Creek,  Mt Hotham , Dinner Plain Snow cam, Snow conditions, road conditions and weather and lifts operating.

---
List of Australian Ski Resort Ideas
 Dinner Plain

Charlotte Pass

Perisher Resorts

Thredbo

Perisher Valley Resorts

Selwyn

Falls Creek

Mt Hotham

Mt Baw Baw

 

Mt Buffalo

Mt Buller

Mt Donna Buang

Mt St Gwinear

Mt Stirling

Ben Lomond

Tasmania Ski Resorts

Victoria Ski Resorts

NSW Ski Resorts